Listen to "A Prayer for a Friend" Dirtbag Diaries Podcast Episode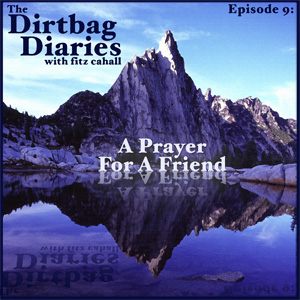 After a well-deserved vacation, Fitz Cahall and The Dirtbag Diaries are back on the air. Episode 9 is presented to you here as both an mp3 podcast and a photo-enhanced video, embedded after the jump. From Fitz:
How do people remember the dead? Some people stuff wrinkled snapshots into wallets. Others build ornate mausoleums. Others ensure their friends' memories by creating goals that can never fully be realized. In 2003, my friend John Bombard lost his battle to cancer. On the day of his passing, I stumbled across an unclimbed route on Washington's famed Prusik Peak. It was so beautiful, challenging and improbable that I would probably never complete it, yet my youthful enthusiasm and commitment were unflagging. This would be my own awkward offering to my friend.

Today on the Dirtbag Diaries, we're traveling from the halls of a New England boarding school where two boys forged an unlikely friendship to the wind-swept wilderness deep inside the Cascade Mountains, where a trio of climbers have been hard at work solving one of the Northwest's last great free climbing projects. Some prayers can never be whole.
Listen to the MP3:
Episode 9 – A Prayer for a Friend (right-click to download)
For links to the music from Episode 9, visit www.dirtbagdiaries.com. You can also subscribe to Fitz's podcast via iTunes. Tell your friends!