When I think of my dad, I think of roughing it in Baja and traveling up and down the peninsula in a rickety old VW Bug. For three straight years, between the ages of 13-15, my dad would pick me up in Santa Barbara and we'd make the 1,000-mile drive south to Cabo on Highway 1. We spent six weeks in summer and two weeks in winter mostly staying at my dad's place on the East Cape, but we also camped, surfed, fished and dove along the way, and always with his handmade foam and fiberglass dory.
The trips are some of the best memories I have of my dad while growing up. Yes, we did rough it, but a bit of hardening was good for me. Traveling in Baja is a rite of passage for the Southern California surfer and getting dirty comes with the territory, especially once you venture south of Ensenada. Shipwrecks, Scorpion Bay, Seven Sisters; as a grom it was the waves that drew me in. Many hours, of course, were spent surfing. But my dad really made sure I experienced everything the land and water in Baja had to offer.
With our surfboards tied down under the boat and our camping gear stashed in between, our pack jobs were quite an undertaking. The interior was stuffed to the gills as well. My dad figured out a way to customize a wood passenger seat that converted into a bed and, even with all our stuff, he could stretch out and sleep.
My dad has always been good with his hands, known for his beautifully sculptured redwood and balsa guns made specifically for Waimea Bay in the '50s. Along with shaping boards, he's worked as a surveyor, draftsman, a commercial diver, a finish carpenter and he has made a number of boats, including the 13-foot dory skiff perpetually strapped to our rig.
My parents split when I was seven. My dad moved to Pavones, Costa Rica, and then to Cabo when I was 11. Between Costa Rica and Cabo, he spent about a year in Carpinteria, California, building cabinets and doors for Frank Louda and Tom Jackson of Chismahoo Construction. During this time he also did some work on the America's Cup catamaran, Stars and Stripes. This, along with the desire to get back south, led him (and old friend Alan Nelson) to build lightweight skiffs for Baja. (Coincidentally, my dad made two foam dories at this time, one commissioned by Jackson's friend Yvon Chouinard, Patagonia founder/owner).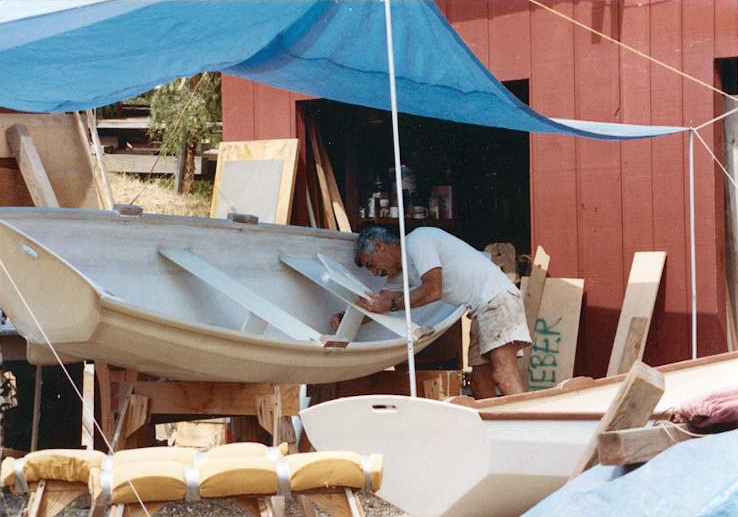 My dad at work on the dories, Carpinteria, California (note the well-worn Stand Up Shorts). The second boat was commissioned by Yvon Chouinard. Photo: Eda Rocky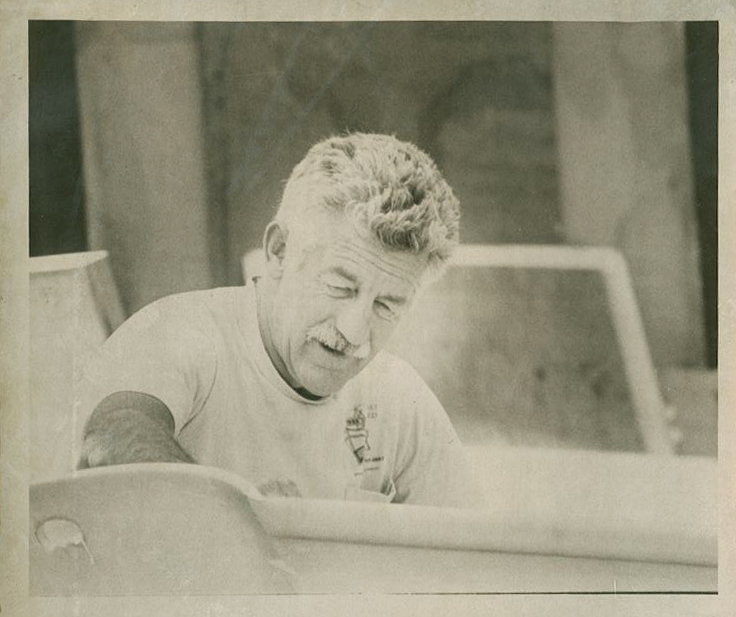 Photo: Eda Rocky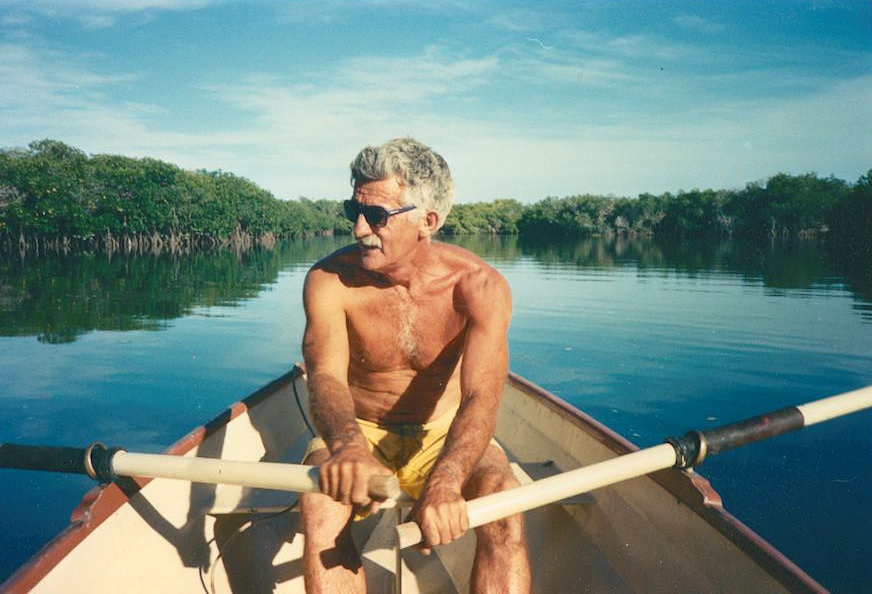 Magdalena Bay, trolling for dinner. Photo: Joe Curren
The purpose of the dory was to catch fish. We'd troll with it, my dad always rowing, getting the boat up to a really nice glide. It wasn't always easy—we caught a lot of fish, but lost a lot as well. I remember him saying one evening as we caught a fish right before dark in front of our camp, "Good, we can eat tonight."
Diving, on the other hand, we'd always come away with something. In Cabo we dove every flat day. We only had Hawaiian slings, so spearing a yellowtail was a special occasion. It was mostly sierra and chino mero, and oysters—we shucked a lot of oysters. My dad even found a large teardrop-shaped pearl in one.
I got a glimpse of the lifestyle my dad experienced growing up in Southern California in the '40s, and of his time living off the land and camping on the beach of the North Shore. He and the guys from his era weren't just athletic surfers; they were all-around watermen. They were so confident in big surf from all the time spent diving. Living an ocean lifestyle—diving, fishing and boating—makes you more comfortable in the ocean and a more knowledgeable wave rider.
We had a lot of down time on these trips and I enjoyed listening to my dad tell stories about the old days. He tried to teach me practical things like how to tie a bowline—something he showed me numerous times—and then would laugh at me for always forgetting such a simple knot. I watched his morning ritual of hand-grinding coffee and using an old sock for a filter. On the days when not much was said, we read mountains of books. When my dad started reading, I had no choice but to bury my nose in anything available—sometimes it was a novella like Of Mice and Men, other times Don Quixote, unabridged. But it was another lifelong lesson gleaned from these trips—I learned to appreciate a good read.
We also had plenty of misadventures. Sleeping outside in northern Baja in sub-zero temps in a sub-par sleeping bag. A bad case of sunstroke in Scorpion Bay. White-knuckle driving with buses passing on blind corners, the hood of our car flying open as a semi-truck blew past, and a couple close calls on precipitous mountain roads.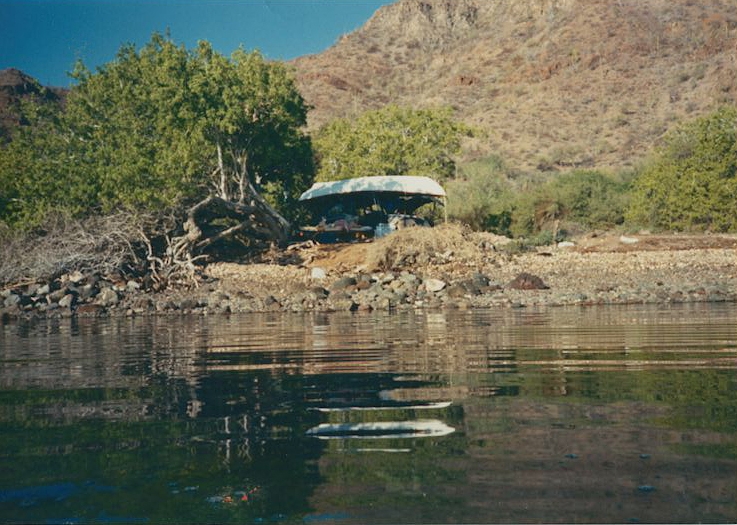 Camping along the Sea of Cortez, near Bahía Concepción. Photo: Joe Curren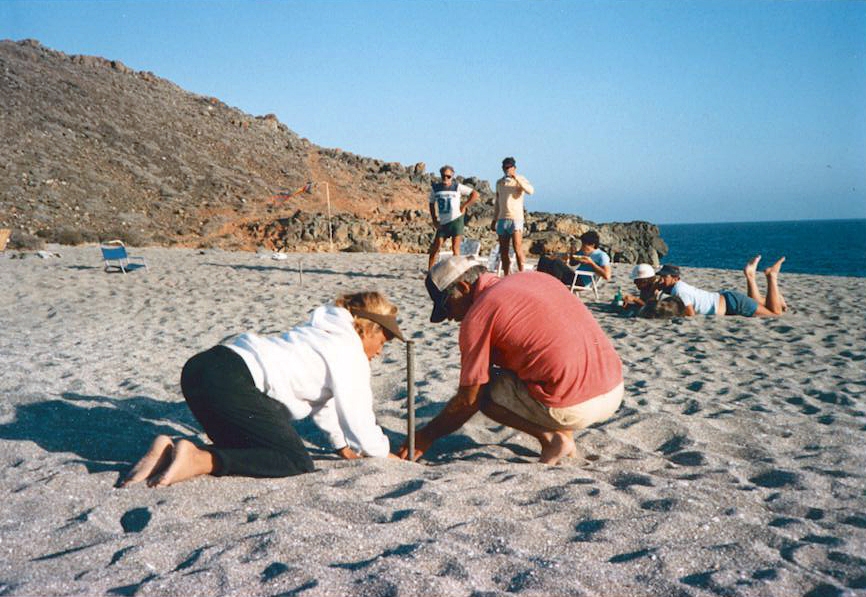 Game of horseshoes, near Seven Sisters. Photo: Curren Archive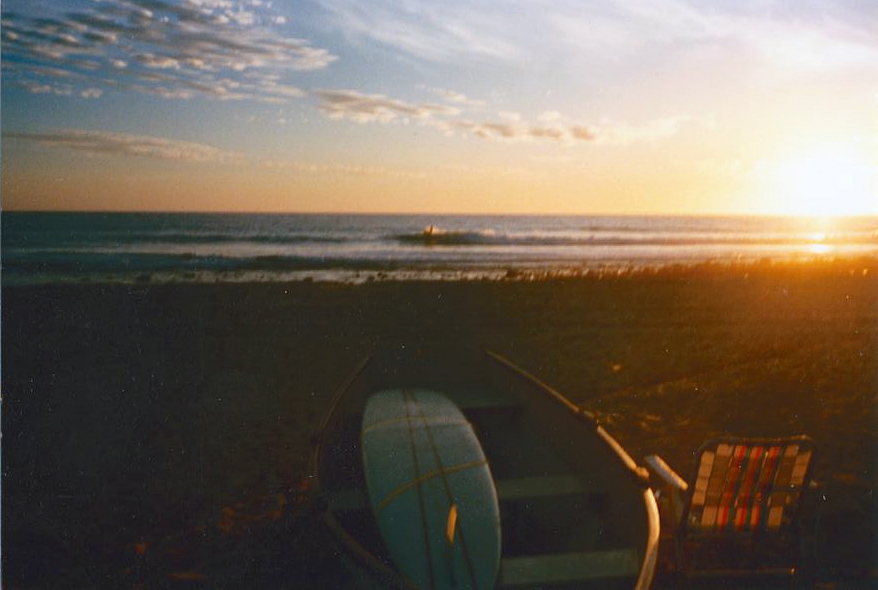 My dad's crafts, Pacific Coast. Photo: Joe Curren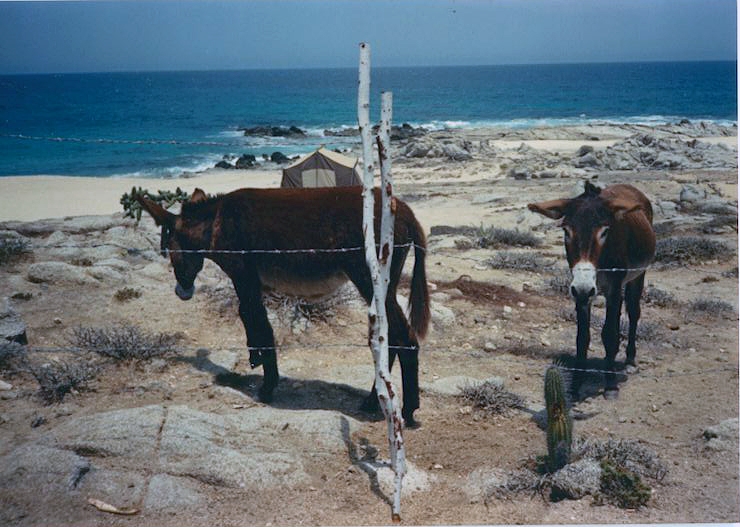 Free-range burros, East Cape. Photo: Joe Curren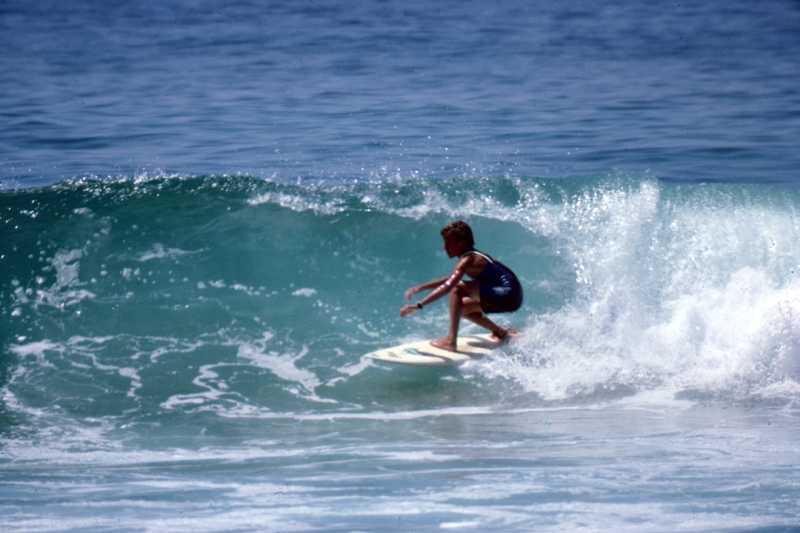 Pocket ride at Shipwrecks when I was 13. Photo: Curren Archive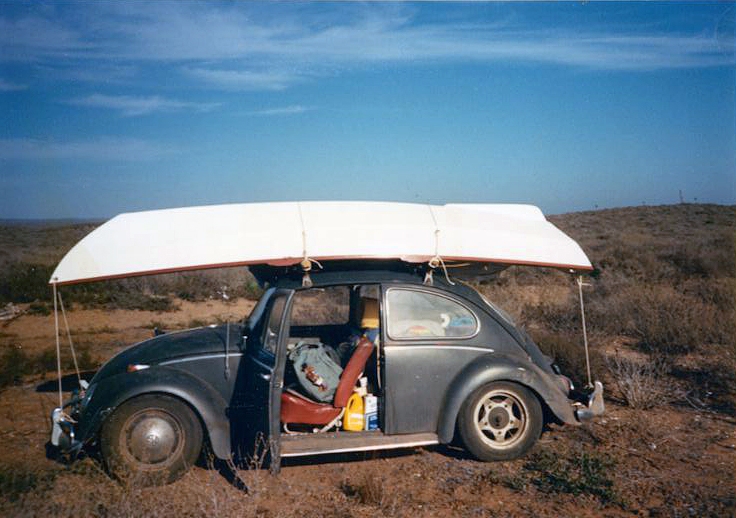 The first bug, fully loaded. Photo: Joe Curren
The VW Bug with the custom passenger seat was otherwise stock—not a modified Baja Bug or anything like that. It was taken on some of the bumpiest washboard Baja could throw at it. At some point in the trip, the car made a loud noise and it wouldn't go into gear. My dad didn't know much about cars, but he could rebuild an old VW motor with ease, thanks to the indispensable How to Keep Your VW Alive: A Manual of Step-by-Step Procedures for the Compleat Idiot. Turns out, it was the linkage in the transmission box coming apart. He discovered that this only happened in first gear. If we started out in second there was no problem. This would work as long as we didn't have to start on a hill. But numerous times he forgot and started out in first. This meant taking out all the gear, the seats and the floorboards and putting it on the side of the road while my dad tied the linkage back together with wire. On the way out of a camp spot in the Sea of Cortez, we had to be towed up a steep, dirt mountain road, since second gear wasn't powerful enough. For a reason I don't recall, I was at the wheel steering the Bug while staring down the side of a sheer cliff. At 13, it was my first time behind the wheel of a car and I was terrified.
Another close call was when I was 15 and my dad and I spent three weeks in Scorpion Bay. I surfed two to three times a day, almost every day. Our campsites were always bare bones. We had one small shade canopy, but never a tent. I always slept outside on my army-surplus cot. We got a lot of sun and I didn't hydrate enough. I ended up with a bad case of sunstroke and dehydration and was laid up on my cot under the blazing sun. Two families from Carpinteria that I knew from surfing Rincon were camping next to us. I remember their campsite seemed so luxurious with snacks from home and AstroTurf to cut down on the dust. Once I got sick, one of the wives gave me some Yoplait and I remembered it being one of the best things I'd ever eaten.
My fever wouldn't break, so my dad thought it best I see a doctor. We headed out the west road for Loreto, the closest big town. At a fork in the road, we made the wrong choice and ended up on a road through the mountains that was made entirely of large boulders. It seemed like it hadn't been driven on in decades, if ever. We made progress, albeit slowly. Once we got to the pass it was a struggle. We were in a newer edition Bug with bigger tires this time, but we couldn't get up enough power to get over the top. Each time we failed to summit, we'd slide a little more backwards. My dad would rip the e-brake as we slid, but it seemed like we were getting closer and closer to the edge. I was seriously scared for my life this time. We were really far from help, it was scorching hot, and I was passing in and out of consciousness. After the fourth or fifth attempt, we finally summited, both of us letting out a big exhale. It was all down hill to Loreto from there. Once at the hotel, I chugged a gallon of cold water, took a shower and spent a night in the air-conditioned hotel room—all of which did me good.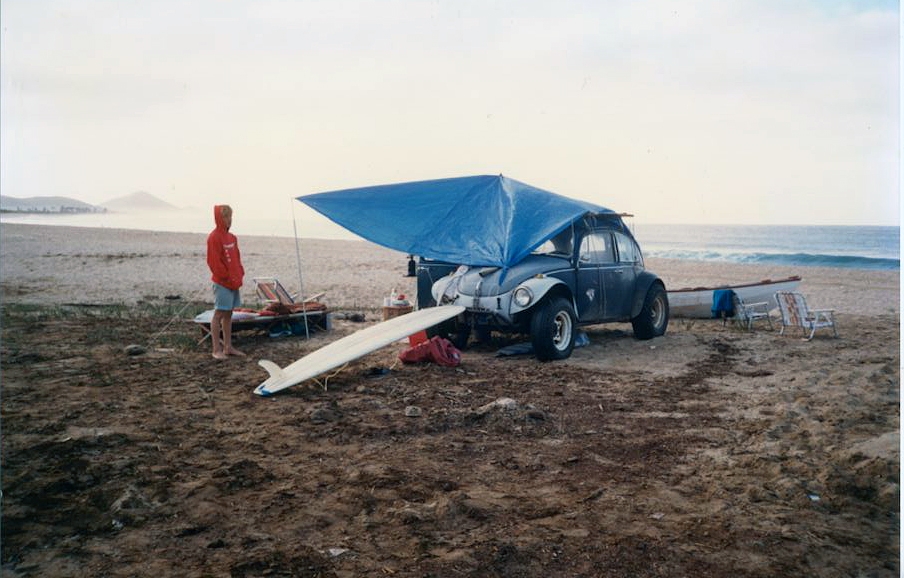 Morning surf check, Pacific Coast. Photo: Pat Curren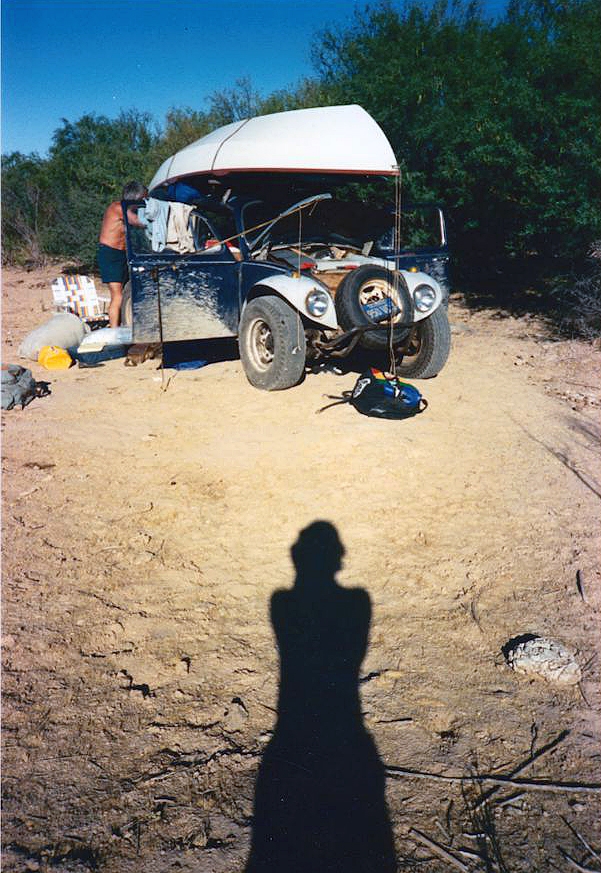 Self-portrait and my dad setting up camp with the improved bug. Photo: Joe Curren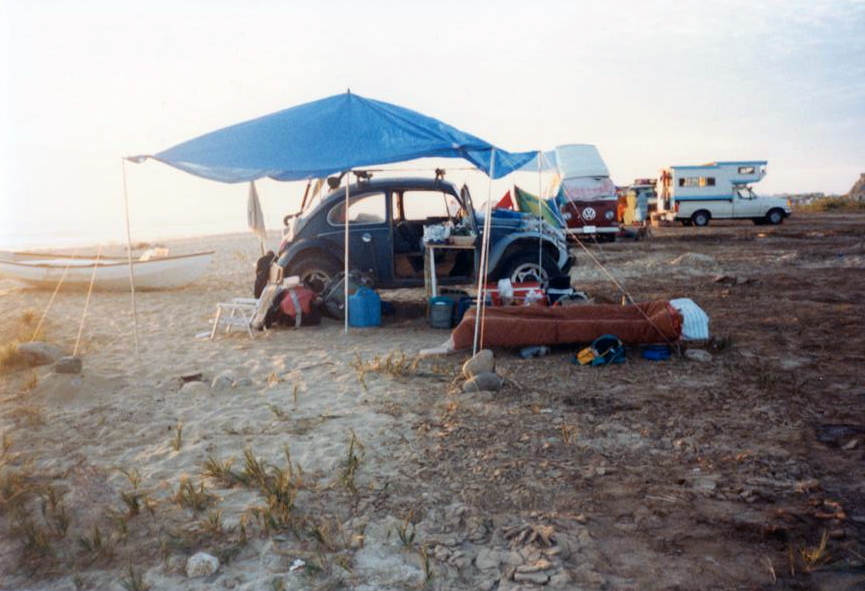 Bare-bones camp with my army surplus–issue cot. Photo: Joe Curren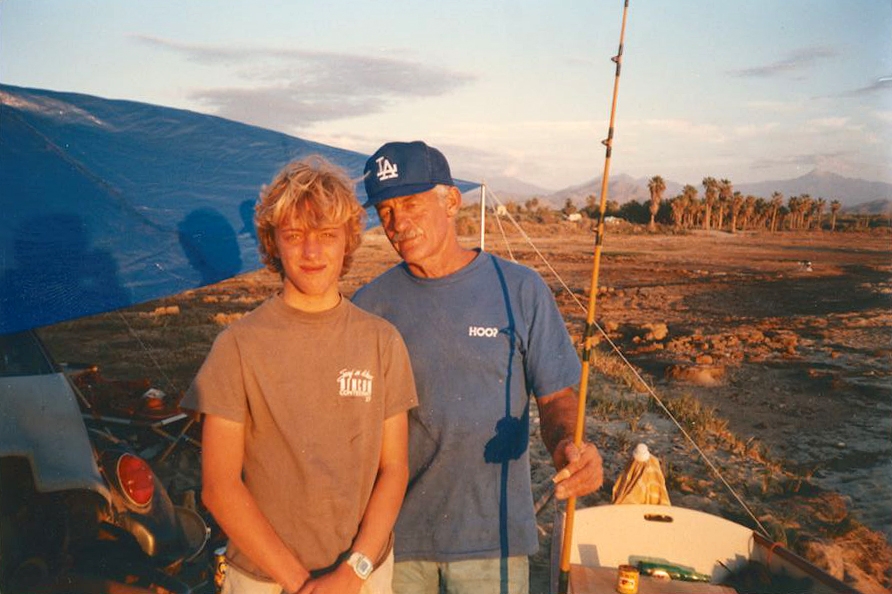 Age 14 with dad, Pacific Coast. Photo: John Elwell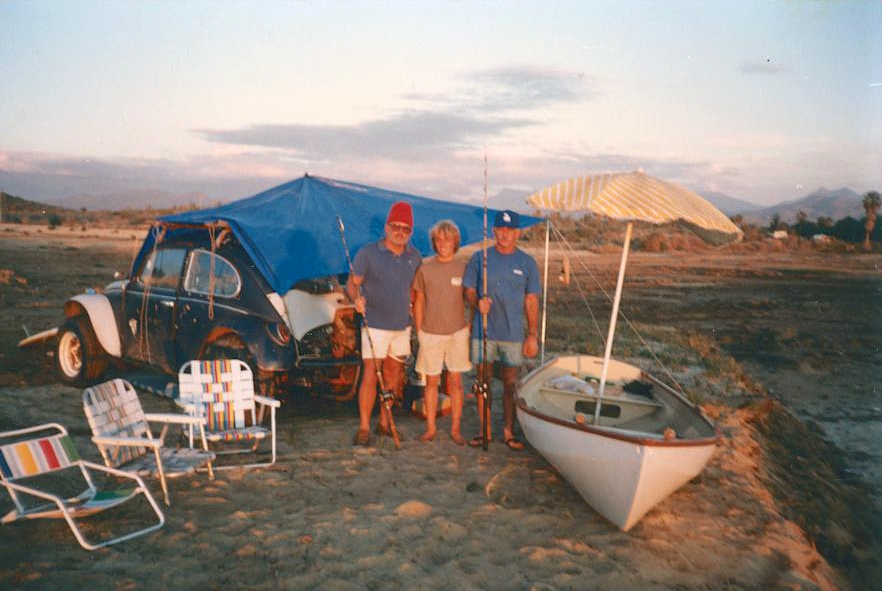 With my dad's old friend John Elwell, Pacific Coast. Photo: John Elwell
I drove to Cabo one more time with a friend at 16, then at 17 I starting flying by myself to visit my dad. After that, life got busier and my visits became shorter and more sporadic. My dad, who until the '90s, had only ridden single-fin longboards in small waves, was now riding a contemporary self-shaped thruster with a semi-gun plan shape. He said that he wished he'd started riding thrusters sooner, since, before trying them, he never preferred surfing over diving or fishing. But now he just wanted to surf. We were on the same page, and during those years the dory didn't get much use.
About 10 years ago when my dad moved back to the States, he left the dory behind at a friend's house. Around this time, my wife Teasha (who had also spent a lot of her youth in southern Baja) and I started going down there about once a year to stay with her parents, who lived in Baja part-time. At the end of 2012, I got an email from Patagonia product tester Walker Ferguson who met a guy surfing in Cabo who knew of a guy living in my dad's old neighborhood that had gotten ahold of the dory and planned to fix it up. This was a surprise. I'd half forgotten about it and had kind of written it off. The last time I remembered seeing the dory was on the beach in front of my dad's place. His place was simple—basic outdoor living—so there was no garage or anywhere else to keep the dory out of the elements. But even if it was kept inside, the boat had seen a lot of use since that first trip in the mid '80s, and upkeep on anything in that environment is a challenge.
I was now living in Crescent City, a small town on California's north coast, near my wife's hometown. Inspired by my dad, I had been thinking for years about trying my hand at woodworking but always found an excuse not to—not enough time, space, tools, etc. But the move from Santa Barbara to Crescent City allowed me more space to work, and I eventually started a business making wood frames and also started shaping a few boards.
Besides the obvious sentimental value on hearing about the dory, I thought, well, if this guy thinks it's salvageable, I would like to fix it up myself and use it at home on the nearby lagoons and estuaries. Maybe even take it rock fishing out on the ocean on a flat day. It also just seemed like a fun project.
With some legwork, I found the guy's contact info. He responded to me right away saying that he hadn't started working on it yet, and if I wanted it, it was mine. In January 2013, on my next trip south, I picked up the dory in my father-in-law's pickup truck, and then it was put on a friend's empty boat trailer that was headed north. I picked it up at their place in Santa Cruz that spring.
I finally got a good look at the dory once I got it into my shop. I noticed things about it that I'd never seen before; details that I could now appreciate since I had started woodworking and shaping. The clean, sleek outline reminded me of one my dad's guns and the perfect butterfly joint where the rails came together in the bow was beautiful. As for damage, there were a few large bubbles in the fiberglass and lots of smaller dings. The wood rails had dry rot and needed to be replaced. But overall, the boat was in pretty good shape, considering it had been in sitting in the salt air for so long, under the hottest sun of anywhere I've ever been. I thought it would be completely delaminated.
I told my dad I had the dory, how I had acquired it, that I planned to fix it up and I wanted to refurbish it to its original condition. He said, "Good, I'm glad, especially if you plan on using it." I asked him a few questions about its history. He said he got the plans from The Dory Book, by John Gardner, where I learned it was a 13'6" Chamberlain dory skiff. It was made with half-inch thick polyurethane foam with two layers of 6-oz cloth per side, vertical grain Douglas fir wood rails and brass oarlocks.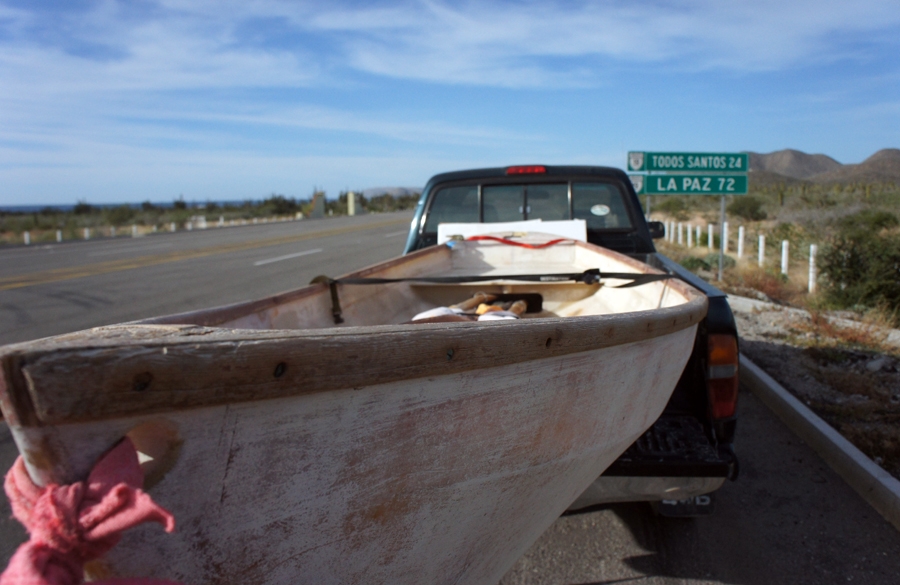 Picking up the dory, January 2013. The journey north begins. Photo: Joe Curren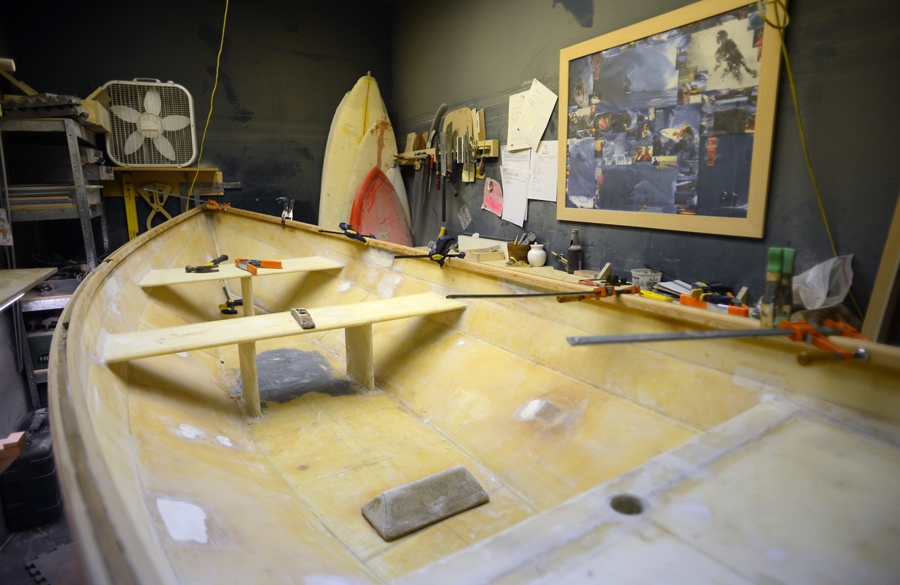 Work in progress, my shaping bay, Crescent City, California, summer 2013. Photo: Joe Curren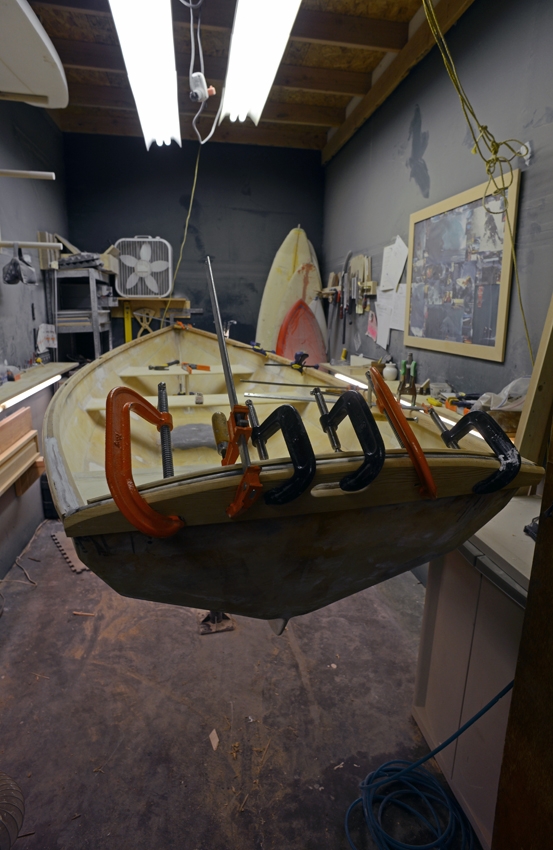 Adding Douglas fir to strengthen the transom. Photo: Joe Curren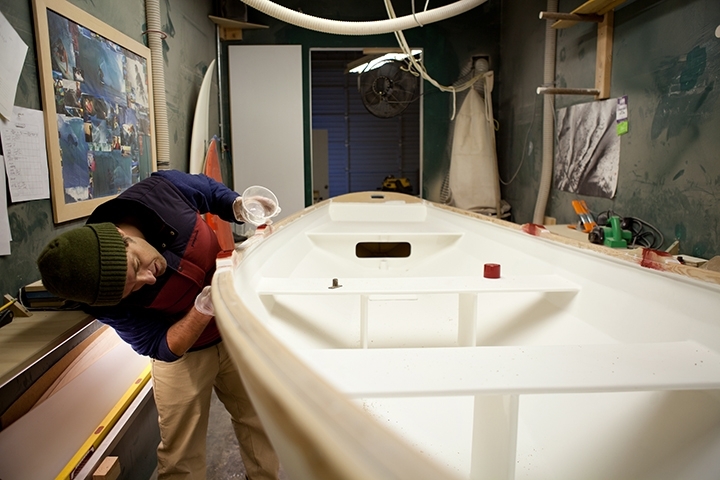 Prepping the rails for paint. Photo: Kanoa Zimmerman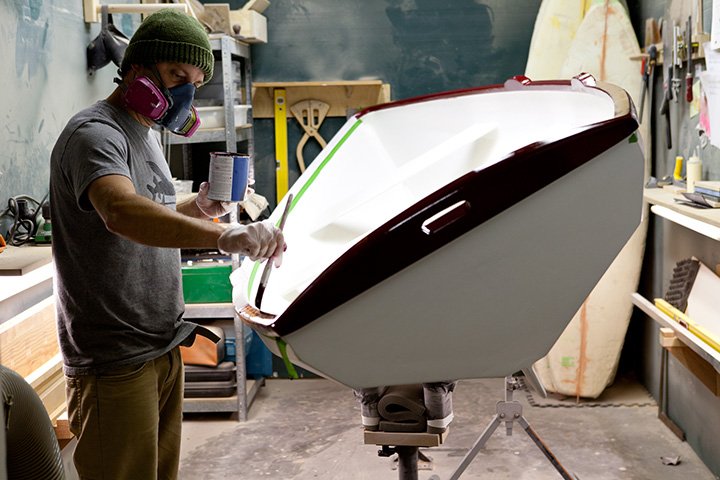 Applying the last coat of paint. Photo: Kanoa Zimmerman
I worked on the dory off and on over the summer and fall. Most of the labor was ding repair. I spent quite a few hours laminating and sanding. More enjoyable was replacing the wood rails. A friend in San Francisco who was working on a project demolishing an ice skating rink salvaged for me some 16-foot old-growth Douglas fir 1" x 6" boards. I did make one adaptation. The foam was weak in the transom handle so I sandwiched it with Doug fir to give it strength. Once all the repairs were made, I applied some marine-grade paint and the dory looked almost like new.
On a clear, late afternoon in October, I took the dory out for its first row on Stone Lagoon in Northern Humboldt. The first thing I noticed was that my six-foot oars were too short. Also, rowing against the wind was tricky. The dory was still pretty light (before all the ding repair I could get underneath and carry it on my shoulders like a turtle), and I was getting blown around. Adding more ballast, or another passenger would help (there were always two of us using it in Baja). But the real question was how did the boat feel once I got it up on a plane? Once I got it going, rowing downwind, it had the same glide I remembered from those years in Baja. Despite all the effort, getting the dory back on the water felt really good.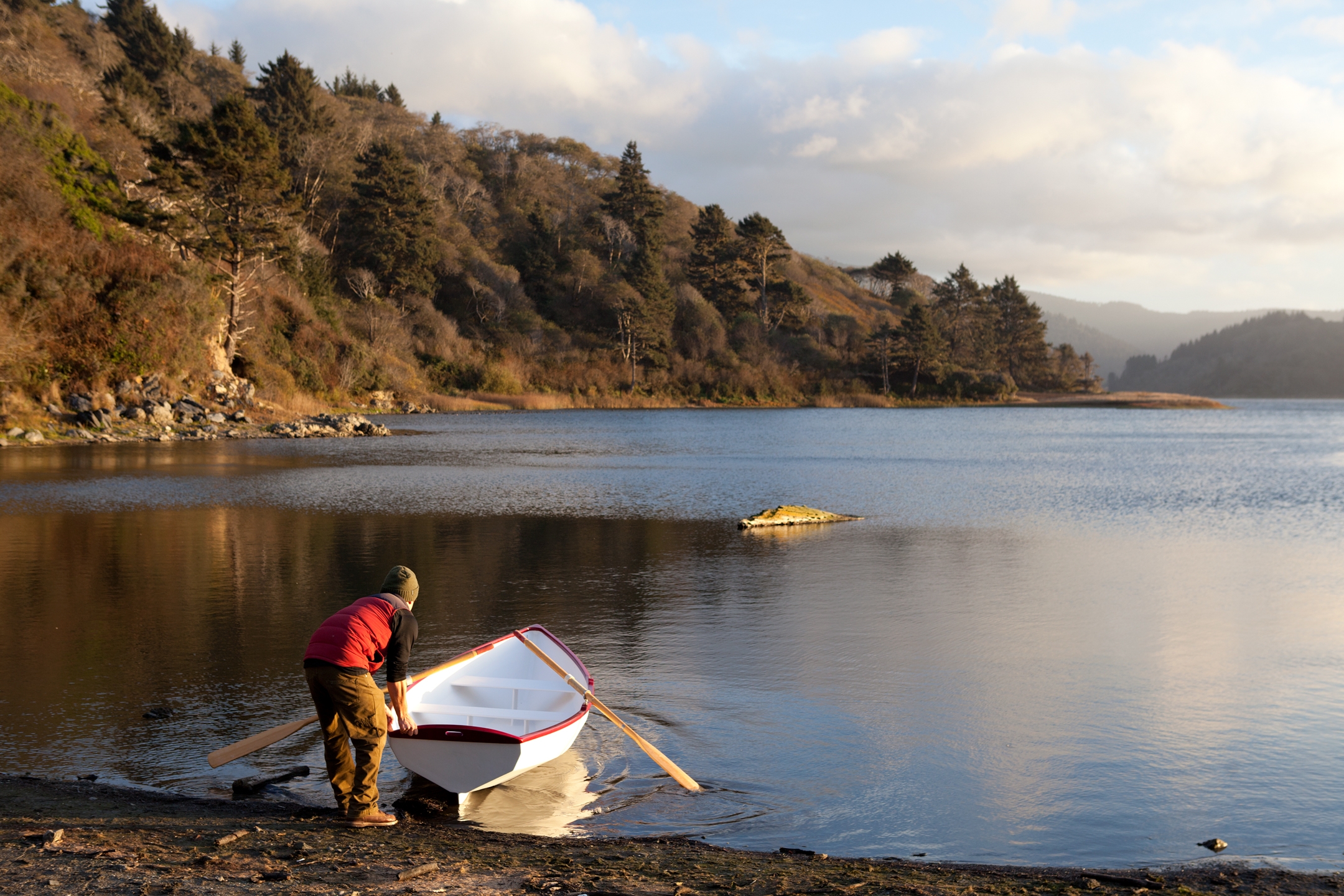 Launching the dory for its first row after the refurbish, Stone Lagoon, Northern Humboldt. Photo: Kanoa Zimmerman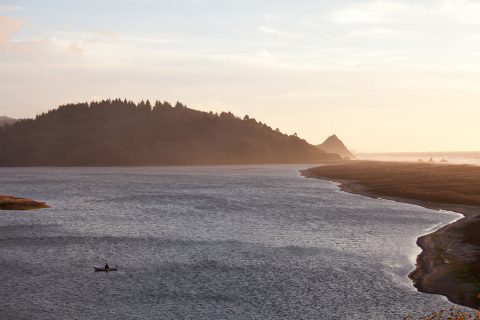 Stone Lagoon, Northern Humboldt, October 2013. Photo: Kanoa Zimmerman
Looking back on those first Baja trips, I don't think I appreciated the dory enough. Fishing and diving was fun, but surfing was all I thought about. I feel like my dad made the dory, not just as a way to catch dinner but also as a way for us to get a little more out there. He loved the feeling of the glide that we as surfers seek, and that's a truly rewarding feeling on one of your own crafts. This, along with some of his other priorities, like spending time out of doors away from crowds and a DIY philosophy, has had a huge influence on me.
The trips with this little dory really taught me a lot. Slowing down, appreciating the simple things, and taking in everything that a special place like Baja has to offer, these are lessons I've carried with me throughout my own travels and in my everyday life.