The Longhope
/
April 25, 2023
8 Min Read
Tales from the world's hardest sea-cliff climb.
Story by Emma Twyford. Captions by Robbie Phillips.
In May 2022, Robbie Phillips and Alex Moore made a clean ascent of the Longhope Direct, E10 7a. Having attempted this in the previous year with Robbie, I can attest to this being an impressive accomplishment. Situated on St John's Head on the remote Island of Hoy, Scotland, this awe-inspiring sea-cliff face is 1,150 feet high (350m); but that is only part of the intimidation. This route really knocks you for six, as you have to do battle with hard climbing, serious choss and vomiting birds.

First climbed as an aid route in 1970 by Ed Drummond and Oliver Hill over seven days, the Longhope Direct wasn't freed until 2011 by Dave Macleod,who claimed it the hardest sea-cliff trad route in the world. When Marc Langely (professional photographer with crazy ideas) asked if I'd be keen to try the route in 2019, I didn't hesitate to say yes. I was craving an adventure that was still in the UK but felt completely different. We just had to convince someone else equally crazy enough to try it. Marc suggested Robbie (professional climber and mad Scotsman) and Culann (Robbie's Youtube partner and crazy Irish person), and between the two of them we had a team. Even when Covid turned a one year plan into two, the psych remained. On May 2021 we all headed to Hoy with a two-week window to try and figure it out.
The trip out to Hoy was an incredible—and an incredibly long—10-hour drive through Scotland, after which I met up with Marc for the first ferry to Orkney. On the second ferry from Orkney to Hoy, we were treated to a view of an orange sea cliff coast so gorgeous that it draws in climbers and non-climbers alike. Driving round to Rackwick Bay, we finally got to see our home for the next two weeks: a sandy beach with barreling blue waves, surrounded by sandstone and lush, green, heathery hills. (Though setting up camp became a quick mission due to the Scottish midges feasting upon us).
The following day we made the arduous two-hour hike to the route, laden with heavy bags. Suddenly we were on our own and away from the visitors making the pilgrimage to photograph the Old Man of Hoy. You have two choices to access the route: a horrible and obscure descent down the grass, or many long abseils to the base of the route. We chose the latter.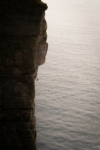 As I went over the edge for the first time I realised I was in at the deep end. I'd barely been on a rope that year and the exposure hit me hard, 450m up and hanging in space.
Descending into the base of the crag felt like dropping into another world; but even then I had no idea what trials would await us for our two weeks on the Longhope.

Both Robbie and I knew the last pitch would be hard weighing in at 8b, but neither of us realized that the real crux of this climb would be the nature of the pitches below. The reality is that for most of this climb you are in no fall zones. Not only does the crux comes last, but you arrive there with a different level of fatigue, mentally drained and tired from a long day of slogging. And a lot of that fatigue is due to the fulmars.

Part of the petrel family, fulmars are known to many as vile creatures that vomit as a defense mechanism. They also have this cheeky glint in their eye as you approach; though they are not the most beautiful bird, they do have bundles of character.
Fulmars only lay one egg during a nesting season and need ledges to do so. They don't build a nest around the egg; scare a fulmar and you run the risk of it fleeing and knocking the egg off or exposing it to the cold. Fulmars are not a 'schedule 1' protected species, but it is an offence to interfere with the nest of any wild bird—and interfering with a fulmar often involves getting an oily spray-down.

From there, things just get harder on-route. The first pitch is a nerve wrangling, no-fall E5 5c with fulmars waiting to vomit profusely over you at the belay stance, which they did as soon as Robbie and I arrived.
Then you get a wonderful HVG, or Hard Very Grassy pitch. It was the hardest grass pitch either of us had climbed, and you wouldn't want to fall either leading or following, as the protection at the belay is pretty uninspiring. After a steadier pitch you are then thrown into the 'Vile Crack'—dirty, green, dusty and covered in bird poop, you feel like you could slip off at any moment. If you've survived this then you have a harrowing E4 5c pitch that feels like a continuation of the Vile Crack, with minimal gear on the traverse at the start that probably wouldn't hold a fall, plus some snappy rock to contend with. Having fun yet?


Next comes the 'Walking Ledge', an unprotected traverse where you have to avoid more agitated fulmars, followed by a small, shuffling tunnel pitch with more fulmars blocking the way and a pitch called 'The Guillotine,' which has a big flake of rock somehow still attached to the wall. The whole route till the last pitch involves climbing like Pacman, avoiding fulmars and hoping you don't snap the sandy rock. To finish off you then have the crux 8b pitch, which by this point feels comparatively safe.
Outside of the difficulties of the route itself, it's also a remote and serious undertaking. If anything were to go badly wrong, it could be pretty dire. Midway through our first week of the trip, Culann got scared by a fulmar on the Hard Very Grassy pitch and pendulumed sideways on the static rope, breaking his ankle. After an adrenaline-fueled jumar to the top, he managed to hobble all the way back to the camping with Robbie's walking poles and some painkillers.
Whilst Marc took Culann to hospital, Robbie and I had another day on the wall in some very strong winds. Despite climbing in my down jacket, I finally made some progress on the crux pitch. I was blown away by the difficulty of the moves, but felt a glimmer of hope. A couple of days later we tried to check the lower pitches, but the rock was wet and one of the statics was core-shot from strong wind. Mission aborted, we headed back to camp, struggling to walk in the wind and getting soaked to the skin by some typical Scottish rain.
After checking the weather forecast, we decided Friday would be our big push.
As I arrived at the ledge of the first pitch that day, Robbie explained that he got covered in vomit from the fulmars, mostly on his face. In the initial stages of the climb my feelings swayed between excitement of making height and relief that each pitch was over. We each put in 100% on our lead pitches, with some being more harrowing and taxing than others.
After a siesta and snacks on the Walking Ledge, where we watched the fulmars glide around beautifully even when the wind was high, Robbie found some energy and much-needed psych to make his way towards the last pitch. But when he crawled into the narrow tunnel on the penultimate pitch, he wasn't alone: within it were several nesting fulmars, which were firmly staying put.
As climbers, we felt it was our responsibility to try and co-exist harmoniously with the fulmars and minimize our disturbance. Both Robbie and I had developed an admiration for them; this was their home turf and they had a right to defend it, whereas we didn't really belong there. When the fulmars in the tunnel refused to budge, I completely respected Robbie's decision that our adventure was over.
Sometimes it is hard not to be despondent when you don't achieve your goal, but nature has a way of reminding us that we are just guests. We have to show it respect and be gracious in defeat.

When Robbie returned to finish off the Longhope Direct this year, it was good to know he still found it pretty full-on, even with a strong team. For me, the adventure of the year before left some scars. I have a newfound respect for just how bold and ahead of its time Drummond and Hill's ascent was. Trying the route even now with a modern trad kit felt intimidating. It took a while for me to trust my gear and holds again, and I think I'd pushed my mental limit a bit too far. I was never certain if I could do one of the moves on the crux, which made me doubly sure I didn't want to go back. Maybe the desire to return would have been strong enough if I knew I could do that one move…but then again, fulmars.