Life of Pie: How Hot Tomato Pizza Unites a Mountain Biking Paradise
Friday night at the Hot Tomato is not for those in a hurry. Hungry customers grip pints of beer and compare notes on the day's rides in lines that spill into the parking lot. Music pumps and the staff whirls behind the counter, tossing floury dough, yelling requests to the kitchen, giving each other shit. The vibe is undeniably fun and the (eventual) pizza is killer.
Owners Jen Zeuner and Anne Keller are now fixtures in the Fruita community, but they admit that Fruita was not their first choice when they arrived back in 2002. Laid out along the Colorado River just east of the Utah state line, it was historically an agricultural region, populated by fruit farmers and ranchers, and later extractive industries like mining, oil and gas. At the turn of the century, it was considered one of the most conservative towns in the state.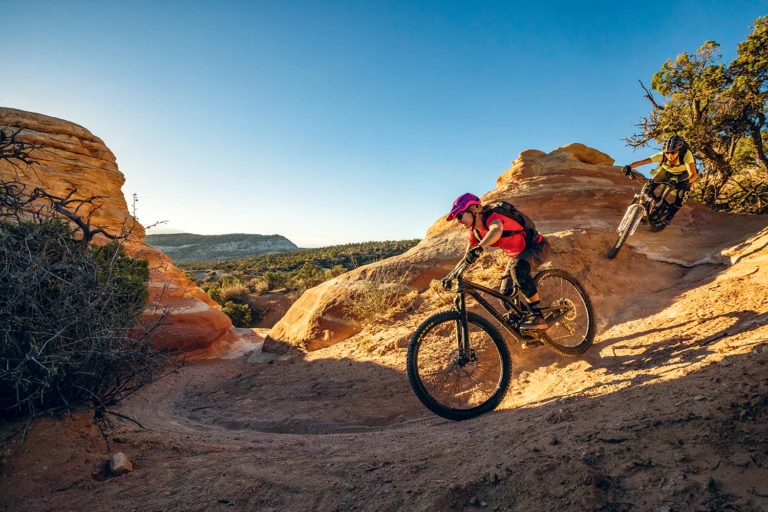 But the young couple had to face facts. Durango—another MTB Shangri-La farther south—and even neighboring Moab, Utah, were just too pricey. The two were broke and needed a place where they could extend their dirtbag phase. Fruita was cheap, exploding with new single track, and—while it wasn't obvious then—it had lots of blue sky above it, literally and figuratively.
Keller (a photographer) and Zeuner (a former BMX and downhill racer) settled in and took jobs at the bike shop, amazed that they could work one job instead of three, pay their bills and still have time to ride. It was during those years they saw a swelling river of tourists coming in to ask where they should eat. "We were so naïve," says Keller. "We thought, Hey, we'll open a restaurant, hire a few people and ride bikes all the time." Both women laugh. "Suckers!"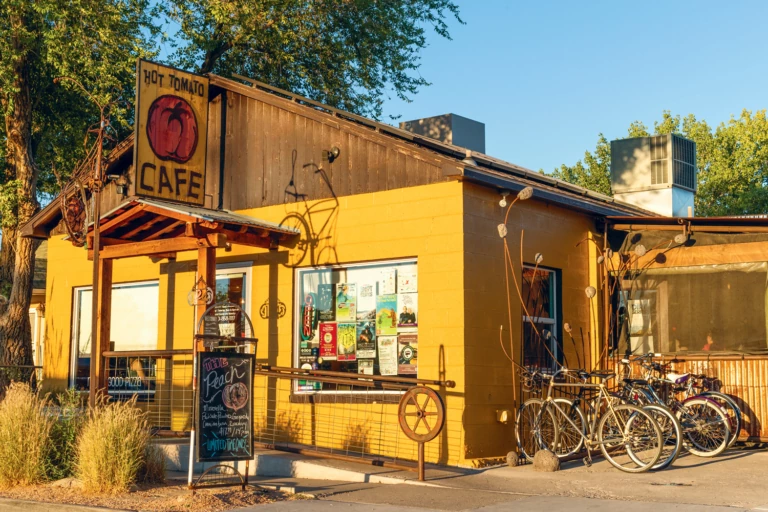 When they opened their New Jersey-style pie shop, the welcome wasn't overly warm. Zeuner and Keller recall one local who hated mountain biking, hated the fact that they were gay, hated that they were opening a business, and hated most of all that one of his daughters wanted to work for them. "But over the years he's become a regular," Zeuner says. "He shows up with his kids and grandkids. We've been here long enough, people know that we're just nice people."
"We're not very in-your-face about anything," says Keller. "But we've also never tried to hide the fact that we're in a lesbian relationship and by sheer virtue of that, I guess there's always been a little bit of subversive activism at the Hot Tomato." By design, the restauraunt and the "tomatoes" who work there welcome everyone, liberal #vanlife shredders and conservative ranchers alike. "Inclusivity is not a given," says Zeuner. "You have to train people. We want to accept every person who comes through our doors. Genuinely accept them."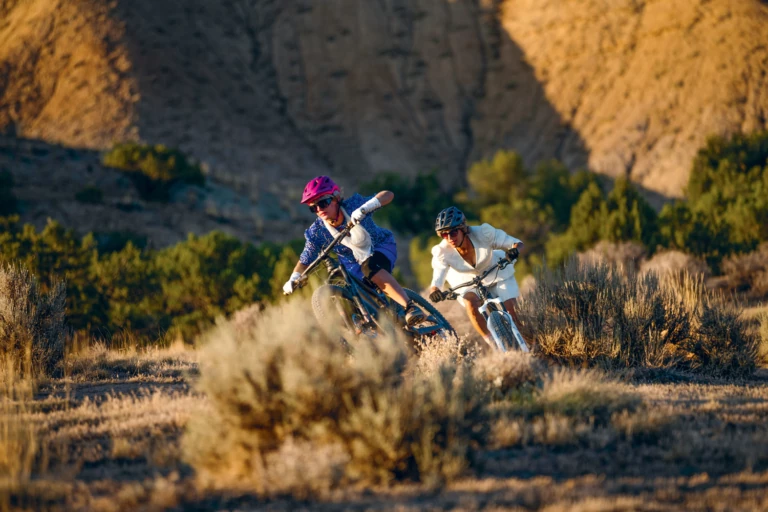 Owning a business and riding whenever possible leaves little free time, but Keller and Zeuner manage to make some to build trails and stay involved in the town's outdoor recreational development. They try to help like-minded upstart businesses from being pushed out of Fruita's increasingly expensive market and offer affordable rent on a few lots they own behind their shop. "We want more community-minded businesses here before we have too many people in town to be able to serve them well," says Zeuner.
Life of Pie, a film by Ben Knight and Travis Rummel about Jen Zeuner, Anne Keller and the mountain bike community in Fruita, Colorado, will premiere in May. Check tour dates.
This essay was featured in the 2019 Patagonia March Catalog.