How to Dress Properly for Winter Climbing
Like flocks of swirling swallows or shimmering schools of tropical fish, our customers swoop in with mysteriously synchronized concerns and questions on a regular basis, prompting the need for ready answers. Times like these, nothing would be more handy than magically beaming knowledge out into the ether. Kelly Cordes is our guest Trencher today, fielding a question that is at once simple – and surprisingly complex: How do you dress properly for ice climbing? – Ed
_________________________________________________________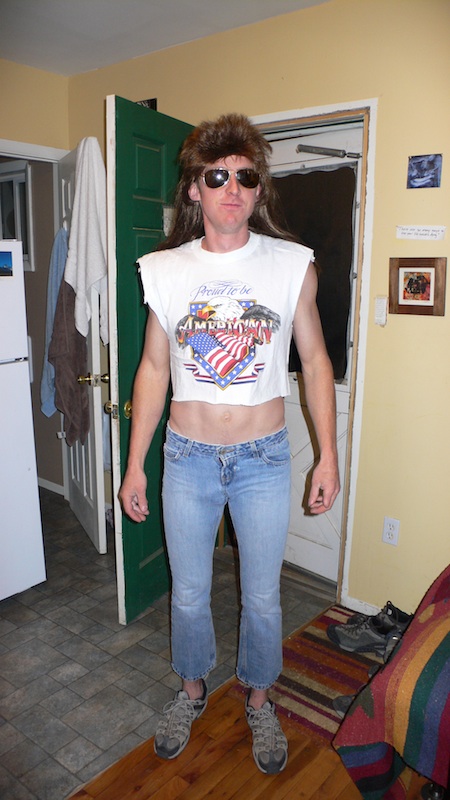 Some people don't like winter climbing because, surprise surprise, it's cold. But it's also beautiful – the stillness, the ever-changing medium, the winter light. Fun only in retrospect (Type II fun)? Not necessarily. The trick, or one of them, is to keep your body temperature just right. But you don't want to inhibit mobility, since trying to climb while bundled-up like Ralphie from A Christmas Story isn't much fun, either.
Here's one simple pointer: wear an extra layer in your core, or torso. I call it my "+1 Core" layer. We've long known, courtesy of physiologists and backed by our own experiences, that when push comes to shove our bodies prioritize shunting warm blood away from our extremities and toward our more vital areas. By wearing an extra layer in your torso to keep key areas toasty, you get serious bang for your buck warmth-wise, while maintaining arm mobility. It's a similar concept to that old saying from granny: if your toes are cold, put a hat on (surely the reason all shirtless bouldering bros wear a beanie). I, and many other climbers, believe that this whole "core warmth" thing helps me get away with wearing thinner, more dexterous gloves while winter climbing – nothing is worse than fumbling with gear in big gloves. Well, frozen fingers are worse, but that's kind of my point, too. Like granny says.
[Tommy Caldwell misunderstands the vest concept. Photo: Kelly Cordes]
Fitness professionals often consider the "core" to run from your hips to your shoulders, which also applies to prioritizing warmth. Aside from the obvious vest concept, you can expand your coverage/warmth area without inhibiting mobility by wearing formfitting boxer briefs, which cover a little more of your hips and arse. Other key areas include the neck and head – obviously you'll wear a hat, and if it's meat-locker cold a neck gaiter works wonders. For versatility, I swear by the R1 Hoody – to go from having the front zip completely open to putting-up the hood and zipping into balaclava-mode feels like a thermostat swing of 10 degrees. Sweet.
In the torso, I don't go too thick because added bulk makes it harder to see my feet while climbing; I also tend to heat-up quickly while moving. So, for climbing I rarely go warmer than an R1 for my "+1 Core" piece. Often I'll just wear an extra short-sleeve T (Capilene or Merino), and then add my regular long-sleeve baselayer over top. I have an old Cap 3 sleeveless that's a terrific next-to-skin core layer – no underarm bulk, and a substantial boost in warmth without any pockets, zippers, or bells.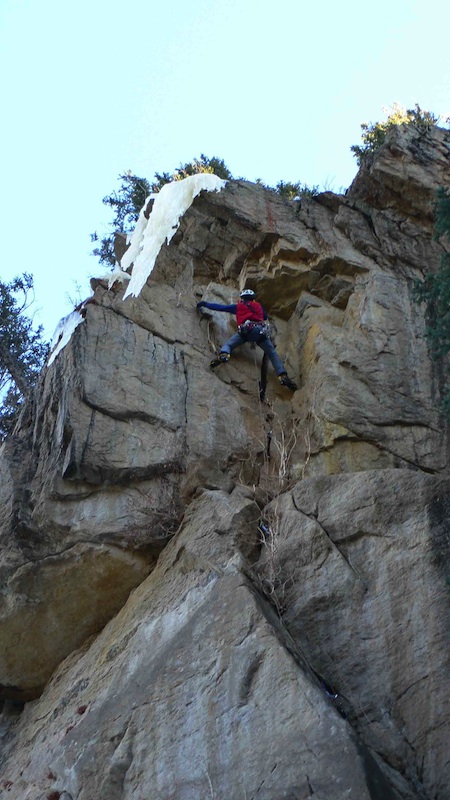 Obviously, a vest is another great core-heater. We've got an R1 Vest in the line now, and it's probably my all-time favorite fabric. But I don't like pockets and a full-length zipper under my harness (most people like those features, I know), so here's a dirtbag solution: take an old R1 Pullover or similar fleece and cut off the sleeves. It not only has the timeless appeal of redneck haute couture, but it adds warmth where it matters, keeps your arms free and mobile, and helps the end goal: turning winter climbing into Type I fun – the kind that's fun while it's happening.
[The author provides a better example of proper vest implementation. It's worth noting that since this photo was taken, Kelly has since grown a schwEET mullet. There's reports that he's also stolen Tommy C's shirt. Photo: Roy Leggett]