A 35-Year Voyage Back in Time: Nick Beck's Holopuni Expedition
Nick Beck
/
February 24, 2018
/
10 Min Read
/
Surfing
In May 1981, I set out in a home-built Hawaiian sailing canoe from South Point on the island of Hawai'i to my home on Kaua'i. It was an adventure that would take me from the southern-most to the northern-most point of the Hawaiian Islands. I named my canoe Holopuni, "to sail everywhere," and I've been building and evolving sailing canoes ever since.
Hawai'i in the pre-European contact era was essentially a coastal society. The interior valleys were habitable, but the mountains were too rough and inaccessible. The Polynesians built, navigated and explored the vast regions of the Pacific with sailing canoes. Voyages such as those recreated by Hōkūle'a in recent years were the epic voyages. At the time of Captain Cook's arrival in Hawai'i these explorations had ceased. Yet seagoing travel by outrigger canoe was still the main mode of transportation and communication throughout the Hawaiian Islands. In the early 1800s, Commander William French, living at the coastal village of Kawaihae on the island of Hawai'i, comments how the beach "was lined with canoes for miles in length."
I sailed on perhaps the most well-traveled route of the ancient Hawaiians. I followed the coastline and crossed the channels in search of Hawai'i's past. My vessel, a time capsule if you will, was a small outrigger paddling and sailing canoe.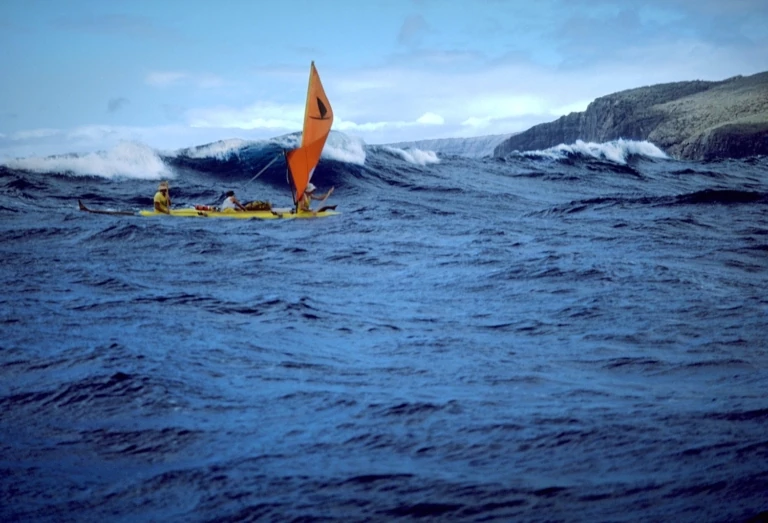 I spent over a year completing my Holopuni voyage. I researched. I explored. I documented. I saw the past, or what remained of it. I was in awe of what had been, and amazed to see what remained. I was deeply saddened to see how much of Hawai'i's rich history was being ignored, uncared for, and even worse, intentionally abused and destroyed by development.
The experience changed me. I shelved all plans of selling any article that would expose the places I found so beautiful and sacred. I had seen this happen before. Soon the isolated site is swarming with "explorers" who had "discovered an island paradise" through a guide book or article. In too many cases this just meant more people, more pressure on historic sites and more trash left behind.
I returned to my position as a school principal in Hanalei and outrigger coach at our local racing outrigger canoe club. But my heart was not so focused on competition. I became immersed in what my little Holopuni had shown me. I could voyage, fish, camp, explore, sail, surf, paddle, or just drift beyond the reefs and always get home. I could do this alone, with family or friends. It was always fun.
I started dreaming of other voyages, other places to explore: Hawai'i, Tahiti, Fiji, New Zealand and more. I started designing and building other sailing canoes. Each one was to be a Holopuni, an improvement of a canoe one could sail everywhere. I built and sold many canoes.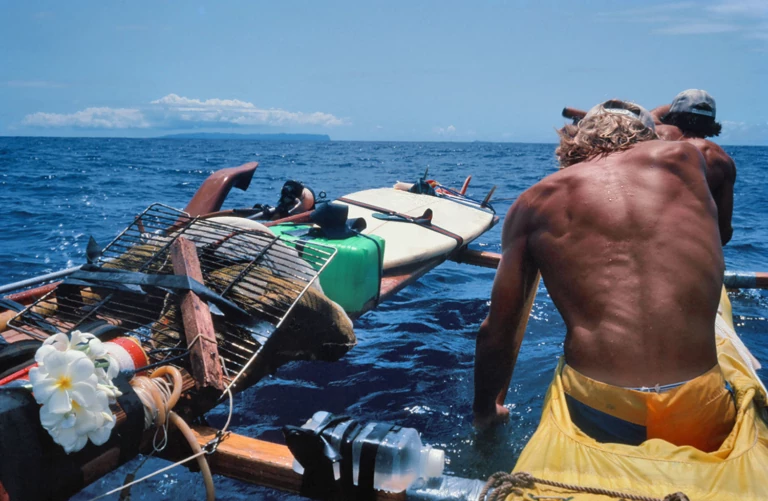 I sailed in Tahiti a lot and on each trip there we made it a point to take a new Tahitian along to expose them to sailing. On one trip, I had an older Tahitian paddler aboard as crew. Kamu was a fast learner, a great paddler and an avid waterman. After a few hours I told Kamu it was his turn to steer. He was hesitant as he had never steered a sailing canoe and was afraid he could not do it. We somehow convinced him, and he needed little instruction. After a few hours he was steering a true course. I then told him that it was time to really sail. I had been handling the sheet which controls the shape of the sail. I tossed it back to him in the steersman seat and told him, "Now it's all yours. You sail. I'm fishing."
And Kamu sailed. He steered and managed the sheet. He looked pretty serious, but soon he smiled—a big Tahitian white-toothed smile. Shortly after we pulled up on the beach, Kamu pulled me aside. He had tears in his eyes and the big smile was gone. He simply said, "Maruru (thank you), Nick. My grandfather was with me. He is gone now, but he was a canoe voyager, a navigator. No one else in our family ever sailed. He sailed with me today. Maruru." The Holopuni is modernized but its roots are ancient. It is still a time capsule. This time connecting the generations.
Time sails on. There are now Holopuni canoes throughout Hawai'i, Tahiti, Fiji, New Zealand, New Guinea, Australia and Mauritius. They sail the west and east coasts of the United States, and even the Great Lakes. Some crews like to race, some like to paddle, some surf, some fish, some bring their families. I think they all enjoy the voyage.
Early in 2017, the seeds were planted for another Holopuni Hawaiian Islands voyage. It started with just a few Holopuni canoes and ultimately grew to nine canoes representing all the Hawaiian Islands as well as two crews representing Tahiti. As I began reflecting on my original voyage thirty-five years ago a main thought stood out: How simple and basic a trip it was with only one Holopuni. For food we only took what we needed; we were prepared to collect or catch the rest. We had one three-gallon bucket with a water-tight lid for clothes and personal items. We had one wok, one teapot and a grill top from a broken barbecue we found on the beach. We carried all our water or boiled it. We had no cell phones, no radios, no Walkmans. We did have an EPIRB that was big and heavy, and of questionable reliability. We had one sail and a spare which served as a tent for shelter.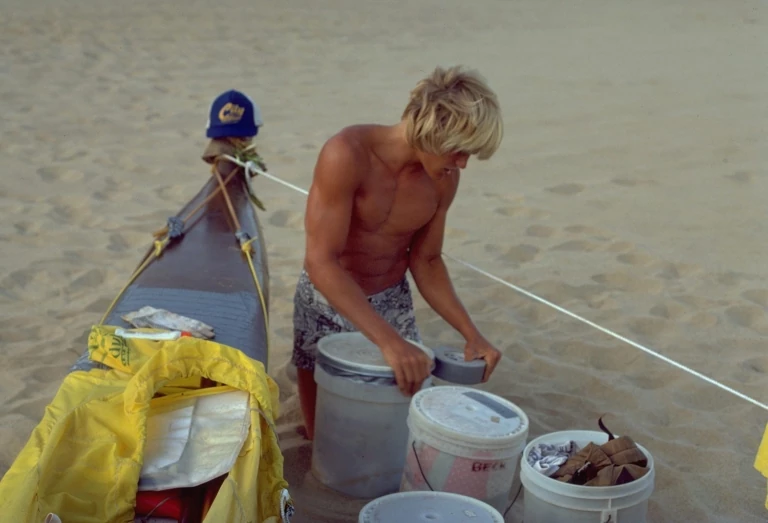 The 2017 plans were not quite as easy for a fleet of nine Holopuni. We had to feed thirty-plus hungry paddlers and assorted crew. The clothes and personal gear should have been simple: one small backpack each, right? Wrong! I was as guilty as the rest, "We have an escort boat. No more 'one smelly wet T-shirt for a week.'" I was still hoping to catch a lot of fish, so we took our lures. With escort boats all we needed in the canoes was water for each day's voyage. We took all manner of communications equipment: GoPro cameras, cell phones, iPads, iPods, waterproof boomboxes, computers, battery backup, chargers. Oh yeah, how about three drones? For safety we had it all: satellite communications, PLBs, EPIRBs, flares, dye markers, life jackets. Back in 1981 we had no life jackets. We figured if we sunk we had surfboards and lots of stuff that floated—or might float. Each crew was responsible to book their own housing ahead of time, but we did a lot of floor space sharing and were very lucky to have accommodating friends and crew captains with space to share in their homes.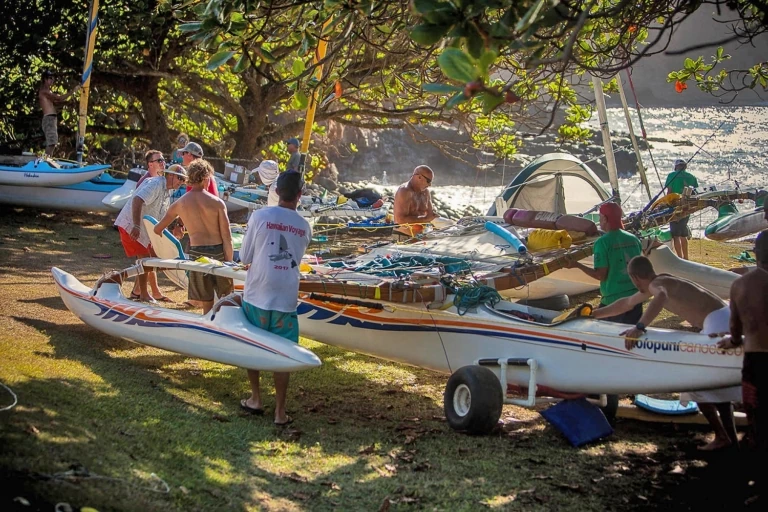 The 1981 voyage was about discovery and rediscovery. Every day was filled with something new and awesome. It was simple. One canoe, one crew. We knew where we were going but not when. There were no time limits or constraints. If the weather was pilau (bad), we stayed put. If the weather was good, "we go," or if there was more to see and do, we "no go." The hospitality extended to us was almost impossible to believe. Every place we visited, we were greeted, fed, housed and treated like family. We had some scary times at sea with big waves, big winds and big fish, but we were watched over and blessed. The best part of it was I got to share some amazing experiences with my sons, David and Hobey. We did the O'ahu to Kaua'i channel crossing together.
On the 2017 voyage I had my concerns but as I reflect back I am amazed at the similarities. This was also a voyage of discovery and rediscovery. Every day was filled with something new and awesome. This was not a simple voyage—coordinating all the different crews was difficult—but everything worked out with everyone pitching in. It became almost a family affair.
At first the weather appeared a bit unsettling. When we started out we were looking at hurricane warnings, which got downgraded to tropical storm warnings, and then to small-craft and high-wind advisories. Somehow, we dodged all the bullets, or they dodged us. Sailing conditions were nothing short of epic. At times the Holopuni canoes seemed to be surfing endless swells at Mach speeds. The canoes were singing, the hulls humming, the rigging whistling. At the end of every day we would say to each other, "That run was unbelievable!"
On the last two legs of our voyage my grandson Braden came aboard my Holopuni to replace a crew member who had to return home. We had the last crossing, the big one from O'ahu to Kaua'i, still to do. It is the longest open water channel in Hawai'i. The seas can turn into mountains. King Kamehameha, who conquered all the other islands, never made it across this channel. During his attempt to conquer Kaua'i, most of his fleet of war canoes were sunk in a raging storm. Those that managed to survive barely made it back to O'ahu. This channel is not to be taken lightly.
When we crossed the Kaua'i Channel in 1981, it was the first time in recent history the crossing was made in a sailing outrigger. We did it mostly at night, guided by the stars, the moon and the wind. We had spent days studying the night sky with our dear friend Louis Valier, who at the time was teaching celestial navigation at the Bishop Museum Planetarium. Louis programed the night skies in the planetarium to take us through the rising and setting of the stars we would see on the night of our crossing. We learned these guiding stars by heart. When the night of our crossing came we told our escort boat to remain well behind us in order to let us do our own navigation. We had no compass, but we had confidence. We paddled out of Pokai Bay on O'ahu on the path of the setting sun in the west and a rising moon in the east.
After a night of rough weather, squalls and long periods of total blackout from clouds, we saw only rough, empty seas ahead when day finally broke. No Kaua'i. During the squalls when the stars disappeared I navigated our course by the direction of the predominate swells. We were now either off course or had progressed slowly. I opted to believe we were slow, but on course. I was becoming concerned when suddenly my son David yelled, "There's land … it's Kaua'i!" David scrambled into the stern seat of Holopuni to steer for a while and I took a much-needed break. As we approached Ninini Lighthouse at Nāwiliwili Harbor, I took over and steered us through the harbor entrance. With David and Hobey paddling, we sailed into the bay.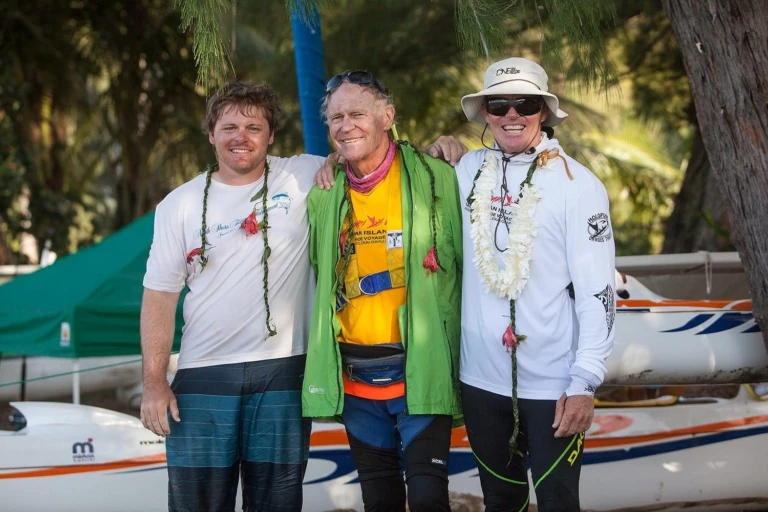 We would cross the Kaua'i Channel again in 2017. This time I had my grandson Braden in my crew. It is a long, hard crossing to steer. I'm now seventy-seven years old, yet I still had the desire to do it again. But then I thought about my boys in 1981, and I thought of the many times I have sailed and steered across this channel since then. And I thought of Kamu in Tahiti and how proud he was to have done what his grandfather had done, and proud that his grandfather had "been with him" as he steered us in Tahiti.
I asked Braden, "Are you ready to steer this one home?" And steer he did, all the way from the sands of Sunset Beach, O'ahu, to the sands of Hanalei Bay, Kaua'i, with his proud grandfather aboard as his crew.