Meet the Long-Distance Longboarders Skating through Morocco
Aaron Enevoldsen
/
January 10, 2011
/
4 Min Read
/
Community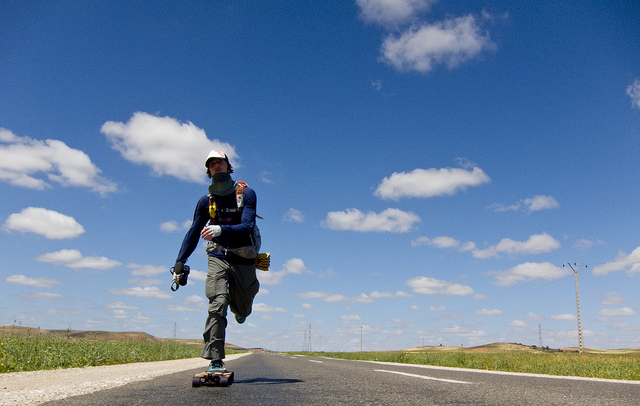 [Straight road through farmville. Pushing towards Marrakesh, Morocco. All photos courtesy of Paul Kent, Adam Colton and Aaron Enevoldsen.]
Billy Smith, Patagonia wetsuit developer & co-inventor of the Sporting-Sail, introduced us to some of his good friends at Long Treks on Skate Decks who skateboard across countries. After looking at their photographs, videos (warning: expletives) and product reviews, it was clear to us that these guys are not only hardcore users of Patagonia products they are doing things that don't even have a name yet. Their unconventional approach to a sport they are pioneering is inspiring and real. Today's post by Aaron Enevoldsen, about their 40-day push through Morocco, proves that human-powered transportation can come in more ways than you might have previously thought.
If your next journey had to be without a motor, what would you choose? A longboard probably didn't come to mind.
Traversing the High Atlas Mountains in early 2010, you would have found three very dirty individuals, pushing incredibly high-tech skateboards. Those three guys would have been Paul Kent, Adam Colton, and this guy, Aaron Enevoldsen. Under the name Long Treks on Skate Decks, we've pioneered long-distance skateboarding combined with documentary filmmaking (warning: expletives).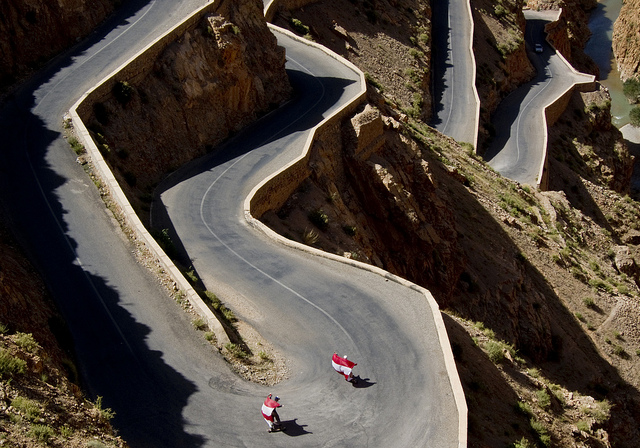 [Paul Kent and Aaron Enevoldsen use the Sporting-Sail to save their shoes and manage their speed. Dadès Gorges, Morocco.]
Mixing our passions for the longboard, the backpack, human-powered transportation, and the video camera, we have longboarded 4500 kilometers through Peru, Bolivia, and Morocco. Our two-month treks proved the longboard a viable means of transportation. We each only have our one set of wheels and two sets of bearings. There is no support vehicle. Inside our backpacks you'll find a small tool set, first aid kit, minimal clothing, road map, and lightweight camping gear. All we take along with us fits on our backs. We eliminate cooking gear because of its weight, and therefore have a huge dependency on local cooking. We have spent days surviving off of packaged food from small pueblos such as cookies, soda, and varieties of flat breads. These instances of malnutrition can take an enormous toll on your digestive tract.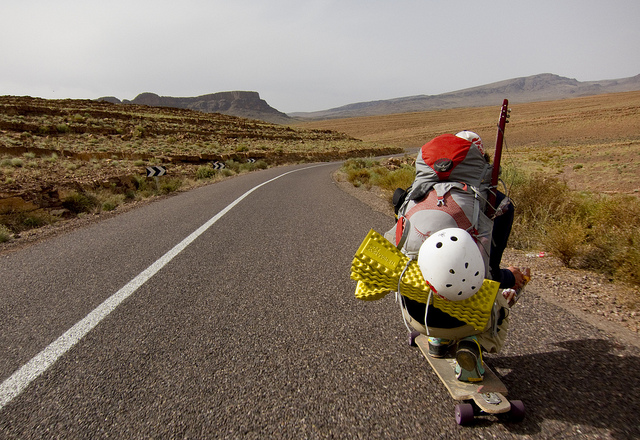 [Aaron thinking about taking a poo while coasting down nowhere land with no end in sight.]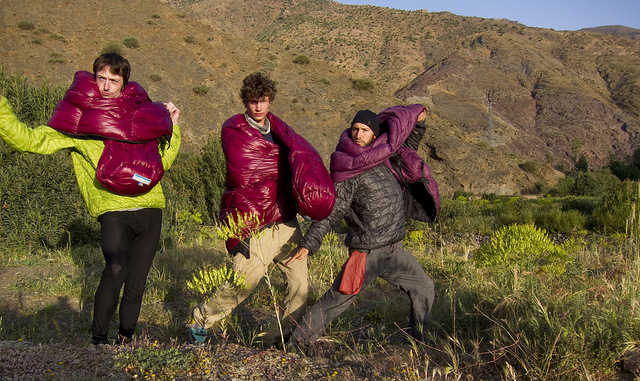 [It's all about product placement. Stoking out the sponsors after a roadside bivy.]
There is no questioning that these trips are infinitely dangerous considering the amount of daily unknowns we go into with wheels 12 times smaller than your average bicycle wheel, and no brakes, on mostly narrow roads with no shoulder lane. Our average downhill speed is faster than that of a transport truck downshifting over mountain passes. Inconsiderate drivers, mules, dogs, motorcycles, road rage, and domestic livestock have all run us off the road. Our backpacks are a cumbersome weight when taking hairpin turns at 40kph. We must also give credit to our knees for carrying the weight of our backpacks uphill for hours at a time. Or, should I mention days at a time? Our first mountain pass in the Andes was three days of uphill, nearing starvation, sleep deprivation, and carrying our soaking wet gear to the summit of 4390 meters.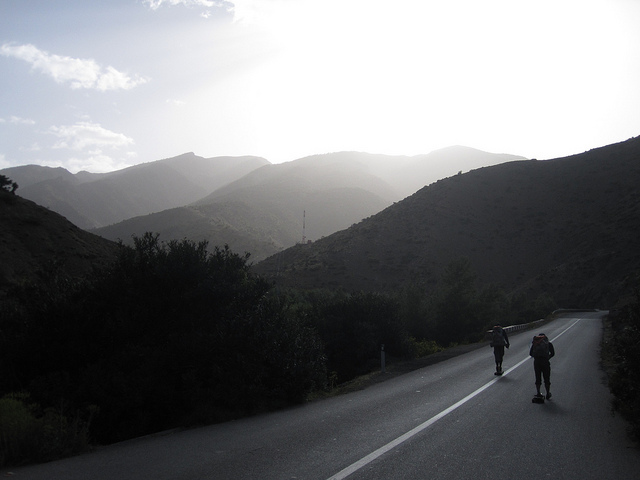 [Pushing uphill through a mountain pass.]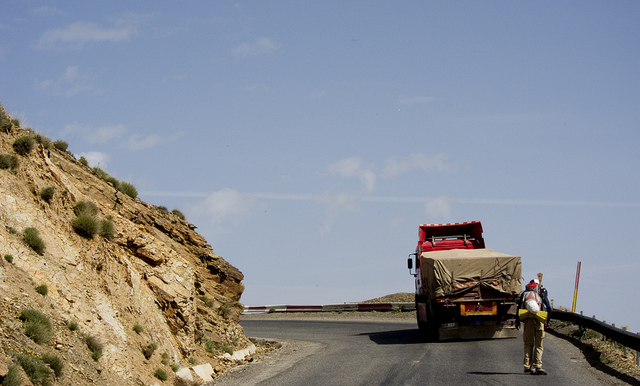 [Our highest pass of the trip. Tizi-n-Tichka, Atlas Mountains, Morocco.]
I am a huge believer in human-powered transportation. The technology is improving everyday towards a system of roadwork and wheel innovations that can make our streets less congested. The longboard is a very new example of this. And the innovations don't just stop at the wheels. Our use of lightweight gear improves our capabilities and continues to advance towards more efficient methods of self-powered travel. Long Treks on Skate Decks is one of countless examples of how to have an adventure of a lifetime by your own power. Special thanks to Patagonia for gearing us up for our 2000km trek around Morocco!
–Aaron Enevoldsen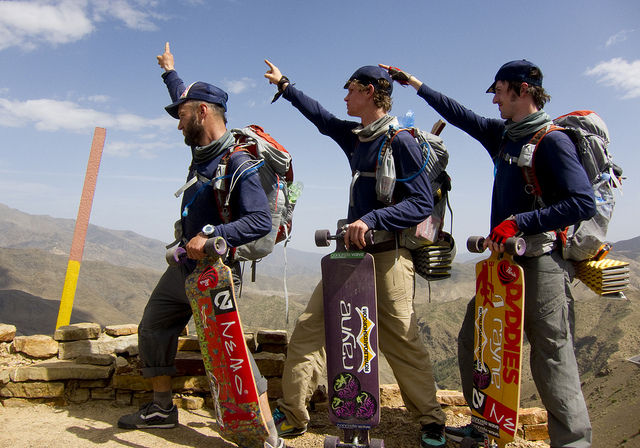 [Adam Colton, Aaron Enevoldsen and Paul Kent of Long Treks on Skate Decks.]