Listen to "The Year of Big Ideas 2008" Dirtbag Diaries Podcast Episode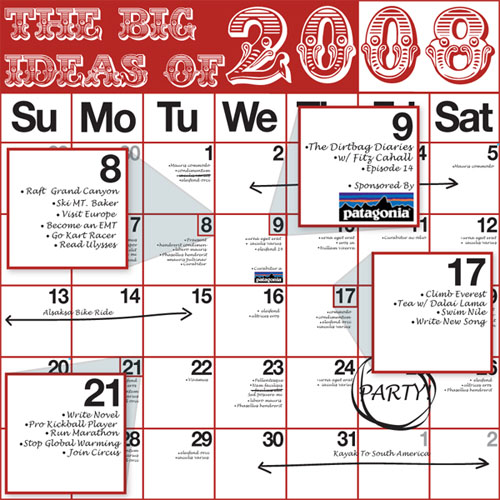 With the New Year comes a new episode of The Dirtbag Diaries and Fitz Cahall is throwing down the gauntlet. How big will you go this year?
Sir Edmund Hillary often insisted that while his feats and goals were of historic proportions, he was just a simple man, more comfortable in cover-alls than the high-attire of a British Knight. Aside from an Oscar-Wilde-like talent for producing witty quotes, Hillary was the embodiment of the everyman – a sort of elder, dirtbag statesman. Defined less by titles and awards and more by his dreams and goals, it was Hillary's ability to act upon them that secured his place in history books and on Kiwi currency. After his passing earlier this month, I stumbled across this quote, and it got me thinking.

"You don't have to be a fantastic hero to do certain things – to compete. You can be just an ordinary chap, sufficiently motivated to reach challenging goals."
– Sir Edmund Hillary

There is nothing more fulfilling than grabbing an idea out of the air, giving it shape and realizing it. Our dreams, hopes and goals give shape to the year's course and ultimately our lives. Today we bring you the "The Year of Big Ideas" – a show all about goals, some big, some small. We've interviewed friends, professional athletes, random people on chairlifts, anyone we could rope into contributing. Climb harder. Ski faster. Push deeper into the mountains than ever before. Here's to dreaming big and going bigger in the New Year.
Listen to The Dirtbag Diaries:
Episode 14 – The Year of Big Ideas (mp3)
Like what you heard? The RSS feed, subscription link to iTunes, and contact information for future story ideas are all available at www.dirtbagdiaries.com.
With thanks to Sir Edmund Hillary for inspiring us all.