The Writing on the Wall
In a tiny Colorado ski town, the world's oldest mountain-bike club is facing the complicated reality of recreation gone right.
For most of the year, Crested Butte is the literal end of the road. Situated in the heights of Colorado's Elk Mountains and ringed by 12,000-plus-foot peaks, Crested Butte's small city center is only accessible during the winter by Highway 135, which conveys droves of powder hounds to the steep slopes of Crested Butte Mountain Resort. Come summer, Gunnison County Road 12 (CR-12)—a bumpy gravel two-track that climbs over the 10,000-foot Kebler Pass—offers a second option into the tiny, 1,600-person former mining town.
It's a stunning drive. It's also buried in snow from November until June.
But the spring melt opens more than just CR-12; it also opens the seven river-carved, aspen-packed, wildflower-filled drainages stemming from town, known to locals as the "Seven Kingdoms." As stunning as they are, the picturesque valleys occupy only a small slice of the 2 million acres of public land within Gunnison County as a whole, which make up over 80 percent of the county's total area.
Winding across that dramatic landscape is one of the most extensive trail networks in the world, a web of singletrack spanning over 750 miles that inspired some of the original mountain bikers. This plethora of snow, dirt and mountains has made Crested Butte a popular year-round recreation destination—so popular, that by the mid-2010s the ever-increasing number of visitors began to overwhelm those same public lands.
Then came the pandemic, and with it, record crowds seeking to social distance in the outdoors, many of whom had never hiked, biked or camped before. While local land agencies, governments and citizens struggled with the flood of visitors and an emergency housing shortage, the world's oldest mountain-bike advocacy group found itself dealing with the complicated realities of recreation gone right—the good, the bad and the ugly.
"We are blessed as hell to live where we do," says Dave Ochs, executive director of the Crested Butte Mountain Bike Association. "And we saw the writing on the wall."
Crested Butte has been a ski town since before the resort opened in 1961, but it holds an even more hallowed—albeit unlikely—place in mountain-bike history. The former mining town has always been out of the way: perched at an elevation of nearly 9,000 feet, it's a 40-minute drive from the nearest regional airport in Gunnison (population 6,600), and a three-hour-plus drive from any substantial population center. But in the early 1970s, it was literally off the beaten path, with only a single paved street in the entire town.
To better navigate this mess of muddy potholes, a contingent of local ski bums beefed up salvaged cruiser bikes with fat tires and hardier components. The first true test of these "klunker" bikes' off-road capabilities came in September of 1976, as a joke and act of revenge. As the tale goes, a crew of dirt bikers from Aspen rode their motorcycles over the 12,705-foot Pearl Pass and went to Crested Butte's main bar, looking to "steal all the women." Not to be outdone (but too broke to afford motor bikes), 15 Crested Butte locals hauled their 50-pound klunkers over the pass and rode 38 miles to the Jerome Hotel, the main bar in Aspen, as a rebuttal—and, in the process, held the world's first official mountain bike event. Forty-five years later, the annual "Pearl Pass Tour" is now also the oldest.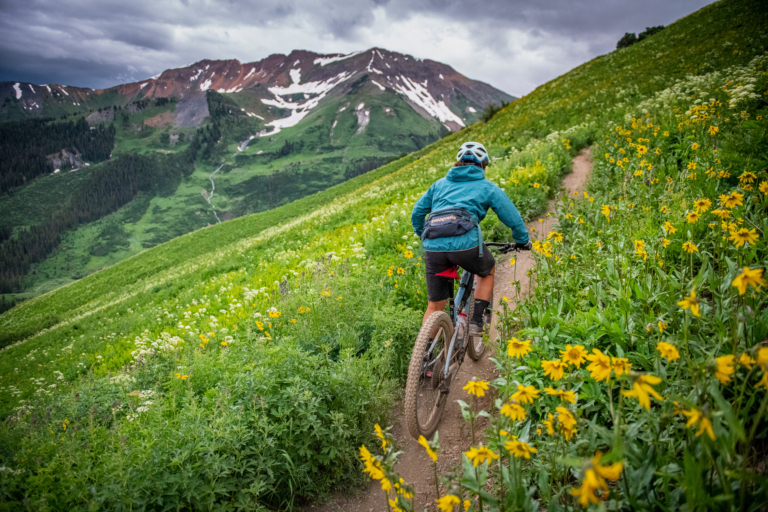 That ride kicked off a singletrack bonanza in Crested Butte, and in 1983, a few local cyclists founded the world's first mountain-bike club: the Crested Butte Mountain Bike Association (CBMBA), which now maintains over 450 miles of singletrack and has decades-deep relationships with local government officials, land managers, private landowners and conservation groups. Fueled and facilitated by CBMBA's efforts, mountain biking went from an off-season activity to a foundational part of the town's identity.
Each summer seemed to bring more visitors to Crested Butte, drawn by the natural grandeur and easy access to the outdoors—so many, in fact, that by 2015 the crowds were having major impacts on the landscape. Cars and campers littered the Seven Kingdoms on busy weekends, enabled by a lack of adequate infrastructure or signage to direct them. Trails eroded from overuse, and trailheads were regularly filled beyond capacity. Once untrammeled alpine meadows were raked with tire tracks, as people in SUVs and trucks looked for places to park and camp.
The US Forest Service (USFS) just couldn't keep up with the ever-increasing demand, so in 2017, CBMBA stepped in beyond bikes. After officially adding "conservation" to their mandate, an unusual move for a mountain-bike organization at the time, they formed the Crested Butte Conservation Corp (CBCC), a professional, full-time, community-funded stewardship and trail crew.
"These trails are getting messed up and volunteer hours aren't enough," says Nick Catmur, one of CBCC's first full-time crew members and its current operations manager.
Tasked with everything from wilderness areas to motorized singletrack, the CBCC partnered with the USFS and other land managers to mitigate the impacts of overuse. They closed illegal roads and routes and shut down unsustainable ones. They placed cameras for wildlife studies. They helped ranchers rehabilitate damage from recreation and helped local homeowners' associations manage it. They rebuilt overly eroded sections of trail and installed new drainage to prevent it from happening to others. They installed signage and removed illegal fire rings. In their first year alone, they cleared over 530 downed trees.
And they cleaned up every sort of trash: cups, clothes, food scraps, dog-poop bags, toilet paper and piles of human poop, as well as less-common items like a travel trailer, truck camper, bed springs, recliners, barbeques and even a makeshift hot tub.
"It was basically a tarp, a bunch of wood and a car battery," says Nick. "That one was interesting."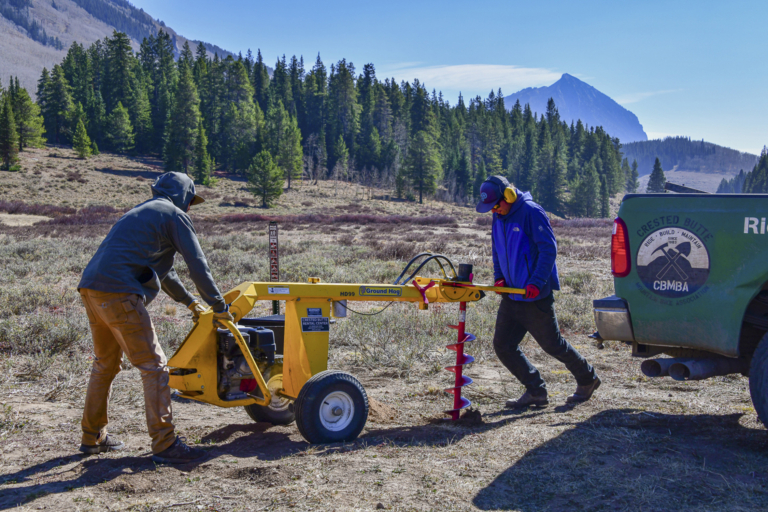 The greatest source of damage, they realized, wasn't boot soles or bike tires; it was a lack of education—people just didn't know any better. Due to the ease of access, the Seven Kingdoms draw a high number of first- and second-time users, many of whom are unfamiliar with proper camp and trail etiquette. Accordingly, the CBCC talked to over 1,300 people during both the 2017 and 2018 seasons.
"As a visitor, how are you supposed to know where you should and should not be camping?" says CBCC crew member Alex Banas. "After all, it's public land. What's open to us is open to them."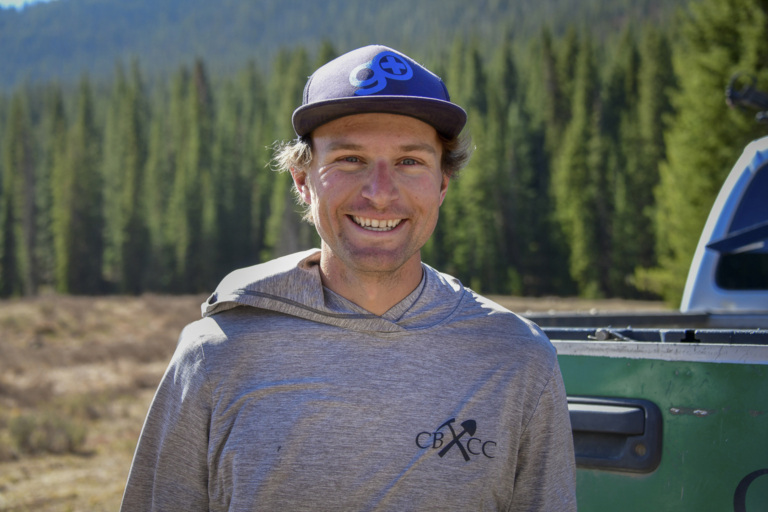 The first week of July in 2019, however, tested even the most empathetic of the CBCC crewmembers, as the Seven Kingdoms were besieged by a wave of tourists unlike anything either Nick or Alex had ever seen.
"It was a complete free-for-all," Nick says. "There were cars all over the place. People camping everywhere. People driving off-road into green fields where no one had driven before … you could see the freshly matted tire tracks in the grass."
When the swarm departed at the end of the week, they left the Kingdoms scarred with freshly compacted dirt roads, unofficial parking lots and illegal campsites. The rest of the summer, however, was hopeful: The crew found less trash and poop than previous seasons, and in the fall, they used paddle boards and wetsuits to clean trash out of Lake Irwin, a popular summer hangout in the mountains west of town. Among the 116 pounds they pulled out were fishing rods, snowmobile parts, a (working) iPhone and a dilapidated fiberglass boat.
Then came February of 2020, and all bets were off.
The COVID-19 pandemic hit Gunnison County early and hard; by late March 2020, the 17,400-person county had the country's sixth highest concentration of cases by population.
Unwilling to test their rural health care system's limited resources, the county imposed strict closures in March of 2020, clamping down on businesses and public gatherings and banning tourism in the valley. In early April, the ban was extended to all "non-residents," including second-home owners in the valley—a move that sparked intense controversy and was deemed "unconstitutional" by Texas Attorney General Ken Paxton.
As a large sign along Highway 135 put it, Gunnison County is closed.
For the next two months, the streets of Crested Butte were empty; the trailheads, however, were bustling with local backcountry skiers and mountain bikers looking to get outside and social distance in the spring weather. Then, in June of 2020, Gunnison County reopened to second-home owners and tourists. Over 54,500 people visited that month, a 12 percent increase from 2019. In July, that number jumped to over 92,000 visitors, a 20 percent increase, and August, usually the month when tourism begins to taper off, was the busiest in Gunnison Valley's history, with nearly 78,300 visitors.
The CBCC once again found themselves at the forefront of the onslaught, facing a season their 2020 year-end report describes as the "The Good, The Bad, and The Ugly." The "good" included the installation of 85 new campsites, a 40-foot bridge and a generally positive and helpful population of locals; the "bad" entailed chaotic crowds, depressing levels of overuse and an alarming glimpse of what recreation in Crested Butte might look like in the future.
After 2020, it was inevitable that the CBCC crew would be apprehensive about 2021, especially when June brought 20,000 more visitors than the year before. But five years of outreach and education had begun paying off. "The 2021 season revealed the fruits of community teamwork, effective planning and consistent messaging," says Dave.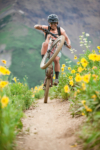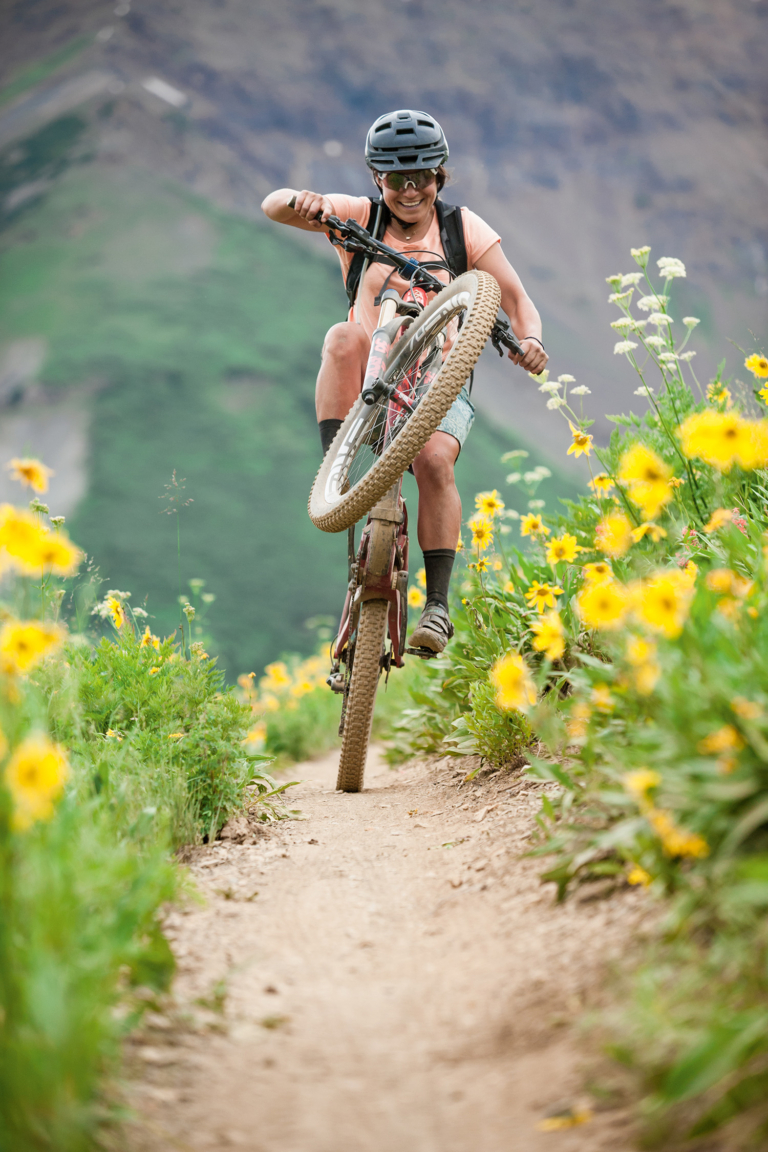 The "teamwork" aspect proved to be crucial this past spring. The USFS has long managed the Kingdoms under a "dispersed camping" model that allows people to camp wherever they want, with a few regulations to limit the number of campers, concentrate their impact or educate new users on how to interact with the landscape. The model has only enabled recreational overuse—which is why, starting spring of 2021, the agency will be limiting all camping in the Kingdoms to designated sites only.
The change came about through a partnership between the USFS, CBCC and other local nonprofits and private landowners, and the CBCC has already been hard at work making it a reality. Between the summers of 2020 and 2021, the crew installed 207 designated sites, complete with kiosks, signage and firepits; decommissioned 211 illegal fire rings; hauled out over 1,800 pounds of trash; and still found time to work on over 100 miles of trail.
"Right now, I don't think our relationship with the USFS could be any better," Nick says. "They trust us with the work we do."
The timing of the restrictions, however, was less than ideal for local workers struggling to find a place to live. Like many mountain towns across the Western US, the pandemic only exacerbated an existing housing shortage in Crested Butte, a trend fueled in part by the popularity of short-term rentals. According to Zillow, by October 2021 the average house in Crested Butte cost over $960,000 dollars, a 22.5-percent increase from the year before, in a community where the average annual income for an individual hovers below $40,000.
For decades, the abundant public land outside of town has served as a reliable summer housing alternative, and many locals have opted to take refuge in the woods—both to save money and out of necessity. But under the USFS's new restrictions, those options would go from essentially unlimited to one of the 200 or so designated sites spread across the Kingdoms; meanwhile, housing in town is so limited that the Crested Butte town council declared it a "local emergency" this June.
The USFS already limits a person's stay to 14 days in a 30-day period. Even before the rule change, campers would approach CBCC crewmembers—none of whom have the authority (or desire) to enforce any violations—pleading not to be given a ticket or be kicked out of their campsites. Alex, whose main role is decommissioning illegal sites and establishing new ones, has had numerous such encounters. It's usually not an uplifting interaction.
"I've gone in to either shut down a campsite or delineate a new one, and people would come running out of their campers, asking for more time," he says. "'I know I've been out here for two weeks,' they'd tell me, 'but I don't have a place to live.'"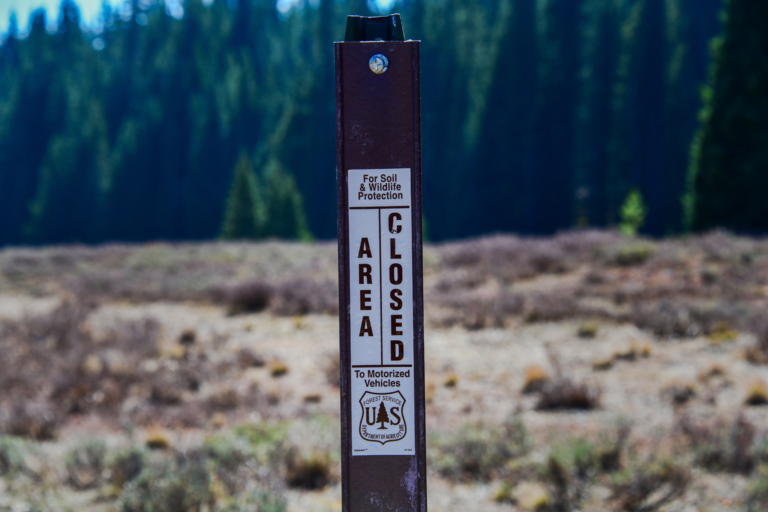 Driving toward Crested Butte along Highway 135, the automated signs that once declared the county "closed" now flash with camping and recreation updates to educate incoming tourists. In some ways, it's also a herald of an uncertain future. With Gunnison County's population expected to nearly double by 2050, land managers and locals must figure out how to cope with an ever-increasing number of visitors headed to the "end of the road."
For the CBCC, that means more people to educate, more trash to clean up and more makeshift hot tubs to remove. Sometimes the crew wishes they could spend more time building trails, but there's a reason it's called the "Conservation Corps:" They love the place they live and are willing to get as dirty as necessary to protect it.
"It's a point of pride for many of the crewmembers," Nick says. "They love the trail work, but a lot of them are Crested Butte locals or have been living here a long time. They don't want to see the effects of people leaving crap behind, so they are happy to make that stewardship and cleanup part of their job."
It's an impressive sentiment considering the job involves literal crap. If you flip it the right way, it's also a hopeful one.
"No one wants to shit in the woods if they don't have to," Alex says. "Generally, people want to do the right thing. Often, they just don't know what that is."