The Great Turtle Race: Leatherback Turtles are Going Faster Than You Think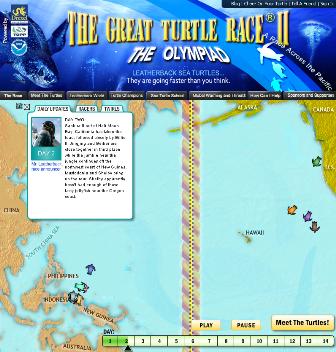 One of the common challenges for grassroots environmental groups around the globe is raising awareness about their issue(s). Patagonia grantee, Sea Turtle Restoration Project, and its partners, have come up with very clever and entertaining way of raising awareness for critically endangered leatherback sea turtles: The Great Turtle Race.
Now in its second year, Great Turtle Race visitors can follow the migrations of actual, satellite-tagged leatherback turtles as they "race" towards the middle of the Pacific Ocean from nesting beaches in Indonesia and feeding areas along the U.S. West Coast. The leatherback is a 100 million-year-old massive sea turtle species that outlived the dinosaurs, but is now dangerously close to extinction due to human influences.
The Great Turtle Race II is also the first large-scale outreach effort to the people of China by a US-based conservation NGO. The event will bring together the Chinese Academy of Sciences, National Oceanic and Atmospheric Administration (NOAA) scientists, academic institutions, and conservation organizations. A simultaneous, mandarin-language version of Great Turtle Race II website is expected to bring the race's messages to approximately 100 million Chinese citizens.
Head on over and check out the race — it just started yesterday.
[With thanks to Mike Milne]