Pointless Beauty: The Art of Bodysurfing
Rory Parker
/
March 9, 2022
/
4 Min Read
/
Surfing
Where worthless and priceless collide.
"The sport of body surfing is full of people who at one time or another have demonstrated a potential for becoming either poets or jerks or both." —Curry Kirkpatrick, "The Closest Thing to Being Born," Sports Illustrated, 1971
If no one's earning a buck, why even bother?
There's no money in bodysurfing. No media. No aging Aussies striving to scrape a free buck by coaching semi-talented children to their doom. There are no broken dreams, no failed careers. No home-schooled kids struggling to fulfill their parent's foiled aspirations. There's no industry to support, nor professionals to pamper.
Bodysurfing is worthless. Its only real value resides in the hands of participants. Try as one might, it can be neither bought nor sold.
Imagine a tourist family visiting O'ahu. The father stumbles upon a "Things to Do in Hawai'i" blog. "Go see the best bodysurfers in the world," it says. It's "free" and "exciting" and "chock full of feats of daring-do!" There's a sizable swell. The family can feel the ocean's energy from inside the climate-controlled interior of their discount rental car. The breeze tastes of salt, borne aloft by thundering surf. A misty haze cloaks the horizon, occasionally parting to reveal corduroy lines.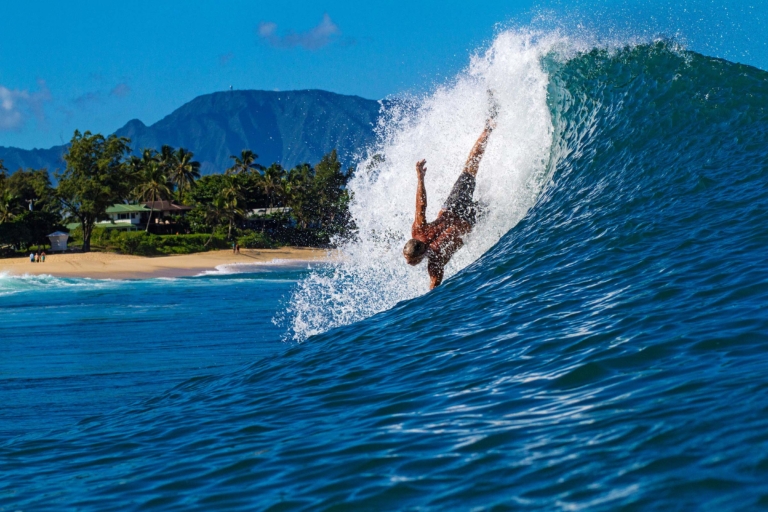 You'd forgive their disappointment after they trudged from their rental car to the contest site. Nowhere to be seen is the circus atmosphere that dominates Kam Highway while the World Surf League is in town. Absent are the bleachers and cameras and assorted hangers-on. Beautiful women are not basking. Mobs of fit young men are not frolicking.
Instead, they'd find a motley assortment of competitors gathered in small packs beneath the scraps of shade provided by overhanging palms, in shrubbery caves created by the abundant naupaka or huddled beneath a handful of off-brand E-Z UP tents. Oddball Europeans, unrecognizable watermen, banana-hammock degenerates, grizzled curmudgeons, middle-aged men sporting broad shoulders, thick calves and thicker waistlines, and a few hard-charging women chat quietly while they wait for their heats. Some stretch and others pace, while a low-quality PA system squawks out unintelligible announcements attendants struggle to decipher.
There is no glamour, no industry machine polishing the scene for the benefit of post-production. No film crews documenting the action for worldwide release. The competitors bob about the lineup wearing silly little caps. They occasionally heave themselves face first from the lip, only to bellyflop into oblivion. Fellow bodysurfers cheer for particularly skillful rides, but what makes them so is a mystery to the tourist family; all the action takes place beneath the surface. Backs arch, hands drag, ankles flex. A stomach becomes a planing surface. A rib cage turns rail and engages. It's all split-second sensations, intuitive reactions and adrenaline-fueled foolhardiness.
Our family soon packs up and heads out, bored as hell. Everyone agrees—they should have gone snorkeling instead.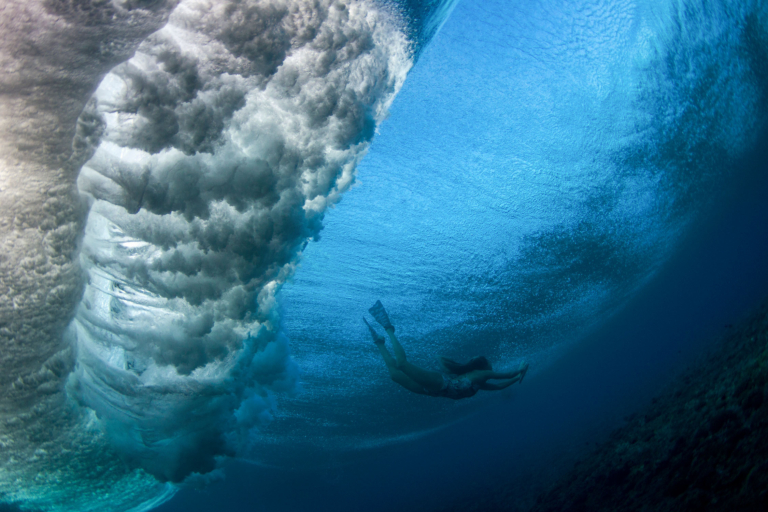 Bodysurfing is pure face-first over-the-falls fun. Nothing more than ocean lovers poorly playing the dolphin. It's a way off the couch when beset by those devils, familiarity and ennui. All packaged alongside physical impacts that regularly separate joints, wrench backs and leave devotees limping up berms in search of succor.
There's a purity inherent in bodysurfing that no amount of popularity can ever kill. It's the only form of wave-riding that allows one to be physically a part of the ocean, rather than apart from it. It doesn't require a plank made of toxic chemicals. It presents no space for logos and few opportunities to profit off accessories. It's inherently masochistic and forever blessed, or cursed, to remain the domain of the type of twisted mind that can look at a shallow, wind-torn, close-out and think, "Time to play."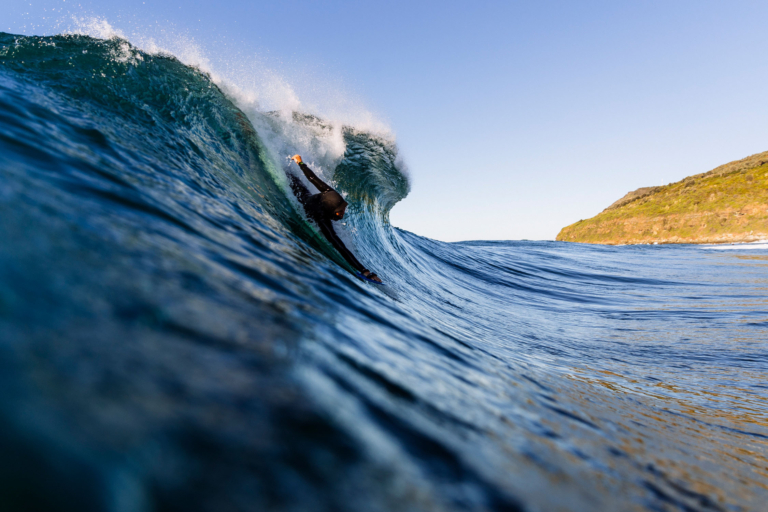 Bodysurfing is a high-impact hobby for the low-impact crowd. It will fill your sinuses with salt water, your hair and ears with sand, and your heart with joy. But it will never make you cool. It will never make you rich. It will never make you normal.
And thank heavens for that.
Postscript: I spoke with Sean Starky, proprietor of Yucca Fins in Costa Mesa, California, while writing this piece. "What's weird for me, owning a business, is people hit me up thinking they'll get sponsored, and to me, a sponsored athlete is a guy who's getting paid," he said. "And I'm all about flowing people stuff, but it's like, 'Guys, that's what's cool about this. This is weird.' It's what I grew up being into and why I said, 'Fuck baseball. I'm gonna go do this with these weirdos.'"