"Life of Pie": Jen Zeuner and Anne Keller Q&A
In a fossil-rich corner of western Colorado, set against lush agricultural fields, the big-box stores of Grand Junction and the sandstone formations of the Colorado National Monument, you'll find Fruita. These days, the town is an international mountain-biking destination known for its ribbony, high-desert trails, technical routes overlooking the Colorado River and funky downtown where dinosaur statues perch atop bicycles. But this wasn't always the case; Fruita has seen a dramatic rise in its profile and population over the last 15 years as it has been reinvented from conservative farm town to outdoor-lover's paradise.
Central to that transformation is a pizzeria called the Hot Tomato. There, the slices are heavenly; the beer is cold; and proprietors Jen Zeuner and Anne Keller have created a welcoming space for all to enjoy—a kind of living room for the Grand Valley where out-of-town enduro bros, Fruita old-timers and local misfits are united by pizza. Though it often has lines out the door, it hasn't been an easy path for the couple, who built the business from scratch and have experienced their share of intolerance.
But, as we learn in Life of Pie, a new Patagonia film by Felt Soul Media, Jen and Anne's story is proof that great things can come from riding bikes, building a community and chasing (and sometimes eating) your passions. They sat down with us to talk about the business, what makes good pizza and their alter egos, the geriatric "action sisters."
Life of Pie is now available to watch for free. See the full film here.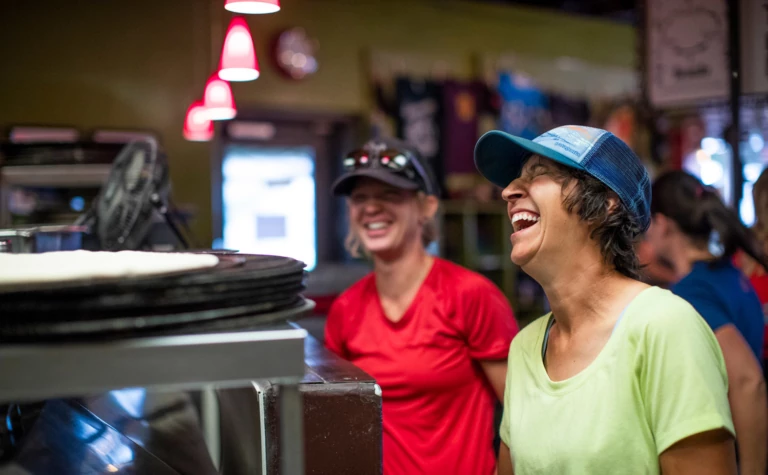 TCL: What was Fruita like when you moved here in 2002?
AK: It was really quiet, really sleepy. It felt like we had stepped back in time.
JZ: I don't think either one of us thought we would be here very long.
TCL: Why did you open up a pizzeria?
JZ: In 2004, we started really seeing the question of where to eat in Fruita. More and more and more people were coming through town, more and more tourists, and some people started having the idea of moving here. They were like, "Where do you eat in this town? Where do you go get a cold beer? Where do you go to sit and hang out and tell your story?"
We were working at the bike shop (Over the Edge Sports) and across the street was an existing pizzeria. I was that customer—because I grew up in Jersey, the land of pizza—who would come in with all these suggestions. I was always like, "You know what you should do?" One day they said, "You know what you should do? You should buy this place." That started a conversation. In 2005, I asked if the owner would sell me his equipment. I gave my notice at the bike shop and opened the Hot Tomato that summer.
TCL: How was that first season?
JZ: It was the hardest thing I had ever done. We had worked in retail and thought it would be similar, where at the end of the day you vacuum and tidy, and at closing time, you just lock the door and go home. A restaurant was so much more than that.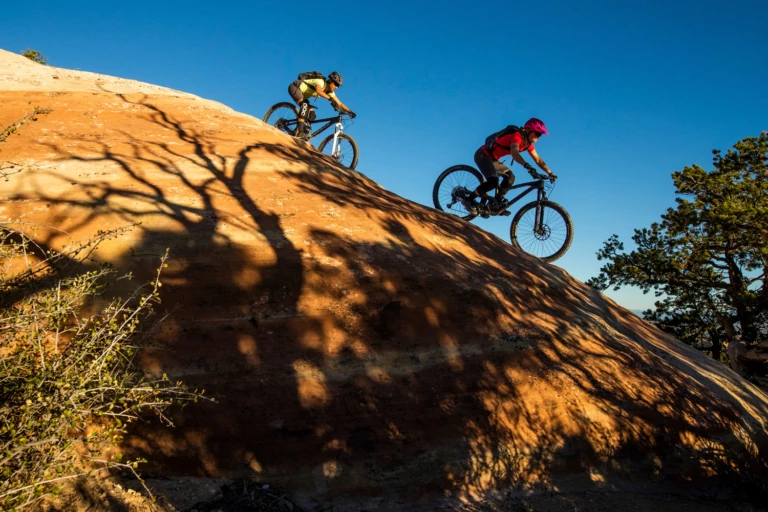 TCL: When you moved into your current space in 2010, that was a turning point. Talk about that.
JZ: While we were closed, I think there was really a void in town. It took us 10 months to build the new space. We did it all ourselves. We didn't have any money, so we couldn't pay people to do the work. But we had friends and customers who were contractors and builders, and they would show us how to run electric or use jackhammers. People would pop in all the time to see how we were doing. Kids would come after school to help clean. People would bring us food. I think that was a really big turning point for us, where we were like, "Wow, people really want us here."
TCL: And since then, the business has grown exponentially, right?
AK: We doubled our business numbers in the first year, then grew by 30 percent each year for the next couple of years, and it has been about 13 percent growth consistently since then.
TCL: What do you think it is about the restaurant that struck a chord?
JZ: In the beginning, the pizza wasn't very good. There was a lot of room for improvement. But I think that we were very intentional with creating a place where everybody could feel comfortable—a place where people wanted to go. Even when it was in the old building, it was always like, "I want people to come in here and feel welcome—talk about what they did today, play with their kids, get a cold beer when they need it." That has definitely been number one.
TCL: What did you think when (directors) Travis Rummel and Ben Knight called about making the film?
JZ: We didn't think twice. It's funny because we've always wanted Ben to do a movie with us, but we've never had the courage to ask him. I think we were both just really humbled.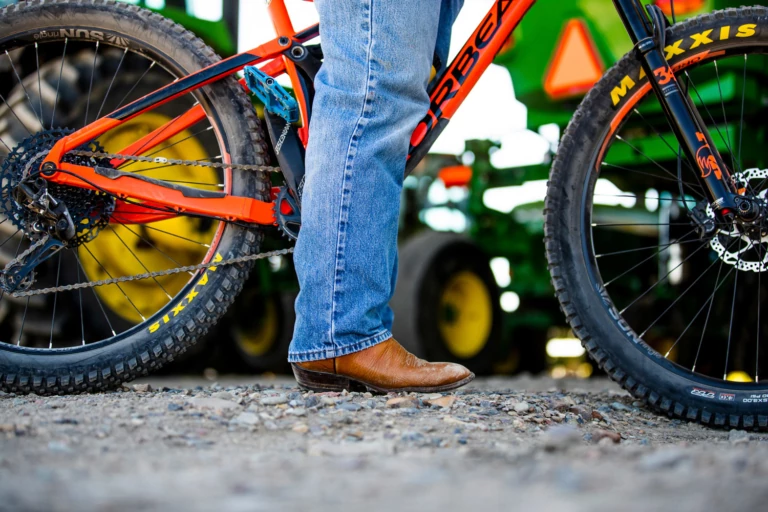 TCL: Describe the film.
JZ: It's raw and warm and honest …
AK: … and it's goofy. I think they just did a great job capturing a lot of the feels.
TCL: Fruita was still pretty conservative when you opened the Hot Tomato. What was that like as an openly gay couple? Did you deal with intolerance?
AK: I think we're fortunate. Fruita is fairly "live and let live," and I think it's always easier to be female and gay. So, we've never had any situations remotely close to threatening or dangerous. But, what we've experienced is hearsay: "Oh, this person won't come in, or this person won't let their kid work for you guys." That type of thing has existed under the surface. And I think it probably still exists, we just don't hear it as often. We've come a long way, but we still have a ways to go.
TCL: It's now on the festival circuit. How has that been?
AK: 5Point was the first big film festival we saw it at, which was crazy. That was the largest audience we've seen it with—800 to 900 people. I think anything you watch with that size of an audience, it's powerful. Just the energy of it was pretty incredible.
JZ: We showed it on Friday night at 5Point. We were there all weekend, and I don't think we were able to go 10 feet before someone would pull us aside and say something. People were like, "I laughed. I cried. I loved your movie." It was just like, wow. This is really cool. We didn't expect any of that.
TCL: The Hot Tomato hosted a screening of the film May 11. What was it like sharing it with the hometown crowd?
AK: If I could sum it up, I'd say it was fucking incredible. Really, it was one of our favorite events we have ever done. We estimate there were 450 to 500 people there. It was so cool. I think we were both a bit nervous about showing it here because it's our hometown, and we were surrounded by people who are friends and/or customers. Because of that, we felt more personally connected to whether or not the crowd liked it. But the response was amazing.
TCL: Your alter egos, Teri and Sheri Action, are known to show up at bike races, community events and film screenings. Tell me about them.
AK: They live in Florida via New Jersey. They're sort of assholes, but they love spending time with and ogling over nice young men, like Ben and Travis. They try to stay active with some light roller skating or cruiser rides on their comfort bikes, unless of course Teri's sciatica flares up.
TCL: What makes the Hot Tomato's pizza so delicious?
AK: It's pizza made with love, of course! It's good because we make it all by hand—the dough, the sauces, cooking and cutting the meat and veggies. It's labor-intensive, but we think it tastes so much better than just opening bags of stuff.
TCL: What's your go-to ride in Fruita?
AK: It changes. Right now, our go-to is climbing Mack Ridge and riding down Hawkeye or some variation of that. But a new, more fun connector trail is open. [Looks at Zeuner] We should ride that.
JZ: We should ride that tomorrow.
Life of Pie, a film by Ben Knight and Travis Rummel about Jen Zeuner, Anne Keller and the mountain bike community in Fruita, Colorado.
Read the essay that was featured in the 2019 Patagonia March Catalog.