Can We Stop Greenwashing?
Elizabeth L. Cline
/
November 27, 2020
/
9 Min Read
/
Our Footprint
What was once a nuisance—overselling environmental gains—now conceals the apparel industry's role in the climate crisis.
Recently we've been trying to raise awareness about how unsustainable the clothing industry really is, and to share our efforts at reducing our own impact. People have so much power to change the way clothes are made. As part of this, we asked journalist Elizabeth L. Cline to explain why it's difficult to know which claims to trust when shopping for apparel. Cline is the author of the exposé Overdressed: The Shockingly High Cost of Cheap Fashion, and The Conscious Closet, a guide to "looking good while doing good," and she accepted our assignment so long as she could write it as an independent journalist. Her reporting made us nervous, but that's the point. We need external experts to keep us honest. Not only did she do that, she reinforced why "eco-friendly" and "sustainable" are on our internal list of dirty, banned buzzwords. — the Editors
If your Instagram feed looks anything like mine, it's a cascade of advertisements for "earth-friendly" tops, clothes that "fight climate change," "sustainable" pajamas, "circular" shoes and pants that claim to have saved a million gallons of water. These ads paint a picture of the apparel industry's transformation from one of the world's most polluting to miraculously being good for the Earth. More likely, it's all just greenwashing—the term for companies engaging in false or misleading environmental claims or overselling underwhelming eco-initiatives. And it's one of the biggest problems facing fashion.
"Greenwashing is a critical problem, and it's a central roadblock to progress," says Maxine Bédat, founder of The New Standard Institute, a nonprofit that aims to bust greenwashing and accelerate science-based sustainability standards in fashion. Greenwashing might not sound dangerous, but in fact overselling the environmental benefits of fashion doesn't just confuse consumers—there's evidence it can sow mistrust and might even slow down environmental progress. A recent survey of British consumers showed that only a fifth of shoppers believe the sustainability claims made by brands. And other research indicates that even consumers that have a sophisticated level of environmental awareness can be duped by falsified green claims. "With greenwashing we can't really define what the problem is, and then rally to a solution," says Bédat.
Greenwashing itself is nothing new. The phrase was coined back in 1986 by environmentalist Jay Westerveld, who, while on a trip to Fiji, was struck by the hypocrisy of a huge resort touting its environmental credentials. In recent years it has become such a rampant problem in apparel that it has inspired a subgenre of magazine articles and Instagram posts offering advice to consumers for sniffing it out. Major TV shows have taken on the cause, too. Last year, Hasan Minhaj's The Patriot Act called out H&M and Zara for using vague terms like "ecologically grown cotton" and "sustainably-produced polyurethane" to market their clothing. Most recently, the style editor at the Financial Times reached a breaking point with the onslaught of green marketing, declaring "there's no such thing" [paywall] as sustainable fashion.
There are a number of forces driving the current rash of greenwashing, experts say. In some ways it's the negative byproduct of a very positive change: the explosive interest in sustainability. "I think [greenwashing] is a lag between these brands knowing what's expected of them and knowing what they need to do about it," says Ashley Gill, director of standards at Textile Exchange, a nonprofit that sets guidelines around sustainable fiber claims and pushes the industry toward more responsible material sourcing. Gill says that while there are brands that intentionally mislead consumers, she thinks the problem is mostly being caused by brands realizing they have to change, and not quite knowing how to do it. "They are scrambling to try to figure out what their strategy is going to be," she says.
Another contributor to greenwashing, according to Bédat, is the preponderance of bad data circulated about the fashion industry's environmental impact. "The industry is taking the interest in sustainability and marketing new collections as 'green,' but these claims have very little if any bearing in fact," she says. The oft-cited notion that fashion is the second-most polluting industry on Earth turned out to be a myth. The industry's carbon footprint has been measured at anywhere from 4 percent of all global emissions, all the way up to 10 percent. To help bust false claims, The New Standard Institute collates sustainability information on its website from reliable sources for use by brands and journalists, so they don't just "rubber-stamp greenwashing," says Bédat.
And yet there are much deeper, more structural reasons why so many of the fashion industry's claims about sustainability ring hollow. It has to do with the way the industry is structured, with brands and manufacturers separated by vast distances and a complex supply chain. The vast majority of the environmental impact of the industry happens during manufacturing and the production of raw materials. "The impact is happening at the beginning of the supply chain," says Gill, adding that astonishingly few brands can trace their complete supply chain. "Almost no one can map to the raw material level across their entire portfolio," which means most brands are making claims about a part of their business they know very little about.
There's also the interconnected problems of low price and huge scale in the apparel industry. The sector is mostly run by big businesses oriented toward making high volumes of cheap products. Miko Underwood, who worked as a design director for large brands before launching her own sustainable line Oak & Acorn last year, says that this pressure to produce cheaply can prevent companies from making the wholesale changes necessary to be greener. "When companies have to go up against big brands like H&M and Zara that have been able to monopolize the market, it makes it really challenging," says Underwood. Instead, many large brands know that consumers are looking for green products, so there's a temptation to make environmentally friendly collections or a handful of products and market those as a "green" transformation. "[Sustainability] becomes a catchphrase, a gimmick for them," says Underwood of some big players. Likewise, Gill compares the difficulty of refocusing big brands on sustainability like turning a "giant ship around."
It can be easier to just start from scratch, which is why we've seen an explosion of sustainable startups like Nisolo, OrganicBasics and Girlfriend Collective and independent designers like Oak & Acorn who've built sustainability into their DNA. But it's worth mentioning that small companies are capable of greenwashing, too. All of those ads I mentioned showing up in my Instagram feed are from small and medium-sized brands. Advertising attorney Randal Shaheen concurs that some start-ups are the worst offenders of greenwashing. "Your heart might be in the right place, but your advertising claims aren't," he says, as newer companies are less likely to understand federal guidelines that regulate green marketing claims and are also less likely to consult legal counsel before launching. "We'll hear from them when they've gotten into trouble," he says.
Given the myriad forces driving fashion's greenwashing outbreak, can anything be done to cure it? Regulation is one obvious place to start. In Norway, for example, the government cracked down on H&M's Conscious collection for underexplaining how its clothes are actually better for the environment. In the US, it's the Federal Trade Commission's duty to stop "deceptive and fraudulent" marketing, and the FTC's Green Guides offer an exhaustive set of rules for how companies should approach making environmental claims in their advertising.
Every now and then, the FTC will enforce these rules. In 2013 and 2015, the FTC filed civil penalties against a number of major apparel retailers—including Amazon, Macy's, and Sears—for mislabeling clothes as "bamboo" and describing them as environmentally friendly. Bamboo fabric is a type of viscose rayon or lyocell, made by chemically pulverizing plants and trees. Thus, the FTC fined the brands for advertising a product as green, when in fact making it "can involve the use of harsh chemicals," says Shaheen.
But there might be a way to further step up enforcement, says Hilary F. Jochmans, a government affairs consultant and the founder of PoliticallyInFashion, a fashion policy website. It'll require consumers getting more politically involved,  she says. "There needs to be a dialogue on these issues, and it starts with the community speaking up." Consumers in the US can file a complaint of deceptive marketing at FTC.gov or by calling 877-FTC-HELP. And Jochmans says what's ultimately needed is a major update to the Green Guides (the last update was in 2012) to reflect current science and to clearly define terms the industry is using, like "sustainable." The House Committee on Energy and Commerce is in the best position to update the Green Guides, says Jochmans.
Of course, not all or even most brands are out to dupe consumers. There is an incredible drive to make the apparel industry less resource-hungry and polluting—and a growing consensus of what that means. More brands are moving toward sourcing eco-friendly materials, whether they're recycled, organic, Regenerative Organic or a host of other possibilities. Oak & Acorn uses a combination of upcycled materials, hemp, and Refibra, a recycled fiber, for example. Patagonia recently switched the insulation in its Nano Puff® jacket to 100 percent recycled insulation, reducing the product's carbon emissions by 510,000 pounds.
Sustainable brands are also earning consumer trust by using third-party certifications, such as bluesign® for the manufacturing phase or Textile Exchange's Global Recycled Standard to verify the use of recycled material. prAna, a sustainable athleisure and basics brand, is one company heavily relying on these third-party certifications.
Other brands are measuring their own products' impacts, from the carbon emitted to the water used, and publishing that data for consumers to see. In just one recent example, Allbirds published the carbon footprint of its footwear. And Textile Exchange is pushing companies to map their supply chain as a very first step. "Part of making sustainability true and authentic and honest is having as much transparency as possible," says Gill. She mentions Patagonia, Eileen Fisher and Fjällräven as leaders in transparency.
And when it comes to making green claims, the advice to companies is fairly straightforward: They should always be substantiated. "When you say, 'Our clothing is sustainable,' also say 'Here are the five or so principles of sustainability that we adhere to and that we live by,'" says Shaheen.
These are all significant steps in the right direction, but underneath all of the debate about greenwashing in fashion is a much bigger conversation. We're not really talking about greenwashing; we're talking about the future of life on this planet. Fashion's overall environmental impact is going up year after year (with the notable exception of 2020 because of the historic decline in apparel purchases during the pandemic). The 2019 update of the Pulse of the Fashion Industry, an annual report released by Boston Consulting Group and the Global Fashion Agenda, found that progress toward sustainability in fashion appears to be slowing. And since the term "greenwashing" was first coined, climate change and unsustainable resource consumption have reached critical levels. What was once a nuisance—overselling environmental gains—could now be a threat to our long-term survival.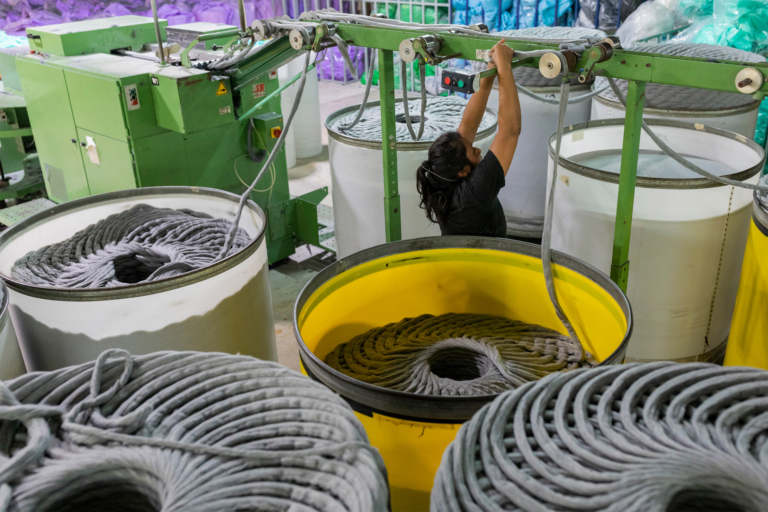 According to Roland Geyer, a UC Santa Barbara environmental scientist, there is no such thing as a truly "green" product, as products often change consumer behavior and the marketplace in unexpected ways. Geyer's 2016 study on green products, coauthored with business and sustainability expert Trevor Zink, found that recycled content, for example, often increases the production of virgin materials, and that some green products can increase overall consumption, either because it makes products cheaper or because the consumer sees them as a license to consume more. What's more, "a company can outgrow its environmental gains," says Geyer. Patagonia for example has seen dramatic growth in recent years, and there's paradoxical evidence that the company is growing because of its reputation as a sustainable company.
That's why the ultimate solution to greenwashing will be for companies to work toward tracing their supply chain and disclosing their full environmental footprint. The New Standard Institute is urging big brands to do just that, namely to disclose their carbon impact and water and energy usage across their entire business, from farm to factory to retail stores. Bédat says a handful of inaugural brands are preparing to make the commitment. And in the meantime, brands, whether big or small, can always take the high road, and remind their customers that sustainable fashion might not actually exist in any meaningful sense. Instead, they can communicate what they're doing to reduce their environmental footprint. "These companies can help by being clear in their communication that there are no sustainable brands or sustainable products," says Bédat.
Incredibly, there are brands that take this radically honest approach. Streetwear brand Noah declares that there is no such thing as a sustainable clothing company. "We have never claimed to be sustainable or even close to it," says founder Brendon Babenzien, although the company does use sustainable materials and responsible sourcing practices. There are some indications that more brands are publicly owning up to where they fall short on sustainability—rather than overselling their moves to be more green.
Given that no brand has actually figured out how to zero out the impact of making clothes, brands should tone their messaging down a bit. Or a lot. Fashion has a hefty impact on the planet. There's an argument to be made that it should never be described as green.
10 Tips for More Responsible Shopping
With so many companies touting their products' environmental benefits these days, it can be difficult to separate facts from hype and to understand a product or a brand's true impact. We've assembled these helpful tips we use to make better informed, "lighter" impact purchases.
Learn More