Product Testing: Vagabond Boots
/
September 7, 2007
3 Min Read
/
Design
We test our gear on a variety of levels. Our athletes and ambassadors are responsible for putting the latest designs and fabrics through the paces before we'll add a new product to our lineup. But just because something reaches our shelves doesn't mean testing is over. Once a new item shows up in our catalogs, our Customer Service staff gets busy ground-truthing the latest offerings. They know the questions our customers will be asking, and turn that attention to our gear.
___________________________________________________________________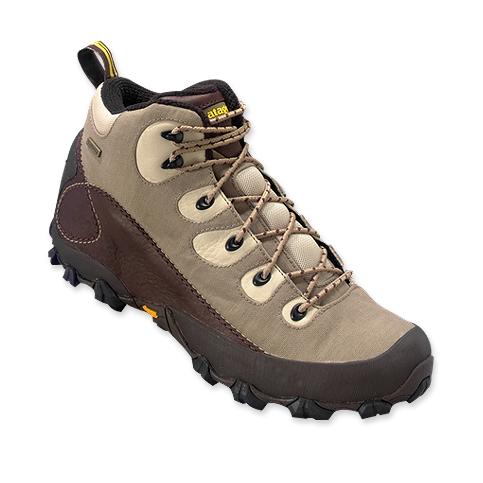 Product Report – Vagabond Hiking Boots
9/05/07
Used for: Hiking/Backpacking
Tested by: Chip, Patagonia Customer Service
I took a day hike up to Treasure Lakes in the mountains west of Bishop.It was a glorious summer day, highs in the 80's with a slight breeze. Iwanted to test out my Vagabonds on a longer hike in more varied terrainthan the fairly short trail hikes I've used them on so far this summer.
The Vagabonds are my normal size, 8, and fit nice and snug with a LW sock, perfect for dayhiking. I would need to get a half size bigger to use a liner sock and HW sock like I usually do when backpacking.
The Vagabonds are always comfortable when I first put them on. I need a good amount of arch support and these are great. The upper part of the shoe is very comfortable and provides decent ankle support. I really like the wide footprint and tread grip. They also feel quite durable, like they should last a while.
I only have one problem with these boots. After a couple hours they make the bottom of my feet hurt, in the front, all the way across. It's like the footbed is so stiff they become painful. I've taken about a dozen short dayhikes with them this summer and they usually start to hurt after a few miles. Because of this, I've had to limit them to 5-6 miles at a time. I keep thinking they need to be broken in, but am starting to wonder.
The first 2 Treasure Lakes are about 3.5 miles by trail and by the time I got there my feet were starting to feel the stiffness of the boots. To get to the upper 3 lakes, the trail turns into talus that gets bigger and bigger until all the rocks are at least car sized and you have to climb over each one. Progress here gets very slow, but it was fun to climb around on rocks instead of hiking on a trail. I really liked the side tread on the soles here. They gripped the rocks well and I never felt like I was going to slip.
The upper 3 lakes were the most beautiful and I stopped at the top one to have lunch. My feet were now quite sore and I had to take the boots off for a while. It was so nice here I stayed for a couple hours. My feet felt better when I put the boots back on, but started to ache again about halfway back.
When I compare the Vagabonds to the Nomads, The Nomads seem to flex easier, like maybe they're not as stiff. I wonder if these might have been a better choice for me. Does anyone own a pair of either of these? It would be cool to compare some notes.