Saving Slickrock
The Slickrock Trail, in Moab, Utah, is one of the most popular mountain bike rides in the world. Now, under a recent BLM decision, it could also be opening to oil and gas drilling.
UPDATE: SLICKROCK SAVED — Utah Governor pulls Slickrock Trail from proposed oil and gas drilling lease sale
Reacting to a wave of public concern—nearly 2,000 messages in 24 hours—Utah's governor has asked the Bureau of Land Management to pull the two parcels encompassing Moab's iconic Slickrock Trail from a proposed oil and gas lease sale.
While this is great news for Slickrock, the parcels are just a small portion of the larger, 6,500-acre oil and gas lease proposal, and just a tiny fraction of the other hundreds of thousands of acres of public land currently being considered for energy extraction.
Since 2016, the amount of public land up for such leases has increased by 600%, the result of the Trump administration's "energy dominance" land nomination policy. Now more than ever, it is critical that the recreation community and concerned citizens demand protection for our public lands, and  support bills reforming oil and gas leasing like the one proposed by Nevada Sen. Catherine Cortez Masto.
Patagonia would like to thank the Outdoor Alliance, Southern Utah Wilderness Alliance, Public Land Solutions, and every citizen who reached out to the governor and BLM. We have a long way to go in the fight for our public lands, but Slickrock proves the power of public activism.
If you would like to send the BLM a comment regarding the other parcels proposed for the June 2020 oil and gas lease sale, the public comment period will open sometime in late February and can be viewed here.
The 10.5-mile Slickrock Trail winds across a rippling expanse of Navajo sandstone above Moab, Utah, following a line of white dots up and over ochre domes. Arches National Park fills the skyline to the northeast and the brown waters of the Colorado churn a few hundred feet below the precipitous cliffs to the north. Native peoples have been visiting both for thousands of years, and their ancestors left artifacts tucked among the area's countless mesas, canyons and sandstone formations. In the half-century since Slickrock opened—it celebrated its 50th anniversary in 2019—hundreds of thousands of mountain bikers have ridden the trail, making it one of the most popular in the world.
Under a recent Bureau of Land Management (BLM) decision, Slickrock could also traverse above oil and gas wells, as part of 6,700 acres the agency is proposing to open for energy extraction.
The BLM's plan would put six parcels up for auction at an oil and gas lease sale this June, two of which are located in the Sand Flats Recreation Area and contain over two-thirds of the Slickrock Trail. Sand Flats is a prized recreation destination on its own; covering nearly 9,000 acres of sandstone domes, fins and bowls and tucked between two Wilderness Study Areas, Sand Flats sees over 175,000 visitors annually, according to Grand County, a number that's increasing every year. The proposed lease parcels would span sections of Sand Flats Road as well, which provides access to other iconic trails like the Whole Enchilada and Porcupine Rim.
The two Sand Flats parcels also sit within the Glen Canyon Aquifer System, designated as the "Sole Source Aquifer" for Moab and the surrounding Spanish Valley by the Environmental Protection Agency (EPA). This means that "no viable alternative sources of drinking water with sufficient available supply exist within the area," according to the EPA. One parcel also includes part of the city's Drinking Water Source Protection zone.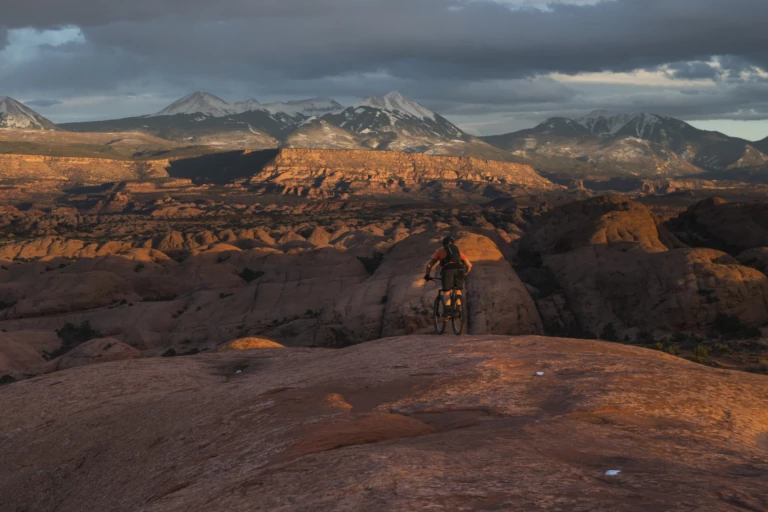 The Slickrock Trail opened to the public in 1969, two years before Arches was designated a national park. It was built for the small off-road motorcycles of the time, but that began to change in 1983, when a local bike shop started selling mountain bikes. Between using their bikes to round up cattle, these early off-road cyclists explored the mining roads and rock formations above town—including the steep, smooth undulations along Slickrock. By the mid-1990s, Moab had become one of the sport's hottest locales and Slickrock one of the world's most popular trails; according to a survey by Headwater Economics, over 100,000 people rode Slickrock in 1996 alone.
The area containing the Sand Flats parcels is designated as "no surface occupancy," meaning no above-ground oil or gas wells could be built on the land. That, however, doesn't prevent drilling horizontally from nearby properties without such protection, meaning oil and gas could still be extracted from ground under the parcels. Though an unlikely option at the moment, the potential for damage is still there, says Ashley Korenblat, a Moab-based mountain bike guide and Mountain Bike Hall of Famer. She's also managing director of Public Land Solutions, a non-profit that helps with recreation planning on public lands.
"The resource management plan that covers all these lands is broad brushed," she says. "It doesn't go into detail, so it leaves these little nooks and crannies that can be taken advantage of. The [Department of Interior] would argue a place may have low potential right now, but new technologies could come around that could change everything. That's what we just experienced with fracking."
The BLM's proposal, as well as many other such sales across Utah, is in part the result of energy-friendly resource management plans put in place in 2008. Under the plans, the public can submit an "expression of interest" to nominate certain parcels for oil and gas sale leases. However, in the past state and local officials would consider nominated parcels' value for wildlife, recreation, aquifers and watersheds before putting them up for sale.
That changed in 2017, when President Trump ordered all federal agencies to adopt an "energy dominance" policy and remove any regulation that might obstruct energy development. Under this change, nearly all nominated parcels are considered for oil and gas lease sales, for as cheap as $2 an acre.
"The [BLM] is running auctions so quickly now that some have very little participation from industry, so the parcels are going for very low prices because nobody wants them," says Korenblat. "But from the [Department of Interior's] perspective, it's their opportunity to get all these lands leased while [Trump] is in charge."
Some lawmakers are trying to change this policy, such as Nevada US Senator Catherine Cortez Masto, who recently introduced a bill that would "prohibit oil and gas leasing on public lands that are determined by the Bureau of Land Management to have low or no potential for [energy] development," according to her website. Bills like Cortez-Masto's are critical for creating systemic change when it comes to the management of our public lands. But given the current political context, such bills are unlikely to move forward without a significant shift towards a Congress and Administration that values our public lands for more than just their energy development potential—a shift that could occur in the 2020 elections. This means that until then, oil and gas companies can purchase energy-worthless public land for almost nothing, even if that land is vital habitat for wildlife, a sole source of drinking water, or—like Slickrock—the backbone of a small-town recreation economy.
The BLM's public comment period opens February 20. In the meantime, you can tell Governor Gary Herbert to protect Slickrock by contacting his office at 801.538.1000, or mailing a letter to:
Office of Governor Gary Herbert
350 North State Street, Suite 200
PO Box 142220
Salt Lake City, Utah 84114-2220