Reviving a Once-Exploited Surf Spot in Madeira
"MISHEEEEEEEE!" boomed Cecilia, almost crushing Michi's large frame with a huge hug as we both walked in the door. It was 2016 and the twenty-eighth time Michi (pronounced Mickey) Mohr had come to Madeira Island. Even though he was based in Munich, he knew the waves of Madeira as well as anyone, and could more than hold his own in 15-foot surf.
Cecilia looked over to me and her face lit up. "EHHHHH TUUU!" she roared, and rushed into a back room. She came out with a photo from sixteen years before, in the Spanish magazine Surfer Rule, showing myself standing next to a group of legendary big-wave riders. I couldn't believe she remembered me.
Cecilia Sumares was to be our landlady for the next few days. She runs a guest house at Jardim do Mar, a small village on the south coast Madeira. Michi had explained earlier that Cecilia thought of him more like a son than just another traveling surfer. In fact, Cecilia has been "mother" to tens if not hundreds of surfers over the last two decades. She hadn't changed much, but things on Madeira Island certainly had.
I hadn't been back there since February 2000, when I was invited to a big-wave event. At the time, I was proud to be the adopted member of a big-wave crew from Meñakoz, who were invited to the event along with surfers from all over the world.
Sixteen years later, I was here for a different reason. It was to do with a project proposed by the Portuguese NGO Salvem O Surf, and the Madeiran surfing association ASRAM, to rehabilitate three surf spots, including what was once named by Surfer Magazine as the best big-wave pointbreak on the planet: Jardim do Mar. You see, these spots, along with others, were seriously damaged by coastal engineering projects during the early 2000s.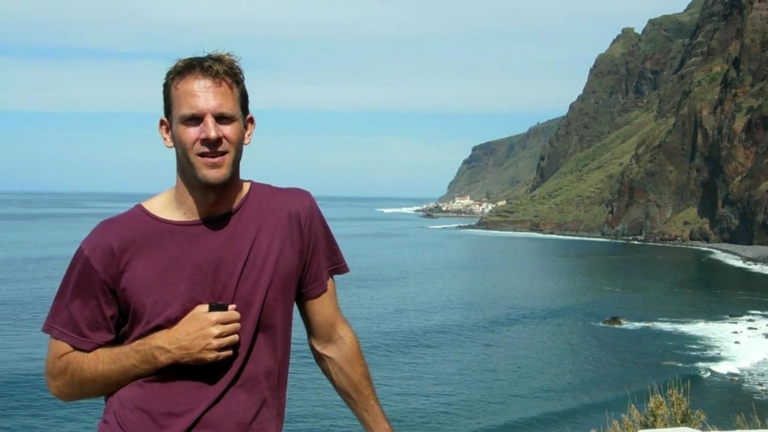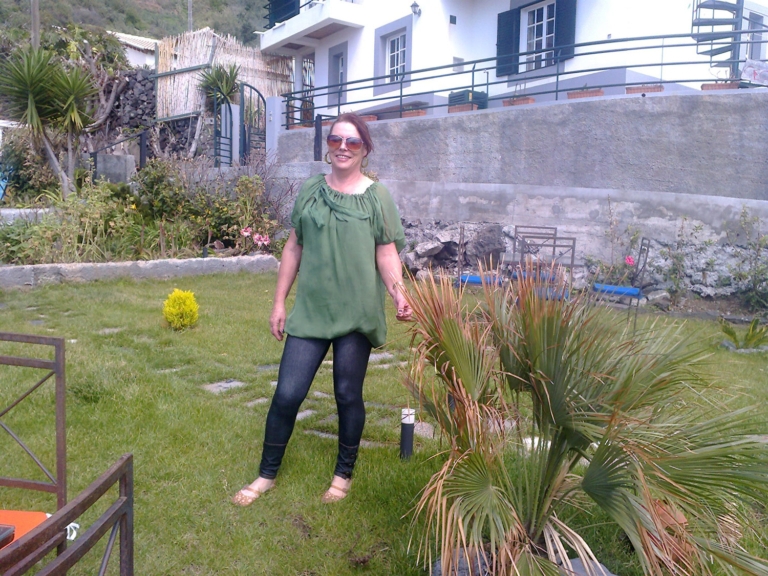 Just in case you didn't know, Madeira is a small, Portuguese-owned island in the northeast of the Atlantic Ocean that was created by a volcanic hotspot around five million years ago. It is literally a large rock sticking out of the ocean and consists mostly of huge, vertical cliffs and breathtaking scenery.
Until recently, nobody thought there could be any surfable waves on Madeira. Those cliffs were thought to rise straight up out of the ocean with no beaches or reefs for the waves to break on. However, we now know that Madeira contains some of the best surf spots in the world.
The coast of Madeira has platforms called fajãs, formed at the bottom of the cliffs by rocks falling over thousands of years. The fajãs generally have a focusing effect on the surf, enhancing wave heights as swells are concentrated onto the reef. The amount of focusing—hence the amount of wave-height enhancement—is dependent on wave period. The longer the period, the greater the enhancement. Therefore, Madeira really comes into its own with long-period swells. For example, at Jardim do Mar, thanks to the focusing effect of the fajã, a 2.5-meter, 17-second open-ocean swell can easily translate into face heights of over 20 feet.

The next day, a swell arrived. At Jardim do Mar, thanks to a gigantic sea wall directly in front of the break, I was looking at huge waves breaking close to the shore, with lines of whitewater crashing into hundreds of giant concrete blocks. There was also a serious backwash due to the waves bouncing off the artificially steep shoreline. It looked suicidal. I was assured that it would be safer and free of backwash for a couple of hours once the tide went out, but it still seemed pretty dangerous to me.
Instead, I decided to head for another spot a short hike along the coast. Ponta Pequena is said to be Jardim's little sister, picking up slightly less swell and not having quite the same punch as Jardim, but still a great pointbreak with a long wall and a tube section at the end. Today, it was around ten feet and glassy.
By the time three local surfers turned up, Michi and I had already caught enough waves to keep us glowing all day. I paddled in, sat down on the cobble beach and started thinking about that first trip, sixteen years earlier.
It was supposed to be a contest, but it was more like an international get-together of big-wave surfers, journalists and other surfing-related people. It was a family reunion with a family I didn't know I had. The relaxed atmosphere, the interesting conversation and the constant new sights and sounds were unforgettable. But the idyllic nature of the place itself was probably what made the experience so extraordinary. "Cecilia's Garden" seemed like a true paradise: perfect climate; clean, empty waves; friendly people and free bananas.
Now, thinking back, I wish I had made the effort to travel to Madeira more times during those early years. Truth is, I was obsessed with another big-wave surfing area: the Basque Country and Meñakoz. But that's another story.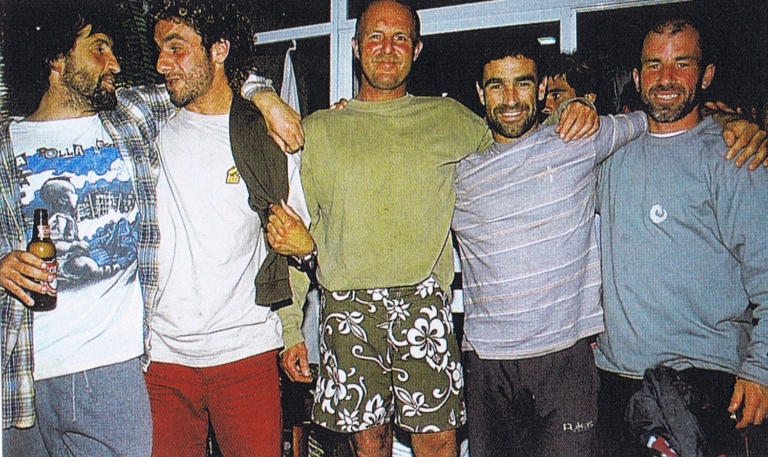 The surfing history of Madeira is a short one. The first person to surf Jardim do Mar was French big-wave surfer and journalist Gibus de Soultrait, in 1977. He describes how the people of Jardim had never seen or heard of surfing before: "When I stood up on my wave, they finally discovered what surfing meant." Gibus treasures the memory of that first trip: "The experience I shared with the people of Jardim do Mar in 1977 will always remain with me as a lifelong souvenir. For me, Madeira was a dream come true."
For the next few years, one or two surfers came and went, but they kept it to themselves. In fact, the world was still largely unaware that there were any waves on Madeira. Until, in 1994, when an article came out in Surfer Magazine that shook the global surfing community. It showed pictures of Evan Slater and Ross Williams surfing huge, clean waves on some Atlantic island. The article suggested that the island contained what was probably the best big-wave pointbreak in the world. It wasn't difficult to work out where it was.
Surfer and photographer Will Henry came to Madeira in 1995 from California after reading that article. "Jardim do Mar is a village that was made to be put on postcards," he said. "When people visit here from other parts of the world they are just totally blown away."
Portuguese surfer and journalist João Valente came for an extended trip in 1995, which he considers "the highlight of my life as a surfer." He says, "I still have weird feelings when I think about that time; it was a really special time."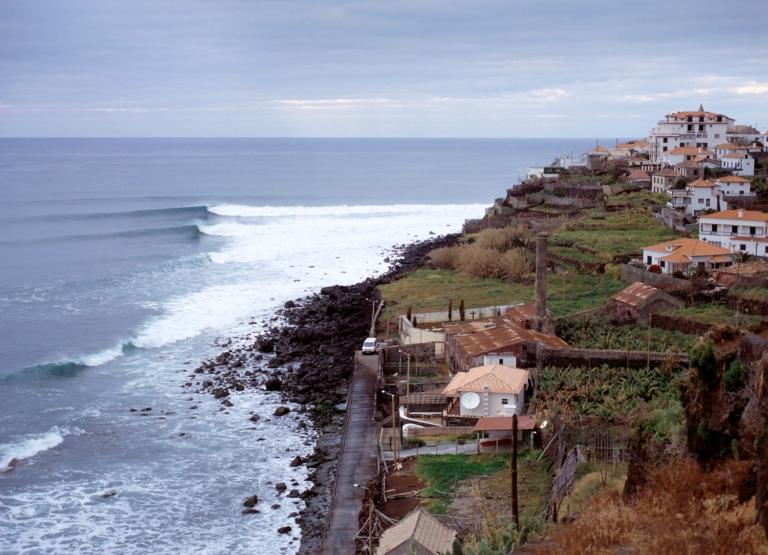 Gibus, Will, João, myself and many other people had special experiences on our first surfing trips to Madeira. It really seemed like a paradise. There had to be a catch.
There was.
Around the early 2000s, the Madeiran government began a program of coastal engineering that left the coastline of Madeira looking more like a building site than the natural beauty it had become famous for. By the time it was finished several world-class surf breaks had been seriously damaged or destroyed, and it was too late to protest.
A massive concrete wall was built at Jardim do Mar, effectively extending the land about 30 meters out into the sea and creating an artificial shoreline made from hundreds of giant concrete blocks. The prospect of getting caught inside, which was already pretty daunting, was now absolutely terrifying. The spot is now only surfable for about two hours around low water. At higher tides the backwash from the wall seriously interferes with the wave, and if you overstay your limit on a big day there is simply nowhere to get out of the water.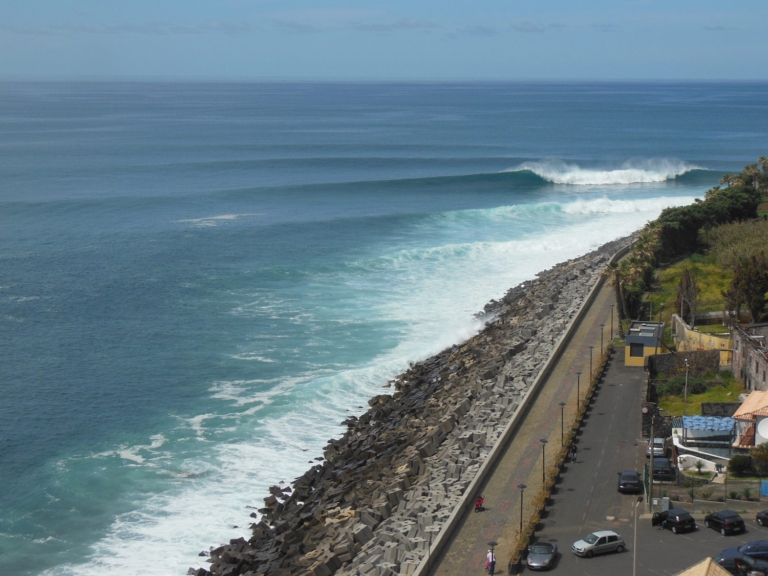 Lugar de Baixo was a hollow right pointbreak on the south coast of Madeira, which could be surfed when Jardim was too big and stormy. The spot has now been seriously degraded thanks to a rock-armor berm consisting of large rocks fixed to the shoreline. Instead of being naturally absorbed by a mobile cobblestone beach, the wave energy is now reflected back out to sea. As a result, the wave has a serious backwash, with tubes that collapse in on themselves instead of staying open for 100 metres or more.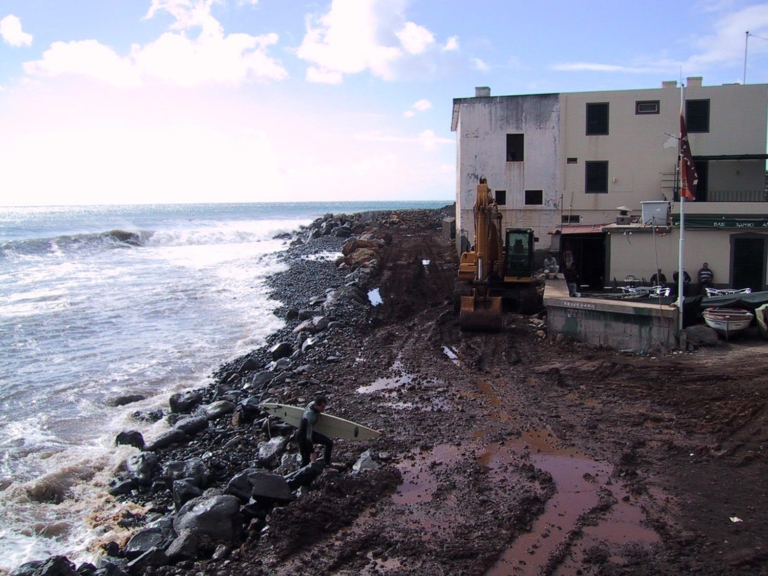 Ponta Delgada was a long left-hand pointbreak on the north coast of Madeira. Before 2003 the wave was a perfect freight-train barrel that could hold waves of ten feet or more. Now, a concrete pier which was built to protect a swimming pool, sticks straight out through the middle of the wave. The big and shifty outside section can still be surfed on the right conditions, but there is no comparison to the original wave.
Will Henry was devastated. He made a film called Lost Jewel of the Atlantic and founded Save the Waves, to try to help stop the destruction on Madeira. Ironically, the global network of wave-protection organizations that now exists, including the World Surfing Reserves program and the bi-annual Global Wave Conference might not have gotten off the ground if it wasn't for what happened on Madeira.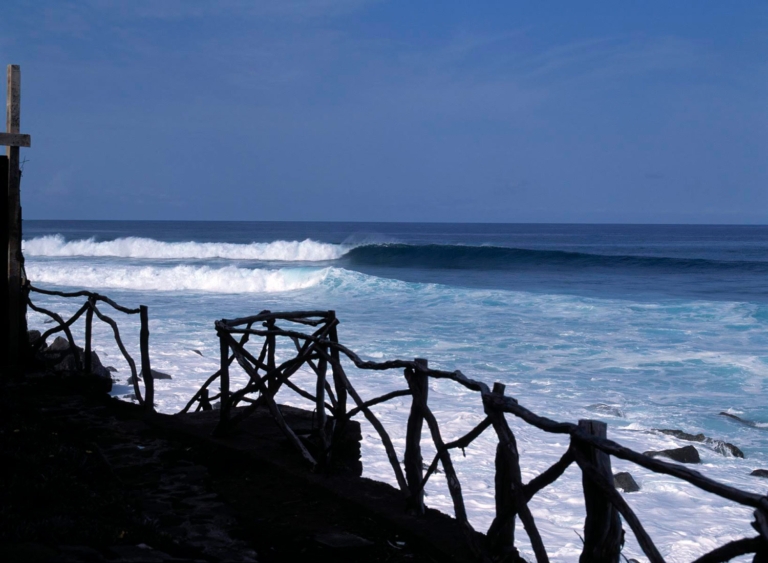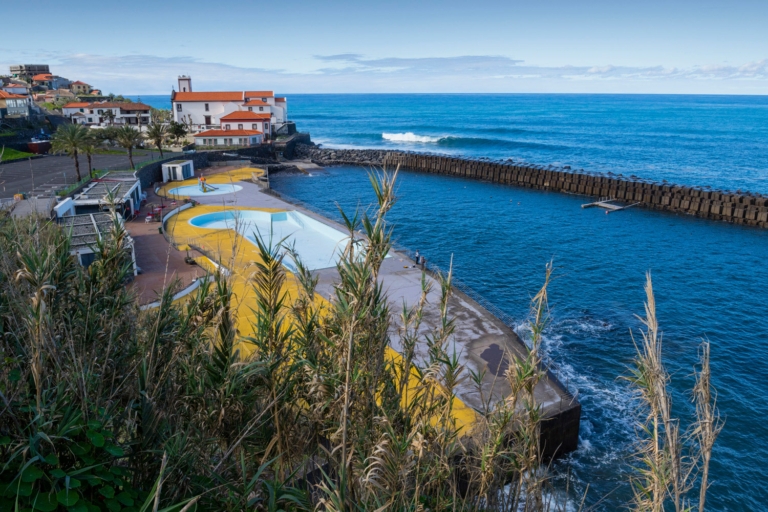 Now, back to 2016 and the main reason I was supposed to be here. I needed to have a look at Jardim do Mar, Lugar de Baixo and Ponta Delgada, to try to assess how practical it might be to remove those damaging structures and get those spots as near as possible back to their original, natural state—the way they had been for thousands of years, before anyone even set foot on Madeira.
So, the next day, I went for a drive around the island.
I stopped at Lugar de Baixo. It seemed that the rocks that had been put there artificially could probably be removed relatively easily, and the natural ones could be shifted into a position where subsequent swells would return them to their original configuration. It would have to be carefully studied, of course, but it could be done. The only problem I could see was a restaurant and visitor center, the owners of which would have to be convinced that the operation wouldn't put their business in jeopardy.
Then I had a look at Ponta Delgada. At first glance, it didn't look like too much of a drama to get rid of that breakwater. It might be as simple as picking up the blocks and moving them onto the shoreline away from the breaking waves. Of course, just like Lugar de Baixo, it would have to be properly studied first. One thing I noticed was that the swimming pool it was built to protect seemed to be empty.
My initial impression was that it would be feasible to restore both Lugar de Baixo and Ponta Delgada, as long as they were carefully studied first. In contrast, Jardim do Mar would be a different story. There you would have to remove an entire road and thousands of concrete blocks. It could be done, but in comparison to the other two spots, the effort, cost and general upheaval might cause a lot of problems.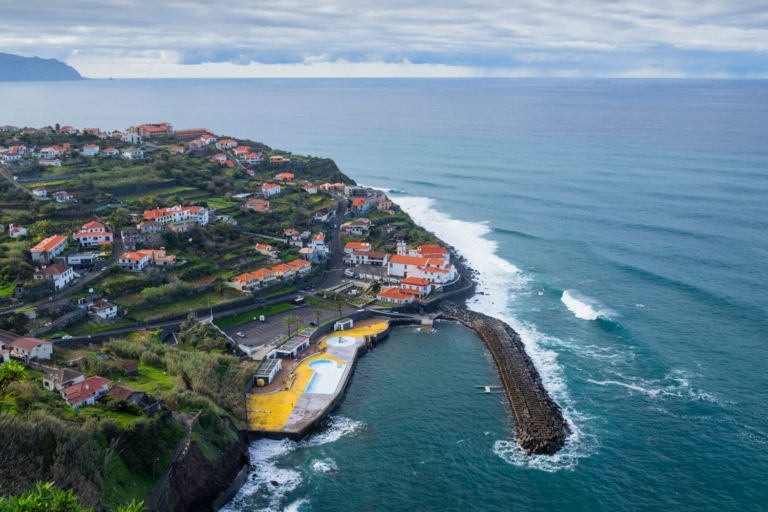 I went back to the mainland, still feeling that I needed more information. I decided I would have to return to Madeira at the next opportunity. In the meantime, I started asking a few people what they thought of the prospect of restoring those world-class surf spots. I asked Gibus, the first person to surf Jardim: "Madeira has great potential for surfing and surfers. If some of its best surf spots could be recovered, it would have a real positive impact for the island. The dream of Madeira is not dead, it just needs to be resuscitated. Giving back the beauty of its waves would be a remarkable thing to do, particularly as we all become more aware of the importance of preserving Nature."
I also asked Will Henry, who surfed all those spots before and during the coastal interventions: "Overall, I think it's tremendously positive. It sends a clear message to the rest of the world that surfing resources are, indeed, valuable resources and should never be damaged or destroyed. Having personally surfed the waves in Madeira that were damaged, I know how great they once were and what it would take to restore them to their former glory."
I thought about it myself. From the point of view of someone who appreciates big waves in natural surroundings, you would have to be crazy not to want to bring those waves back to life. And, more importantly, from the point of view of a coastal scientist and environmentalist, getting rid of some useless concrete structures and restoring a unique natural coastline is a no-brainer. Apart from simply being the right thing to do, it could set an example and might lead to the renaturalization of other coastlines around the world that have been abused in the same way.
A few months later, the opportunity came up and I went back to Madeira. This time I got more insight into the project. Things had advanced quite a lot, with a local group—the Salvem O Surf "Madeira Nucleus"—having been set up specifically to address the issue. I was invited to a meeting with the group in the capital, Funchal.
At the meeting we talked about the general problem of hard structures on coastlines. Around the world, people are beginning to realize that natural systems that flex and morph according to the conditions are infinitely better coastal protectors than hard, inflexible structures designed by humans. For Madeira to acknowledge this, and then to go ahead and restore some of the island's natural coastline, would mean that Madeira and Portugal could set a precedent for other places around the world to follow. The practice of removing dams and letting wild rivers run free again is gradually becoming accepted, so why not do the same with useless sea walls and breakwaters?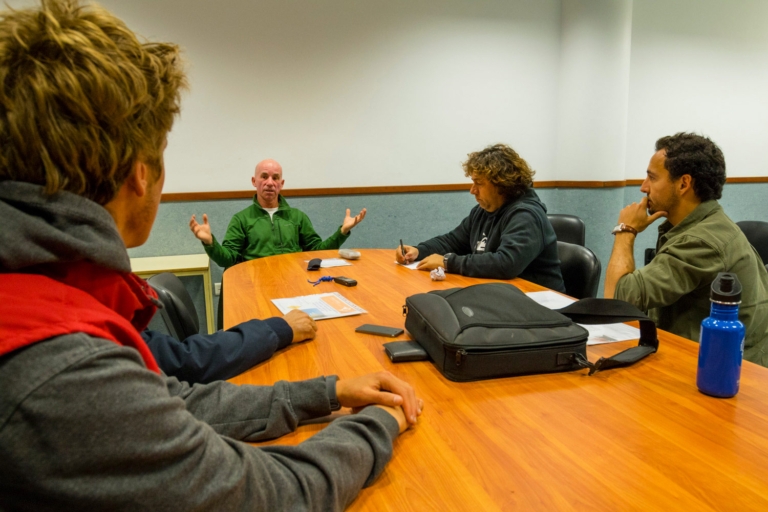 The initial proposal would be at Lugar de Baixo. This would be the easiest one to repair. The original substrate beneath the artificial rocks is still intact, so, in theory, the work wouldn't involve much more than just removing those offending rocks. A wall at the top of the beach would also be removed to re-connect a lagoon to the sea and restore the natural physical and biological processes. As much information on the original shoreline configuration and local offshore bathymetry would be thoroughly analysed first, and the restoration work would be continuously monitored. Of course, the restaurant and visitor center would not be put in any danger, and there would be a proper environmental impact assessment according to international guidelines.
Who knows, perhaps if Lugar de Baixo is successfully restored, then it might open the door for the future restoration of Ponta Delgada. Then, perhaps, one day in the future, Jardim do Mar might even be returned to its natural state. I know that would be costly in terms of money and effort. But Jardim do Mar was the best big-wave pointbreak on the planet. It was a true marvel of Nature, just as unique as Niagara Falls or Mount Everest. And if it could be brought back to life, that would be priceless.