Brittany Griffith and Zoe Hart's Gypsy Van Chronicles: Part One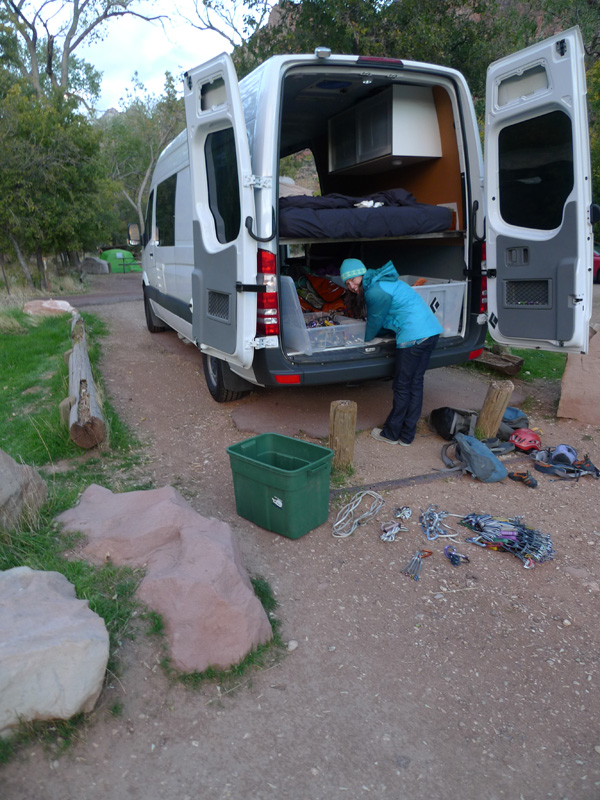 Like a father handing his teenage daughter the keys to the family car for the first time, JT worrisomely handed me Gypsy's keys. Gypsy was the newest addition to our family, a big white 2010 Mercedes Benz Sprinter Van. I gently grabbed the keys while simultaneously executing the extremely athletic lunge required to get myself into the driver's seat of the big rig. My good friend Zoe Hart was already seatbelted in the passenger's seat, attempting, for Jonathan's sake, to hide her enthusiasm.
Editor's note: Patagonia ambassador Brittany Griffith shares the first of a two-part story with us today. Look forward to more from Brittany and her husband (and fellow Patagonia climbing ambassador), Jonathan Thesenga, in the near future.
"Alright… no speeding, no texting, no drinking and no sketchy bivies at rest areas or truck stops," JT sternly instructed me. "If anything goes wrong with the van, call me first. Don't try to fix it on your own."
I felt bad for JT. This was Gypsy's first extended roadtrip and he had to stay behind to work his job at Black Diamond. He had spent the previous two-month's worth of evenings building out Gypsy from an empty panel van into a super-deluxe road trip machine, complete with recycled-denim insulation, stove, sink, fridge, queen-size bed, benches, folding table, cabinets, cupboards, ceiling fans, heater, cork paneling, bamboo and paperstone counter tops, and interior and exterior LED lighting. Gypsy was rad.
I leaned out the window and kissed Jonathan goodbye, then backed Gypsy out of the driveway into late afternoon traffic. "Whooooo!!!!" We hollered and honked the horn, leaving behind a dispirited Jonathan and began our Girls-Gone-Wild Gypsy Van Road Trip.
[Home sweet home: Brittany unloading the Gypsy Van. Photo: Zoe Hart]
This story isn't about the predictable "Empowerment of female bonding," "I climb better with females," "Men are responsible for all my climbing issues… blah blah blah whine whine whine…." stuff. I don't give a crap what gender my partner is, just as long as they don't slam me when they catch a fall and can carry more weight in their pack than me.
Zoe lives in Chamonix (with her financé, Maxime Turgeon), and works as a guide throughout the Alps (so, yes, she can definitely carry more in her pack than me!). We hadn't been on a climbing adventure together since Jebel Misht in Oman a few years back and we both had some open time in schedules, so we began emailing back and forth about where we should go for our roadtrip. After a couple of days of bouncing around ideas (Croatia? Slovenia?) we decided that instead of me flying across the Atlantic to climb at some drizzly Eastern European limestone crag, Zoe would fly over here to the States and we'd go on a good ol' fashioned American roadtrip in the Gypsy Van.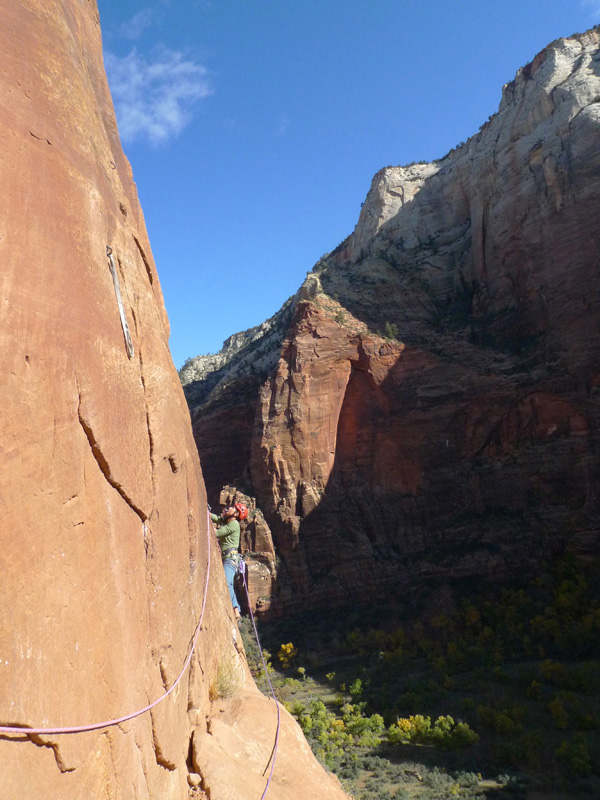 [Brittany low on Moonlight Butress, making the 5.11 traverse that brings you to the meat of the route. Photo: Zoe Hart]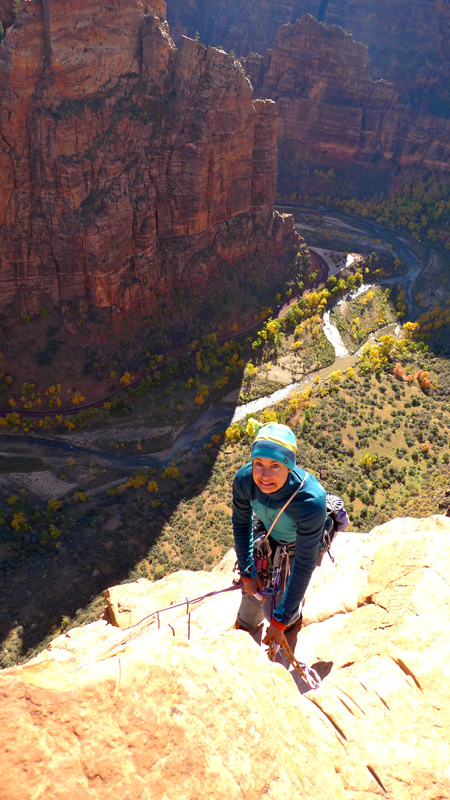 [Brittany rapping in to climb the upper pitches of Moonlight Butress. Photo: Zoe Hart]
Our first stop would be Zion and a coveted free ascent of the 1200-foot Moonlight Buttress. Zoe, who is a world-class alpinista and had spent the previous few months working hard in the mountains doing her guiding gig, wasn't exactly fit for 5.12 finger cracks, but was enthusiastic and keen nonetheless. Because of abnormally cold temperatures, there were only a few hours a day that permitted us to free climb, but after three consecutive days of climbing, jugging and rapping, we had climbed all but the crux 5.12d pitch clean.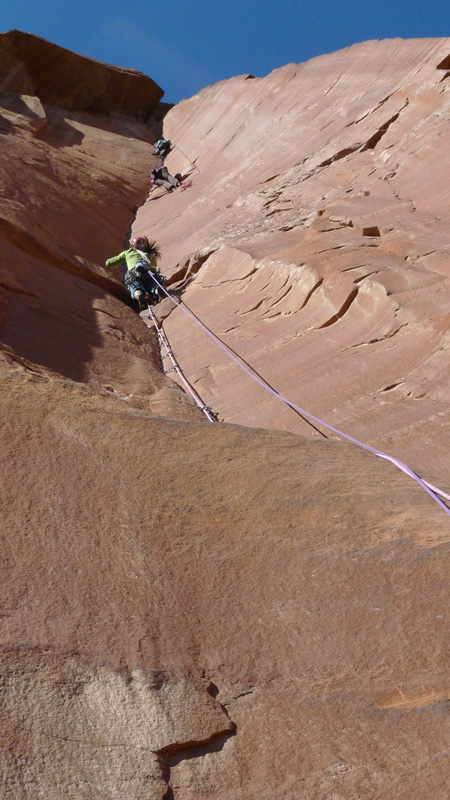 [Brittany cruising the 5.11+ pitch below the crux layaway corner (note the aid-climbing party dangling above).  Photo: Zoe Hart]
[Crux fall. Video: Zoe Hart]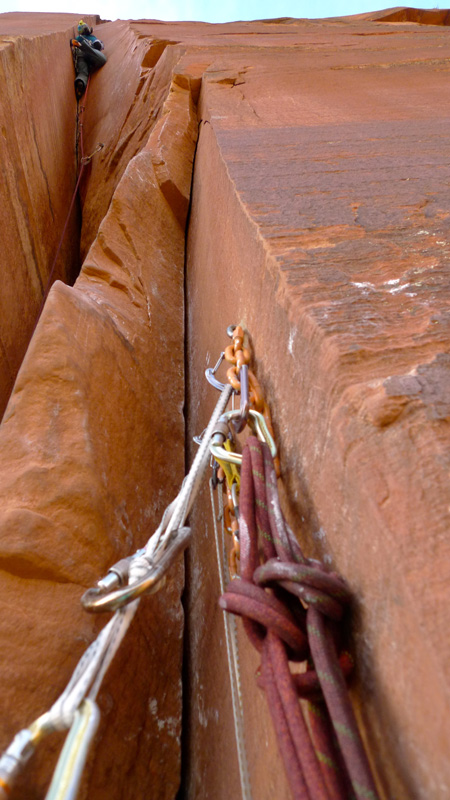 [Brittany going for it on Moonlight's fearsome Slot Pitch. Photo: Zoe Hart]
"If you want to send it, we should rest a couple of days and then I will totally belay you," Zoe selflessly offered, knowing the short days wouldn't allow us both to try to free climb the whole route in a day. I thought about it… I doubted I would have an offer like this again, and I believed I could do it in a day leading every pitch. Zoe's offer was golden… but, this was our roadtrip, our time to climb together. It wasn't about her or I doing something at the expense of the other person. Zoe is one of my all-time favorite climbing partners and she was here for a climbing trip, not a belaying trip.
"Forget that." I said, piloting Gypsy toward Zion's exit and leaving Moonlight in the rearview mirror. "Let's go to Indian Creek!"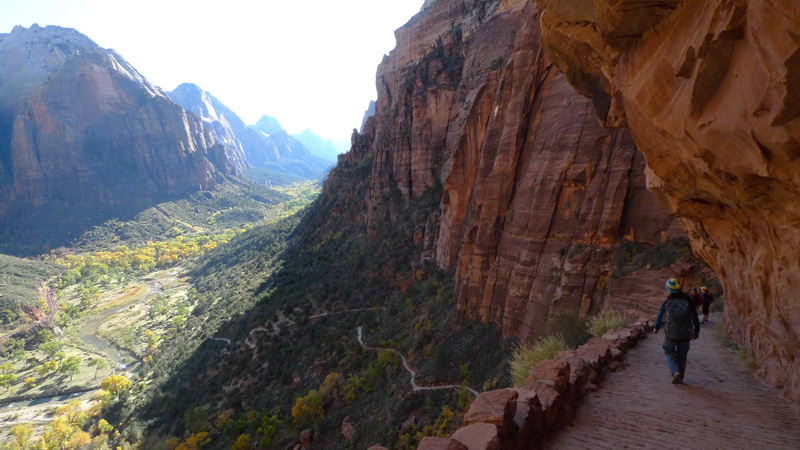 [Part Two coming soon… Photo: Zoe Hart]