Working Through It
Jeff McElroy
/
July 3, 2020
/
11 Min Read
/
Workwear
Some farmers, anglers and chefs are providing food for their communities during the time of COVID-19.
"But through all of these horrors, through all of these sorrows, the road continued. Trade continued. The need to discover new things and new people, to look down the road ahead, continued. What else could they do, those long-dead travelers? They could no more ignore what they desired than they could unlearn what centuries of exploration and interaction had taught them. The only way through was forward." —Hanya Yanagihara, from the New York Times article, "The Silk Road's Enduring Romance, and Eternal Influence"
Though the obvious priorities during the COVID-19 pandemic are public health and safety, we can't ignore the toll it's taken on the stability of our livelihoods. For many of us, the best thing we can do is stay home and practice social distancing. But for others, work continues, albeit with drastic changes and adaptations. While scientists around the world use microscopes to understand how the virus works and find ways to stop it, the pandemic has also led people to place other aspects of life under the microscope, such as the resilience of global supply chains, workplace ethics and how to use business to mitigate the climate crisis. We caught up with a few hardworking folks who graciously took time away from their duties to share their thoughts around the pandemic and how they're pivoting, adapting and working through it.
Hillview Farms
Auburn, California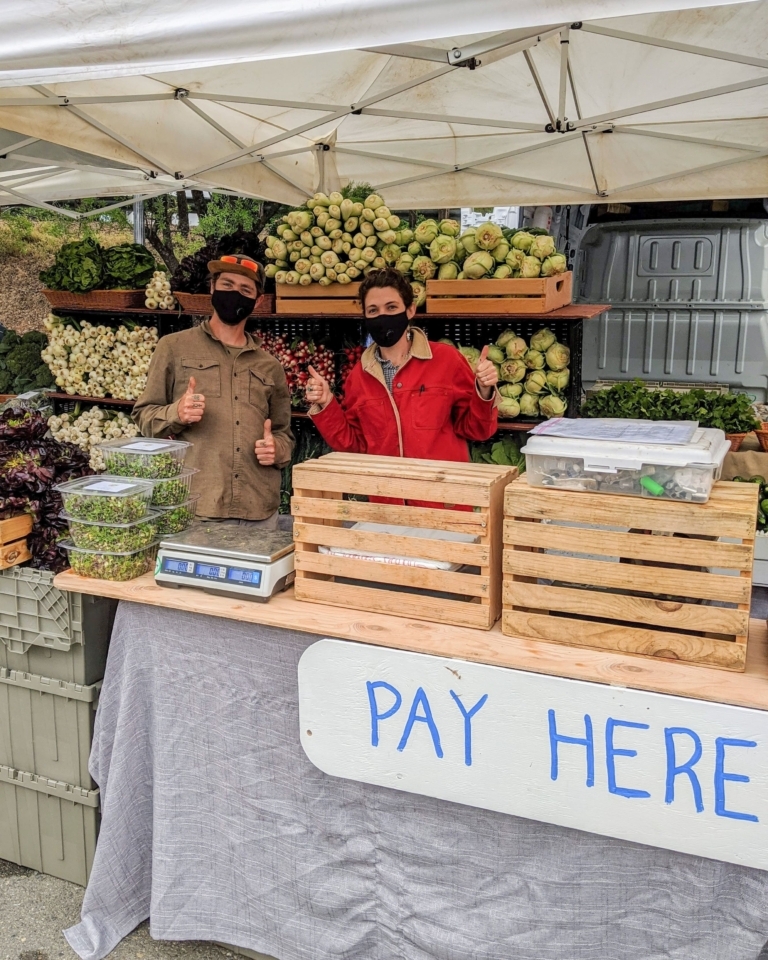 "It's been a major paradigm shift for us, but, as farmers, that's just what we do: we adapt. If you're not flexible, you're not farming." —Shanon Whamond, Co-Founder, Hillview Farms
First-generation farmers Shanon and Michael Whamond arrived at their profession via circuitous paths; Shanon graduated college with a degree in psychology and Michael received his degree in criminal justice. "Even though our backgrounds aren't exactly agriculture-related, they fall into the social justice category because we knew we wanted careers through which we could enrich the lives of others," Shanon says. "Farming became our form of social justice; we would pour our passions into the soil and, in turn, provide the community we love with healthy food."
They established Hillview Farms in 2012 in Auburn, California, a town located in the foothills of the Sierra Nevada mountains, and quickly became one of Placer County's favorite local organic neighborhood farms. They grow over 50 varieties of veggies and fruits using sustainable practices such as no-till, cover cropping, crop rotation and beneficial habitats. Pesticides and sprays have no role in their operation.
The COVID-19 pandemic has only strengthened their conviction that local, organic supply chains are the best way to keep their community healthy. "Small farms are the foundation of a resilient, localized food system," says Shanon, "and it is more important than ever that people are paying attention to where their food comes from."
They quickly adapted their business to the new reality of social distancing by setting up an online store in less than 24 hours—a safe, convenient way for customers to pick up their produce at the farm. "It sounds simple," says Shanon, "but it takes much more energy on the back end to get all the logistics right. Sometimes I look around at all the random spreadsheets and emails and I think to myself, 'Man, I just want to grow vegetables, not run a mini fulfillment center!'"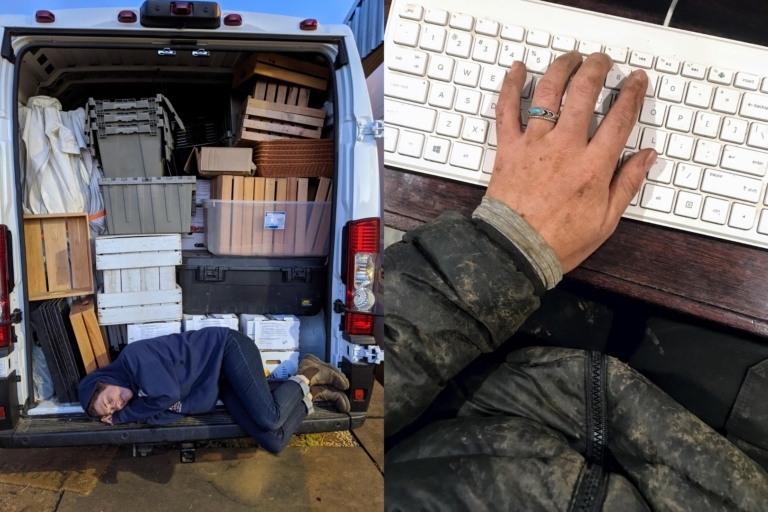 Due to social distancing safety measures, farmers markets have been difficult to navigate. What Hillview Farms customers once called "veggie church"—a place for the community to gather and rejoice in appreciation of local food—has turned into a streamlined delivery system. Business has been good, but with lines wrapping around the farmers markets it's also been demanding on Shanon and Michael, who, pre-COVID19, were counting on bigger wholesale accounts to move large quantities of product all in one drop-off.
"It's a lot and we are tired," says Shanon, "but our motto is to just do what we can and to work our hardest to get food safely to our community. It's been a major paradigm shift for us, but, as farmers, that's just what we do: we adapt. If you're not flexible, you're not farming."
Envisioning the post-COVID-19 world, Shanon and Michael hope the attention that's been put on small farms to feed communities isn't just a "flash in the pan." They hope society holds on to this realization of how essential small farms really are, and continues to step up and work a little harder to keep them thriving.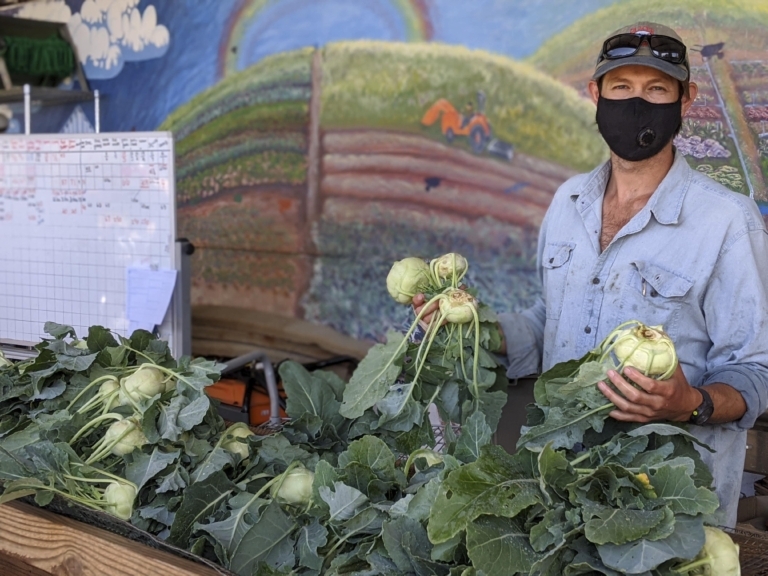 After a long day in the field, Michael took a moment to reflect on the crisis: "During times of uncertainty, we go back to the basic needs to live a healthy life," he says. "When you take out all the distractions, you find that the greatest joy can be the meal you prepared on your own to share with the people you love. During the COVID-19 pandemic, our community is finding that again and seeking out local farmers. For those of you who have looked into farmers' eyes and created that trust again, I thank you."
Hama Hama Oysters
Lilliwaup, Washington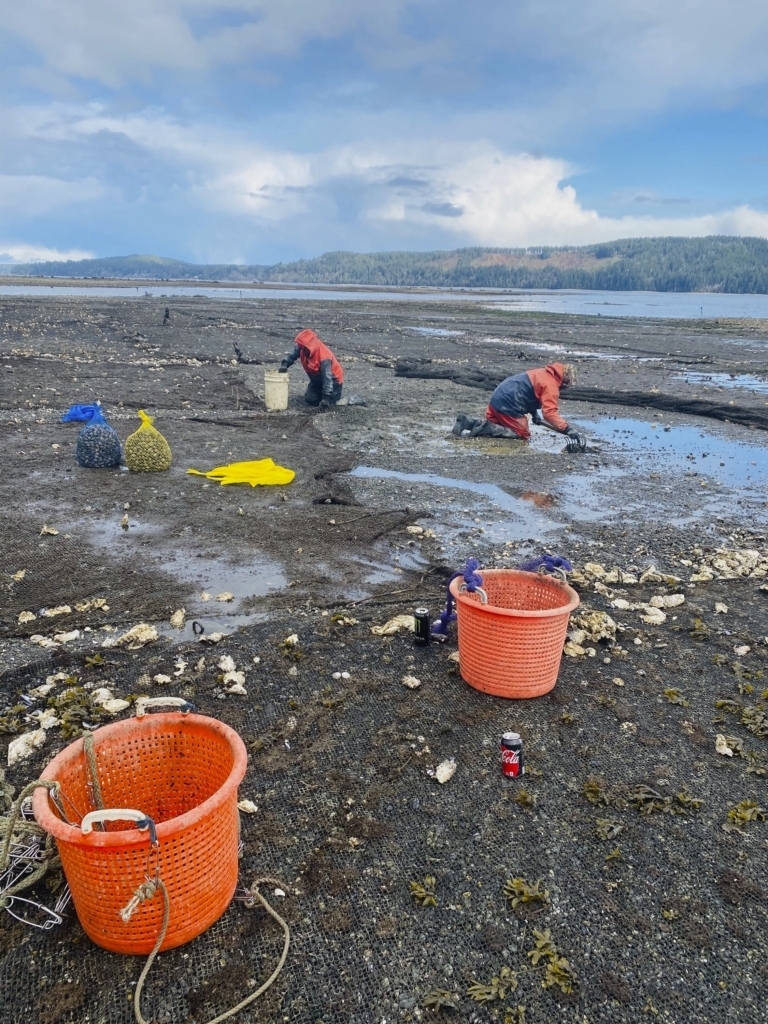 "Grandpa Bart lived through the Great Depression. He always said, 'You know how you make money on the farm, son? Don't spend it.' When COVID-19 hit, that's where our minds went." —Adam James, Farm Operations Manager, Hama Hama Oysters
Hama Hama Oysters, a fifth-generation family-run forestry and shellfish business on Washington's Olympic Peninsula, became a model for sustainability long before environmentalism was cool. Over a century ago, they did what everyone else in the area was doing: clear-cutting the forest to make a buck. It didn't take long for the founders to realize that what they did upstream affected the health of everything downstream; namely, their forestry practices were destroying the estuary at the mouth of the Hamma Hamma River and negatively impacting their oyster business.
Common sense told them to adapt and clean up their act by using more sustainable forestry methods. This balancing act continues today, and it's been a boon for all aspects of their business. "Adaptability, a healthy marine ecosystem and a good team are the most important tools of our trade," says Adam James, Hama Hama's farm operations manager and great-great grandson of the founder. "We produce, process and sell food. Not enough to feed the world, but enough to feed our family and community. And although there's still a ton of uncertainty, we feel we have a good chance of coming out of this okay."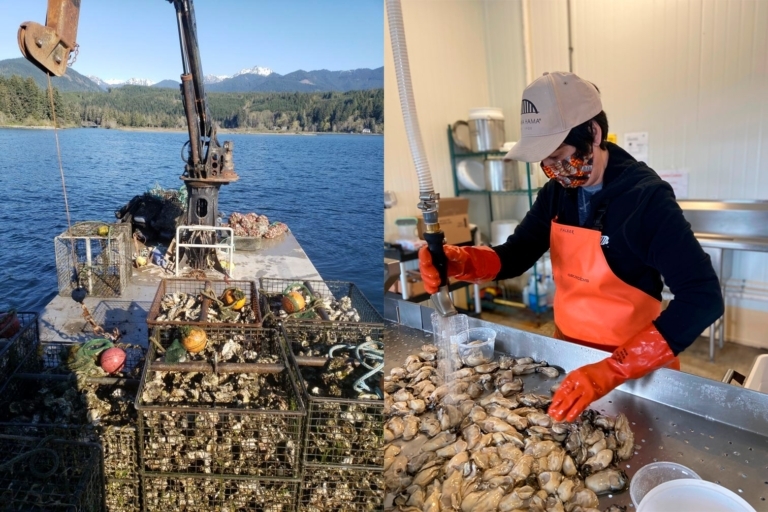 James credits Hama Hama's success to hard work and clean water, and they've had to ramp up the former to pull through the pandemic. "The farm crew is hustling products off the beach," he says. "We set up an online store, we're still planting, and we've added Douglas fir and stinging nettle mignonettes to pair with our raw oysters. We're waiting on the blackberries to get ripe so we can make a mignonette out of those, too. We're just gonna start eating all the weeds."
Though Hama Hama has remained resilient throughout the pandemic, they are concerned about the welfare of smaller independent restaurants and are looking for ways to help them survive the shutdown. "Although we fully stand behind the decision to pause the economy in order to save lives, it was brutal to watch the hopes and dreams of our restaurant community get abruptly crushed by this pandemic," James says. "We're really seeing mass cooperation to help fix a communal problem, and that bodes well for all sorts of challenges we'll have to tackle in the coming decades, like climate change, drought, forest fires, etc. Hopefully, folks will realize how important it is to have local food systems."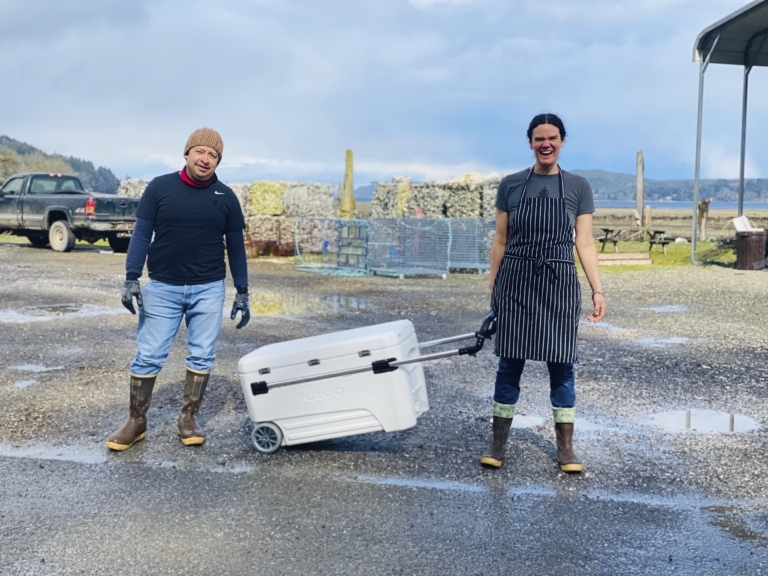 Su Salmon
Cook Inlet, Alaska

"I hope we'll become a little more conscious of, and maybe a little humbled by, the fallibility of our consumerism and reliance on oil in the face of nature sending us this message. We'll see…" —Molly Wood, co-founder, Su Salmon
Much like Shanon and Michael of Hillview Farm, Mike and Molly Wood are relative newcomers to an age-old tradition of feeding their community in a way that leaves it better than they found it. In 2014, they partnered with Ryan Peterson to found Su Salmon Co. on the Susitna River Delta outside Anchorage, Alaska. Their mission: create a low-volume, high-quality, angler-direct salmon business. The Woods met Peterson while they were working on a short film about a government proposal to dam the Susitna River, and the trio ended up sticking around to be the change they wanted to see in the world. In addition to providing fresh fish to keep their community healthy, they also seek to raise awareness around the Susitna watershed and regularly work with the 15,000-member Susitna River Coalition.
Molly graciously shared how Su Salmon Co. is adapting to life in the time of COVID-19 and her thoughts about the future:
"A common refrain among Alaskans during this pandemic has been, 'Well, we're probably in the best possible place to ride this out.' With easily controlled points of entry, a minimal road system and an overall population density of about one person per square mile, social distancing is perhaps a bit easier to pull off here than elsewhere."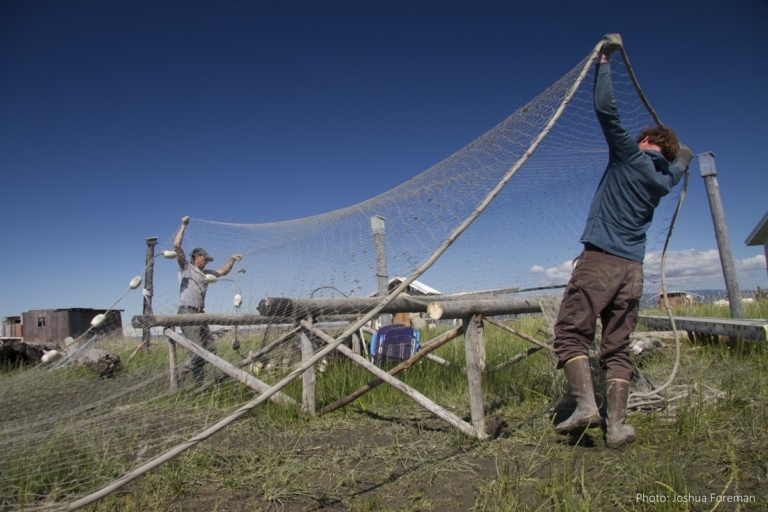 "Like everywhere, though, the economic fallout will be a nightmare. Oil and tourism are spiraling into disaster mode already. The May through September salmon-fishing season is another can of worms. During that time, our small coastal towns normally swell as workers flood in from all corners of the world. The industry is set up around catching and processing fish in camps, boats and canneries, in extremely close, dormitory-style quarters. Governments and the fishing industry are trying to develop guidelines for operating under these conditions, but the truth is everyone is nervous about whether it can be done safely.
"Complicating things even more is the stark memory of the 1918/19 Spanish flu pandemic which completely ravaged Alaska. Particularly devastated were our remote Alaska Native villages, many of which saw more than 50 percent of their residents killed by the disease. In an effort to eliminate the risk of this happening again, both the city and tribal offices in Dillingham, a hub of the Bristol Bay sockeye fishery, have taken the extraordinary step of asking the governor to close the $1.5 billion fishery entirely.
"With luck and preparation, our little company might weather the situation okay. Our fishery does not begin until mid-July, so that buys us a little time to see how other fisheries are doing things. We already operate in a quiet place, away from the human bustle that typifies busier fisheries, so safety within our quarantined crew should be fine. Most critically, as fishermen who sell our catch directly to eaters, we are not reliant on a chain of processing plants and other inherently social scenarios to realize our business. Our biggest concern will be how to manage point-of-sale interactions with our customers. We are optimistic this can be done at least as safely as in a grocery store.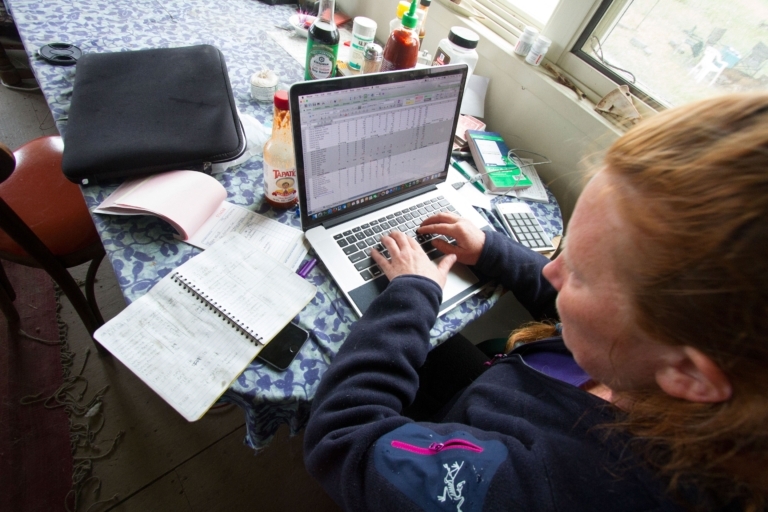 "If we go right back to the way things were and we don't learn a lesson about needing to radically change the way we interact with nature, it's probably all over. In terms of a threat to public health, human displacement and systems overload, the pandemic is nothing compared to climate change. Write or call your congressional delegation and insist they listen to science. Tell them it's urgent."
Christian Puglisi
Copenhagen, Denmark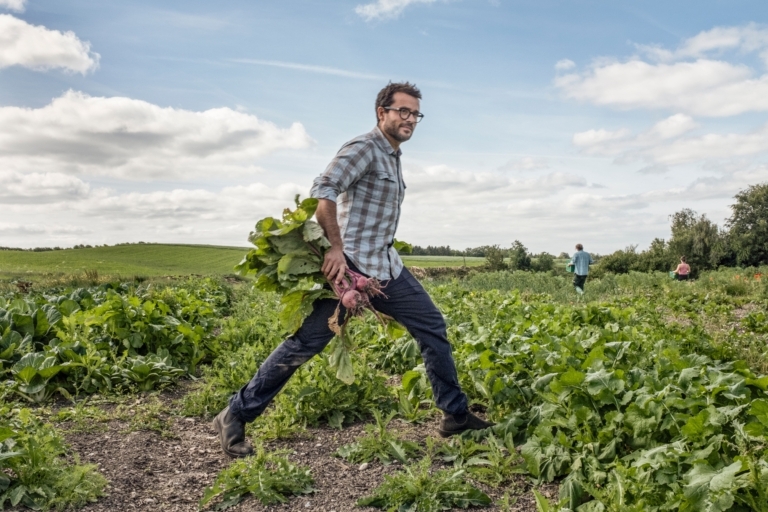 "We need to keep our food production closer and more transparent." —Christian Puglisi, Owner, Relæ
After working for some of the most respected restaurants in the world, chef Christian Puglisi opened Relæ in Copenhagen, Denmark, the first and only certified-organic, Michelin star restaurant. He came to organic through his obsession with provenance–knowing exactly where his food comes from–and found that the best ways to achieve this is to know your farmer, be a farmer, and/or require all food to be organic certified. He employs all three. In 2016, he started his own organic farm and continues to source organic-certified food and ingredients from other local farmers. He also owns three other nearby restaurants: Bæst, Manfreds and Mirabelle.
Puglisi was quick to close his restaurants in response to the COVID-19 pandemic. In a March 13 Instagram post, he wrote: "Social distancing does not rhyme with hospitality, and the idea of asking people to come eat in our restaurants and our staff to serve them simply feels irresponsible." He immediately started offering take-out food from Manfreds and Bæst and transformed Mirabelle into a grocery shop/bakery/take-out place. His goal: to "try and create a connection between local producers and community." In addition, he discounted everything by 30 percent.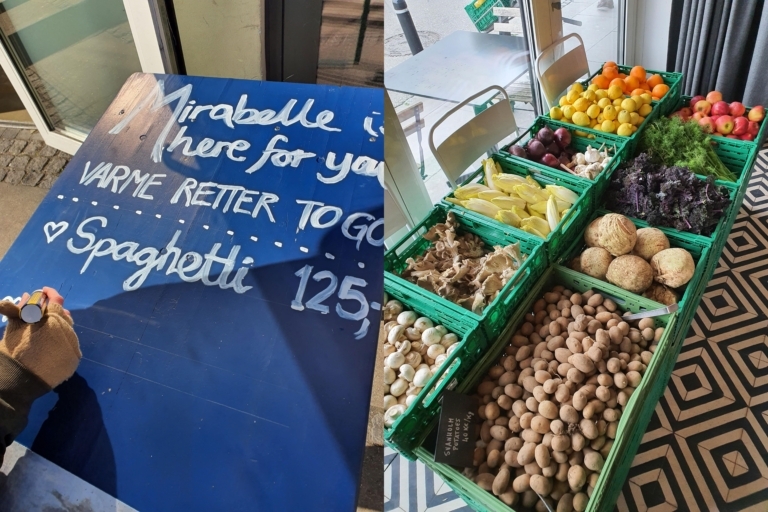 On June 17, Puglisi was happy to announce that his team had started reopening most of the restaurants. "Bæst is open for dinner," he said. "So is Manfreds and Relæ, but Mirabelle is not entirely up and running again. The unfortunate part is that we still have borders closed so we are not getting any international customers which is a huge problem. We are at about 50–60 percent of our normal revenue. There is talk about tourism coming back a bit earlier than first expected; we will see in the next couple of weeks."
Though Puglisi is deeply concerned about the impacts of COVID-19, especially in countries with unstable governments and economies, he believes the pandemic will lay bare many problems we should have been working on all along. "Everyone should consider this as a time to think through our lives and try to trim them to the bone," he says. "What do we really need? Is our life filled with things that truly make us happy, or should we revision, reconsider, rethink? Now more than ever it must be evident that the globalized food system has some severe issues and flaws. We need to keep our food production closer and more transparent. Take responsibility, grow herbs on your balcony, raise a few hens for eggs, plant an avocado pit. We need to have food growing around us to understand that we are connected to the planet—that would save us in the end."