Well-Worn Wading Boots on Christmas Island
Tom Morehouse
/
May 11, 2012
/
2 Min Read
/
Worn Wear
by Tom Morehouse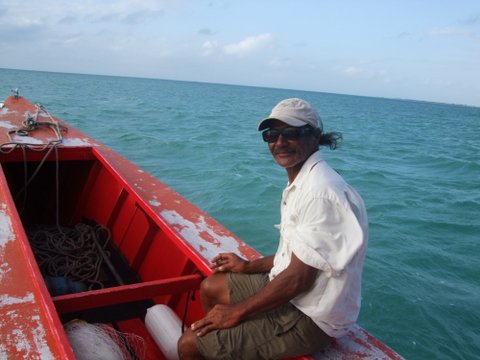 I have an interesting Patagonia photo to share with you. I was on Christmas Island (Kiribati) in March. My guide was Moana who was one of the founders of bonefishing on Christmas Island in the '80s when he was about 30 years of age.
[Nothing beats local knowledge. Moana Kofe scouts for bonefish on Kiribati. Photo: Tom Morehouse]
While fishing, I noticed that he had an old pair of Patagonia wading shoes on which were very well-worn. But here is the interesting part. He fishes every day for 12 hours in the salt water. These shoes have not only held up but, as the picture shows, have seaweed growing out of the tongue. When asked about it he said that the shoes never dry out and it has been there for years. I am enclosing a picture for you.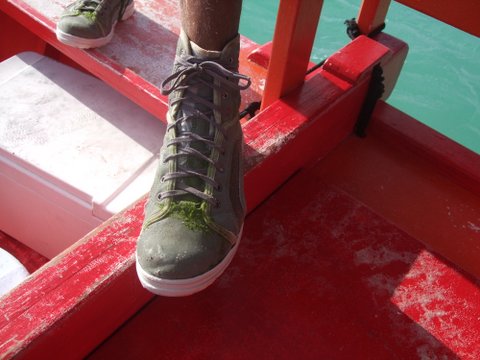 [Moana's Marlwalkers. Photo: Tom Morehouse]
I immediately thought that it was a great statement about the shoes you make, along with all of your other products, and a statement about quality and longevity. So, I am enclosing a picture that I took (and one of Moana). I don't want anything from you.
I just thought that it was a great marketing piece. If you use it, please send Moana a new pair of shoes as, like all islanders, he has no money for a new pair.
Tom
We'd like to thank Patagonia customer, Tom Morehouse, for sharing this letter with us. There's no postal service on Christmas Island so we asked a friend who's heading there soon to deliver a new pair of wading boots to Moana.
Besides his reputation for pioneering fly fishing on Christmas Island, Moana also designed a simple tool for releasing fish with a minimal amount of contact. Check out the Moana Kofe Hook Release (PDF) and grab one from your favorite fly-fishing retailer.
This is also a great opportunity to thank all of the guides out there for sharing invaluable local knowledge with those of us who visit their mountains, rivers and surf breaks. Check out our list of Pataguides on Patagonia.com if you're looking to book a trip to the mountains.
Some Patagonia ambassadors also provide guiding services: