Listen to "The Year of Big Ideas 2009" Dirtbag Diaries Podcast Episode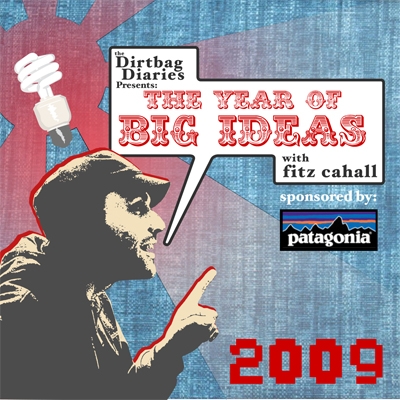 Once again, The Dirtbag Diaries kicks off the new year with a podcast full of inspiration for a fun and rewarding 2009. Show host Fitz Cahall sets the stage:
Rangi Smart was riding a small spur of his favorite single-track trail when he stumbled upon a perfectly designed mountain bike jump. A platform of two by fours and plywood launched a rider outward and 20-feet down the steep hillside. It was the kind of thing Rangi had only seen pro riders stomp on mountain bike videos.
The 33-year-old math teacher thought to himself, "What kind of nut-job rides off something like that?"
Then Rangi imagined that he was that nut-job. 
We can bide our time, wait patiently for our chance to shine, but more often than not, the moment chooses us. It's our job to answer. Here's to another year of big ideas, another year of slaying giants, bearing down, not giving up, chasing daylight, paddling in and fostering change.  We bring you the hopes, dreams and goals of professional athletes, regular joes, parents, soldiers and students.  Here's to the dirtbags. Here's to Mr. Smart.

Listen to The Year of Big Ideas 2009 (mp3 – 19:45 – right-click to download)
Fitz is always looking for great stories to feature on the podcast. Ifyou're a climber, skier, surfer, activist or anybody who can't getenough of being outside, consider sharing your story at www.dirtbagdiaries.com.