The Voyage(s) of the Cormorant, Part 1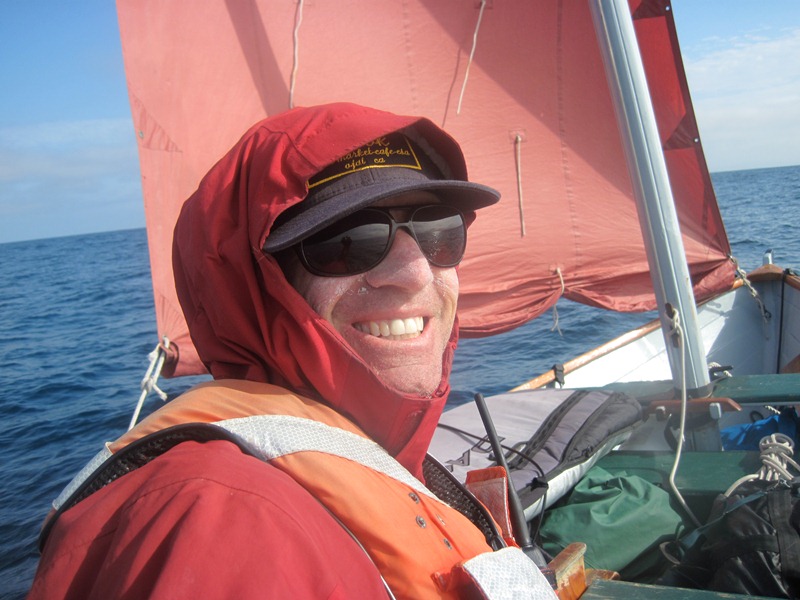 If I've learned anything in these recent years of open boat adventuring aboard my 18-footer, Cormorant, it's that everything is fine until it isn't. But also, as Yvon says, "The real adventure starts when something goes wrong…"
Late July, 2014—Shoving off from Gaviota for the 27-mile crossing to San Miguel Island came with a new kind of anxiety, as I no longer travel solo in life but am now married with a soon-to-be three-year-old daughter. When the State Parks Lifeguard pointed to Natasha and our little girl, Josephine, and asked me if I was planning to bring them along, I vehemently replied, "Nooo!" aghast at the thought.
But another thought came on its heels, and that was that if it this sailing journey was too dangerous to consider bringing my young family along, why was it OK to go alone? I've rationalized this by telling myself that I pick my days carefully (the forecast was for light-to-moderate winds), wear a lifejacket and lifeline, and carry a Spot satellite device if I really blow it and need to be rescued. So with the mental shrug of the shoulders that it takes to do these types of trips, I pulled Cormorant off the trailer, got her down the beach, and kissed my ladies goodbye.
I'd wrangled four days from my job stocking shelves and providing excellent customer service at Trader Joe's in Santa Barbara, provisioned Cormorant with my 10% employee discount, and intended to sail across the channel—anchoring at either San Miguel or Santa Rosa Island, depending on wind and currents. It was slow going, and by 1 p.m. I'd only ghosted a couple of miles up the coast on the merest breath of wind from the southwest, which didn't afford me any progress seaward. But the breeze finally clocked around and I set my course straight on for the oil platform Heritage, some miles off.
There is nothing practical about this mode of travel in terms of its slow pace. But then again, what's "practical" about climbing a rock face, or riding a wave? I suspect it's the sheer practicality of 21st-century, digitized life that drives us to do these things. Of course, it's also a feeling we're after. And aboard Cormorant it's the feeling of the water slipping by, speaking its own language along the hull; the incongruity of this sliver of a craft, ancient in design, carried across the big water with nary a ripple behind. Hours and hours passed, and I dropped into the quiet of sailing alone, the sea running deep blue beneath a high ceiling of gray—not another boat or bird, whale or seal to be seen—until the faintest outline of a ridge appeared far away on the horizon. San Miguel, the furthest out of the Northern Channel Islands, rose clearer as I approached, 5-hours melting into 7-hours, a gray oozing fog laying over the rocky crags. The wind held light at about 8-knots from the northwest and I glided in below the big rock pinnacle at Cuyler Harbor, rounding up and dropping the hook in a neat little cove hemmed in by high sea cliffs as the light faded.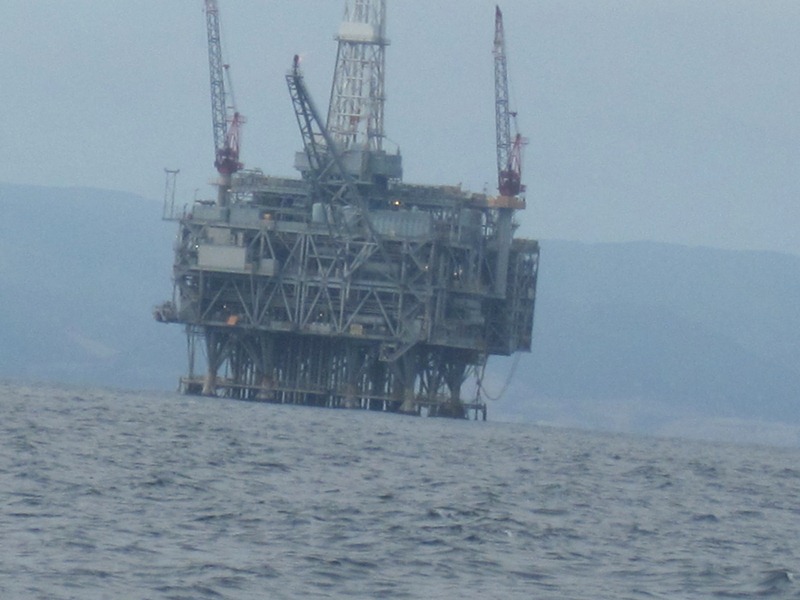 The Harvest oil platform, one-quarter of the way across.
I felt the crossing in a stiffer back and sorer butt than I recalled from previous sails, and I hadn't remembered the rolling of my little ship making it so hard to sleep. But there was still that great sense of adventure when I awoke the next morning and peeked from under the boat tent at the high cliffs above my anchorage, and watched the guillemots come in for their seemingly out-of-control, splay footed water landings. After a quick breakfast of granola and instant coffee I organized my gear, pulled anchor, and set out under oars. Gray skies persisted as I worked down the rocky coast, harbor seals eyeing me and splashing under as I approached. The high rock walls gave way to lower shelves and the broad curve of beach at the southeast end of the island—Carrington Point. About one thousand sea lions stood huddled in a nervous crowd, the larger Stellar's sea lions further up the beach seemed more stoic, their heads held high, backs arched, chests thrown out as if impressed by their own magnificence. Although I was well off the beach, the sea lions got spooked and made a charge for the sea en mass, soon swarming Cormorant with their rollicking dives and bellows.
As with the previous day, there was the just the merest hint of a westerly breeze, Santa Rosa three miles across with sandstone cliffs and rock coves along the long western shore. I sailed at the pace of a slow walk, and that was the attitude I took as well—just a country stroll… Later, weaving the kelp beds a quarter mile off of Rosa in a slightly improved breeze, I marveled at how remote all this was even as RVs battled for parking spots not thirty miles away. Then, in an instant, the rudder knocked free of its gudgeons and the main pintle (the pin that makes steering possible) was bent outward and made useless by an unlucky tangle with the kelp. I dropped the sails and scrambled forward to tie the boat off to the kelp in the lee of an offshore rock stack, and then set to trying to fix the rudder. Another five minutes saw the situation go from bad to worse as my attempt to bend the pintle back only resulted in snapping it off clean. Now I sat on the far side of Rosa with no rudder.
Yessir, Yvon, I was on an adventure now…
(Continue the story with Part 2)
Christian Beamish, author of The Voyage of the Cormorant (Patagonia Books, 2012), lives in Santa Barbara County with his wife and daughter.