Stand Up Paddling the Rivers of Australia with Zeb Walsh and Adam Colton
/
July 27, 2012
10 Min Read
/
Surfing
Today we're featuring two rivers in Australia and two takes on stand up paddleboarding. First we'll hear about Zeb Walsh's (Patagonia Australia) one-day training run down the icy waters of the Snowy River. Then, Adam Colton (Long Treks on Skate Decks) takes us on a 30-day trip down the Murray.
A Man In Snowy River
by Patagonia Australia & Zeb Walsh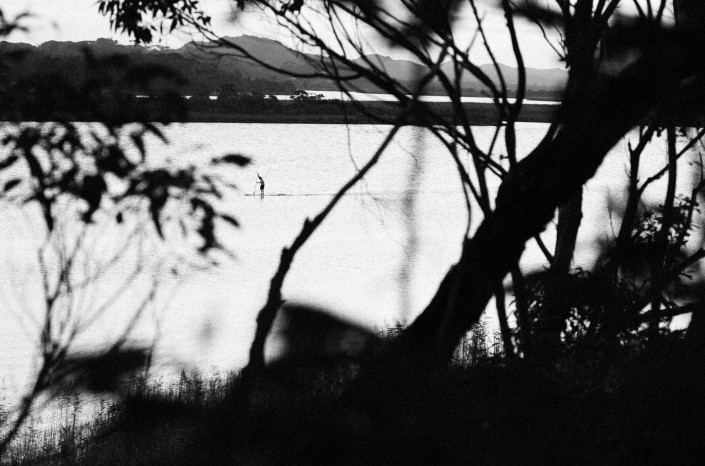 He was hard and tough and wiry — just the sort that won't say die
There was courage in his quick impatient tread; And he bore the badge of gameness in his bright and fiery eye, And the proud and lofty carriage of his head.
Originating from the high mountain peak of Kosciuszko, and draining down through the Eastern Slopes, The Snowy River winds 352 KM before reaching the Bass Strait.
In far East Gippsland, an athletic physique approaches the shores, lead by an ambitious spirit and determination. His kind eyes intercept the flowing waters. This land is a part of Zeb's birthright and what better way to connect with the river than to follow its flow. Setting out on a stand-up, paddling from Orbost, 20km downstream but into a nasty head wind, all the way to Marlo.
The river's course and surroundings have remained almost entirely unchanged as the majority of it is being protected by the Snowy River National Park. The river's flow has been drastically reduced in the mid 20th century to less than 1% after the construction of four large dams (Guthega, Island Bend, Eucumbene, and Jindabyne) and many smaller diversion structures at its headwaters in New South Wales as part of the Snowy Mountains Scheme.
"You see some funny shit when you paddle down a river like that. People up there don't care about having the best stuff money can buy. The nature and nothingness really makes you think and puts life into perspective.
"Every couple of kilometers there are these funny half-assed house boats that are no more than a pontoon with a caravan on it. The old fisherman love to hang out there. They make me giggle every time I paddle past one.
"The Snowy isn't a place everyone will get to in their life, but if you have the chance to get up, or down, to that part of Australia, it is worth it. It's very beautiful and everyone loves a beer and chat, but they look at you pretty funny when you paddle by on a board they have never heard of before."
And down by Kosciusko, where the pine-clad ridges raise
Their torn and rugged battlements on high, 

Where the air is clear as crystal, and the white stars fairly blaze 

At midnight in the cold and frosty sky, 

And where around The Overflow the reed beds sweep and sway 

To the breezes, and the rolling plains are wide,
The man from Snowy River is a household word today, 

And the stockmen tell the story of his ride.
Poem – The Man From Snowy River by Banjo Paterson
Facts – Wikipedia
Photos – Kaz
Follow Zeb through his blog – Paddle Diaries of Zeb Walsh
****************************************************

SUP the Murray River
by Adam Colton
Back from Australia and as I sit here I can't help but feel a longing to be back on a river, on another adventure. I plan to do another one next year but that seems too far away.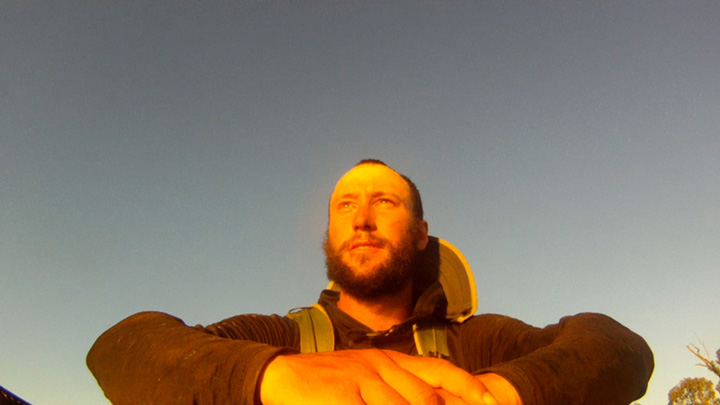 When I started out, Feb. 18th on the Murray River in Southeastern Australia, I had 1,876 km (1,156 miles) in front of me, from Yarrawonga to Murray Bridge. I had never done a paddleboard trip before. The most time I had spent on a paddleboard was in Mexico for about two hours. Even with this lack of experience I felt really confident. YES I can swim, check. Yes I am a persistent monster, check.
I know from doing other long distance adventures (long distance skating) the physical challenge is never the hardest part, it is the mental challenge — this trip was NOT going to be FUN; it was going to be a whole slew of emotions, ups and downs, doubt, boredom, and small moments of joy. All of this combined to make the trip one of life's unique experiences.
It was going to be a mental battle to keep in a good state of mind, one that allows you to take your mind away from the realization that this is going to take a very, very, very long time and not focus of every waking second of each super long day. A good state of mind for me is a number of scenarios from daydreaming up abstract stories, to laughing at my life past and present, to focusing on the river, how to take the best lines, dodging snags, focusing on technique, and admiring the wildlife and scenery. A good requirement for any long distance traveler is being able to entertain themselves with just the power of the mind. I do not use an iPod so my imagination and thoughts are all I have.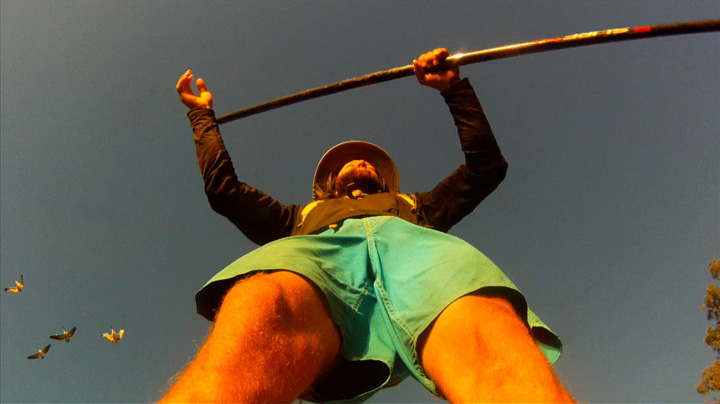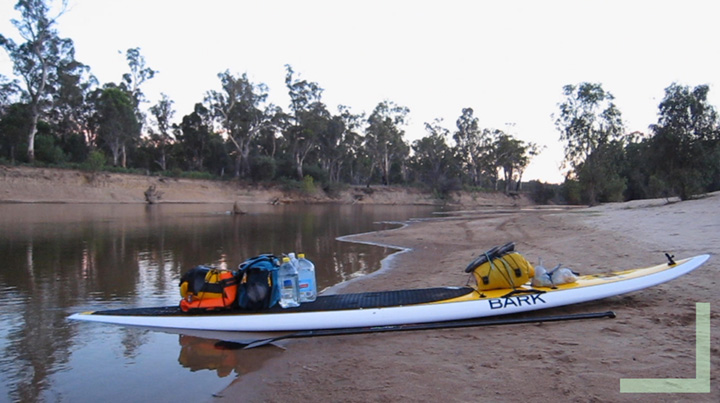 TOUGH DAYS
The whole trip was movement by daylight. The same day I landed in Melbourne, Feb. 18th after a 15 hour flight, I set out on the river at 5:30 pm and did not stop until I was done March 18th at 10:30am. Thirty days straight with no rest days, on the water 10-13 hours each day, I was a determined Monster in motion. I paddled in all weather conditions: rain to heat, wind to calm. It even rained so much that the river was in a medium flood state.
I had some days where the wind blew so hard that the river turned into a small ocean with miniature waves. At one point, I thought it was so ridiculous that I questioned if I was cursed, as if the river really had it out for me. I yelled at the river, reasoned with it, told it off and then felt like crap, thinking maybe I had upset the river gods even more. There were even apologies. Soon I accepted the river's challenge; it was what it was.
There was another time where I was going 1 mph for 7 hours because of the insane head winds. With such a battle you are always at the breaking point. I saw a town up ahead and I had a pretty good idea it was Mannum but for the hell of it I looked at the map to check. In doing this I was blown half way across the river and back 20 ft which took me out of a good line I had going around a turn. I became so angry because now I had to work so much harder, I was yelling at myself about how stupid I was. "Why did you have to look at the map. Why, you idiot, you knew it was Mannum." I wanted to physically hit myself for how dumb I was.
Taking a break in Mannun I soon saw on the news that a cyclone was coming near Australia and was about to hit the coast, hence the stupid winds. I ate food and was hypnotized by watching Formula 1 practice runs on TV in the comfort of a pub. All too soon I set off to battle the river again — I am a persistent bugger.
When I set out I became grouchy very quick. Why did I leave the comfort of the PUB to be here making no progress, wasting energy, and potentially hurting my body? I was so pissed, then I said to myself, "Hey Adam, you can either be happy or you can be sad. What is it going to be?" Of course I chose happiness. I got into a happy headspace where I could focus on a beautiful subject, play scenarios back in my mind and I became numb to the wind.
NINJA STAR CAMERA
There was a week and a half section of the trip where I captured some of my best video footage and I had almost 32GB filled on the card. I was paddling in a head wind, and my paddle did not clear the camera and hit it in the most perfect spot. It dislodged from the gorilla tripod and ninja starred right into the water. For some reason I thought oh perhaps it will just float to the top and I will grab it. No way. That sucker disappeared and found a home at the bottom of the river. YEP.
I go back and forth with video taping on trips. Video taping helps capture your trip for you to share and inspire others, but videotaping can also take away from the trip. It can be a distraction and a hassle.
WILDLIFE
"Watch out for crocodiles," people would tell me in the states. Well, there are no crocodiles but there are some very poisonous snakes and spiders. I saw one poisonous black snake swimming in the water one day and it kept to itself. One night I had a river rat chewing on the shoulder strap of my backpack. He liked the salt I think, took me a while to scare him away.
Another night I was sound asleep and woke up to a noise as if someone was dragging a rack through the sand. I shined my light outside and it caught the eyes of a curious fox trying to get on top of my board and into my food. That fox was persistent. Even running after him with my paddle did not deter him, he kept coming back until he realized it was too hard to get my food and then he took off.
One night I woke up to the airbeam of my tent making this humming noise. Soon the noise was the loud breaking of sticks and foliage. It was a gnarly sound that could almost be interpreted as some large animals coming to eat me, but I soon realized it was a bunch of kangaroos moving through my campsite.
Morning would always come with being woken up to the Kookaburra birds. They never miss the morning sun and they break out in hysterical group laugher. If you did not know they were birds you would think you were surrounded by monkeys.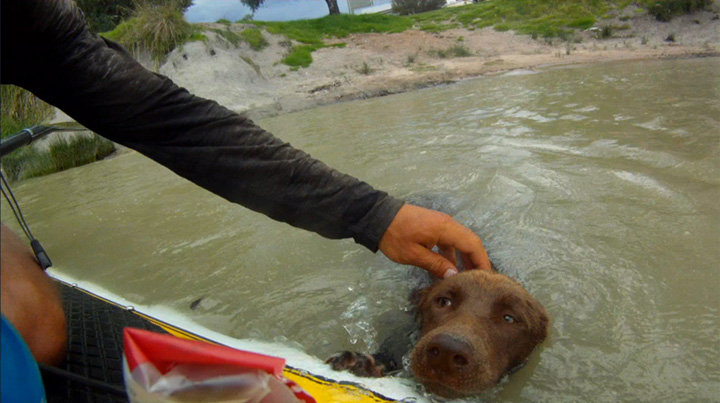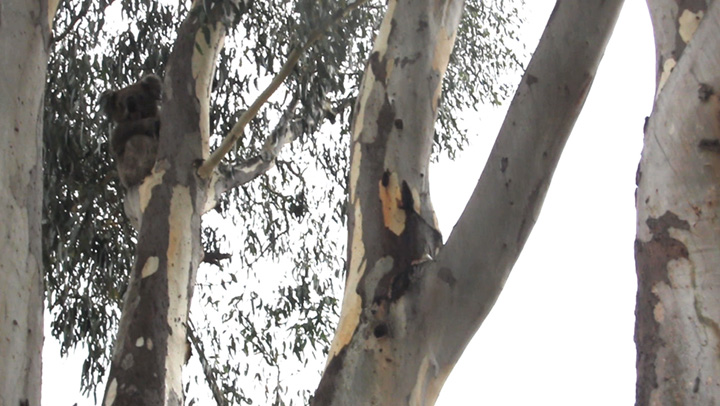 THE RIVER
The Murray river is an amazing river, not much trash and full of wildlife, especially birds. Birds everywhere. Crazy cockies that fly in packs across rivers making the most horrible screeching noise. Grouchy pelicans that would circle above me and grunt. Funny birds that would plop ever so ungracefully into the water and poke their head up like telescopes to see where you were at. Crazy long-legged flying chicken things that would run across the water flapping their wings.
I saw really scared Kangaroos that would be in motion before I could a good look at them and so many fish. I was so stealthy at times I could sneak up on carp feeding at the surface. There were countless times where I was startled by fish jumping straight out of the water. Seeing their yellow bellies, I envisioned them as being really happy and wanting to get some fresh air. The carp are not native to the river and have taken it over. It is against the law if you catch a carp to return it to the river. There lie beasts in that river: some 200-pound Murray Cod that everyone hopes to catch.
The river at the beginning is a twisted obstacle course filled with fallen trees, snags, and whirlpools. The river gradually becomes wider and longer with windswept straightaways and long gradual hairpin turns. The vegetation becomes thicker with reeds, ferns and dense gum tree forests. Then, out of nowhere, the rising of long limestone cliffs, home to many birds.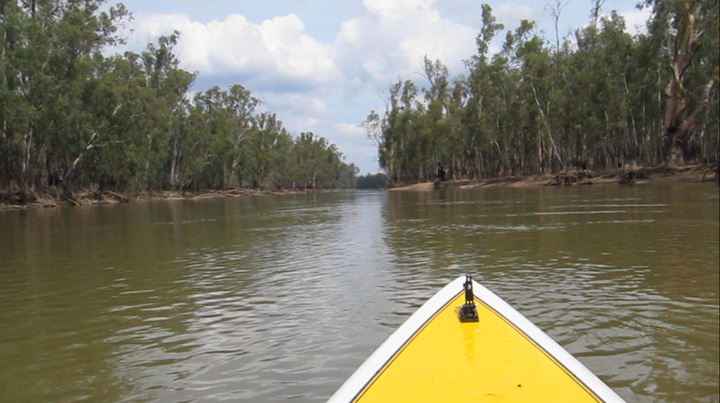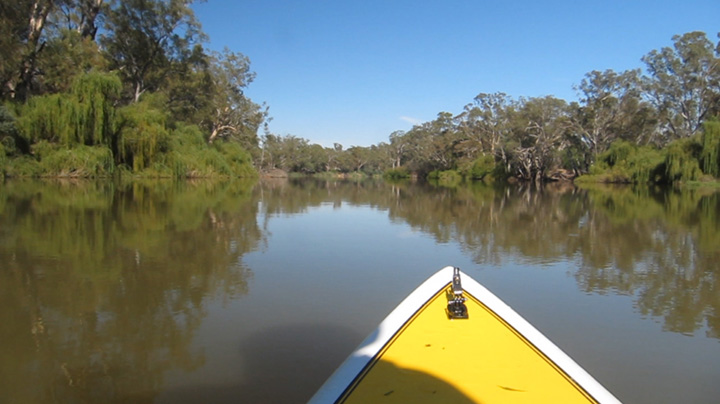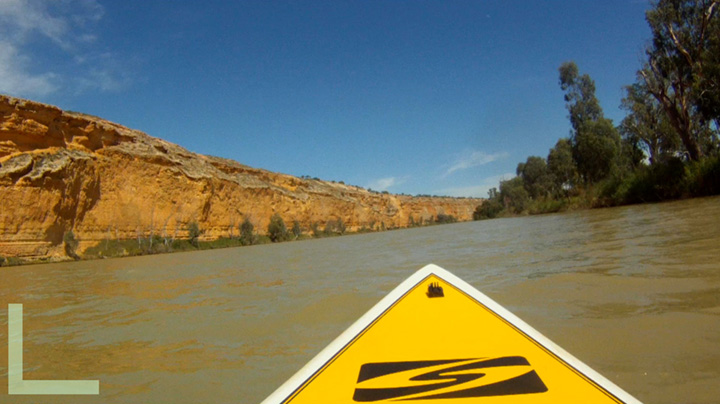 Overall, this is just a mild reflection on the trip but perhaps it will inspire someone or make you think. These trips are full of so many emotions, unique energy and just overall small details that words are really just words; being there is the true testament. From one long-distance human-powered traveler to another you just can look at each other and with a nod understand what that other has gone through. Whatever you are inspired to do make your idea happen, let your actions be the true testament.
Get gear recommendations from Adam and advice on doing your own river SUP over at the Loaded Longboards blog.