Sowing Trust
Jonnah Perkins
/
June 24, 2021
/
6 Min Read
/
Workwear
How can an organic farmer with no successor make sure the farm will end up in good hands? Paul Bickford started his search in an unexpected place.
All photos by Jesse Perkins
In 2015, Halee Wepking typed organic into the jobs search box on Craigslist. She found an ad that read, "I am seeking a forward-thinking individual or couple to join my 950-acre organic farming operation … Ethics and trust are a cornerstone of organic farming and are important to my operation. I want to share my 40 years of farm experience with someone who is willing to work to improve my farm."
Halee and her husband, John, met while working in the kitchen at Prune, in New York City, where they connected over a common desire for a closer relationship to food. "We were both ready to leave the cooking world and wanted to be closer to food production," Halee says. John recalls the dramatic shift in their lives: "We decided to move to my hometown and drove straight from Bushwick to Lancaster, Wisconsin, in a U-Haul." After a year of attempting to create a life around John's family's diversified grass-fed beef operation, it became clear that they would need to find a new opportunity. That's when Halee found the Craigslist post.
The post was written by Paul Bickford of Bickford Organics, a corn and soybean operation an hour east of Lancaster. He started his farm in 1978, first as a confinement dairy before transitioning to organic row crops. Paul recalls his first impression of John: "He had good ideas. The best thing is that he was nice. Smart and nice. Nice and smart. Intelligence and good character. You can teach someone how to drive a cultivator and run tractors, but you can't teach character."
While the common fate of farms and farmland is to either transfer within the family or sell into the open market, Paul was offering an unconventional path. His son works on the farm but isn't interested in management. "Some farms have a built-in successor," Paul says. "What is tragic about that is sometimes those farmers can't afford to sell it to their kids because they are in too much debt, and the younger generation doesn't have a chance in hell of buying into a business that can hardly make a go of it in the first place." Paul was looking to keep his farm intact while passing on his knowledge to eager young farmers.
The first gesture of trust and commitment was the handshake deal Paul made to allow the Wepkings to fix up the original farmhouse. Along with giving them access to a home on the property for their growing family, Paul strengthened the relationship by letting the young couple invest sweat equity into the farm. Today, the Wepkings are gradually buying the farmland and infrastructure from Paul, and they've given their operation a name: Meadowlark Organics.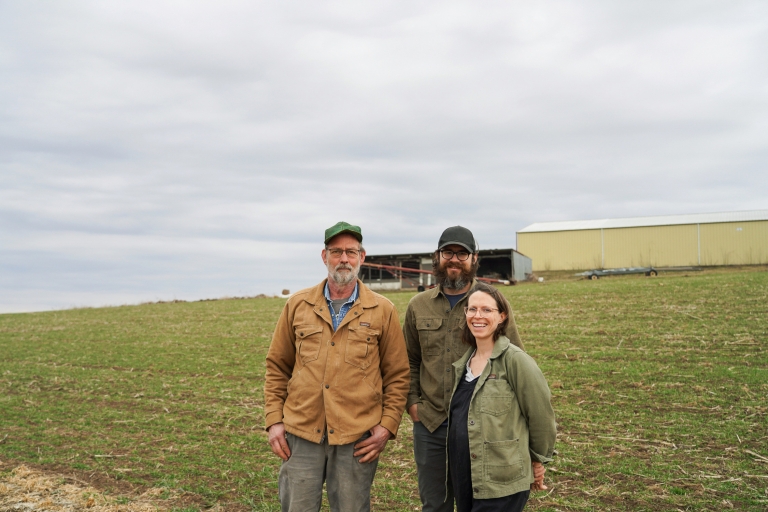 Over the loud hum of a stone mill, John talks proudly about their newly erected two-story mill building: "A lot of the mill is actually made from old farm steel that was laying in the weeds. The railings around the mill platform are old cattle panels." The Wepkings purchased the stone mill from a beloved local mill, Lonesome Stone Milling; the owner was approaching retirement and wanted to see the stone go to a good home. They've also partnered with vegetable farmer Rink DaVee, who manages all aspects of flour production for Meadowlark and is helping the Wepkings take a deep dive into the highly specialized art and science of stone milling.
Agriculture in the southwestern corner of Wisconsin is often like fitting a square peg into a round hole. Much of the Midwest has over a foot of black dirt, but this region in Wisconsin is much more erodible and not well suited for "one-size-fits-all" commodity crops, like corn and soy. Despite this fact, local farmers have had few to no economic incentives to grow crops—like small grains—that thrive in this particular biome. With a community-forward mission, the Wepkings are not only creating a market for the 20 varieties of small grains, dry beans and open-pollinated corn they grow on the farm but also providing an artisanal processing facility and outlet for other regional grain farmers—a community milling hub.
"From the beginning, we thought that if we could regionalize the production of staple crops like wheat, rye and oats, so many farmers could get out of the commodity system and have more agency," Halee says. Unlike monocropping for commercial production, which depletes the soil of nutrients and causes significant topsoil loss through erosion, integrating and rotating small grains builds topsoil and breaks up weed and disease cycles—all of which provide security and resilience for farmers, especially in the face of the climate crisis. "There's potential for a dramatic transformation in the agriculture landscape by incorporating small grains," Halee says. "That affects water quality, soil health and erosion. It affects the hypoxic zone in the Gulf Coast. Small grains can play a larger role."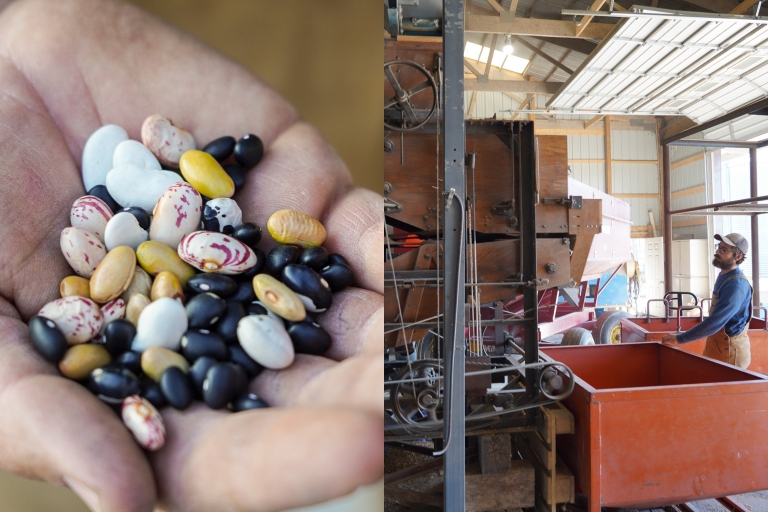 Building topsoil and keeping farm inputs to a minimum is a cornerstone of the Wepking's farm plan. The formulaic, conventional corn and soybean rotations that make up most of the agricultural industry in Wisconsin have come at the cost of topsoil and a self-sustaining regional foodshed. Their vision is to restore both with techniques like minimal tilling, cover cropping, interseeding and using livestock manure to keep nutrients on the farm in a closed nutritional loop. "It takes a while," John says about the latter, "because you have to build up enough livestock on your farm to supply your own [manure] needs, but that's our goal. And I think that's how we can become more self-sufficient and resilient."
"You can teach someone how to drive a cultivator and run tractors, but you can't teach character."
In the nuanced conversation around organic, regenerative and no-till agriculture, the small grain sector offers promising soil-building solutions. In addition to keeping the soil covered with forages, like alfalfa, planted over winter wheat, the Wepkings are using interseeding methods where corn serves as a trellis for beans. "We've been doing some open-pollinated popcorn plantings with a couple different varieties." John says. This ongoing learning that brings in traditional farming methods to a productive but regenerative scale is anchored in the support and infrastructure that Paul has provided.
And where does Paul fit into it all these days?
One of the strongest benefits to having a mentor who has spent decades on their farm is the compounded knowledge of the land that can take an entire career to establish. The other side of that coin is the stubbornness that often comes with being the sole decision maker for most of your life. But Halee points out one of the key aspects to the success of Meadowlark Organics: "Paul has always encouraged innovation, so there is an opportunity to be learning and improving all the time instead of being like, this is how Grandpa did it, so this is how I'm going to do it."
"I don't get a big head about it," Paul says, "but I feel fortunate that what I've accumulated can be used to start a new family and grow the business. I feel grateful that they are smart enough to take the farm that I have made and build on it. That takes a mental and physical load off me." Paul says he has no plans for a full retirement, ever, which was a critical consideration in keeping a slow pace for the farm transition—though he does need more time to recover from long workdays. "If I'm still getting around when I'm 85, I'll probably be out here driving a tractor. I'm not going to be the type of guy that sits in a rocking chair."