Piolets d'Or 2013
Hayden Kennedy
/
May 10, 2013
/
3 Min Read
/
Climbing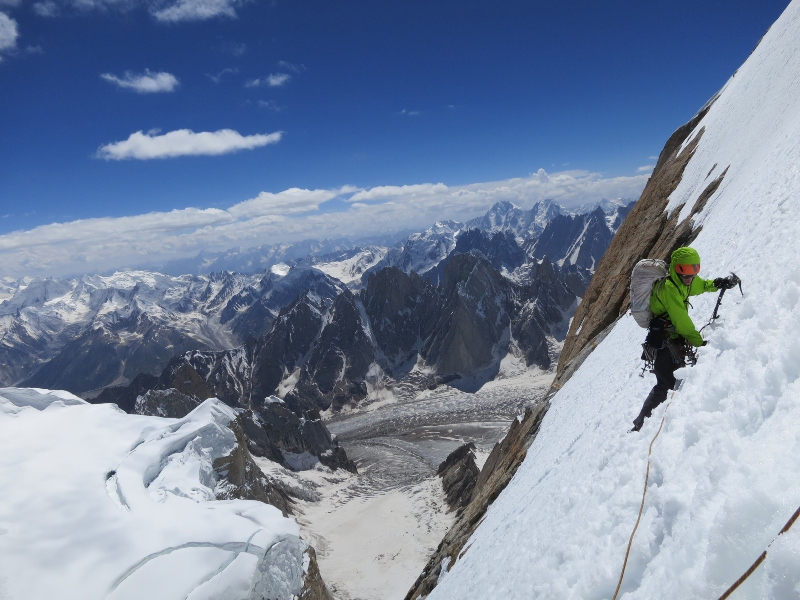 "Some declared it the climb of the century. But did anyone repeat GIV to confirm our illusion of it? Besides, does it make sense to declare a poem the poem of the century? Can you choose a woman of the century?" – Voytek Kurtyka writing about the Shining Wall on Gasherbrum IV
There are no winners or losers in climbing. How can there be? Isn't the point of climbing to escape these themes of ego and competition? To surrender ourselves to the experience at hand whether that entails failure or success; to push beyond the surface of our own expectations and those others have of us into a deeper well of motivation, curiosity and mystery? In my life, some of the greatest moments have come from failure. And what does success truly mean? Reaching the summit is an obvious and logical yardstick, yet too much focus on that singular measure can blind us to more profound possibilities like surrendering ourselves to the experience at hand, regardless of whether it entails failure or success. As the prolific Mugs Stump once said, "We were stuck on a portaledge on the Eye Tooth for eight days… We don't need the summit. Just being here, in the present, that's enough."
These were the thoughts going through my head when Kyle Dempster and I were lucky enough to get invited to the 21st Piolets d'Or ceremony in Chamonix. The annual event – held over four days with plenty of red wine and good French food – typically chooses a "best" alpine climb of the year and rewards that team with a golden ice axe. Kyle and I were nominated for our new route up the south face of Ogre I in Pakistan's Karakoram Range.
We were among some of the strongest and most legendary alpinists in the world. At lunch one day, Stephen Venables told us how he broke his legs in India when his anchor ripped out of the wall, sending him hundreds of feet down the mountain. One table over, the renowned Kurt Diemberger, responsible for the first ascents of both Broad Peak (1957) and Dhaulagiri (1960), was telling his stories. Over espresso, the infamous Brit Mick Fowler told me wild tales of his first years exploring the Himalayas. To be surrounded by so many amazing climbers was truly an honor.
The five other nominated climbs were all outstanding and unique, ranging from a three-week ridge traverse on an 8000-meter peak to navigating new ground on unexplored peaks. I felt my sense of the possibilities in the mountains open up. Yet during the event there was also a lot of hype about "who" was going to "win." It's a big deal for some people. Me? I was so blown away by the company I could have cared less about the award.
To my surprise, the Piolets d'Or jury made a great statement towards alpinism by celebrating all of this year's climbs instead of awarding a "prize" to a single climb. This is a fantastic step in the right direction and I thank them for their choice. The fact that we all shared a similar passion for wild climbing adventures was enough. I was so inspired by the stories I heard at the event that all I could think about was getting back into the mountains.
The ultimate alpine climb would be a spectacular line up a virgin face, no one nearby, with a good partner – and there wouldn't ever be a word uttered about it. Stripping away all desires except the pure experience of the climb, escaping all expectations and our own egos, these are the real achievements. We should all dream of this… maybe one day it will become a reality.
"Potentialities increase
Pleasure eats senses
Power seems unlimited
Suddenly I discover
The only escape from madness
Is the old path through
Blood, sweat and tears."
– Voytek Kurtyka