Mommy, Where Do Clothes Come From?
Nearly every Wednesday, Courtney Reynolds can be found elbow-deep in a bin of someone else's castoffs, searching for scraps of fabric and colorful quilts to deconstruct and sew into original clothing items for her three preschool-age kids, or to sell in her online shop, Napkin Apocalypse.
It's a mild morning, early enough that Southern California's autumn heat hasn't yet saturated the asphalt where a vendor has laid out a striped wool blanket under a display of mismatched vintage sweaters being offered for a dollar apiece. Cardboard boxes spill over with embroidered table linens, and sheer, printed scarves sit nearby. Seagulls caw as they pass by overhead, a reminder of the ocean just beyond the wall that hems in the Ventura County Fairgrounds, where nearly every Wednesday, Courtney Reynolds can be found elbow-deep in a bin of someone else's castoffs, searching for scraps of fabric and colorful quilts to deconstruct and sew into original clothing items for her three preschool-age kids, or to sell in her online shop, Napkin Apocalypse.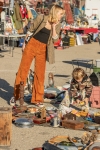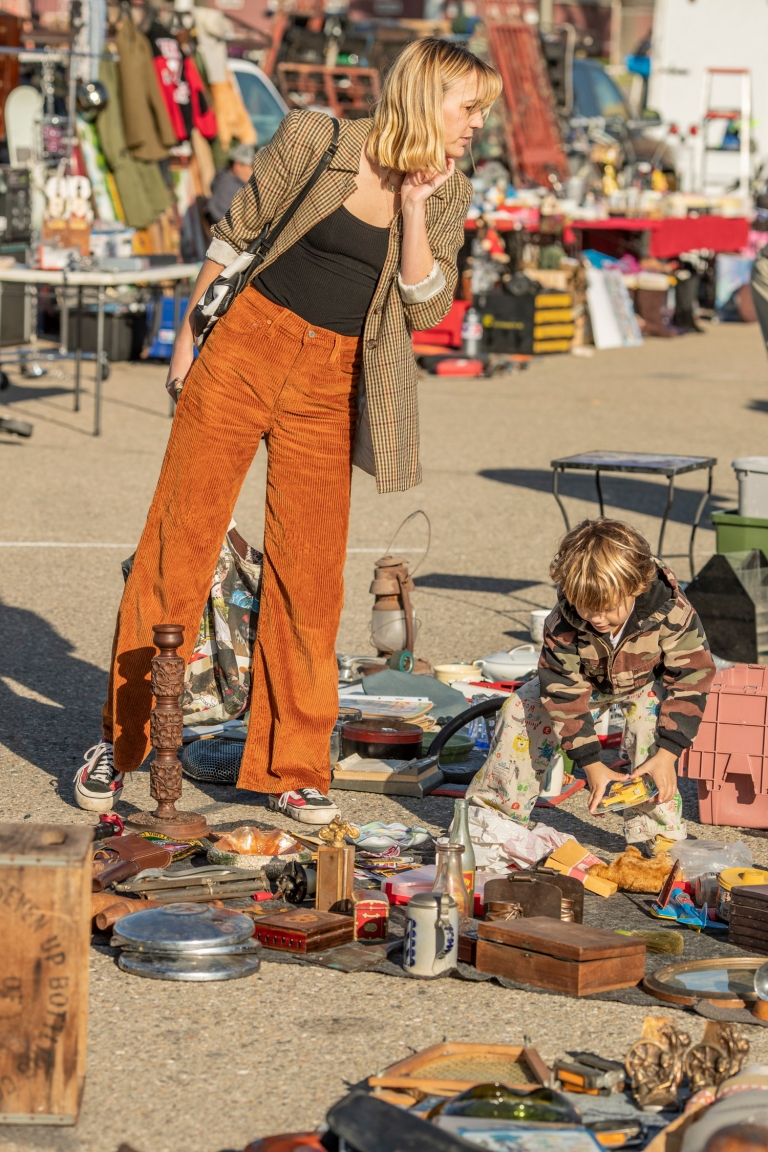 "I acquire the fabric faster than I can sew it," she says, stuffing an assortment of delicate scarves and a thick psychedelic floral-print blanket lined with fringe into an oversized tote bag. The bag is her own design, made of linen canvas printed with photographs of her late, Instagram-famous French bulldog, Pam. "Good luck today," she says as she pays the vendor—a man with a relaxed demeanor whose swap-meet offerings include small kitchen appliances and a sizable collection of painted ceramic clowns. She thanks him again when he compliments her teal, wide-leg, floral-print silk pants.
Courtney loves to wear the same bright patterns and colors that she works with. Beyond her own wardrobe, there are the handmade shorts, pants and jackets made from a dizzyingly maximalist patchwork of printed vintage fabrics that she crafts for her twin daughters, Bobbie and Maggie, and her son, Sammy. She often paints and repurposes kitschy items found at the swap meet or thrift stores to create toys for her kids and devises playful activities for them from among the fallen leaves, feathers and fruit that lie scattered around the 1-acre property in Carpinteria, California, that she and her husband, professional surfer Dane Reynolds, call home.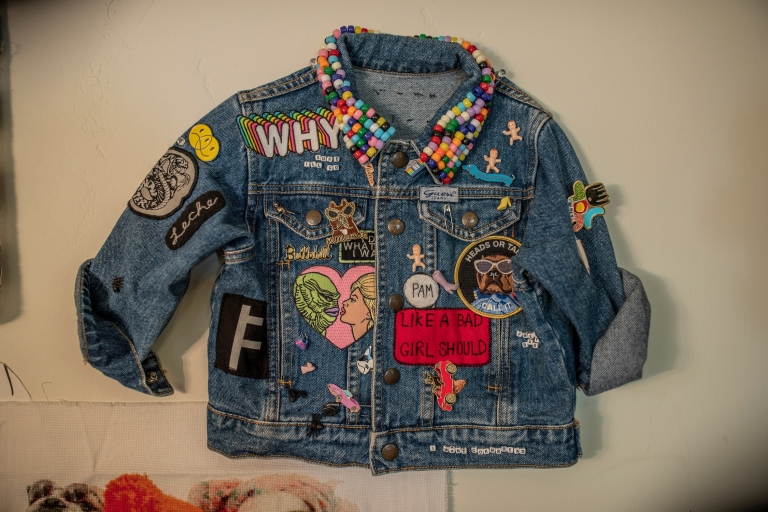 Over 82,000 people follow Courtney on Instagram, many it seems for her often eccentric personal style and the creative (and sometimes unconventional) projects that she undertakes to eschew filling her family's home—and landfills—with generic store-bought items. The many all-caps, emoji-heavy comments of praise and excitement under posts featuring her creations or her family life ("YESSSSSSS POWERRRRCLASHIIIIIIINGGGG"; "i love watching videos of little ones creating"; "Best Mom EVER") illustrate a shared eagerness to escape the homogeny of social media tastemaking in favor of embracing a more playful and less wasteful ethos. A lot of people ask (sometimes beg) for adult sizes of her handmade garments. A not insignificant number of commenters write about being inspired to learn how to make their own clothes.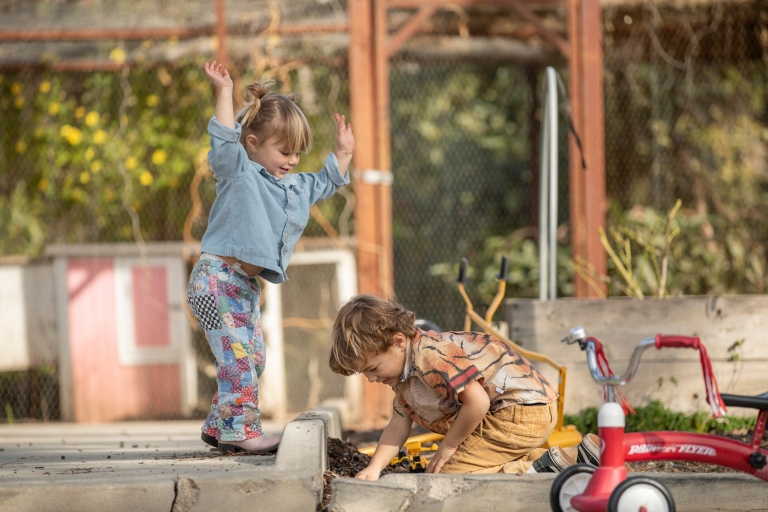 Courtney didn't grow up within a tradition of handmade clothing or with a particular interest in learning to sew. Animals were always her passion. Born and raised in Ventura, California, Courtney attended the Exotic Animal Training and Management Program at Moorpark College. After graduating, she went on to train dolphins at SeaWorld, although she soon realized the corporate nature of the company and her role there didn't fulfill her expectation of what had, until that point, been her lifelong dream. Back in Ventura at age 21, she confronted the question of What now? and on a whim enrolled in a community college sewing course.
"I was enthralled," she says of the work she did in that class. "Just to see it come together piece by piece—there was nothing else in my life that I was start-to-finish creating at that point, so it was really exciting for me. I was like, holy crap. The options are endless."
Her sewing room at home is like a laboratory for repurposed materials. White painted wooden floors and walls are overlaid with an eclectic array of vintage worktables and drawer units, which house her enormous collection of fabrics that span eras and styles. Every surface displays brightly colored works in progress. Like the pair of swap meet-purchased pants she wears on the day I visit her property—high-waisted white denim, splattered all over with a rainbow of paint colors—her home expresses her belief that reducing your dependence on new consumer goods doesn't have to reduce your sense of fun.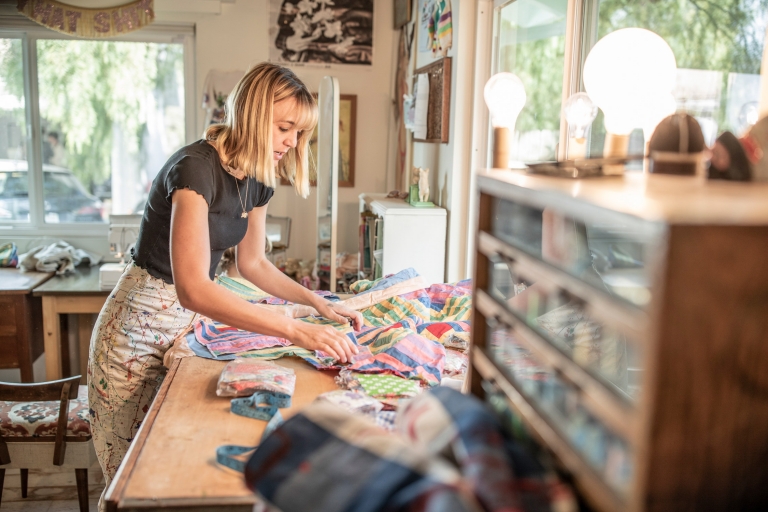 "The majority of the reasons I make clothes is that I have a damn good time doing it," she says. "It's really exciting seeing the way each piece comes out using these fabrics, but it also feels good knowing that I'm creating something unique that isn't contributing to waste."
Not feeding the rapid cycle of waste from the fast-fashion industry is one motivation now that she has three kids and realizes how much stuff they require. But equally important to her is that when she makes clothes herself, there's a story behind them. She talks a lot about the importance of story in what she creates, from the many pairs of brightly patterned toddler pants made using fabric passed down by her Nana, to the repaired train set that Sammy chose at the flea market for his one allotted present on his fourth birthday.
The enthusiasm with which she talks about these projects is second only to that with which she talks about animals. From inside the sewing room, we can hear cooing from a rescued dove named Filphy, who I later spot perched atop a 30-foot-high fiddle-leaf fig tree near the cage in the living room. "It's really hard for me to sum up just how much animals mean to me," she says as she leads me to meet some of the many creatures in her backyard. Among the upwards of 50 pets that share the property with them are a young and energetic Bernese mountain dog named Jamaica, several chickens, a rooster and a fluctuating flock of homing pigeons.
At the moment, the handmade wooden pigeon coop, which Courtney has painted bright pink, houses around 45 homing pigeons. When she unlatches the door, at least two dozen birds fly straight out—the great flapping stream of them passing us like a rushing river, as graceful as it is wild.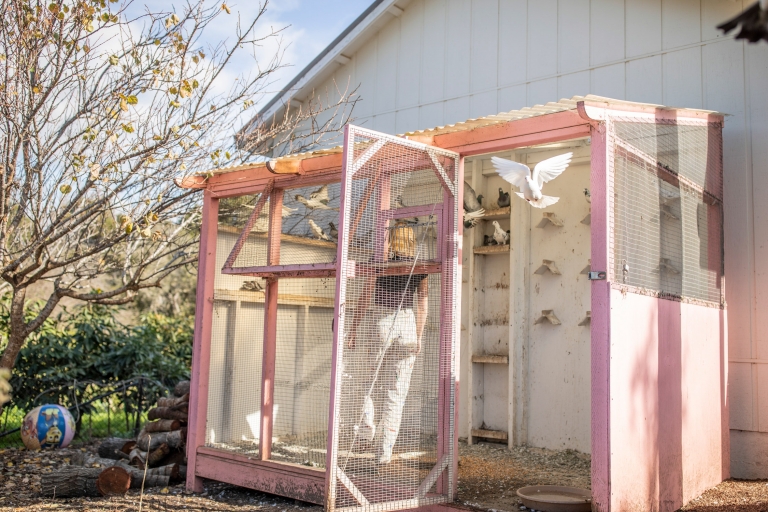 For as long as she can remember, her self-described obsession with animals has been the foundation upon which her worldview was built. It's also what first turned her attention toward caring about the effects of humans on the environment. More recently, it has motivated her to make lifestyle changes to try and reverse some of that devastation in order to help preserve the planet for animals and for her own children.
A red-tailed hawk begins to circle overhead, and the flock of pigeons, spooked, returns to assess the danger from the rooftop of a shed. "I'm surrounded by the natural life cycle every day, so it's made me more aware," she says. In this same way, she hopes that upcycling clothes and reusing household objects in her family's daily life will create an awareness in her kids about where their clothes and toys come from.
Of course, making clothes at home is neither new nor novel. While people still do it out of financial necessity, time itself has become a luxury commodity in the way that store-bought clothes once were: unattainable to many lower income American households. With the people (and here I mean mostly women) who were historically responsible for making clothes for their families often now working outside of the home—in many cases at multiple jobs for low hourly wages and no benefits—the privilege now lies with those who can afford to stay home and sew handmade apparel. The ubiquity of cheap fast fashion has made purchasing mass-produced apparel the lower-cost alternative for many families.
But as the fast-fashion industry comes under more scrutiny for unjust and dangerous labor practices, and for its harm to the environment, people who can afford to are becoming pickier about purchasing from more ethical and environmentally responsible retailers. They are also discovering both the personal satisfaction and the sustainability of buying secondhand or handmade garments using upcycled materials. A thriving community of upcyclers like Courtney, each with their own style and technique, can be found selling their goods at local art markets, on Etsy and on Instagram as part of a burgeoning creative movement.
Courtney acknowledges that because she is in a position to make these kinds of choices to live more sustainably, she also has the responsibility to broaden the scope of her action. "I have so many areas in my life where I can improve," she says, admitting to being intimidated by the massive scale of change that needs to occur in order to make a real difference for the environment and all of us who depend on it. To make it feel more manageable, she has begun to view action as a process rather than one abrupt change. "People tend to feel like it's an all or nothing thing, so they don't try. But even if you just try a little bit, it actually makes a big difference."
To that end, she's instituted changes to daily habits at home that affect the world outside of her immediate view, like seriously cutting back on plastic use, particularly in the kitchen, where Ziploc bags have been replaced by reusable plastic food wraps and containers. Though she's quick to admit that she is learning as she goes, she is trying to do things like opt for mostly organic cotton in the blank shirts that she uses for a line of screen-printed T-shirts she sells, and she's asking her favorite local restaurants and beauty brands about alternative materials to plastic for takeout orders and packaging.
Knowing that so many people are watching on social media makes her conscious of her actions and motivates her to try to do better. But she has recently come to the admittedly obvious realization that her main influence is, and should be, on her kids. "What you instill in your children is carried on, and that's your legacy," Courtney says, laughing at the idea of her younger self ever expressing such a "BO-RING" cliché.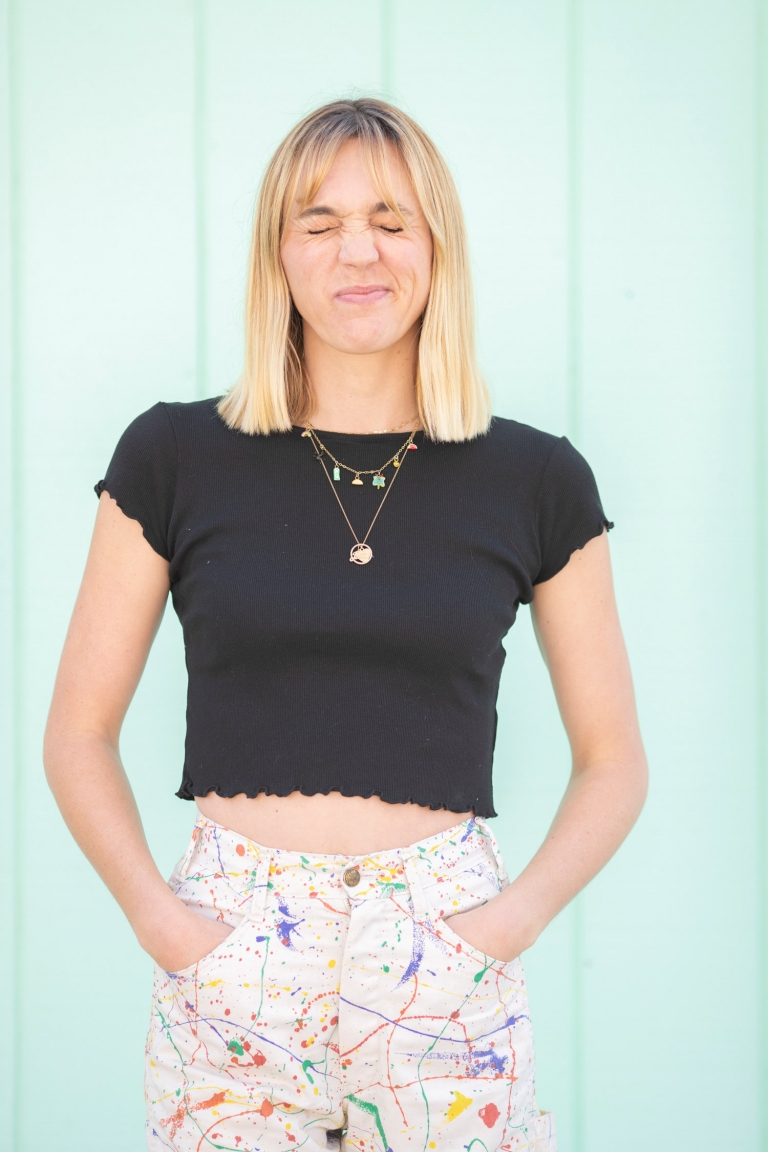 So she gets her hands dirty with them, painting fun patterns onto denim that she will then sew into one-of-a-kind jackets, nursing injured birds of prey back to health before releasing them into the wild or, in the case of Sammy, supporting a nearly encyclopedic obsession with all things related to the garbage cycle—from picking up litter to sorting recycling and treating their local garbage collector like a rock star. Her family's enthusiasm for what Courtney thought was a niche interest in trash became so contagious that it spawned a clothing line, inspired by requests from her Instagram followers, which she called Trashboy, soon followed by a Trashgirl spin-off.
If Courtney's lifestyle is attractive to the thousands of people who follow her online, it isn't because people want to mimic her every individual creative project or specialized interest; rather, it's because her overall story communicates the universally appealing element of fun. Her flea market treasure hunts and artistic experiments with her kids help the rest of us reframe the concept of making more sustainable consumer choices as a rewarding endeavor and remind us that the objects we surround ourselves with can be imbued with deep personal meaning. We don't all have to make our own clothes as a means to shift our habits for the planet, but we can participate in imaginative daily actions of our own making that can also serve as an inspiration to those around us.