Making a Difference, One Kid at a Time
John Dutton
/
April 20, 2011
/
3 Min Read
/
Surfing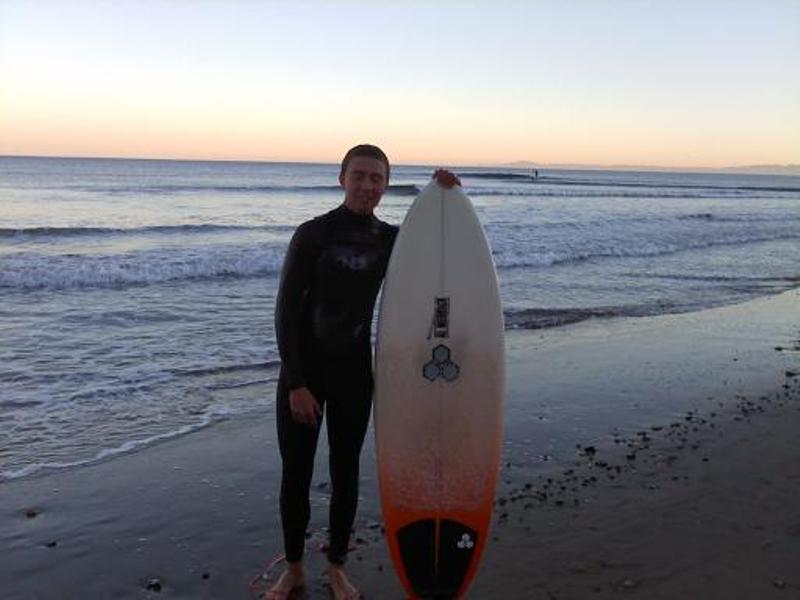 As a book editor at Patagonia I work in obscurity, helping writers make the best of their story. I like it that way, but don't often hear about how the projects I work on impact their readers. So an email from a great friend in Santa Barbara about the impact that 180° South – a film directed by Chris Malloy, with a companion book published by Patagonia – had on his son, Max, it caught me by surprise. Here, with my friend Matt Wilson's permission is that email.
Break-through weekend at our house. Max has really found surfing, not boogie boarding and 2-second rides at some beachbreak. Thursday through Sunday we went to Campus Point every day.
Thursday he took his shortboard and even on the small waves he could get up and surf. I took the fly rod and wet-waded for a short halibut, and a lot of kelp… . On the drive home he talked about taking the longboard and how maybe he should try it out. I told him about how we saw Lard Hamilton riding a SUP on TV and that when the waves are smaller it just makes sense to use the 'right board.'
[Max out at Campus Point. Photo: Matt Wilson]
Friday we went longboarding with his friend Jack. Jack had not surfed before. Max pushed Jack into his first wave so Jack could stand up. It was really sweet to watch! I could not get them out of the water, and finally had to promise to take them to FreeBirds for a burrito. It was very fun to watch the boys watch the coeds. I think Max is committed to doing his homework and getting into a university… GRIN. I took the fly rod, nothing caught….
Saturday and Sunday was more of the same, he even brought his funboard we bought for Christmas a couple of years ago, but never rode because it wasn't a cool shortboard. Sunday, I launched the yak and fished the kelp beds for a short calico.
Anyway it's fun to spend time at the beach, and having Max off the computer… . He's even thinking it 'might be cool' to go to Baja with me at spring break.
But back to fishing/adventure/eco movies: On Friday night he made me watch 180° South. He said 'Its totally rad dad…' I enjoyed the movie: good story, good message, nice scenery. Toward the end of the movie they talk about the amount of energy it takes to power the video games played in the United States. I looked over at Max and he points to the screen and smiles. It was an 'Ah Ha' moment! Finally, I figured out what happened last fall.
In November or December of last year, Max came out of his bedroom with his Xbox and all the controls/cables and games. He took a picture of it and sold it all on Craig's list. He said, 'This thing is turning me into a zombie, what a waste.'
He put the money in a jar and wrote 'Surfboard Fund' on it. Then he would mow the lawn and wash the car for money, he kept adding the cash to the jar. And for his birthday I kicked in the extra to buy the shortboard.
After the movie was over we talked about it and that's when he said, 'Yeah, I watched 180 Degrees last year, and realized what a waste of time and energy I was putting into that video game, it was totally lame.'
So if you ever wondered if these movies and books you work on really do anything, I can tell you it got one 14-year-old boy off the couch and into the water!
Best, Matty