Brittany Griffith Meets Two of Her Climbing Heroes: Part One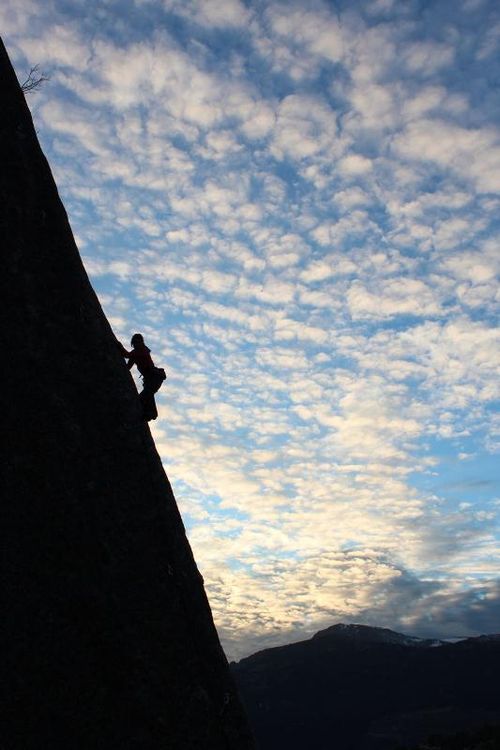 I don't have many heroes – Julia Child, Nakano Takedo, Florence Nightingale… and Arnaud Petit and Stéph Bodet. If you haven't heard of Arnaud and Stéph, just Google, "World's Most Adventurous Climbing Couple." From Morocco to Algeria to Venezuela to the climbs of Ceüse above their self-built house, they've done first ascents in more countries than states I've been to in America (I still haven't ticked New Mexico). They've traveled the world together, doing their climbs with style, with commitment, with an eye for the absolute best line. They are my climbing heroes.
I met Stéph and Arnaud 15 years ago in Rifle, Colorado; they were French World Cup competition climbers at the time and I was an aspiring dirtbag. I thought I was pretty cool at the time—they were cooler. They were French, climbed 5.14 and radiated confidence. As it so happens in chance climbing encounters, I had loosely stayed in touch with Aranud and Stéph via email over the years and our friendship grew as we shared birthday wishes, stories of climbing adventures and recipes from the kitchen.
I had been home almost a month straight and I was itching to go on a trip. JT had to work so I was planning on going somewhere alone. Arnaud had always been gracious when it came to climbing trip beta, and so I wrote him to see if he had any good ideas for a solo climbing trip for me. I was seconds from hitting the little red "Confirm purchase" box on a Delta flight to Istanbul when an email titled "Climbing slab trip" from Arnaud appeared in my inbox. Arnaud sometimes wrote to me in English and at times there were some typos and misspellings that come with writing in a second language, but his enthusiasm translated perfectly. "Hello brittany," the email started. "Did you find a trip for february ? Otherwise, we wanted to tell you we finally decided to go in la Pedriza in Spain, a paradise of granit and a historic place for hoorible slabs and good bouldering also. We plan to stay from 15 to 29 of february. Sure it's very different than tufa holydays, but If you want to join us , it will be a pleasure! Let us know. It's close to Madrid. We are looking for an appartement."
Slabs are definitely not my favorite, but I would rather go climbing with Arnaud and Stéph than go to the Seychelles with Brad Pitt and Angelina Jolie. I quickly changed the airport code from IST to MAD on the Delta website. It wouldn't matter how much the ticket cost. I was going.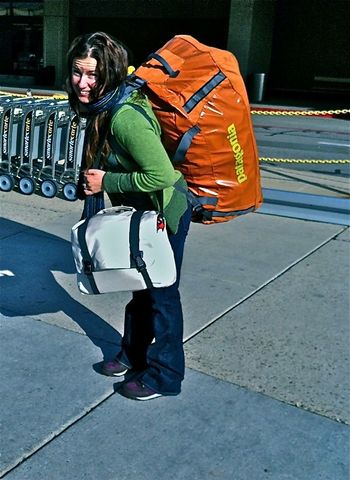 One of the worst things about traveling without Jonathan: carrying my own bags. Photo: JT
I groggily emerged from customs in Madrid, and, still not believing that I was actually going to go climbing for two weeks with Stèph and Arnaud, instinctively looked for the Metro sign. But then there was Arnaud, front and center, waiting for me, casually leaning against the barrier. Although I hadn't personally seen him since 1998, I recognized him immediately. His spiky, neatly cropped red hair and thin, handsome face giving him the look of a disheveled 1960s Paul Newman – but wearing a Gore-Tex jacket and approach shoes.
"Ca va?" (roughly, "how are you?") Arnaud affectionately asked me in French.
"Oui! J'ai un bon voleur" I said and his lips pressed together in a suppressed grin. I had tried to say, "Yes, I had a good flight." But it turns out what I actually said was "Yes, I have a good thief." Maybe if there were more crêpes carts instead of taco carts in Salt Lake City I'd get more practice at French…
Despite his lithe frame, he shouldered my Black Hole bag like it was a coin purse and led me just outside the International Arrivals door to their car. And there was Stéph, amid the chaos of taxis and grouchy police, standing relaxed, but confidently attentive. She hadn't changed a bit in the years since I saw her last: serenely beautiful; her face, body and demeanor contrasting the climbing and travel travails she had experienced.
As we drove to our apartment 45 minutes away in Manzanares El Real, chatting and catching up on stories from our past adventures and making plans for the day of climbing ahead, I couldn't help but smile. My trip had only just begun and it was already better than I could've hoped for: old friends, international travel and climbing. What more could a girl wish for?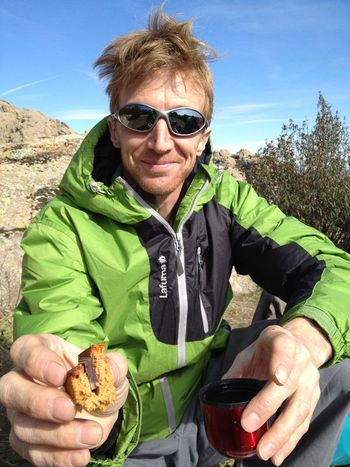 Arnaud can eat chocolate sandwiches for lunch and still send 8b+ slabs. Photo: BAGiphone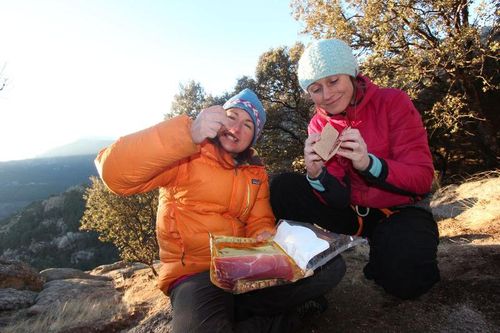 Stéph and I sharing some power food ourselves: Serrano ham sandwiches. Photo: Arnaud Petit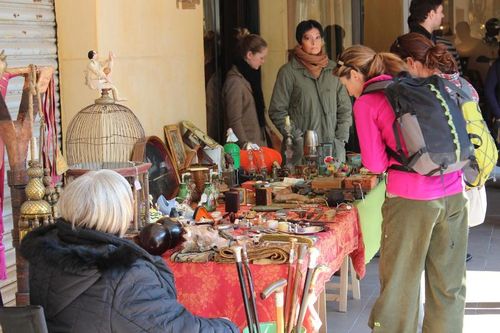 Stéph likes to shop at much as I do! Photo: Arnaud Petit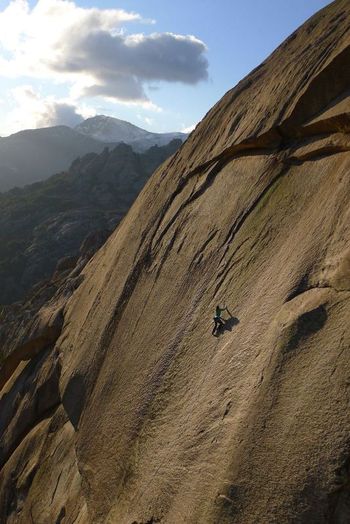 My first day at the historic climbing area, La Pedriza, on a 7a slab. Terrifying but beautiful. Photo: Aitor Bárez
While you're waiting for part two of this story to drop, watch Arnaud Petit climb Black Bean (5.13d) in Céüse on gear. The whipper after the credits is nuts!