Brittany Griffith and Zoe Hart's Gypsy Van Chronicles: Part Two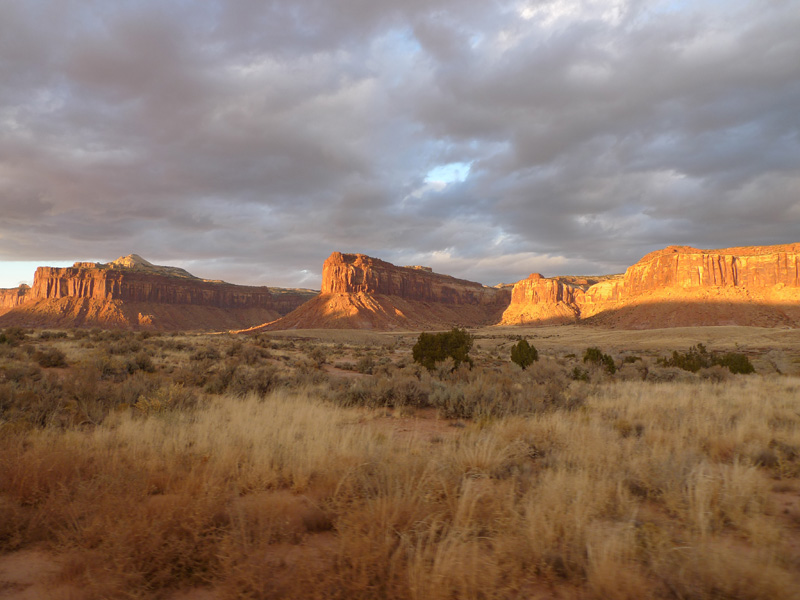 As we barreled down I-70 headed for Moab, I suggested we try Ziji on King of Pain tower, which is part of the Bridger Jack formation at Indian Creek. I handed her the Mountain Project topo and her eyes lit up.
"Four pitches long and only two pitches of 5.12!" She seemed relieved—it wasn't nearly the amount of climbing as Moonlight, which meant we wouldn't be as rushed and the route wasn't going to be as continuous.
Editor's note:Patagonia ambassador Brittany Griffith is back behind the wheel of Gypsy Van barreling down the road with Zoe Hart for Part Two of the Girls Gone Wild Chronicles. Be sure and read Part One first if you missed it.
We started down the rough 4×4 road that led to the Bridger Jacks. There was a sweet campsite leading up to the towers, and I wanted it. Problem was, Gypsy Van wasn't really built for 4×4'ing, but I had faith in her. I rolled her into a particularly steep, rocky section. Zoe clutched her armrest like an "oh-shit" bar, her eyes focused on the track ahead.
"Are you sure?" she whispered, attempting to conceal her doubt of Gypsy's prowess.
"Yeah, maybe you should get out for this one, and make sure I don't rip the propane tank off the bottom." She jumped at the chance to get out and was quickly posted uphill to guide me through the gnarly section of rocks and sand that were the road.
[The endless walls of Indian Creek at sunset. Photo: Zoe Hart]
"Okay!" she yelled and hesitantly waved me on. I confidently tapped the tiptronic shifter down to "1" and feathered the accelerator. "Wa wa wa wa wa wa wa," the diesel engine purred. Gypsy was game, and I wasn't stopping her. Like a champion mare, she steadily yet powerfully maneuvered through the adverse terrain. Midway through the crux section I noticed that Zoe's expression had changed from concern to, "Oh yeah, this is badass". When the road flattened and smoothed, I coolly engaged the emergency brake and Zoe (with her eloquent Jersey accent) screamed, "That was so fuckin' cool!"
"Don't tell Jonathan about that part," I said.
(Later, when we had returned to Salt Lake City and couldn't resist telling Jonathan about our accomplishment he barked, "You took the van where? Jesus Christ! I wouldn't even take a rental car back there!")
[4×4 Van. Video: Zoe Hart]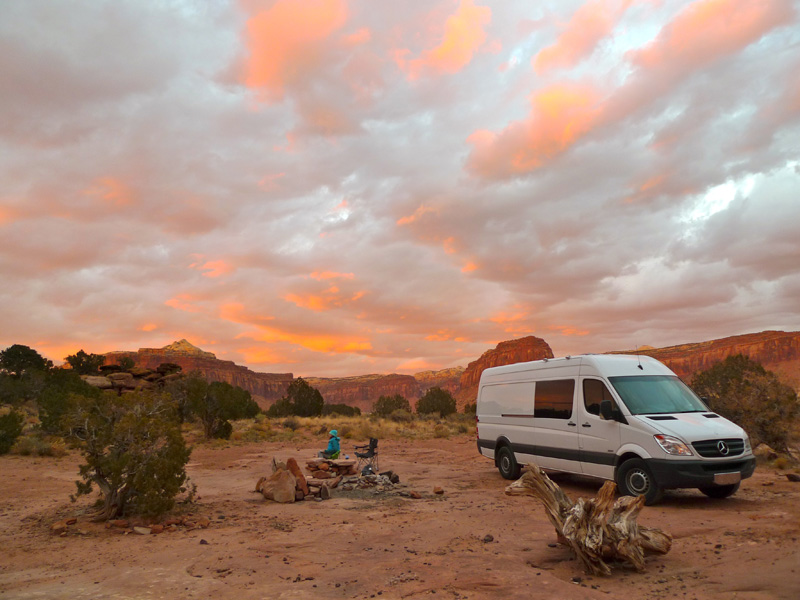 [Mission accomlished: The Gypsy Van at the coveted Indian Creek campsite. Photo: Zoe Hart]
I can't explain why, but one of my favorite parts about climbing is racking up. So on the morning of our first day at Bridger Jacks, Gypsy Café was open for business bright and early. While I waited for the kettle to boil, I meticulously laid out our "rack of the day" on the sandstone terrace of our bivy. Zoe stirred in her tent. I delivered her morning coffee.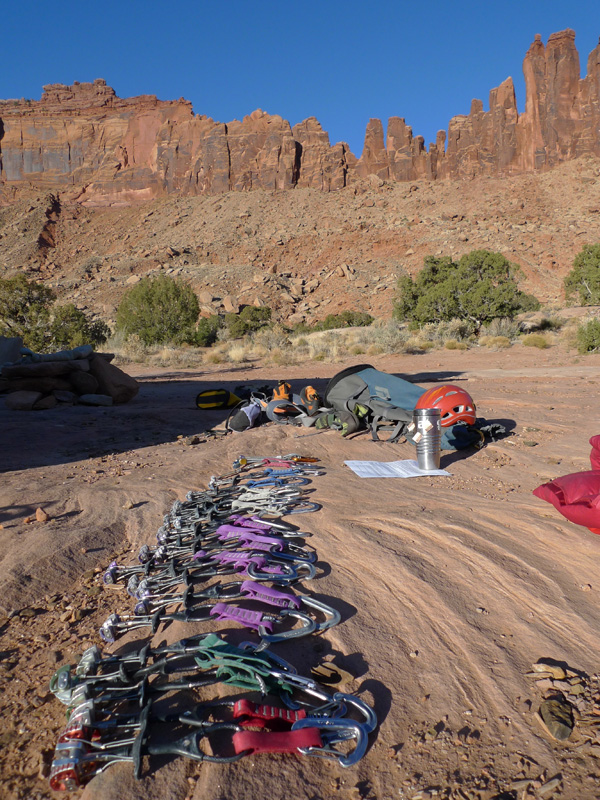 [All racked up and ready to go. Ziji tackles the far righthand tower (King of Pain). Photo: Zoe Hart]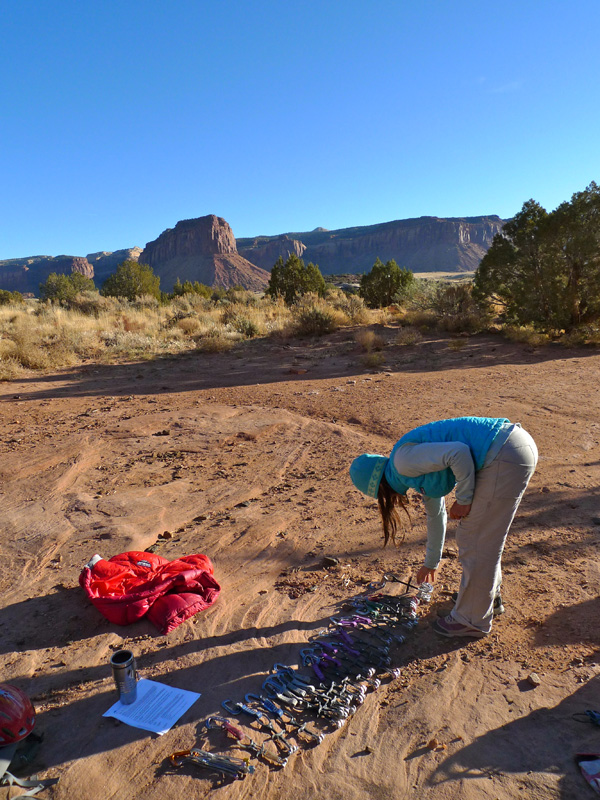 [Brittany spends her morning shopping for cams. Photo: Zoe Hart]
[Rackin' up. Video: Zoe Hart]
When I casually showed Zoe the key piece for her lead, a #6 Camalot she alarmingly responded, "Oh, is that today?"
Zoe had drawn the short straw and got stuck with the first pitch, a nortoriously dicey lead. It was "only" 5.11, but I knew how brutish the "easy" pitches on towers could be. I'd backed off my share of them for sure.
"I'm pumped!" she barked from 20 feet up as sand and debris rained into my hair and eyes.
"I climb pumped 80% of the time!" I joked (sort of). "Get to that next drilled angle and if you don't want to keep going I'll take over," I offered, but secretly hoped she wouldn't relinquish the lead—it looked desperate.
"You're looking really good!" I shouted up as Zoe battled to get a good hand jam. "Keep going!"… (like ALL the way to the anchor I thought). Eventually, she did get to the anchor and we were both very proud (and relieved!)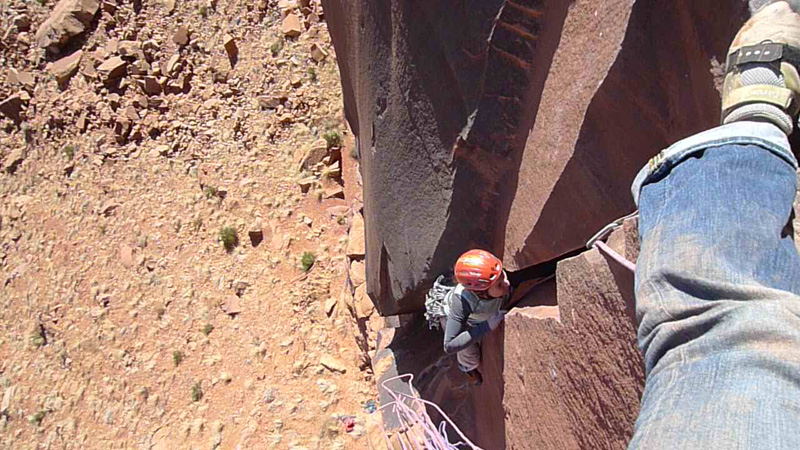 [Brittany following Zoe on the stout first pitch of Zigi. Photo: Zoe Hart]
By the time I reached the top of the pitch, the sun had left the face and it became bitterly cold. We had definitely underestimated how tricky and spooky the climbing was going to be. Now it was freezing and we had the two crux 5.12 pitches ahead. We looked at each other and knew it was time to rap and get back down to the Gypsy Van. The only piece of fixed gear at the anchor was a drilled baby angle, so I had Zoe take the pack and rack, and rap with two cams backing up the pin. I then pulled the cams and rapped off the single pin.
"Don't tell Jonathan about that either," I said, knowing he'd be pissed that I didn't just leave a cam to back up the pin.
With temps too cold for anything more than single-pitch climbs, we were lucky to be at a place like Indian Creek where there are literally miles of perfect cragging. Our routine became simple: after climbing, we'd retreat to the shelter of the Gypsy Van where I'd make dinner as Zoe read me tidbits from People Magazine. We'd eat like wolves and I'd do dishes. Zoe imbibed on box wine… me, tequila (I had convinced Zoe that Utah tequila, like the Utah beer, was only 3.2% alcohol so it was okay that most of the bottle that I bought three days ago was gone).
In the end, we didn't accomplish anything that we could spray about to the mags or on blogs. No Moonlight, no sketchy tower route, and no 5.13 tight-hands crack. We did nothing important.
Maybe it's just me trying to shrug the responsibility of padding my climbing resume, but what I've always maintained is that what we do in climbing isn't nearly as important as what we do in life. Virtue isn't found at the chains of some hard route or on top of some beastly mountain. Can we put someone else's desires before our own? Are we modest? Are we respectful? Are we generous? Can we be trusted to protect our partners? Can we value our partnerships over our personal accomplishments? And can we realize that all our dreams and goals as climbers mean nothing if we don't?
I dropped Zoe off at the curb of the Las Vegas airport and helped drag her bags out of the Gypsy Van.
"Bye Zo," I waved, grateful for everything we didn't do.