How We Extend the Functionality of Your Gear—and Repair It
Lasting Function and a Commitment to Repair
In a landscape of disposable ski and snowboard fashion, fixing and keeping your snow gear in play is the most radical act we know. On average, most of us keep a piece of clothing for just three years, yet the materials and processes for making any new garment are tremendously costly to the planet. The average U.S. citizen throws away 70 pounds of clothing and other textiles each year, of which 85 percent goes to landfills. Only 15 percent is donated or recycled, although most discarded clothing is suitable for reuse.
We build your winter garments and equipment to last. We want you to keep them in use—to love them for the experiences you've had with them the way so many have been trained to love brand new things for their pristine novelty. Like a good backcountry partner, your snow garments become something you can trust; you know what they can survive and where they thrive. They've trudged the last steps to faraway summits and toughed it out on multi-day missions. They've been immersed in the season's best turns and endured a few tears and repairs along the way. Why wouldn't you keep them around? Just to swap them for next season's color?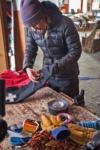 At Patagonia there are two ways we are changing our relationship to things: first, our dedicated approach to building durable, meant-to-last high-performance products with recycled inputs wherever possible. For example, this season our pinnacle PowSlayer Jacket and Bibs are now built with 100% recycled GORE-TEX® Pro face fabric. And second, our commitment to repairing, repurposing or recycling your garments at the end of their life.
We discovered about 10 years ago, after publicly committing to take back from customers anything we've ever made, that in the "Reduce, Repair, Reuse, Recycle" mantra, recycle comes last for good reason. Some things shouldn't be made, or bought, in the first place. Everything made comes with more environmental cost than we can repay. Whatever breaks should be fixable. And whatever still works, yet merely hangs in a closet or sits in a garage, should be put back in circulation.
Each time we have ramped up our repair facility in Reno, we have outgrown our capacity within months to the point where we now operate the largest clothing repair facility in North America (repairing about 50,000 pieces per year).