Colin Haley's Photos of Climbing Season in Patagonia: "Patagonia Vertical," the Book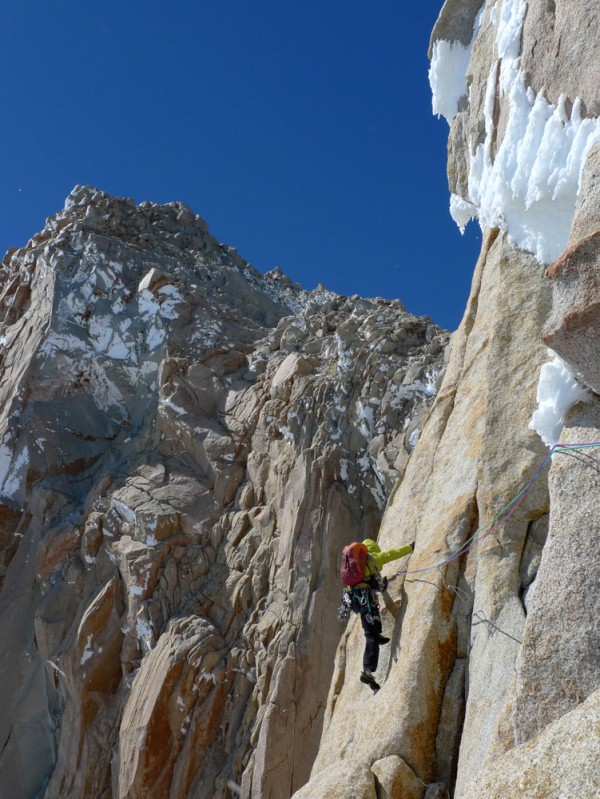 Guidebooks come in all forms. The kind that I like the most are more than mere guidebooks; they have bits of history, interesting information and stunning photos. They inspire me. By necessity, they can only be written by a true expert. They don't hold my hand, but they have the essential info, the things you need to know, while giving you the credit of assuming that – in the case of alpine climbing, anyway – you already possess a basic level of competence. Which, seems to me, is fair enough for an alpine climbing destination like the Chaltén Massif in southern Patagonia, Argentina.
The massif is home to so many stories, so many legends, so much vision from such great climbers from around the globe; some from previous eras, some still active, some just getting started.
One of Patagonia's greats is Rolando Garibotti, who grew up in Bariloche, Argentina. He first visited the Chaltén Massif in the mid-80s – back then, El Chaltén had a single house. Garibotti was 15 years old, and he and a friend climbed Aguja Guillaumet. His passion had been ignited, and it's been burning ever since.
In the mid-90s Garibotti began gathering detailed info on the climbing, and climbers, of the area. He traveled through Europe (he was born in Italy, and speaks four languages), visited libraries in Trento, Torino and Chamonix, met with great climbers of the range – including many in Italy, Austria, Slovenia and France – and then, in the U.S., he ensconced himself for days on end in the American Alpine Club's library.
He's widely heralded as the climbing history expert of the massif, to which I can personally attest – during my 12-year tenure as one of the editors of the American Alpine Journal, Garibotti was, without question, the most dialed, accurate, and detailed correspondent I ever worked with. His knowledge of the massif is unparalleled.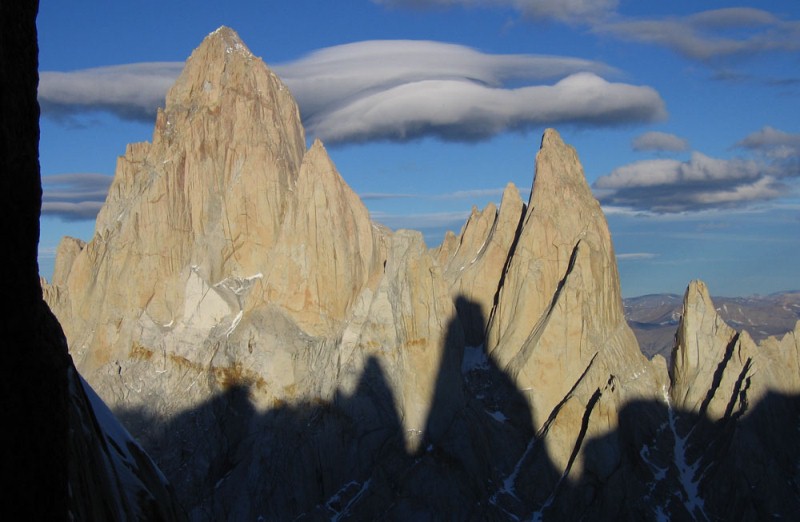 The Fitz Roy Group from the west. From left to right, Cerro Fitz Roy, Agujas de la Silla, Desmochada, Kakito, Poincenot, and Rafael Juárez. In the foreground the shadows of Cerro Torre, Torre Egger and Aguja Standhardt. Photo: Rolando Garibotti
In the years since his teenage ascent of Guillaumet, he's also become one of the massif's most accomplished alpinists and activists. In 2008 he headed a massive two-season trails restoration project in the park (comprised of volunteers and hired workers working over 4,400 person-hours; Garibotti refused to pay himself a dime), was instrumental in defeating an attempt to take private control of the northern flanks of Fitz Roy in 1999, and also in defeating a proposed climbing permit fee structure back in 2004, has given detailed info to everyone who asks (at his cabin in Chaltén, I've often thought that if he would only charge one peso for everybody who knocked on his door for beta, he could retire…), and runs the free website pataclimb.com (which has a "donate" button if you're so inclined, as I have, given how much I've relied on the site). It's hard to imagine anyone with more passion for a place, or who has contributed more to climbing in the Chaltén Massif.
So when Garibotti and Dörte Pietron, herself a top-level alpinist, and similarly detail-oriented and dialed, recently completed Patagonia Vertical, the result came as no surprise. Patagonia Vertical is more than a guidebook. It's a 368-page, full-color tour through one of the world's great alpine climbing arenas. It covers over 250 routes on 39 peaks (every route on every peak in the massif), has 90 topos, 120 photo topos and 100 additional photos, plus general information on climbing in the area, transportation, staying in El Chaltén, weather, regulations, equipment, strategy, approaches, bivy sites, everything. It's an indispensable resource, and a compilation of nearly 15 years of exhaustive research.
To be clear, it's not one of those "put your left hand three inches to the right of the crack, and at the belay use a one-inch cam…" climbing guidebooks. You still have to routefind, you still have to think, you still have to make your own decisions. It won't get you up the route of your dreams. (Damn it!) But to climbers visiting the historic Chaltén Massif, or who aspire to, or for those who love mountains, love climbing, and want to understand more about one of the greatest alpine arenas in the world, Patagonia Vertical will certainly ignite your passion.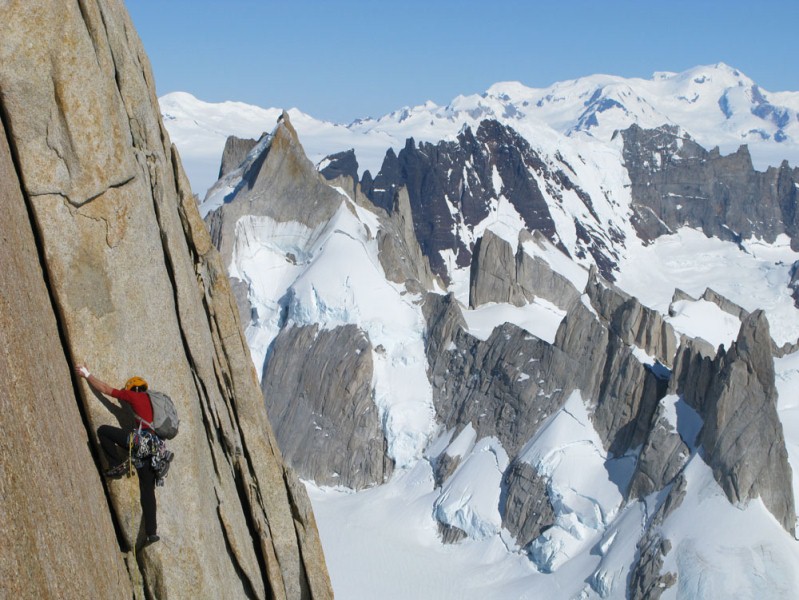 Colin Haley climbing the Kearney-Knight variation to the Casarotto route on the Pilar Goretta, Cerro Fitz Roy. In the background, from left to right, Cerro Pollone, the east flank of Cordón Marconi and Volcán Lautaro. Photo: Rolando Garibotti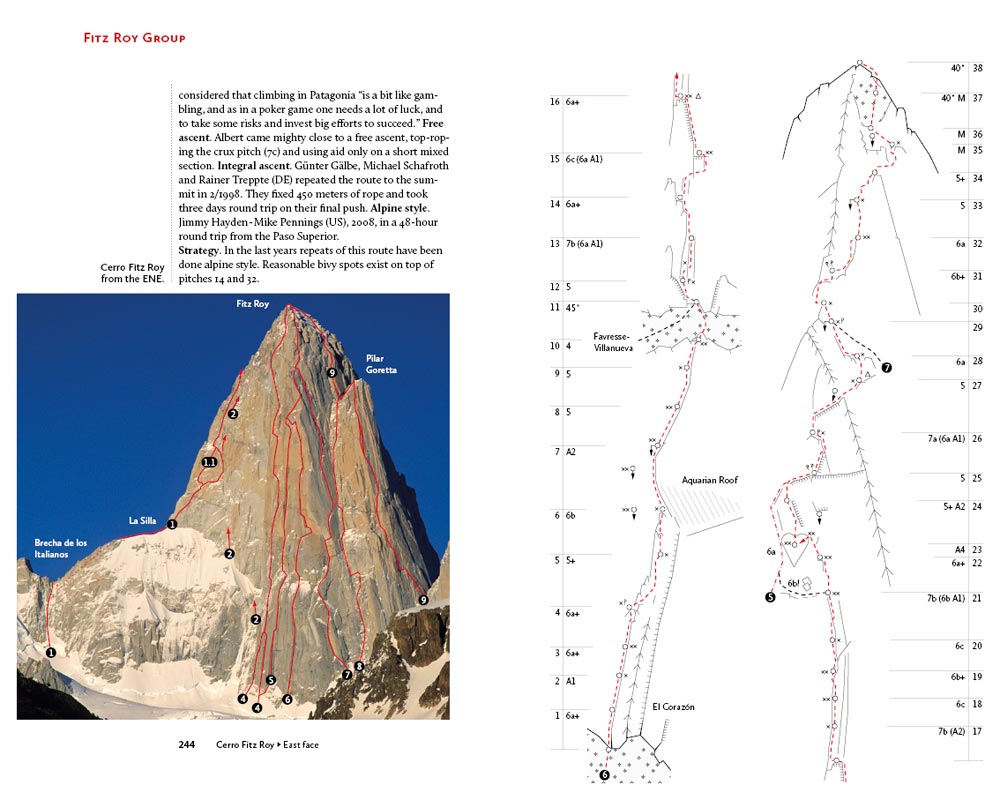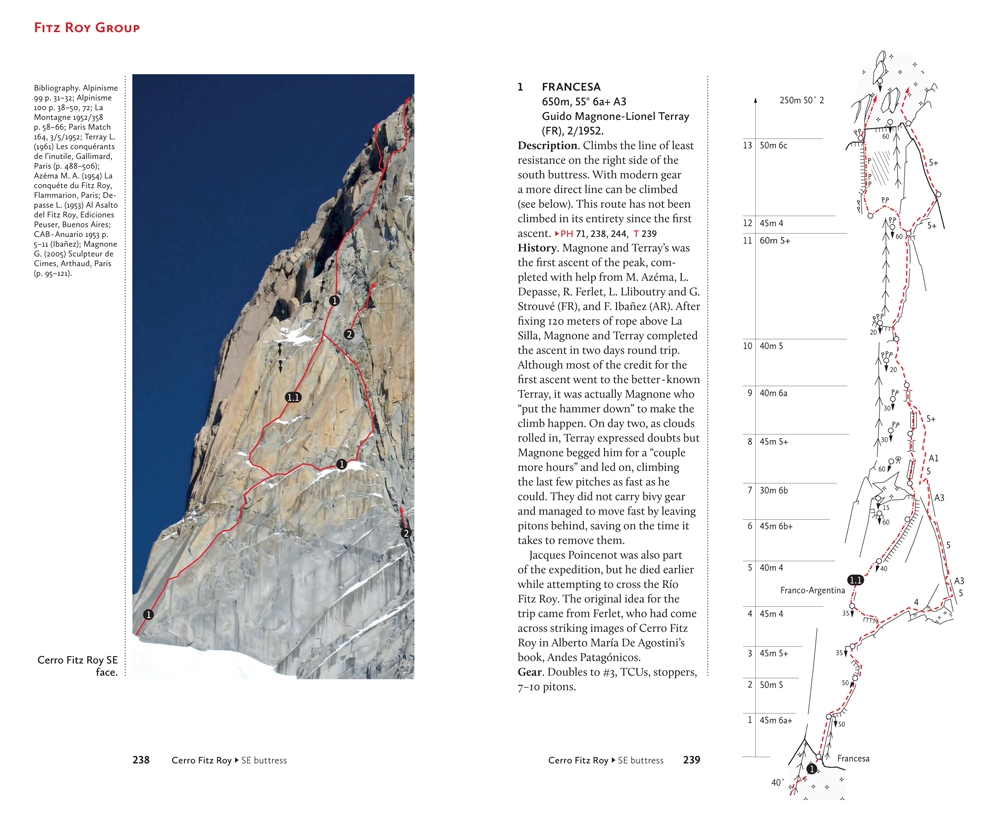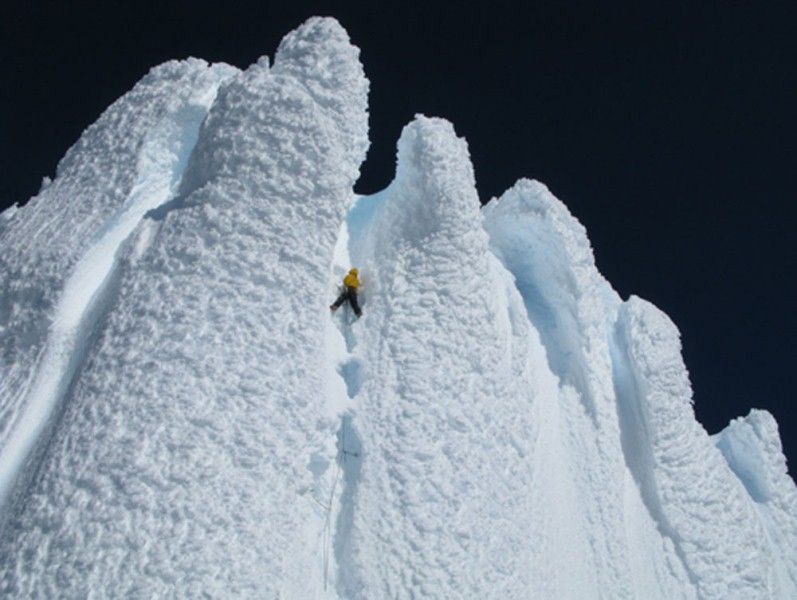 Jorge Ackermann on the last pitch of the Ragni route, Cerro Torre. As seen in this photo, this vertical rime mushroom often requires digging a half pipe or tunnel to ascend. Photo: Rolando Garibotti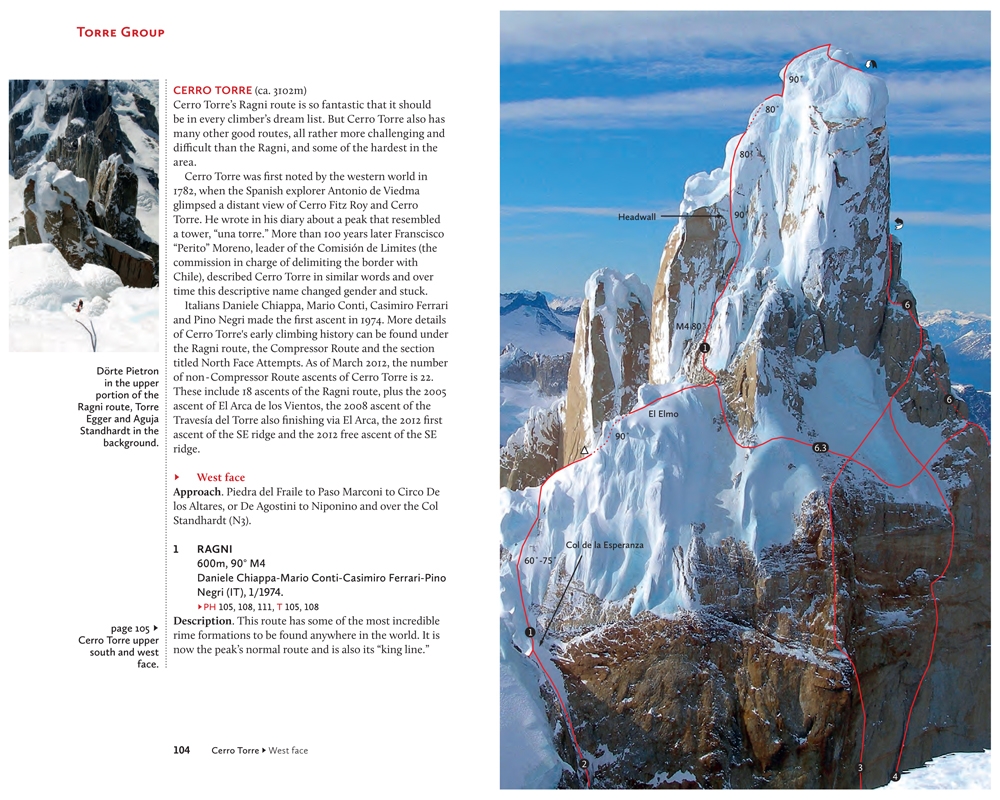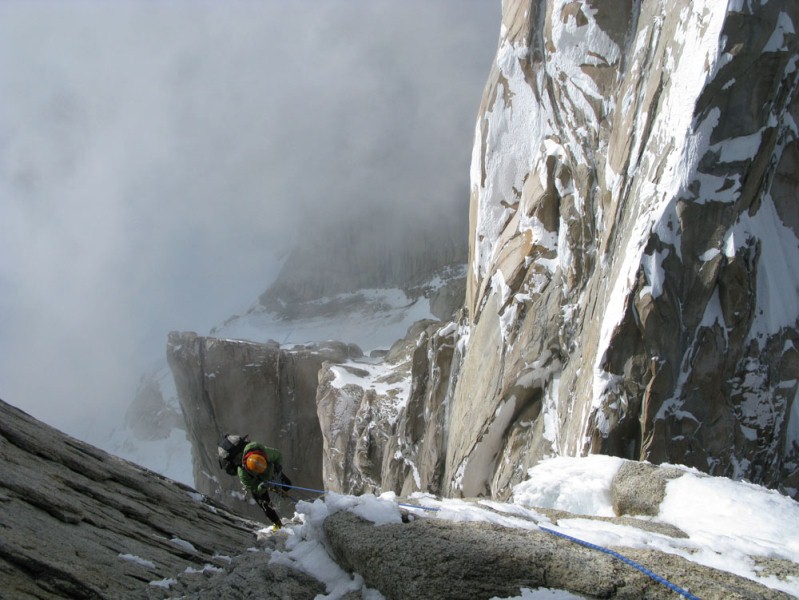 The Spigolo dei Bimbi route on Punta Herron's north ridge. In the background the summit of Punta Shanti – down and left – and the west face of Aguja Standhardt on the right. Photo: Rolando Garibotti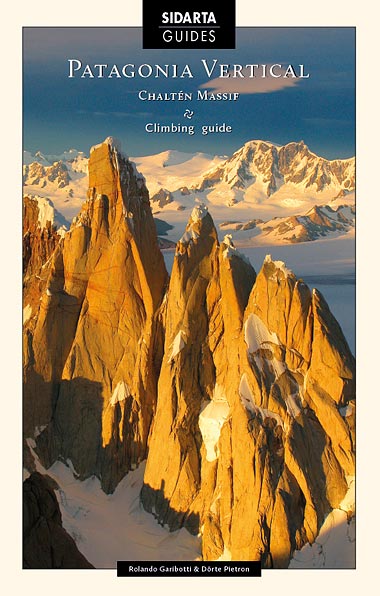 Patagonia Vertical is now available through patagonia.com, and soon at the Patagonia retail stores in Ventura, Boulder, Denver and New York City (meatpacking district store). This is a rare opportunity; you won't find Patagonia Vertical on Amazon or most other book sellers. If you're at all interested, grab one while they last.