Bringing Back the Light with the Central Westcoast Forest Society
For British Columbia's timber barons, the forests of Vancouver Island were too rich to resist: giant spruce, fir and red cedar trees that fetched top dollar on the open market. On the island's remote and rain-soaked Pacific coast, mechanized logging kicked into high gear in the 1950s and continued through the decades that followed.
"Before 1995, no protection was afforded to stream ecosystems here," says Jessica Hutchinson, a field ecologist and the executive director of the Central Westcoast Forest Society (CWFS).
"They were able to log right up to the creeks, and we're still seeing the impacts of that activity today. In some places it's dark, tightly replanted monoculture forest where diverse and well-spaced old growth once stood, and in others it's debris from logging operations that chokes a river out and causes excess sediment to build up. We also see collapsed bridges that impound streams, and even streams that were excavated for gravel for road construction. In those cases, the gravel was important spawning habitat for wild Pacific salmon."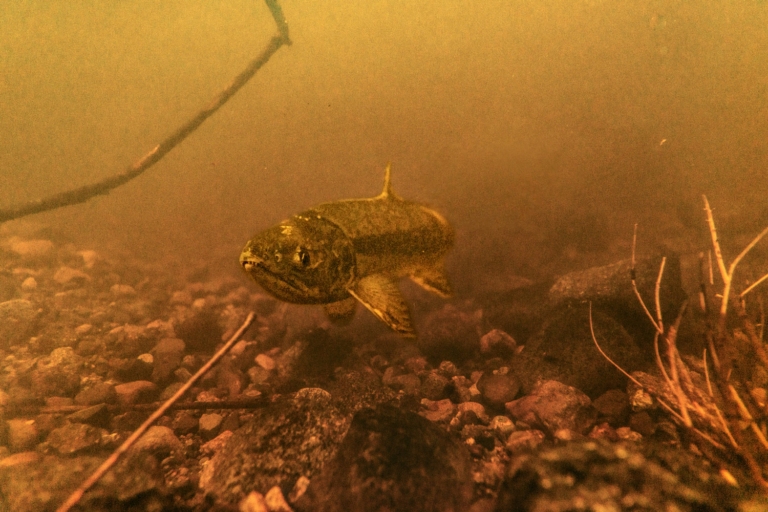 A nonprofit Patagonia environmental grantee, CWFS works to restore local forests and watersheds that have been damaged or degraded by human activity. Led by environmental scientists, the group's research initiatives are complemented by many gut-busting days on the ground.
"It's a mission to get to most of our sites," Hutchinson says, "and we pack in hundreds of pounds of gear by hand: chainsaws, winches, peaveys, you name it. We're trying to help these watersheds recover, and that often means moving logs by hand and using hand-powered winches instead of excavators or other machines that would make the job easier but harm the understory and compact the soil."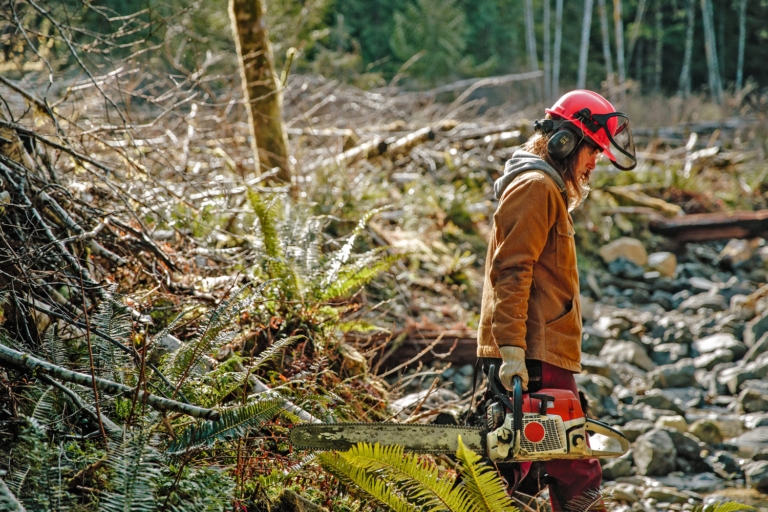 Whether it's deactivating roads, replanting native vegetation, clearing out clogged salmon streams or thinning out second-growth trees to let more life-giving light through to the forest floor, their projects help accelerate the natural process of recovery.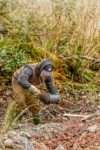 "Restoration isn't about getting a stream or forest to its prealtered condition," she continues. "We're never going to get it back exactly how it was. But what we can do is help that system heal. It's superchallenging work, but we see a real resurgence in biodiversity within just a few years. And yes, it's physically exhausting, but at the end of the day being part of a positive outcome is an amazing return on the investment. It feels good to undo some of the damage that's been done."
WORKWEAR
Workwear is not a new thing for us, but we're excited to be reimagining the work-specific side of Patagonia. To stand up to the toughest tasks, we've developed a utilitarian line of jackets, shirts and pants built with super-durable, long-wearing fabrics like Iron Forge Hemp™ canvas—an innovative, heavy-duty blend of industrial hemp, recycled polyester and organic cotton. It's 25% more abrasion resistant than conventional cotton duck canvas and needs no break-in; and our hemp-blend workwear clothing is also Fair Trade Certified™ for sewing. See the collection at patagonia.com/workwear.
CENTRAL WESTCOAST FOREST SOCIETY
To learn more about the Central Westcoast Forest Society and support their work, please visit clayoquot.org.
This story first appeared in the 2017 Patagonia Workwear Catalog.