Biking Bread
Jeff McElroy
/
July 20, 2021
/
5 Min Read
/
Workwear
In San Luis Obispo, California, a team of bakers is building community by "pedaling" their wares.
All photos by Joe Haeberle
"I don't consider myself great a baker," says Sam DeNicola, the founder of Bread Bike in San Luis Obispo, California. "And I'm not really a cyclist, either." So, why did he start a bicycle-delivery breadmaking business? I glanced at my interview questions, most of them anticipating answers that would shape a story around a guy who'd found a way to combine his two greatest passions; the tale of a flour-dusted, human-powered enthusiast determined to save our planet and feed his community, one loaf at a time. I wasn't too far off the mark with that last bit, but the path and inspiration he took to get there was deliciously unexpected.
Nine years ago, DeNicola was a geophysics undergrad at University of California, Berkeley, living in a student co-op building and trying to make ends meet. "I started managing the food and kitchen for 60 people in my house as a way to pay rent," he says. "My annual budget was $100,000, which quickly taught me the economy of scale and put me in touch with farmers and distributors." He lived in a closet under the stairs and spent his days split between studying and baking. "I started brewing kombucha and making pizzas. It was more satisfying than school."
A professor, for whom he'd baked a loaf of bread, told DeNicola about his friend Josey Baker, founder of Josey Baker Bread and co-owner of The Mill, a beloved café and bakery in San Francisco. Though he was inspired by Baker and the rich tradition of breadmaking in the Bay Area, DeNicola had other things on his mind; the universe still had a few things in store, leaving any thoughts of baking full time to ferment. He graduated, took a job with a biotech company and started saving money. "I was not motivated by the work," he says. "Nobody I talked to outside of work connected with biotech."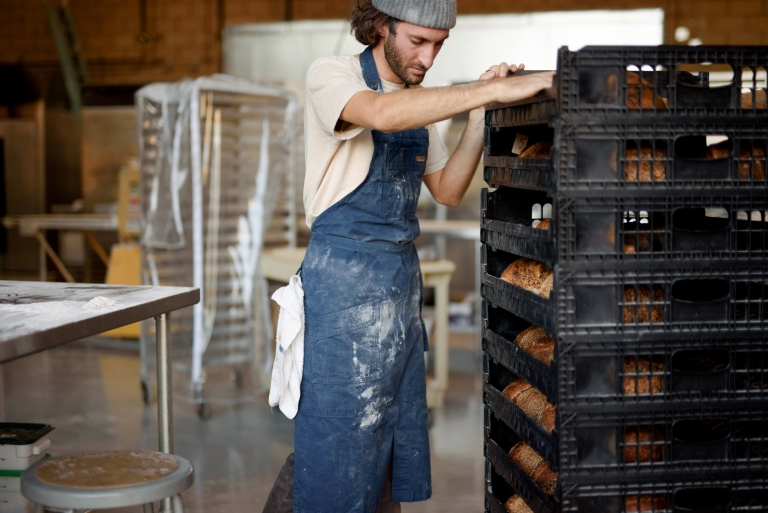 In 2017, DeNicola quit his job, sold most of his possessions and traveled the world for two years, including a trek around Nepal. I asked him if sampling regional cuisines is what inspired him to bake for a living. Wrong again. "I had no plan, no place to sleep," he says. "I would meet people, make food for them and they'd give me a place to sleep for a night or two. I saw cooking and baking as ways to meet people. I realized that bread is a tool to make friends."
Back in California, DeNicola decided that bread, not biotech, would be his way to help build community. He also decided that San Francisco was not where he wanted to start his bakery—"Great food, too big, too expensive." He took a trip to San Luis Obispo on California's Central Coast to visit a friend and never left. "It was small enough and big enough to support my dream," he says. "And it already had a strong community."
DeNicola started by baking four loaves at a time in his home oven, then rented a shared space in a bakery. But he was missing the connection with his customers and community. A friend suggested that he set up a little stand along a popular bike path in San Luis Obispo to sell bread and get to know folks. Seeing how happy DeNicola was interacting with his customers, his friend floated the concept of delivering bread via a bicycle with a trailer. DeNicola thought it was a splendid idea: "[A bike] is also a tool to meet people," he says. "Why wouldn't you be on a bike if you could be?" Bread Bike was born.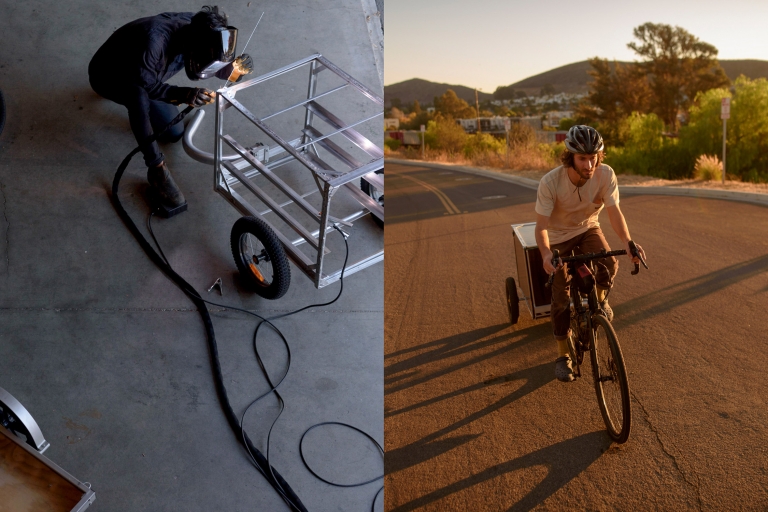 Today, his community-supported bakery (CSB) customer base has grown from 30 to 250, and he works with six other people to bake and deliver over 100 loaves a day. DeNicola's delivery instructions: "Go slow. Be kind. Have fun. Spend time talking to folks." He points out that this rapid growth would not have been possible without his business partners, Mariah Grady and Matt Gamarra, both seasoned bakers. "They are better bakers than me," he says. "Mariah wakes up excited about baking and sharing her creations with people. She and Matt grew up here and shared the dream of baking in their hometown."
"Bread is a tool to make friends."
I asked him if the pandemic slowed his business. Strike three. He said that, for some of his customers, the bread delivery was one of the few opportunities for human contact and conversation. "We placed the bread on their porch, knocked on the door and talked at a distance. The conversations usually had nothing to do with bread. It was all about the connection, which is the point!"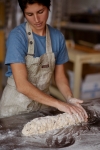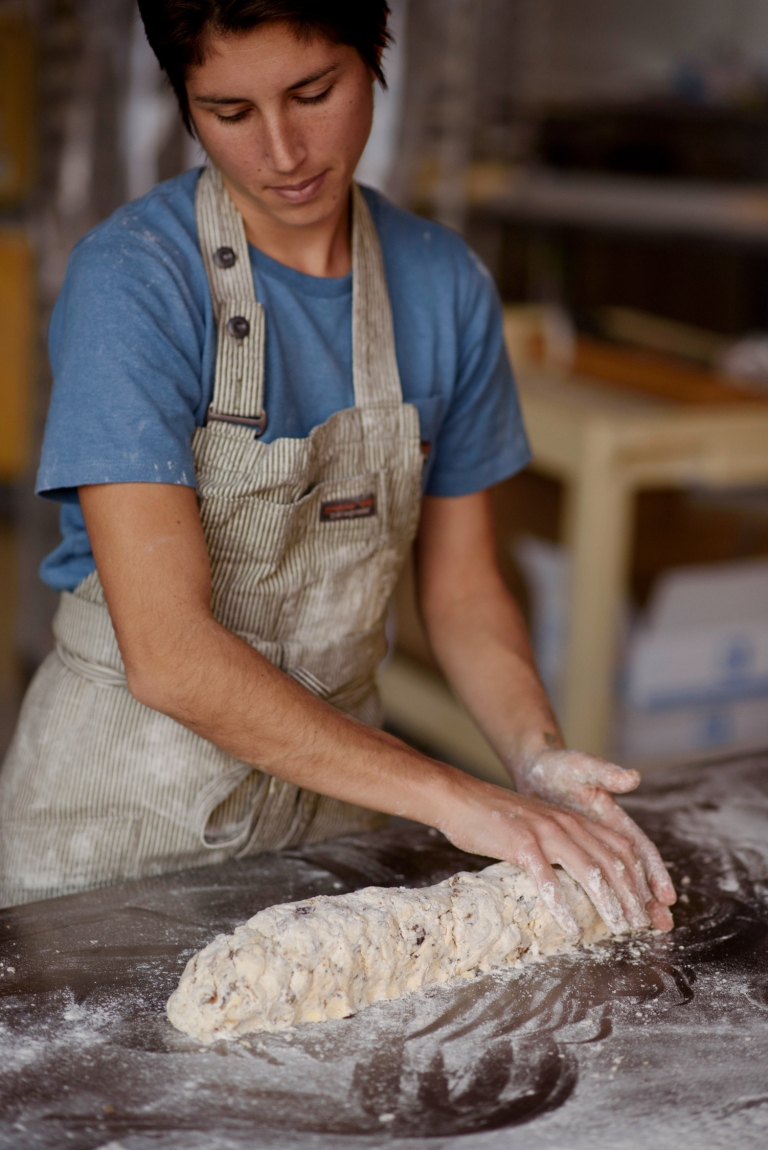 The philosophy behind Bread Bike's CSB is inspired by that of community-supported agriculture boxes (CSAs)—instead of buying produce shipped from faraway places using fossil fuels, customers and farmers know each other by name. This relationship helps customers better understand how their food is grown and the seasonal challenges local farmers face, which connects them to place. By using all organic grains, 100% California-grown wheat and delivering bread via human power, Bread Bike is expanding access to healthy ingredients (without adding carbon to San Luis Obispo's fresh ocean air).
DeNicola's vision for building community around bread doesn't stop with his customers and employees; he's also including local farmers and millers to revitalize the regional grain economy, and he recently purchased a mill from Vermont. The grain and mill will not only supply Bread Bike, but will also support farmers, bakers and chefs along the Central Coast.
DeNicola is quiet for a moment, as if he's anticipated my last question—what's next? "When I was traveling, I had a vision," he says. "I knew that I wanted to create a feeling, but I couldn't describe it. After many years of searching, I finally had it: I want to create a business that feels like being at the park. The park—it's incredibly inclusive, all backgrounds welcome, the young, the old, families and individuals, too. You can hang out and mingle."
In April, DeNicola signed the papers on a commercial space that's perfectly positioned between the downtown and neighborhoods of San Luis Obispo. "It's gonna be beautiful," he wrote in a May 7 Instagram post. "We're gonna bake you soooooo much good stuff and probably make you food too and sometimes pizzas cause why the heck not and you'll finally get to bike to us (although we'll still bike to you whenever you want!)." His dad, a general contractor by trade, is helping to build out the bakery in time for their planned September 2021 opening. And the architect? He's happy to work for bread.