Colin Haley and Dylan Johnson Complete First Ascent of Slesse's Heart of Darkness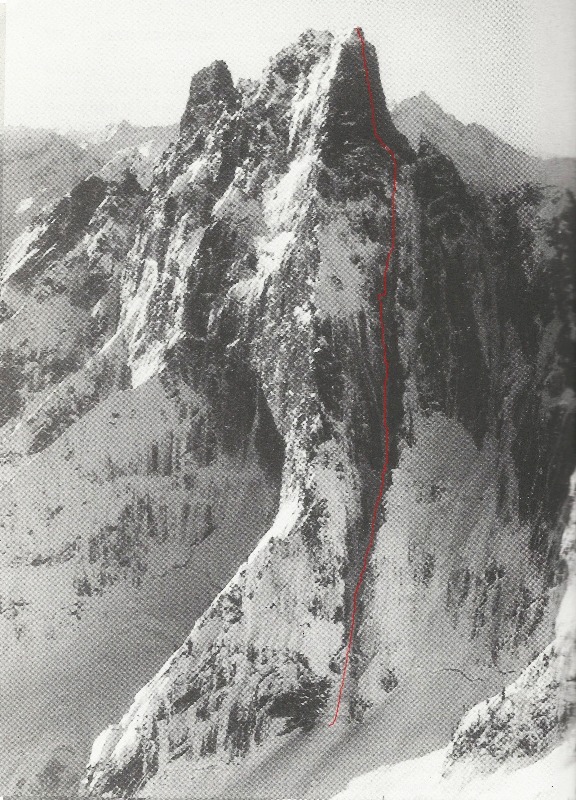 Things have changed. That old "live simply" ethos Jenna and I lived by, roaming around the desert and mountains in our '83 Dodge Prospector van (with a sci-fi mural on the hood and velvet interior), feels a bit like a past life. Climbing these days is tightly packed between a life of airports, computers, conference calls and meetings—logging huge numbers of hours running my architecture practice. Time at home is spent cradling Olivia (our newborn) in the middle of the night or jogging alongside Emma (our two year old) as she rides her bike to school for the first time—or planning weeks in advance for a few hours out to dinner with Jenna on a cherished "date night." All that, and Jenna works harder than I do.
This time of year however, like a high school kid checking their Snapchat feed, I obsessively glance at my NOAA weather app: point forecast saved for the 49th parallel, just east of Mount Baker. NOAA doesn't work in Canada, but this ridgeline at the southern edge of the North Cascade's Chilliwack range is close enough.
Growing up in the mountains of the northwest, Slesse has always been a particularly special peak for me as a climber. In the indigenous Salish language, "Slesse" translates to "fang." We've nicknamed it the "Cerro Torre of the Cascades." Its Gothic structure and dark rock are impressive in summer, but in winter, when streaked with ice and snow flutings, Sleese is so visually appealing it becomes downright irresistible. I've had John Scurlock's iconic photo of the mountain on my living room wall for years. The image is a bit of a tease, as the unclimbed "Heart of Darkness"—a deep chasm on the north face—is in profile, but just out of view. The couloir tops out the main wall right at the base of the striking north silhouette of the upper tower. The line is remarkably aesthetic, an enticing blend of steep ice and mixed terrain capped by a classic alpine rock face that ends directly at a pointy summit. I'd visited the mountain twice before to attempt the line, once even getting half way up the couloir with Roger Strong, before being sent home (like all the other suitors) by difficult, insecure mixed climbing and relentless, overwhelming spindrift avalanches.
Last week on Monday morning, I woke up early, rubbed my eyes and tapped the NOAA app. Oh god, cold and clear for week. It hasn't snowed for weeks—this is as good as it ever gets in the Cascades. I tell myself there's no way I can swing it. I'm booked solid with work all week, and we have Friday night flights booked for Seattle to introduce baby Olivia to the entire extended family. I get in the shower, hoping Emma doesn't wake up before I'm out. I can't shake the thought of how perfect the conditions must be on the Heart of Darkness. I try to focus and organize my thoughts for the day: kids, school, work, but my mind keeps drifting. I recall Colin just flew home to Seattle from Patagonia, we'll be in Seattle anyway with lots of family/childcare possibilities … No, no, stop kidding yourself. You have to work Friday in California, you have Monday morning meetings in Eastern Washington. And, most importantly, how could you ever tell Jenna and the family you'll miss introducing baby Olivia to everyone? Ahhh!
I text Colin, just to see if he's even in the area and point out that the mountain conditions look pretty good. He writes back almost immediately (this is an exact quote): "Yo Braski! Yep, I'm back in da MF 206! … HOD is probably in excrement condition." Translation: 206 is the Seattle area code (Colin likes to pretend he's a rapper sometimes), HOD is our abbreviation for "Heart of Darkness," and yes, he says "excrement" when he means "super-excellent."
Jenna is on business in Hawaii; I text her with my "big request." She writes back quickly as well, in total support. "I get it," she says, "I can watch the girls." She is so awesome.
Now the real crux, I have to call Mom. She's planned this big party for introducing Olivia. I procrastinate for a day, avoiding the inevitable. I even think for a moment that it could be nice if the weather turned for the worse. If it did, I could avoid having to call her and just go to the family gathering like a normal son/dad. I check the NOAA app again for the afternoon update. The forecast improved even more and I pick up the phone. After reciting a carefully rehearsed explanation, I pause, waiting to hear the tone of Mom's response. To my amazement, her voice doesn't sound mad or even disappointed. Instead, I'm relieved to hear her familiar motherly tone of support and affection, "Dylan, I completely understand. In fact, I've been thinking lately how impressed I am with your ability to take care of yourself sometimes. I'm learning from you and trying to do some of this for myself these days. Absolutely, you should go for it!" Wow, Mom is awesome too.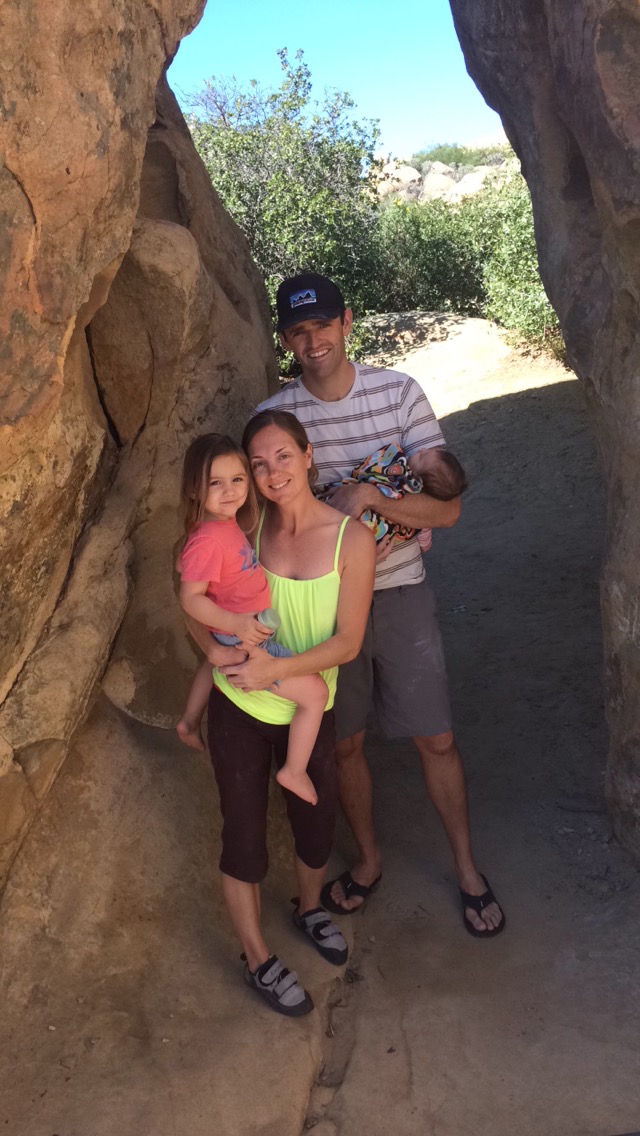 The Johnson Family bouldering above Santa Barbara.
Photo: Briar Burnett-Johnson
I quickly pack two giant duffels, one full of ice tools, pitons, crampons and jackets, the other full of diapers, baby clothes and kiddo snacks. We rush up to Seattle. I sleep for a few hours in my sister's basement before heading for the Canadian border to meet Colin. We hike in and bivy under the storied Northeast Buttress. Near full moon, a favorite mountain in excrement condition, and a good friend—with my time in the mountains so limited these days, I find myself enjoying each minute out there much more than I used to. Even time spent slogging up the approaches and shivering at the bivies has a new-found element of pleasure.
Our predawn alarm clock never went off and we woke up late. It was the longest night of sleep I'd had in months. Colin joked, "Well, I guess you just have to go alpine climbing to catch up on your sleep!" It wasn't so much a joke, but the ironic truth.
We downed a quick breakfast and set off for the spectacular face. The climbing was as good as we'd hoped for all these years. The sketchy pitches I'd previously encountered had a friendly skim coat of alpine ice. Colin made quick work of a crux aid pitch to punch beyond the previous high point. Above the HOD couloir system, we enjoyed bare-handed-mono-point-cramponed rock climbing on the upper north rib in the chilly sunshine. Around nine hours after crossing the bergschrund we stood on the summit.
After driving through the night, I was only two hours late to the Monday morning meetings. Fortunately I have great, understanding clients.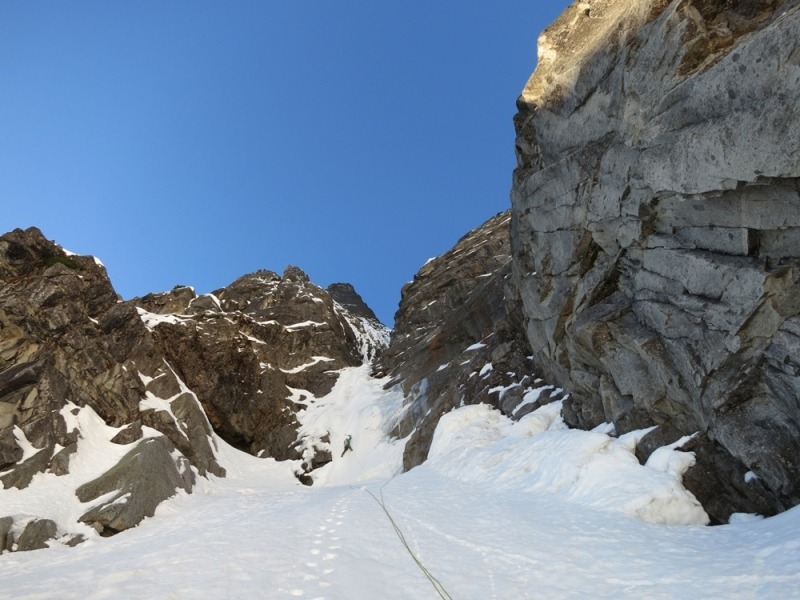 Dylan enters the Heart of Darkness. The summit tower can be seen above. Photo: Colin Haley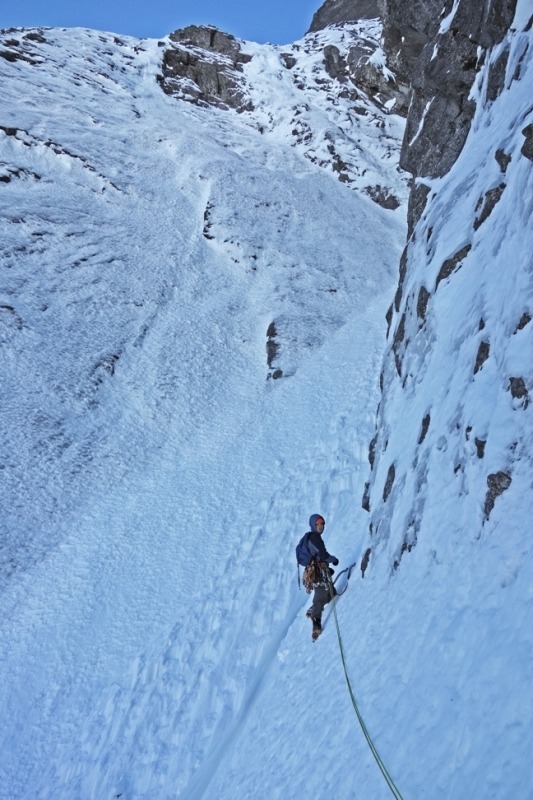 Colin nears the crux pitches of the couloir. Photo: Dylan Johnson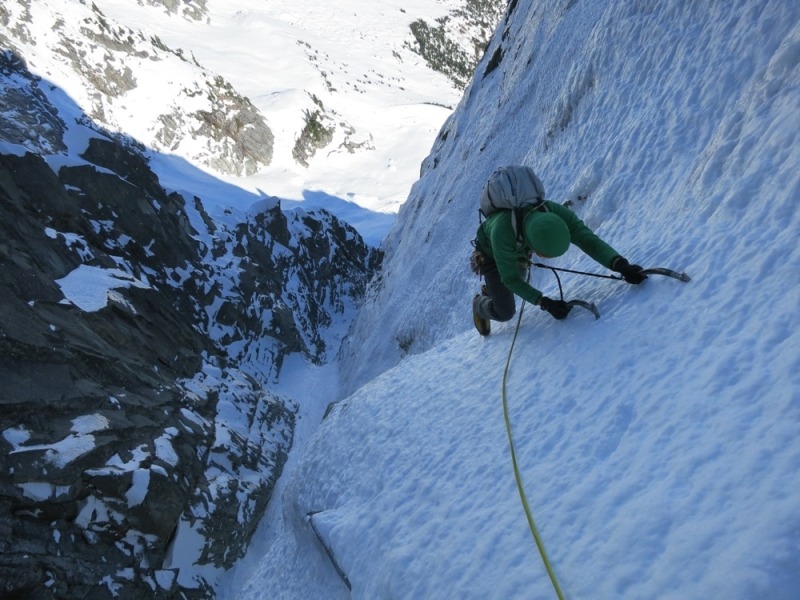 Dylan following in the couloir. Photo: Colin Haley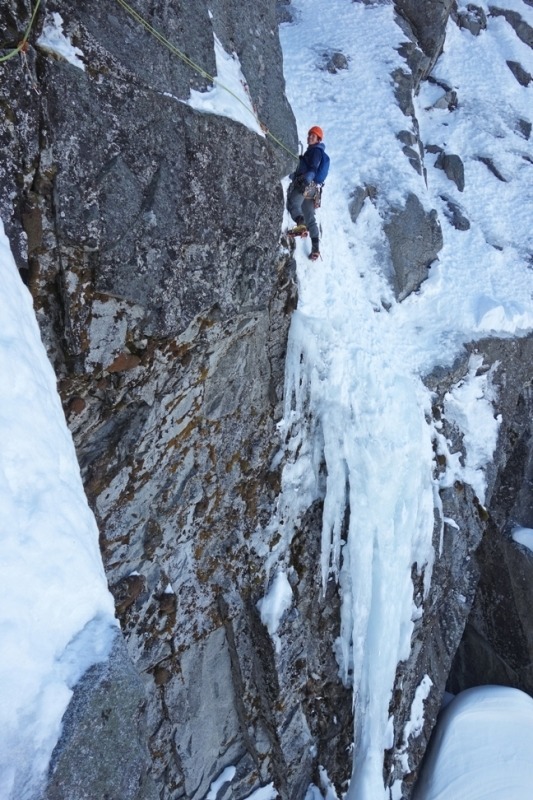 Colin finishing the crux aid traverse pitch. Photo: Dylan Johnson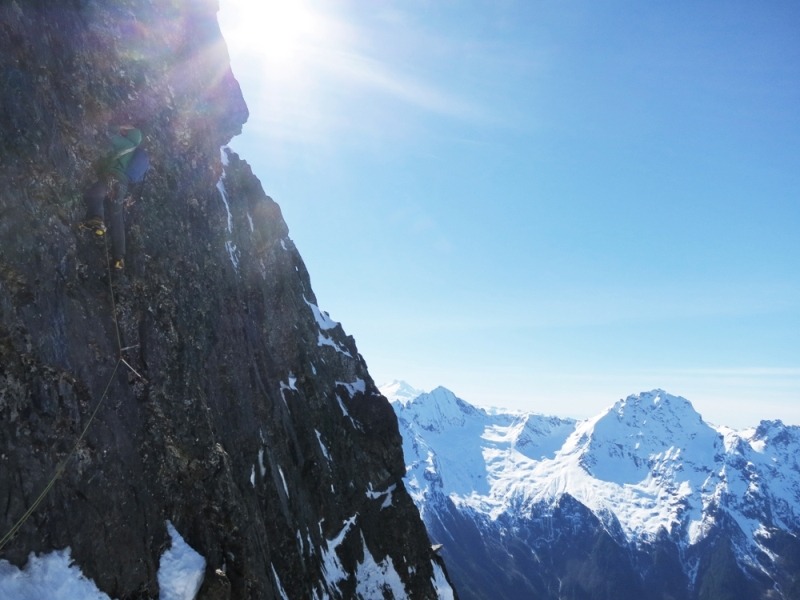 Dylan starting up the upper north rib. Across the valley are the American and Canadian border peaks, with Kulshan in the distance. Photo: Colin Haley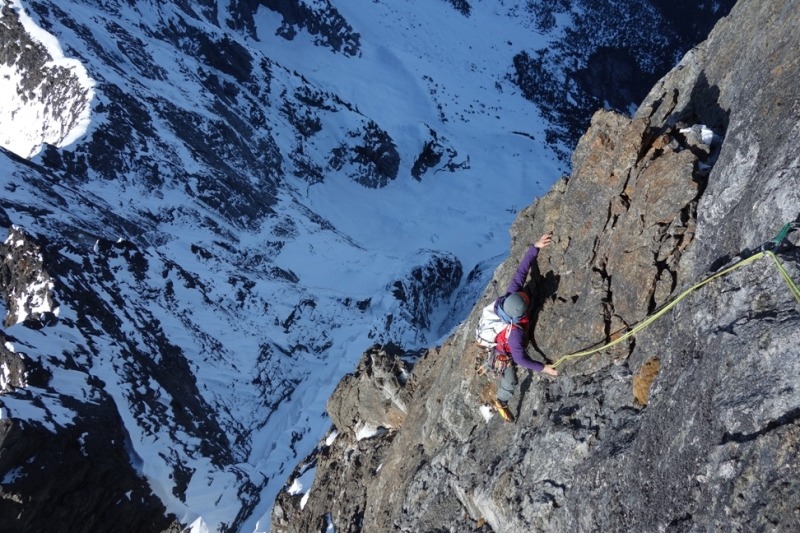 Colin following high on the north rib. The base of the HOD couloir can be seen just behind his head. Photo: Dylan Johnson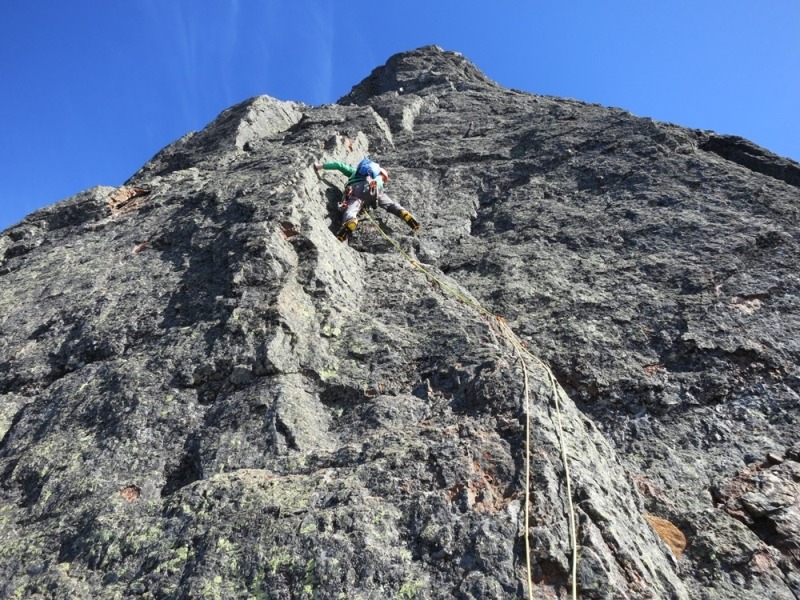 Dylan enjoys bare hands and crampons high on the upper north rib.
Photo: Colin Haley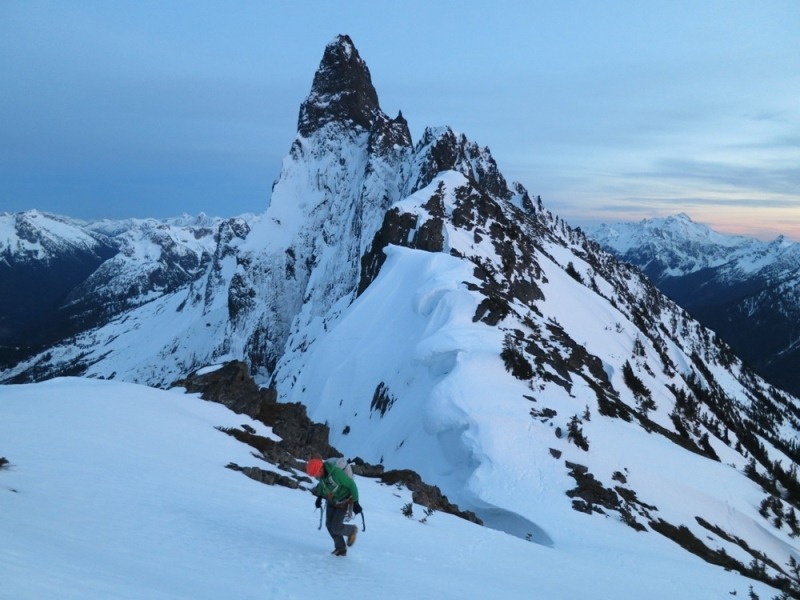 Dylan on the Crossover Descent. The route can be seen directly above him. Photo: Colin Haley