Tenkara USA Joins in Sharing Time-Honored Fishing Techniques with Patagonia Japan Employees
Fishing has always been about being simple, but 15 minutes of trout talk with a czech-nyphing double dropper can sometimes be enough to have you thinking precisely the opposite. A masterful style of fishing recently brought to Western rivers from the mountain waters of Japan presents a welcome antidote to the elaborate (and oftentimes extravagant) style of fishing that's come to dominate the image of fly fishing. Tenkara USA is a company dedicated to this style of fishing, and today's post, from company founder Daniel W. Galhardo, is about sharing the simplicity of fishing with others. – Ed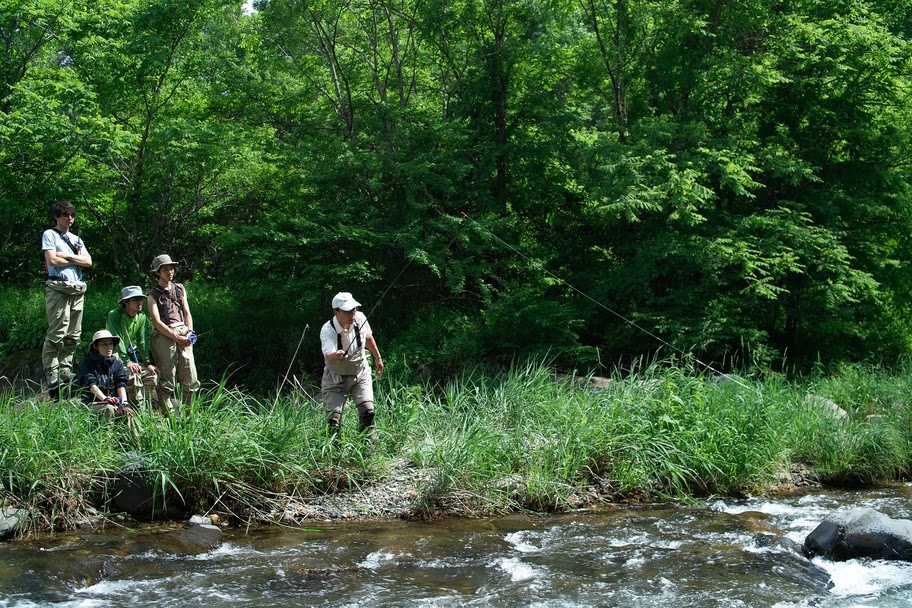 [Dr. Ishigaki doing a tenkara demonstration for Patagonia employees of different Tokyo stores. Photo: Daniel W. Galhardo]
Today tenkara, Tenkara USA and Patagonia once again crossed paths, this time in Japan with staff from a couple of Patagonia stores in Tokyo.
At the moment, I am sitting in my tatami room in the town of Kaida Kogen, Nagano prefecture in Japan. We just finished a hot-pot dinner, which topped off a day of teaching tenkara to four Patagonia-Japan employees. Over the next couple of days more people will join the tenkara class.
As I learned today, employees from different Patagonia stores in Tokyo have formed an informal "Patagonia Tenkara Club", which currently has about a dozen members.
It's serendipitous that very soon after I started Tenkara USA, I discovered Yvon Chouinard had recently become a tenkara convert. Especially given the fact that Yvon's book,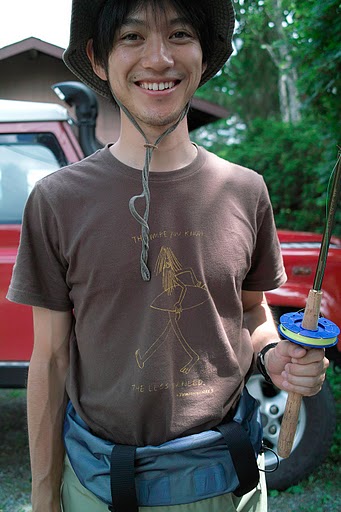 [Oji Kaneko, Yokohama store, sporting the t-shirt "The more you know…the less you need." and his tenkara rod. Photo: Daniel W. Galhardo]