Product Testing: Paddling Around Old Fanny
Old School
/
October 13, 2010
/
4 Min Read
/
Design
It was just a couple weeks ago that our friends down in Patagonia's Ventura offices were wishing summer a fond farewell. Maybe it's this week's return to splitter blue skies and warm breezes, maybe it's the certainty of winter's descent when the snows finally come, but our Reno-based tribe has been a bit more reluctant to let the summer go. A few weeks ago, some of our Customer Service folks headed up the hill to Lake Tahoe to try out a new sport and explore an oft-overlooked corner of the lake. Sample Coordinator Andrew Marshall files his report:
_________________________________________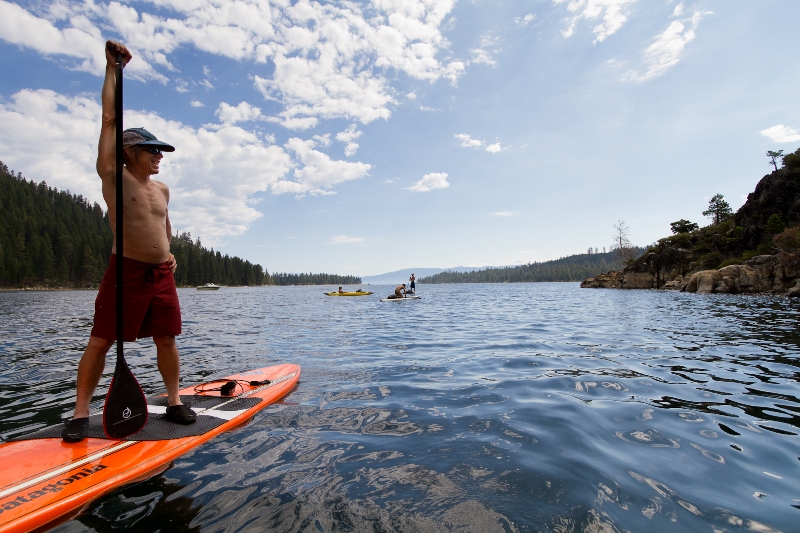 Twice a year, usually once in the winter and once in the summer, our work group gets to spend a day together doing something fun. It's a great way to bond with co-workers, maybe get introduced to a new sport and have a relaxing day away from the office. So far we've skied, snowboarded, kayaked and rock climbed, but our most recent trip was probably the best and most memorable one yet. This time, with the encouragement from some fellow employee-enthusiasts, we decided a Stand-Up Paddle (SUP) trip on Lake Tahoe would make for an excellent group field day.
Perhaps because of the coastal California influence, stand-up paddling has become particularly popular in Lake Tahoe. It is certainly an exhilarating way to take in the beautiful views and enjoy the water. There are several businesses around the lake renting boards this summer and the SUP market has even taken to the demand by developing flat-water-specific boards.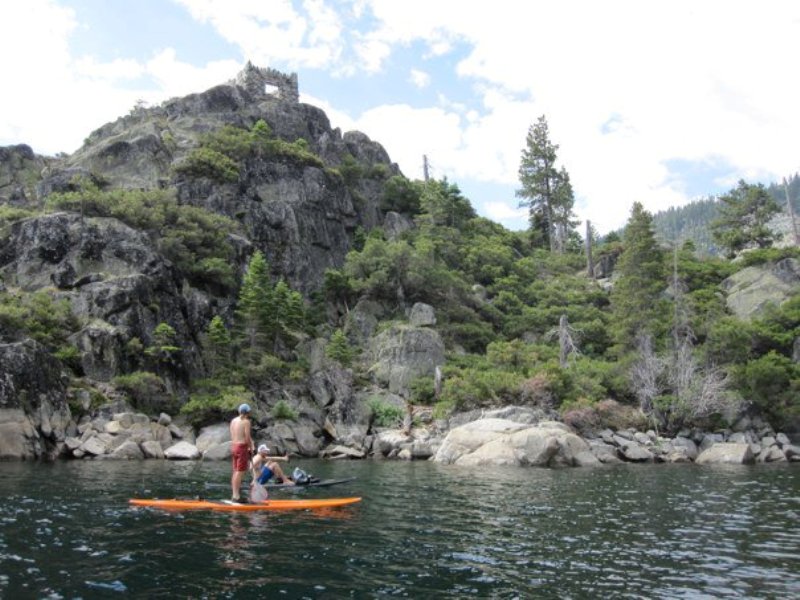 Emerald Bay is one of the most beautiful parts of Lake Tahoe. Pristine blue waters fill a perfectly shaped bay that is home to a small island located almost directly in its center: Fannette Island. Even more intriguing is medieval-looking fieldstone tea house situated at the very top of the island – picturesquely perfect in its own right. Despite the fact that nearly all of our group members are natives to the area (or quite nearly so), and despite having driven past it dozens of times, none of us had ever been to this island or even knew the name of it off the top of our head. We concluded it must be "more of a tourist spot" and "not a really a locals' destination." None of us really knew why – likely because it is usually a busy place almost any time of the year. We bashfully concluded that tourists were likely the reason none of us had been here before.
[Above, left – Chip takes a breather during the circumnavigation of Fannette Island, Emerald Bay, California. Above, right – a water-level view of the Old Fanny Island tea house. Photos: Andrew Marshall]
Hoping to remedy this oversight we put in at Baldwin Beach, just south of Emerald Bay, and paddled enthusiastically for maybe an hour or so before reaching the inlet of the bay. With the island in sight, anticipation grew. Having never been there, we weren't sure if it was even legal to set foot upon it. We figured at the least we would paddle around it for an up-close and personal view. To our surprise it was, in fact, open to the public.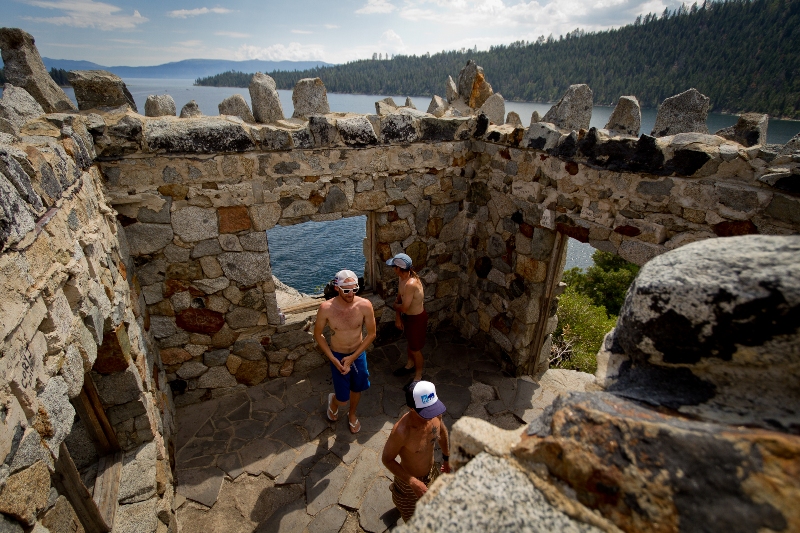 We stashed the boards on some rocks and made the short, steep hike to the tea house on top. We didn't bring any tea, but we did sip a few PBRs while enjoying having this tiny, perfect island to ourselves. Soaking in the sun, we savored our beverages and thought about what other stories the seemingly ancient walls of this tea house might hold. We were only at the halfway point of our journey; however, and with a cooler full of food, charcoal and a grill awaiting our return, we made the 90-minute paddle back to a barbecue at the beach.
The gear needs for such an outing are admittedly minimal. Still, I think we would all agree that the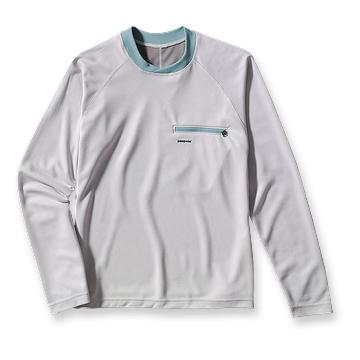 proved to be a simple outing. Next year's Stormfront Hip Pack should also make for a great SUP companion and hold just enough tea (or PBRs) for a return to the tea house.
[Where's the tea? The crew enjoys Fannette Island's cozy digs.]