Beyond and Back: Liz Clark and Belinda Baggs
by Jeff Johnson
Editor's note: We're stoked to introduce a new feature on The Cleanest Line from Bend to Baja author/photographer Jeff Johnson. Jeff's work has appeared in The Surfer's Journal, Surfer's Path, Alpinist, Surfing, Surfer and the Patagonia catalog. When we don't have him chained to a desk at Pat. HQ in Ventura, Jeff wanders the planet looking for good surf, good climbing and the perfect photo. Prints of his photographs are available through his Web site: jeffjohnsonstories.com. Stay tuned for more Beyond and Back stories from Jeff.

—————————————————————————————
Liz and Belinda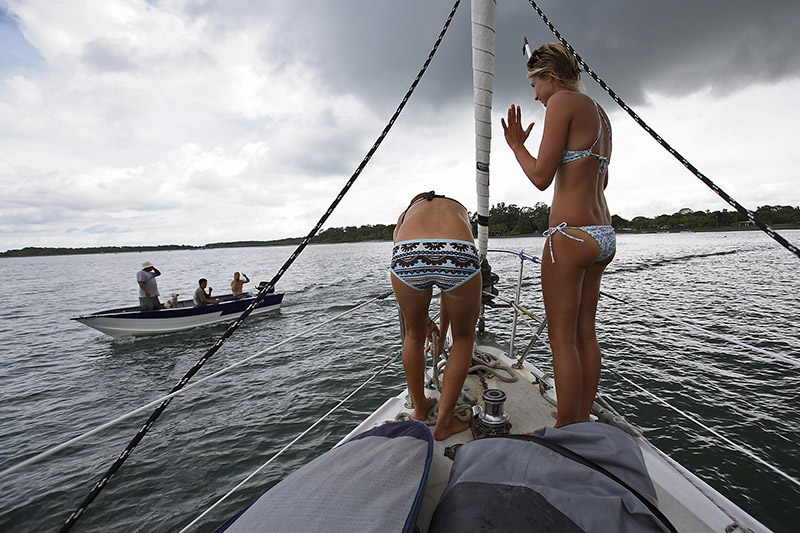 This is one of my favorite photographs from the last trip we did together. This is Liz Clark (left) and Belinda Baggs (right). They are anchored in the Osa Peninsula, south Costa Rica. Liz is teaching Belinda some of the basics of sailing: pulling the anchor, running the windless, hoisting sails, etc. Three guys in a panga motor up and circle the boat. The guy driving starts yelling to Liz saying that his friend knows her. "Alright", she says, "cool." It's obvious that the guy is drunk, wasted even. "I'll bring him by!" he yells as he catches himself before falling overboard backward. "Cool," says Liz.
An hour or so later I see the panga coming back through the moorings. There is a new guy astride the gunwales. He's got his shirt off. He's running his hands through his hair, slicking it back, and assessing the tattoos on his arms. I take a seat at the other end of the boat. I'm close enough to the girls if they should need any help and far enough away so as to not be a threat to the guys in the panga (I want to give this guy all the room he needs)…
The panga gets closer. The guy drops his hands from his hair and lifts his chest up a bit. He flashes a wide smile. "Hello," he says.
The girls give a courteous but un-committing wave. "Hello," says Liz.
"I met you up at Huatulco, Mexico," he says. "The Port, remember?"
"Oh yeah, that's right."
The guy looks at his buddies with a grin, sits up a little straighter and grabs the edge of Swell, Liz's boat. I see Liz glance at his hand. She doesn't seem too concerned with him touching her boat; she simply took note of it.
"Yeah," says Liz. "I remember you."
"Yeah?" The guy smiles and tosses his head back. I see his eyes dart back and forth from Liz to Belinda, Belinda to Liz. 
"Yeah," Liz continues, "that's right! You were with your wife weren't you? She was pregnant. Have you had your child yet?"
The guy's face goes blank. There is a long pause. His drunk buddy sits staring at him with crossed eyes.
The scene is horribly uncomfortable. Belinda turns away, pretending to work and I see that she is holding back laughter.
Finally, breaking the silence with a loud, obnoxious voice, the drunk guy says, "So what are you girls doing for dinner tonight?"
The panga drifts off quietly. The poor guy never stood a chance.