Making Dirt Magic: Sierra Buttes Trail Stewardship
Downieville, California was once one of the richest towns in the state, but by the mid-1990s it had gone full bust—until a few local mountain bikers' began using the local trails to breathe new life into the town, turning the former ghost town into a recreation mecca.
Greg Williams looks like a miner. Or a logger. Not the type you'd envision sitting in an enormous backhoe or lumber truck; with a black beard reaching halfway down his chest and an affinity for shovels, picks, Pulaskis and other tools of the dirt-moving trade, he would look as natural in a black-and-white photo from the 1850s as he does in the Santa Cruz Bicycle race tent (even more so, considering his companions are wearing dirty neon rompers emblazoned with laser-vomiting space kittens).
Felines aside, the setting only furthers the historical impression. Despite the fleet of top-end mountain bikes, loud music and shenanigan-having crowds, it's easy to imagine miners stumbling out of the old brick bar into Downieville, California's narrow streets. And for good reason. The tiny mountain town was once a hub for the world's largest gold rush, and a century later, it was part of the state's most lucrative timber boom.
Williams is not a miner, but he's spent over two decades trying to bring a different type of "boom" to Downieville and the surrounding Lost Sierra region: mountain biking. In 1995, he and a small group of local riders decided to start a race in Downieville; 25 years later, the former mining town is one of the sport's hottest destinations and home to one of its rowdiest events, drawing cyclists like Williams' kitten-clad friends from around the world. What the race spawned, however, is even more progressive: the Sierra Buttes Trail Stewardship (SBTS), an organization Williams and some friends started in 2003.
Though their initial goal was to simply protect their local riding, Williams and the Stewardship are now determined to revitalize the Lost Sierra region through trails, community and a bit of dirt magic.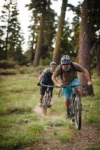 For being called the "Lost Sierra," the northern part of California's largest mountain range seems pretty damn close to it all; a short drive from Reno, split by the emerald oval of Lake Tahoe and its accompanying ski areas, the edges of the northern Sierra Nevada see heavy traffic from hikers, snow seekers, mountain bikers and sightseers. On weekends, visitors swarm trailheads and beaches, fueling a vibrant economy and equally vibrant job and housing markets.
But the Lost Sierra isn't at the edges, and it came by its name for good reason. Spanning some 40 square miles of Plumas and Sierra counties, the region is a tumultuous mess of 8,500-foot granite peaks and ridges, turquoise lakes and alpine meadows, and precipitous, river-filled valleys. Cell service is non-existent in the Lost Sierra; it disappears some 20 minutes north of Truckee and doesn't return for hours in any direction. A smattering of towns marks the region's boundaries: Quincy at the north, with a population just under 2,000; the even smaller town of Graeagle at the east; and tucked into a canyon at the southern end, the hamlet of Downieville, with a population hovering around 300.
Sitting astride the confluence of the Downie and North Yuba rivers, Downieville is an exceedingly rare breed in the spectrum of mountain towns: a mix of Wild-West frontier, European alpine village and a Forest Service camp from the agency's heydays, the streets—including both bridges—are single-lane affairs more suited to wagons than automobiles. There are no cookie-cutter mansions; instead, most houses have clapboard siding and wrap-around porches. And besides those lining main street, most are hidden among towering ponderosa pine and Douglas fir.
In short, it's beautiful. Which is one of the reasons it has become legendary among mountain bikers, hikers and outdoor enthusiasts. But 160 years ago, it was disgusting.
Photos of Downieville from the 1850s are devoid of trees; instead, the valley walls are covered with stumps, and the Downie and North Yuba trickle through bare gullies littered with trash and debris. The townsite itself is packed with tents, crude shelters and—most of all—miners.
"The only reason we're here is because of one word, and that word is 'gold,'" says Lee Adams, Downieville resident, former Sierra County sheriff and district supervisor, and member of the State Historical Resources Commission.
In 1848, a man named James Marshall discovered a few gold nuggets while building a mill just east of Sacramento—and kicked off one of the largest migrations in US history. Just two years later, the state's non-native population had jumped from 14,000 to over 250,000, and the Lost Sierra was ground zero for would-be millionaires. By the early 1850s, Downieville was the largest town in the region, and Sierra and Plumas counties were two of the richest in California. An estimated 2,500 to 5,000 people lived within five miles of downtown, funding a dozen hotels and saloons, a barber shop, a bath house, multiple grocery stores, a cigar shop, a candy manufacturer, an express-mail office, a surgeon/dentist and no fewer than four doctors. "It would be like taking all the businesses in Nevada City today and bringing them to Downieville," Adams says. "In 1853, it was one of 16 communities running to be state capital. It came in ninth, but Los Angeles was not even one of the 16."
By 1860, nearly 12,000 people lived in Sierra County, spread throughout the mining camps and freshly built towns. But the rapid growth came at a cost to the miners' health, but mostly to the Lost Sierra itself. Hillsides were clear-cut for building materials, mine shoring, railroad ties or simply because it was in the way, and the once-clear rivers swelled with human and industrial waste. The arrival of hydraulic mining, a process that involves literally blowing away the hillsides with a hose, promised even more riches. It turned out to be the beginning of the end for the Lost Sierra's glory days.
"They were blasting so much away that downstream towns like Marysville were being completely buried in mud slides 20 feet deep," says Mike Ferrentino, author and a founding member of SBTS. "The average height of the Central Valley where the Sacramento River runs is two to five feet higher than it was back then."
Those deadly floods also clogged waterways all the way to the San Francisco Bay. All the damage motivated the state of California to pass one of the United States' first environmental laws: the 1884 Sawyer Decision, which forbade waterway pollution and ended hydraulic mining.
Forestry, however, was still thriving in the Lost Sierra, where lumber mills and logging outfits had become the backbone of the local economy; by the 1970s, 40 percent of all Sierra County jobs were in the timber industry. In Downieville, that industry included the United States Forest Service's (USFS) district office, which employed as many as 50 residents full time and even more on a seasonal basis. Like mining, however, something as damaging as unfettered, wide-scale logging isn't a sustainable foundation for an economy, and the timber industry began to shrivel under decreasing harvests and new environmental laws.
The next blow came in 1980, when the USFS moved the Downieville district ranger office to Nevada City, California. Fifteen years later, the Lost Sierra was one of the few places in the state where the population was shrinking, with poverty rates akin to those in inner cities.
"The USFS owns 70 percent of the land in Plumas and Sierra counties," Williams says. "The national average is just over eight percent … as a community, you really rely on the feds. When they don't participate, that's what happens: You lose your community."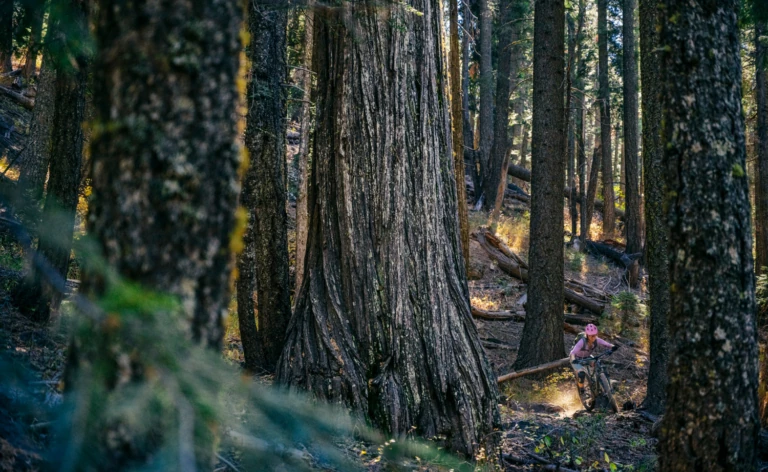 For Williams, the 1970s weren't an era of shrinking timber revenues. They were the source of some of his best childhood memories. As for community, even the 1860s had some positive connotations for the 47-year-old: the Nevada City native's great-great grandfather was a member of the Miwok, a tribe who'd called the area home for centuries, and had moved to Downieville during the Gold Rush to lead pack mules into the remote mines. Over 100 years later, Williams and his parents spent their summer vacations in those same mountains, navigating old 4×4 roads in in their 1942 Jeep. "Wherever my dad got stuck was usually where we camped," he says. "One time we got stuck in a spot for two weeks before somebody helped haul us out."
Ironically, Williams' business sense got him into trouble—which, in turn, got him into mountain biking. An entrepreneur from an early age, he was reprimanded in fifth grade for selling bubblegum to his classmates (the profits from which he bought parts for his BMX bike); when he was 17, his parents bought him a mountain bike to keep him from getting into trouble. Looking for a place to ride, he headed back to Downieville and the surrounding trails of the Lost Sierra.
"The first time I rode from town, it was for 26 miles on pavement with 5,000 feet of ascending," he says. "I figured, 'Shit, people would love to get a shuttle to the top of this hill.' That started working its way into my brain. I was going to junior college and didn't really know where I was going to end up. I knew bikes were important. I knew this place was important, but I didn't know how to put it together. As soon as I knew, I just poured everything I had into it."
He was able to "put it together" in 1992, after being approved for a $10,000 credit card. Using the card, he bought a passenger van and a roof rack, started the Coyote Adventure Company, and began shuttling customers from Nevada City to ride the monster descents around Downieville (minus the pavement). On free days, he and friends searched for new routes … which, in the Lost Sierra, can be a risky business.
"In the early days, we just tried to get down the hill, keep our bikes together and keep ourselves together," he says. "We had these old maps from the Gold Rush; a lot of the stuff on them doesn't exist anymore or isn't possible to ride, but every time we'd use them to try and find new routes. You'd drop down a canyon for 2,000 vertical feet and it would dead-end, and you'd have to get back out. It was fun, but it was also kind of a survival experience."
Williams had guessed right; people did love getting shuttled 5,000 feet up the trail, and in 1993 he moved his operation to Downieville … although "moved" is a strong word, considering he basically posted a clipboard outside the town's pizza place where people could sign up for guided shuttles. But by 1994, he was able to rent a 10-by-10-foot space in that same building, which he used as the company's meeting place and bike shop (and bedroom). Even so, he felt the place had bigger potential, so in 1995 he decided to host a cross-country race. Starting in Sierra City, it would cover 26.5 miles, climb 4,500 vertical feet and descend 5,700 vertical feet to end in downtown Downieville.
Such an ambitious idea required jumping through some hoops—Williams, for example, had to go door-to-door along the proposed finish route and ask each residents' permission—but that August, 277 Lycra-clad racers left Sierra City for the first annual Coyote Classic.
"There's nothing like a stopwatch and a timed run for people to really pay attention," he says. "We didn't even have a timer. We just figured the guy from NORBA (National Off-Road Bicycle Association) would have it covered. My wife, who was my girlfriend at the time, handled registration, and we slept in the middle of a dirt road with my parents. Looking back, we had no idea what we were doing."
In an ode to the town's history, the first few years' winners were given a gold nugget, pulled from the North Yuba River, in place of prize money. It all nearly came crashing down in 1998, when Williams' financial partner sued him for the rights to the race. The ensuing legal battle took two years, during which he depended on friends and community members to help keep the renamed Downieville Classic and Yuba Expeditions operating.
"For those two years I was in court on the Friday before the race, battling an injunction," Williams says. "That was probably the first year that I really realized how important people are in your life. If I lost, if the race would've stopped, I would've been back in bankruptcy. Downieville would've stopped. Those people stepped up and made it happen."
By the early 2000s, the Classic was drawing top-tier athletes and the crew decided to add a downhill race. Of course, it couldn't be just any course; descending over 5,000 vertical feet in 15 miles, it would be the longest in the country—and would also include over 1,000 feet of climbing. In 2005, that morphed into something even more unique. Riders wanting to compete in the downhill event would also have to complete the cross-country race the day before, with one caveat: they would have to do both on the same bike. Now, out of the Classic's 800 annual participants, 350 line up each morning to weigh their bikes to ensure they haven't been modified.
While the race is the core of the Classic, there's plenty to add to the rowdy vibe off-course as well. The weekend now includes a log-pull competition (done on a single-speed cruiser bike), a big-air competition into the river (named after Williams' father, Ron), an on-water skinny competition, a dance party and even a breakdance competition.
"The Classic is really the tribe-builder of the whole thing," Williams says. "It's a bunch of anarchy. Then right around five o'clock on Sunday the lights go off, and we hand the town back over. A few of us have an intimate dinner and share stories about what happened all weekend. Come Monday morning, I'm out sweeping the streets and getting the town cleaned up for the locals."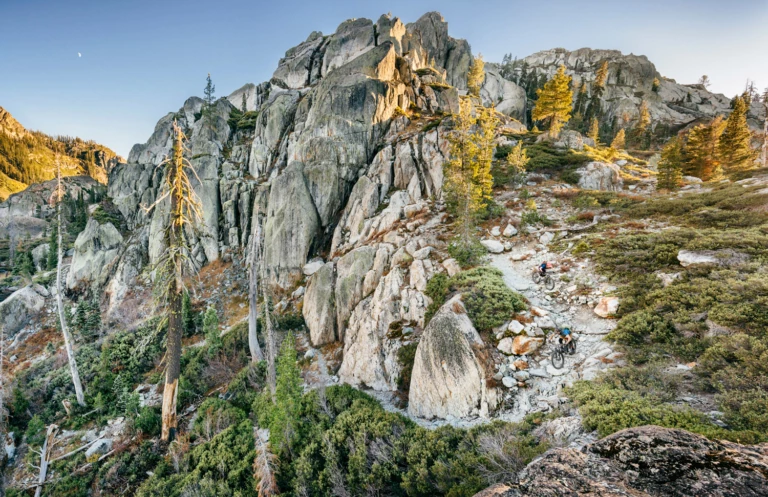 Mike Ferrentino didn't intend to end up in Downieville, but then he met Greg Williams.
It was 2000, and the author of the longtime BIKE Magazine column, "The Grimy Handshake," had just moved to Nevada City. It didn't take long for their paths to cross; Williams and his wife, Heather, were living in Downieville, and he ended up joining Williams for a ride one day. Afterward, Williams offered Ferrentino a part-time mechanic job at the Yuba Expeditions bike shop. Two years later, he was the couple's roommate in Downieville (after a short stint bunking with a raccoon in the shop's attic).
"I don't have some deep DNA knowledge of the Sierra Nevada, but whenever I've come back from a road trip, as soon as I see that eastern spine of the Sierra come into sight—that has always felt comforting," Ferrentino says. "It's felt like home."
That winter, however, Williams and Ferrentino were pretty sick of home. The lack of light was one problem; being tucked in a valley bottom, Downieville doesn't see much sun in the off-season. Plus, with a heavy snow year in the mountains, the duo worried it'd be months before the USFS could clear all the bike trails—especially since the cash-strapped agency didn't have a sawyer on staff. So, they asked about cutting out the trails on their own. "If the trees were gone," the USFS ranger said, "that would be fine."
A few weeks later, Ferrentino, Williams and Cosbey were spending full days in the mountains around Downieville, clearing trails with their new chainsaw. "It turned into a comical crash course on how to run a chainsaw," Ferrentino says. "We weren't very good. We probably shouldn't have had one."
Which is how they ended up with two—after getting the original saw stuck in a downed log, they had to buy a second to cut it out. Trial and errors aside, the trio were getting stuff done. To see what they could accomplish with even more saws and people, they started inviting others to their trail-work days. At first, just a few others showed up. Then it was 20. Then 30, then 40 and more, all there to work, ride bikes, drink beer and "howl at the moon," Williams says. "Those work days got to be a really big thing."
The momentum was building; what it would build into, however, was still to be determined, so in 2003 the group established a nonprofit (with the help of a local "off-the-grid IT guy" named Carl Butz) to help clear, build and maintain the trails on which the Classic and Yuba Expeditions depended. Meanwhile, Williams and Heather were gearing up to have their first child, Kenzy. With so much else going on, the team decided to postpone the Downieville Classic for a year and focus on the nonprofit. They just needed a name, something they realized while writing their first grant.
"We were on a dirt-bike trip," Williams says. "It was a stewardship grant, and we were trying to decide what to call this thing. It was like, 'Sierra Buttes—that's our mothership. That's gotta be it.' We were all about the trails, then came this grant application with 'stewardship' in it. From there it all just fell into place."
If the title was an accident, it was a fitting one. In the 15 years since its creation, the SBTS has worked on mountain-bike trails, dirt-bike trails, wilderness trails and 70-plus miles of the Pacific Crest Trail—impressive, considering the latter two are permanently closed to bikes. On volunteer work days, Williams often makes it a point that people not bring their preferred mode of transportation; without those preconceived notions, he says, people get to know each other through their passion for trails, rather than what they use to get around on them.
"In hindsight, that we didn't name it 'Downieville Mountain Bike Organization' was the key to everything," he says. "It was the gateway. We're a trail stewardship, and we're all-inclusive. We all hike. We ride mountain bikes. We ride dirt bikes. Some of us ride horses. We're all about everybody being out in the forest."
Judging from SBTS's 2018 resume, it has been an effective strategy. The group has been involved with a total of 101 trail projects, including building 84.4 miles of new trail and maintaining 944 miles of existing trail. And while the group does have a paid, six-person trail crew, the vast majority of the work was done through the sweat of 1,342 volunteers, who put in 45 work days and 85,000 hours of labor.
SBTS's success isn't only reflected in miles of trail, either. Each year, Yuba Expeditions runs over 7,000 shuttles and sees more than 10,000 visitors, and the Classic itself has spawned two other races: The Lost and Found Gravel Grinder and the Grinduro. The three events have an estimated $10 million impact on the Lost Sierra, and in 2019, the races, the shop and the adventure company earned $2 million in gross income. It's how SBTS pays their full and seasonal employees; the organization usually has around 40 people on their payroll—the number varies depending on the time of year and the amount of work to be done—all of whom live in either Plumas or Sierra counties. The rest of the money goes back into the Stewardship and the local communities.
"You can't just go somewhere and take; you have to put back in," Ferrentino says. "So, the idea of the stewardship to me was, 'We owe it to these trails, to this community, to take care of this stuff we're making a living off of.'"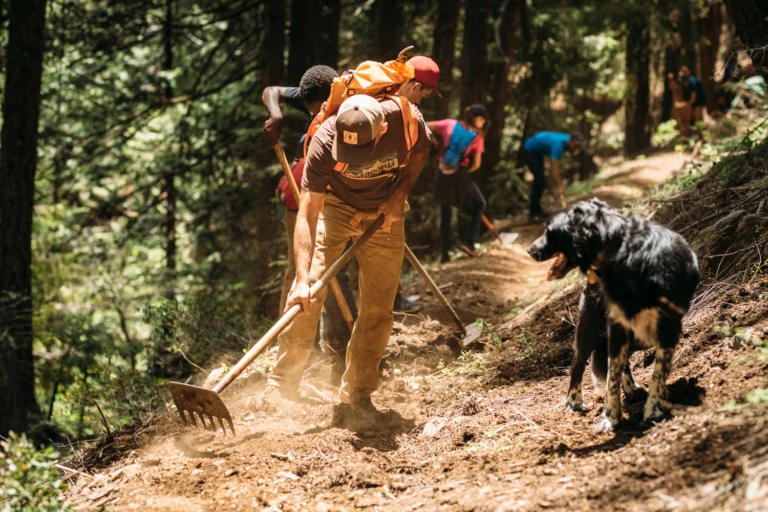 The Sierra Buttes Trail Stewardship may be on a recreation boom, but the rest of Sierra and Plumas counties are still suffering from the mining and timber bust. The populations of both counties are still shrinking, and the job market isn't rosy, either. As of July 2019, Sierra and Plumas counties had 5.1% and 6.4% unemployment rates, respectively, compared to the national rate of 3.7% in August. Wages in both counties are decreasing as well, meaning not only is it harder to get a job, but you'll likely get paid less if you do.
"It's a pretty depressed place that nobody is moving to, with real declines in labor income, and where the only economic activity is from old people, an inertia from a past economy," says Ray Rasker, executive director and cofounder of Headwaters Economics, a Bozeman, Montana-based research group specializing in rural community development.
Area locals like Lee Adams appreciate the revenue mountain bikers bring, but Adams doubts the industry can replace the family-wage jobs of mining, timber or the USFS—at least not in Downieville, one of the most isolated of the Lost Sierra towns. On top of that, nearly all the buildable space in the valley is either owned by the USFS or already has a house on it—not the best for bringing in new people.
"Right now, there's not even a medical clinic in Downieville," Williams says. "Last year, we put a dollar for every person that rode our shuttle—$7,200—into a fund to help hire a paramedic, so if somebody gets hurt, at least there is somebody that knows how to take care of them."
This, combined with the more modern amenities of towns like Grass Valley, has left the town rich in history but low on youth.
"Downieville doesn't have a football team," says Adams. "It barely has a basketball team. It's getting tougher and tougher with a school that has 60 kids in it. Last year, it graduated five students; next year it's still graduating just five. When that's down to one—they'll be both the class valedictorian and last in their class."
One former graduate is doing his best to change that. Henry O'Donnell is SBTS's trail-crew boss; he was also born and raised in Downieville, and his first job was swatting flies in the Yuba Expeditions bike shop at age 10, for five cents an insect. Five years later, he beat a field of world-class pros to win the Classic Downhill, and after that raced around the world for Santa Cruz Bicycles. Now he helps run the SBTS's high school trail-crew program, which employs 13 students each summer. Since its inception in 2011, over 100 local kids have worked for the crew, and SBTS now has programs in Quincy and Graeagle.
"Visitors are great," Williams says, "but if you don't have people here to interact with them, if you don't have kids in the schools, you start to lose a sense of community. We feel recreation can be a mechanism to attract the kind of people who want to be stewards of the land and who also have a sense of pride for where they live. Then we'll be able to get more kids in the schools, and we'll teach them how to take care of this place so when we're gone, we know it's in good hands."
Williams understands that outdoor recreation isn't logging, but judging from stats across the country, it has the potential to be a viable alternative: According to the Outdoor Industry Association, in 2017 outdoor recreation was an $887 billion industry in the US, with "trail sports" making up $201 billion of that. In California specifically, the industry has seen nearly a decade of consecutive growth and employs over a million people.
But, as any seasonal tourist town can tell you, bringing in more dollars doesn't guarantee you'll have more people moving there. The jobs tend to be service-industry related, often only for a few months of the year, and not necessarily the best paying, meaning it's becoming increasingly difficult for those who work in a mountain town to actually live there. They're critical positions, but a server can't afford a $750,000 house on tips. The rise of short-term vacation rentals has made finding housing in recreation towns more difficult, even in places as economically depressed as Downieville.
"House values still remain high here because when a house goes on the market, folks from San Francisco buy it up for a summer home," Adams says. "I'm not complaining; my parents did that very thing in '73, but they were the exception to the rule at the time. Now, that is the rule. And quite honestly, it's mountain biking that has done that. It's our new economy."
SBTS experienced this firsthand while trying to find housing for Yuba employees in Downieville. Of the available rentals, nearly 40 were listed on Airbnb or VRBO, making them too expensive, and no houses were up for sale in town. There was one option, however: The Lure, a defunct resort a mile out of town. The property had ample existing housing and space to potentially build more; it also had a daunting $1.6 million price tag. Seeing an opportunity, in 2018 SBTS enlisted the help of an investment banker on their board and started figuring out how to make it happen.
"The Stewardship developed the idea, put together the package and recruited investors," Williams says. "And we put up the initial $75,000 to get through permitting and show we were invested."
A month and a half later, they had enough to purchase The Lure—a victory, but SBTS realized the company they had created to buy the resort, Lost Sierra Development (LSD), could accomplish far more. Through LSD, they could purchase available local properties and offer them as affordable, long-term rentals to people living in Sierra and Plumas counties. LSD's investors would see a positive return, while at the same time helping keep working families in the Lost Sierra.
"We think it's going to change people's lives," Williams says. "In a lot of mountain towns, all the available housing goes to VRBOs and Airbnbs, and people in the service industry can't afford to live there. Downieville is a spot where we feel like we can make a difference, where we can provide housing and opportunities for them to thrive."
"Thriving" depends as much on finding a job as a place to live, and Williams is convinced recreation can provide more than seasonal gigs. For many places, the research supports this belief: Studies by rural economic development groups like Headwaters Economics consistently suggests that trails on public lands create more jobs and attract new businesses, and that people are more likely to move to counties with heavy recreation opportunities versus those without. And although average earnings per job are lower in recreation-based counties, they are also growing—quickly.
"All rural counties are losing population unless they're a recreation county; those are the only ones that are growing, which is remarkable," Rasker says. "And every place that has economic success has an affordable housing problem. Oil and gas towns have that problem. High-tech boom towns have that problem. And it's happening in recreation counties because recreation can stimulate so much growth. It's a problem a lot of rural communities wish they had."
As much of a struggle as housing has become, it's one that leaves Williams hopeful, especially for attracting much-needed craftsmen and women.
"Look at the jobs in these types of counties, and small businesses are number one," Williams says. "Part of that is there are no jobs, so people have to figure something out and end up working for themselves. But what we need now are electricians, plumbers, builders—craftsmen and women. When the housing market crashed in 2008, the majority of those types of people living here had to go to the city for work. We lost all of that knowledge and all of those families, again."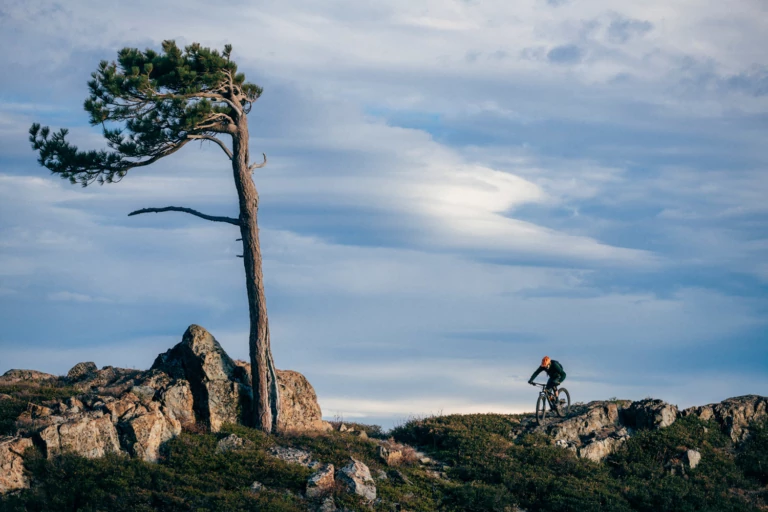 Bringing those families back is the impetus for SBTS's most recent endeavor: Connected Communities, a proposed regional development plan that would link 12 communities in Sierra, Plumas and Lassen counties, tying struggling rural towns like Quincy, Graeagle, Sierra City, Loyalton, Sierraville, Portola and Downieville, to established hubs like Reno and Truckee.
"The idea is to create a Main Street trailhead in each place," Williams says. "People coming to a place would start their adventure in town, surrounded by local businesses, and people who lived there could make them part of their daily routine."
Ironically, the Connected Communities concept is possible because of the counties' plethora of national forest land. All three forests—Plumas, Tahoe and Lassen—are updating their Forest Land and Resource Management Plan, a process that will determine land access, trail building and maintenance, and types of uses allowed for the next 10 to 15 years.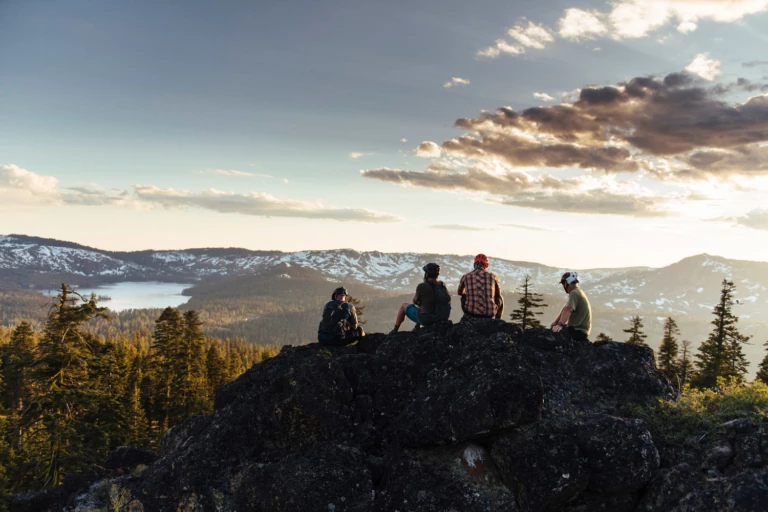 Usually, any nearby cities and counties would present the USFS with a localized plan that they feel would best benefit their community, but those in the Lost Sierra don't have the funds. Instead, SBTS has stepped in to offer their vision of the region's future … with the people's support, that is.
"We've been at it long enough with Downieville and Quincy, so the other towns in the area are like, 'We want some of that,'" Williams says. "With 12 communities, anything can happen. One might need an extra eight meetings. But we want to succeed in each place, and it's the people who have to move this forward. We need the Forest Service to participate, but we don't need them to create the plan. That's going to come from the people."