Into the Deep End
Matt Skenazy
/
July 10, 2020
/
4 Min Read
/
Surfing
Meet Annie Reickert, the 18-year-old Maui charger Paige Alms is mentoring in the Jaws lineup and beyond.
In early January 2019, Paige Alms was at home on Maui, still rattled from the conditions at the latest World Surf League's Jaws Challenge. The event had dawned with chunky, windblown 50-foot sets—by far the biggest and most dangerous surf in a women's contest. In the semifinal, the 31-year-old took two waves right on the head, snapping her board and straining her hamstring. Six weeks later, a lingering northwest swell was supposed to barely register at the famed big-wave spot, also known as Peʻahi, and the trade winds were forecasted to die down. Paige called Keala Kennelly and Bianca Valenti, who had both competed at the Jaws event, but were over on Oʻahu.
"All of us sort of had PTSD from the contest," Paige says, "so I said, 'Hey, you don't have anything going on for a couple of days, let's all get together. And, um, this girl that I've been telling you guys about? I want to take her out.'"
That girl was 17-year-old Annie Reickert (now 18), the sort of do-it-all ocean athlete that Maui is famous for. Annie was born and raised in Pukalani, "up-country Maui," but she and Paige bump into each other regularly in the water at Hoʻokipa Beach Park and the gym in nearby Haiku.
"Maui is such a small island," says Annie. "I knew of Paige for years, but she was always this hero, this role model for me." Despite their age difference, they formed a fast friendship, surfing and foiling on the island's north shore.
As a kid, Paige was tall, independent and taught herself to surf when she was 10. She spent most of her time hanging at the beach with the guys. "It was hard being a teenage girl growing up there," she says. "Some of those guys were fucking mean. I had to stick up for myself, and I kind of ended up putting this shell on." Not everyone was mean though. When Paige was 15, her shaper, Chris Vandervoort, lent her a 9'0″ and took her to an outer Maui reef. She took a few beatings but was hooked. Three years later she was whipping in at Jaws behind a ski. Ten years after that, in 2016, she won the World Surf League's first Women's Big Wave Championship at Peʻahi. The next season she repeated the win.
"I never would have gotten into surfing big waves if I didn't have someone take me under their wing," she says.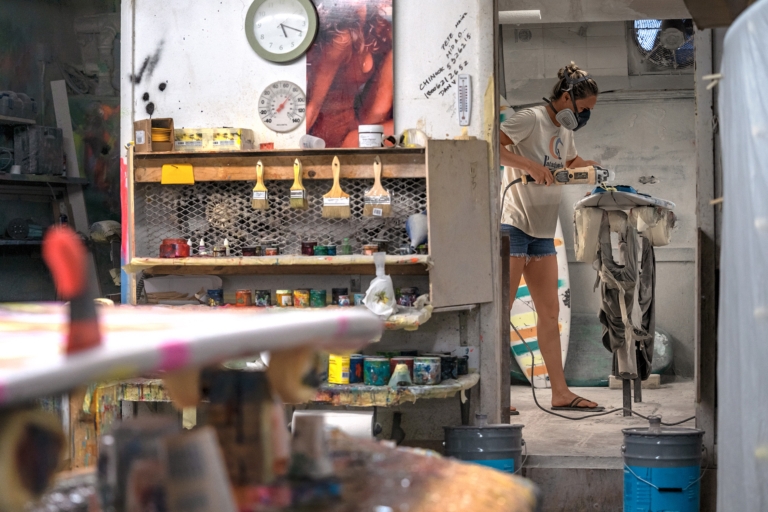 So in 2018, when Annie said she wanted a crack at Jaws, Paige loaned her a turquoise and yellow 9'4″ and laid out the path: training in the gym, attending a Big Wave Risk Assessment Group safety summit and methodically leveling up to bigger and bigger waves on bigger and bigger boards. Six months later, Paige felt Annie was ready.
They met up at Paige's house at 7 a.m. to rig the safety ski. By the time they paddled out 30 minutes later, the surf was 10 to 15 feet, playful by Jaws standards. The ocean was sheet glass and empty; Paige, Annie, Keala and Bianca had the lineup to themselves for most of the morning. They chatted between sets. Paige showed Annie where the women had sat during the comp, 100 yards farther out to sea.
While Annie was still getting her bearings, a wave came through. Paige was in the spot but called Annie into it anyway. "Go, go, go!" Annie didn't hesitate, whipping the 9'4″ around and digging in. She popped to her feet, knock-kneed and highlined across the big blue face. When she glanced over her shoulder, she saw that Paige had turned and stroked into the wave too. They rode to the channel, kicking out in deep water to shouts from Bianca and Keala.
"I look up to a lot of surfers on Maui," Annie says. "Kai Lenny, Ian Walsh. But the difference between them and Paige is I look up to Paige in every single way. I see in her what I want to achieve. The guys have a different path than I would. She's proving what's possible for young girls who are coming up in the surf world."
This winter, 20-year-old Izzi Gomez moved from California to Maui to join the crew. "Having that younger generation fired up on wanting to go surf, even when it's really shitty, has me super motivated," says Paige. "I want to keep improving myself so that I can keep helping them, but also so I can keep up with them."
Editor's note: The partnership seems to be paying off. At the December 2019 cbdMD Jaws Big Wave Championships, Annie came in third, not far behind Paige, who won the event for the third time.