Tommy Caldwell and Co. Climb in China's Xinjiang Province: Part Three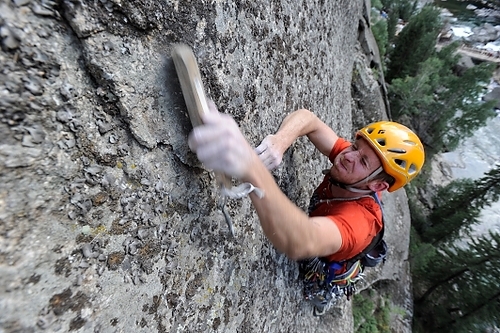 We've been reporting on Tommy Caldwell and crew's trip to northern China's Keketuohai National Geological Park, rumored to be a granite wonderland – but with challenging access (see parts one and two). Well, it turns out, both rumors proved true. But hopefully the latter will fade away with time and good behavior (like getting early parole). It's always an adventure in so many ways, and, here, we've got Tommy's superb trip report with photos by Corey Rich, Jeremy Collins and Rebecca Caldwell. Enjoy.
That nervous quaky feeling in my stomach has become quite familiar. Fifty feet run out, standing on nothing but a few sketchy looking pebbles covered in moss, I look down at my feet, then at the rope running freely down the wall to my two climbing partners … who are chatting away seemingly unconcerned. "Why have I sworn off free soloing when I seem to find myself in no-fall situations all the time anyway?" I think to myself.
I decide to commit to the next move, smear my foot high and start to put weight on it … crackle, crackle. Flakes of moss grind themselves like seeds in a mortar and pestle. I wipe my foot off on my pants, then try it again. Whoosh! A small flake of rock cleaves off the wall and goes flying straight at my belayers. "Rock!" I yell as it goes whizzing by their heads and suddenly they become more attentive. With just six more feet to go I decide to haul up a quarter inch drill bit, hammer, and tiny removable bolt. I sketchily balance myself with one knee against the wall for the ten calf-burning minutes it takes me to drill the tiny hole. Then, with a little more confidence, I climb to the next crack system, which is chocked full of hardened dirt. I dig for another ten minutes until I uncover a tiny place for a RP; that will have to do. I nervously balance myself across tiny knobs to a clean hand crack and hastily put in a belay.
[Tommy Caldwell showering in moss and lichen on The Divine Bell, Keketuohai National Geological Park, China. Photo: Corey Rich]
This is our second day trying to climb The Divine Bell in Keketuohai National park in Northern China. A thousand feet below us gathers a crowd of curious spectators. This funny mix of clashing cultures seems to perfectly represent the dichotomy present in China these days. First there are Kazak sheepherders. These guys are truly a blast from the past. They sit atop their stallions with formal overcoats and ornately embroidered hats. The deep lines on their faces tell stories of the hard life of nomadic sheepherders in this part of China. Their faces are usually somber, but when they hear that we are climbing, their eyes brighten. These sheepherders have lived amongst Keketouhai's walls for centuries, but never imagined that someone would come to climb them. Animated hands erupt into a frenzy of gestures including arm flexing, thumbs up and pats on the back. They are in the process of packing their homes from the high country to the plains for the winter. Camels follow the men with tapestries and wooden sticks for the nomads' yurt homes cinched tightly on their humped backs.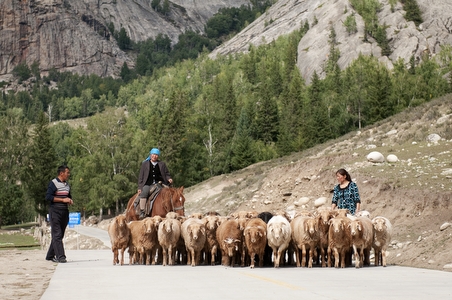 [Kazakhs herding their sheep down the canyon. Photo: Rebecca Caldwell]
This is a stark contrast to the groups of Chinese tourists that have come on the park's newly purchased buses. Three years ago, Kazaks were the only people here. Now there is a newly paved road, park-owned shuttle buses, and hoards of middle class Chinese tourists, each one with a cigarette hanging from their lips and toting a Digital SLR camera. It seems crazy to me that less than a decade ago there was almost no one in China with enough money to travel for leisure, but now there is so much tourism that Keketuohai Park is planning on investing a half billion dollars in a modern entrance station and visitor center, paved roads, hotels and a large fleet of shuttle buses to manage the influx of tourism. What seems even more absurd is that all of this infrastructure is built for only the drive-through tourist. No unpaved hiking trails, backpacking, and absolutely no climbing; except for us … or so we thought.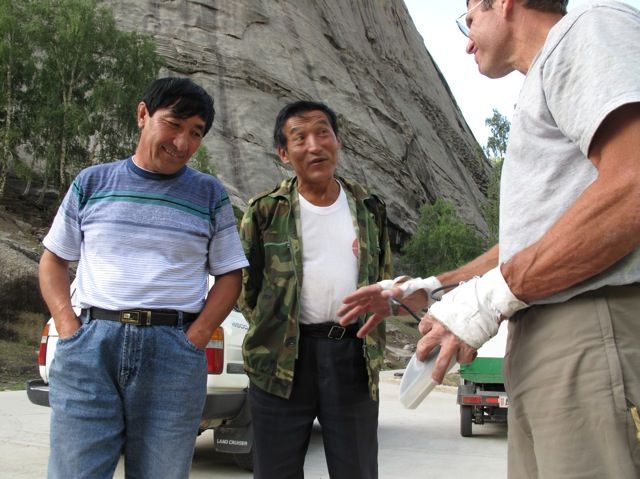 [Mark Jenkins explains his tape gloves to some curious locals. Although neither spoke each other's language, the point was clear: these cracks are rough! Photo & caption: Jeremy Collins]
My good friend and photographer Corey Rich and I had hatched this plan to travel to Keketuohai several years ago. We were in search of unclimbed granite walls, great weather, and the chance to catch a glimpse of a disappearing mountain culture. There had been a few groups of westerners that had attempted to plan trips here in the past few years, but had been shut down due to the park policy of no climbing. "Why didn't they allow climbing?" I asked myself. When I was in my late teens I had twice been invited by the Chinese Mountain Association to attend comps in China. These trips were some of the most culturally rich, eye-opening experiences of my late teens. I thought since the climbers in China had expressed interest in me when I was a comp climber, maybe I could get Chinese climbers to persuade the park officials to allow us to climb. So I sent out some emails and eventually found someone that had a relationship with the park. As it turns out, the plan worked on some level. A tour agency called Terratribes did persuade the head of tourism to allow us to climb … so we booked our tickets.
The trip would be comprised of Cory and Marina Rich, my wife Becca, and Hayden Kennedy. At some point during our planning, writer Mark Jenkins got word of our trip (he had ironically enough been trying to put together a trip to the same place). He then joined the roster along with my good friend and artist Jeremy Collins. I couldn't imagine a much better crew. We boarded planes, flew for a day, drove for another and arrived at the entrance gates red eyed but excited. Then reality set in.
Upon meeting the head of tourism we were told that we would have to stay in a hotel outside the park. We would only be allowed into the gates after 8:30am and have to be out by 8:00pm each day. Also, our first day we would be required to tour the park, pick our intended routes, and clear them with park security. We decided to push the issue and see if there was any way we could enter the park early. This led to the head of tourism speaking directly to park security who had never heard of climbing, which sounded quite dangerous to them. They decided that the fate of our climbing trip would be put into the hands of an on-ground security guard that knew nothing about climbing. We would take him to our intended climbs, and he would decide.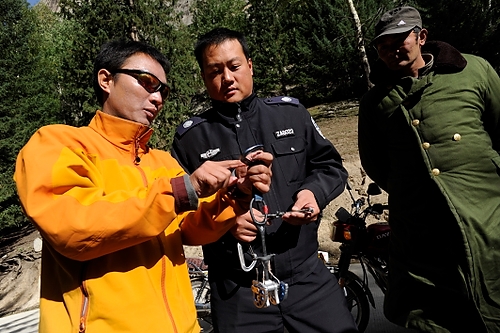 [Our friend and translator, Jack, showing the head of park police how a cam works as a curious park security employee looks on. Photo: Corey Rich]
Like the Nose of El Cap is to Yosemite, the central crack system on The Divine Bell is to Keketuohai. The dome is centrally located, steep, and awesome … at least it looked that way from a distance. But it's also the most conspicuous and scary looking climb in the park. This was our choice, so with bashfulness in our eyes we pointed it out to the security guard, not feeling too hopeful, and held our breath. Shockingly, and to our utter surprise he gave us the thumbs up. The crowd of spectators erupted into applause and before the guard could change his mind we grabbed our stuff and started climbing.
Ground up first ascents in Ketetuhai proved to be pretty full on, especially on The Divine Bell. We would crank out a few lie-back moves with our feet skidding all over on moss, get to a tenuous stance, pull out the wire brush and scrub the next face section. Then, while trying to blink moss out of our eyes we would climb to the next hair line fracture, pound in a pecker or knife blade, and run it out hoping to find somewhere to put in an anchor. I began to think maybe the security guards were right … this climbing business really is dangerous!
After The Divine Bell we ventured to the south-facing walls and were happy to find them impeccably clean yet still pretty sparse on the cracks. We took to climbing with a power or hand drill clipped directly to our harness, running it out up to one hundred feet at times. But when we did reach the crack systems we found great protection, and splitter climbing.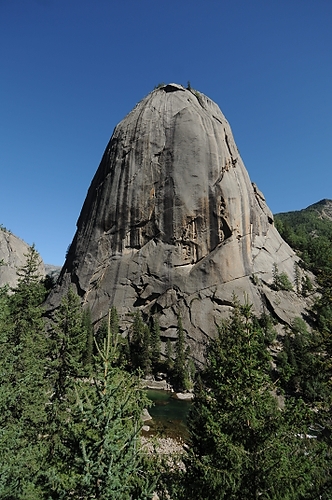 [The Divine Bell. One of Keketouhai's beloved domes and the first line we worked on. Photo: Corey Rich]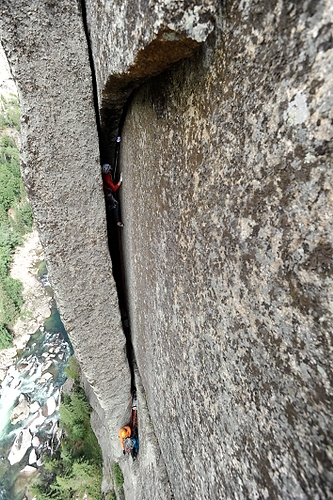 [Hayden Kennedy groveling in a chimney pitch on The Divine Bell. Photo: Corey Rich]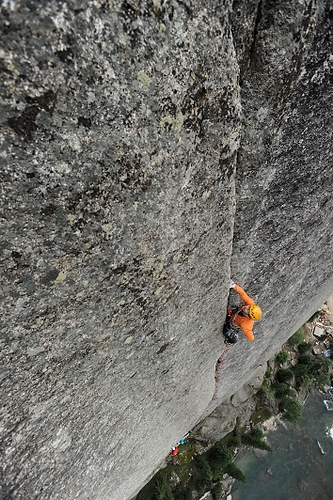 [Beautiful crack just over halfway up The Divine Bell. Photo: Corey Rich]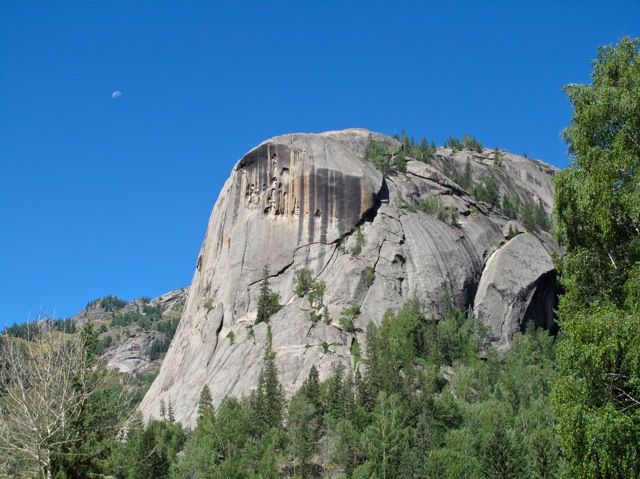 [The Elephant. Two lines ended up going in on this formation. Photo: Jeremy Collins]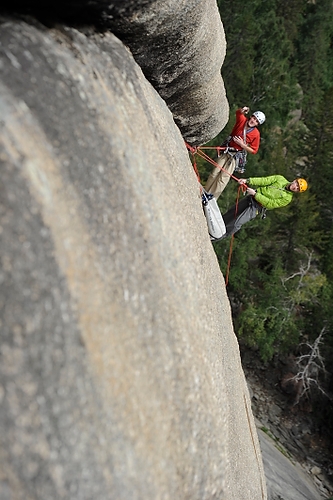 [Figuring out our line on The Elephant. Photo: Corey Rich]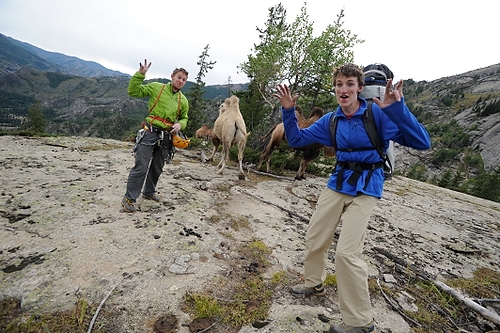 ["WU-TANG!!" Hangin' out with the camels on top of The Elephant. Photo: Corey Rich]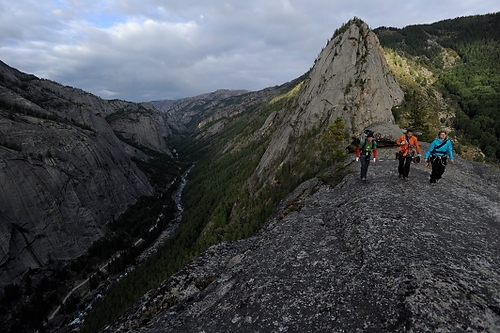 [Better views of the sea of domes on top of The Divine Bell. Photo: Corey Rich]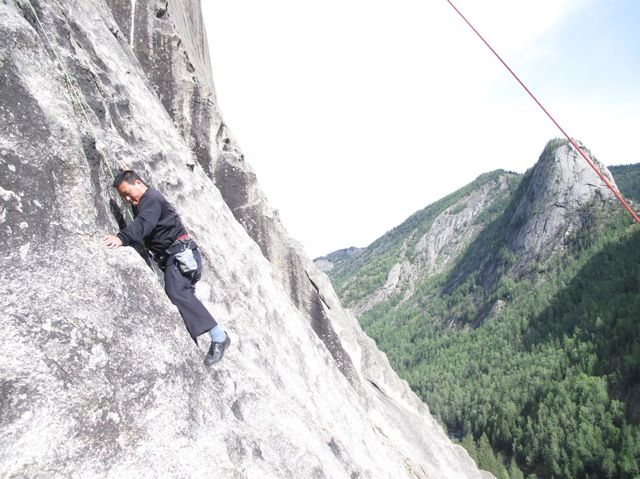 [Head of Security, who days earlier had said "no climbing", became our voice behind the scenes. Finally, he was talked into some top-roping, which he thoroughly enjoyed. Here he is on The Elephant. Photo & caption: Jeremy Collins]
If success was always insured, if every expedition was a known quantity, I probably wouldn't bother coming in the first place. We came to Keketuohai with dreams of discovering a new world-class climbing area … that and having a grand time with great friends. Although we didn't end up finding the biggest, most badass climbs in the world, we did become the first to climb in a place that has the potential to be a world-class destination. In terms of good weather, great rock, and zero approach Keketuohai surpasses even Tuolomne Meadows, or at least that is my opinion. And to be the first to climb these walls was the chance of a lifetime. For now, the future of climbing in Keketuohai remains a question mark. It lies in the hands of the lawmakers and the ability of us climbers to be good stewards and savvy ambassadors. Many of the greatest walls in the US, (El Cap and the Diamond to name a couple) were off limits to the first climbers that tried to ascend them. Eventually officials were convinced and climbers were allowed to do more and more. Here is my prediction: Climbers will come back to Keketuohai. We will continue to press the park officials to allow climbing. And one day, climbing will not only be allowed here, but it will become one of the main tourist attractions in the park.
We ended our trip with a night in a yurt spent with the locals. We ate hacked up sheep and chickens and drank the local beer. I admired our hosts that night for the beauty and simplicity of their lives. They celebrated our climbs with toasting and singing late into the night. It was a culturally rich trip with great climbing and amazing friends. What more could we ask for?
–Tommy Caldwell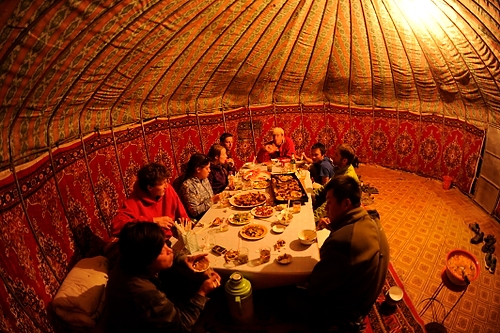 [One of the restaurants we ate at served us chopped up chicken and lamb (at least we hope it was) in our own private yurt. This yurt came with the option of techno music and videos of go-go dancers if we preferred. Photo: Corey Rich]