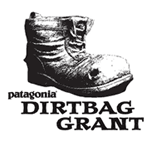 After foraging through several hundred grant proposals, including some stunning 3D applications, we're ready to announce the winners of this year's Dirtbag Grant. There are two winners. Each will receive $3,000 to use towards their trip.
The first Dirtbag Grant goes to a team of women from the southeast, Rachel Babkirk and Lucia Robinson, who described their idea as "part climbing road trip, part homeless aid drive." Down for the Down and Out is a project they started in their hometowns to collect and redistribute quality used outdoor gear through local relief organizations. Collection items include clothing, tents, sleeping bags, stoves, and backpacks. They plan to take this show on the road and hold collection drives in four areas that have both large outdoor communities and significant homeless populations. They also plan on partnering with local climbing gyms and outdoor gear shops in each city to set up collection drives in advance of their arrival.
"As busy moms, we long to restore our dirtbag spirits and revisit the wandering lifestyle we once loved. The vagabonds in us want to load up Rachel's 1987 Westfalia camper van and embark on a carefree, dirt cheap climbing road trip. We will meld our two objectives by climbing and camping in the places where we hold collection drives."
The second Dirtbag Grant recipient is Simon Clissold, a nomadic Australian ("My professional life as an organic farmer has taken me many places, from Vermont to Spain, New Zealand to England…") who at the time of writing his application was in Vermont making maple syrup before heading back to Southern Spain for the olive harvest. After the olive harvest Simon will walk, hitchhike and "…travel using only public ground and sea transport (no planes), to the Tian Shan mountains (Kazakhstan and Kyrgyzstan), where I will base myself for the winter and explore the epic peaks of this wild range using only my split snowboard." Simon is experienced in the ways of what he calls "slow walking." Simon described a previous trip he'd taken as a "…slow adventure, walking 2000+ kilometers from Southern Spain to the French Alps by the side of my donkey."
Simon's grant proposal struck a chord with us because he made thisimportant point: "Most of us do not live in the middle of a wilderness.If we are to visit these places, how can we do it without having anegative impact on the planet? Many adventure activities are stuck in aenvironmentally destructive rut: flying huge distances to ski snow thatwill no longer be there if we keep flying huge distances. This trip,while certainly not claiming to be environmentally benign, is a step inthe direction of environmentally sustainable travel."
Congratulations to Rachel, Lucia and Simon. We hope to share somereports from their trips with you right here in blogland. We'd alsolike to thank everyone who applied for this year's Dirtbag Grant. Itwas a joy reading and discussing all of your creative trip ideas. Wehope you'll all take your trips anyway even though you weren't selected.