Sweet Hokkaido Pow from Sweetgrass Productions
[YouTube version – HD available]
Reading the Sweetgrass Productions blog, I feel nauseous with envy. "It was beginning to dump in an absolutely ridiculous manner as we left to go to an awesome Japanese-style dinner, where much raw seafood was consumed, priming our bellies for today, which was perhaps the most disgustingly deep powder day of all our lives." If the words don't do it for you, the shots of skiers buried up to their necks will.
The text and images flowing from director Nick Waggoner's 2009 film project in Hokkaido, Japan have left me squirming in my chair daily. I feel like the guy in the pit crew that desperately wants to be in the driver's seat – running logistics from a sponsorship and support level at my desk when I'd much rather be running laps in buttery Hokkaido powder and tossing back sushi on the regular with Nick and his crew. If you've already had a chance to view Sweetgrass Productions' 2008 feature film, Hand Cut, you've already been exposed to the artistic perspective and creative storytelling from director Nick Waggoner. Well, this morning's "teaser trailer" from Nick was just that; a sneak peak at what we have on deck for his upcoming feature film, premiere and tour, kicking-off September 2009.
Since the day Nick landed, he's been working with Patagonia Japan Ambassadors, Taro Tamai and Yutaka Takanashi, who have been giving him and the rest of the crew an authentic experience and sharing the local ski knowledge. Taro's fresh perspective on "snowsurfing" has led him to build his own boards, GemTem Stick, enabling him to share his experience with those willing to take the ride.
Only one month into a winter long project, with many characters, interviews, seasons and pow-days still to shoot, I think we've seen just the tip of the iceberg … or the "head out of the snow", on what we can expect from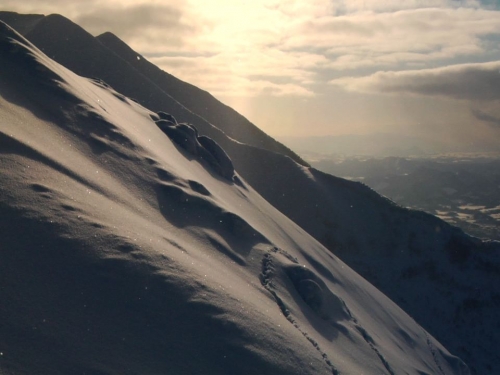 [7am on the summit of Iwanopurri. Photo © Sweetgrass Productions]
Yes, it is finally sunny now, and for the first time there doesn't appear to be a sliver of snow in the sky. Hard to believe, considering that the past few days have held some of the best powder riding of my life. The snow has been filthily deep, soft, bottomless. Time after time I have cursed every god-forsaken flake as I've wallowed through it in a desperate, hopeless attempt to hike just one foot higher with 50 pounds of camera gear pulling me in the other direction. And time after time, I've forgotten those hours lost in mindless trudging as, in a few endless seconds, I carve back down through hopelessly perfect pow. I have seen too-deep powder, but it exists only on the way up.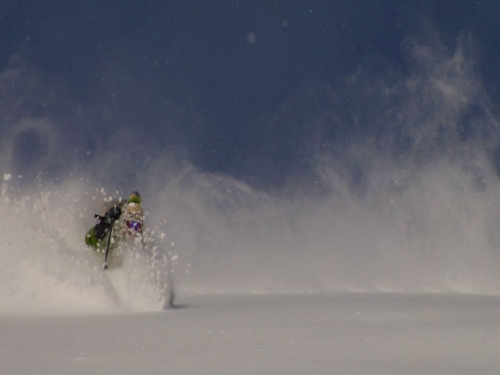 [Nick staying sane. Photo © Sweetgrass Productions]
Needless to say, we've been feverishly trying to capture these wonderful conditions while they last. Relatively stable snow means we've been able to get on some pretty steep slopes to shoot faceshot after snowsurfing faceshot. It's been a bit of a hassle in some cases, as there is so much snow that the riders become completely lost in snow, which can be bad because it means A) we can't see them to track them with the camera and B) they can't see where they're going either, so they plow forward hoping for the best, and sometimes run head-on into Japan's infamous trees and shrubbery. No injuries as of yet. We are still shooting more or less exclusively with Taro Tamai and his Gentemstick crew, and the spray those huge swallow-tail boards send up is… epic, to be sure. One of the riders is starting up a new company that produces hand-crafted Ukita boards, which are similar to noboards (sort of a short, bindingless snowboard) with wooden pegs that you stand on to (hopefully) hold you on the board. They are beautiful rides, each ornately hand-hewn from a single piece of wood, and often full of incredible carved designs, which must have taken untold hours to produce. We went out the other day with two riders, each of them with both a Gentemstick and a Yukiita strapped to their backpacks. I worry that some readers will be inclined to think these Gentemsticks and Yukiitas are typical snowboards, and perhaps some skiers, so dedicated to their own art and perhaps holding a latent animosity to snowboarding (you know who you are!), will feel inclined to brush them off. If that's the case, I think you'll be quite surprised come September– these rides are more surfboard than snowboard, and the unique beauty of each is seen in the focus on each individual turn. No flashy-graphics-twin-tip-doublebackflip-ultralightweight package of boiled-down multimilliondollar snowtech research here. Just soul, and the art of moving powder. It's legitimate, or as our beloved Japanese native translator, friend, and overall helper sometimes mistakes, "rhegit". Love you, Yukes.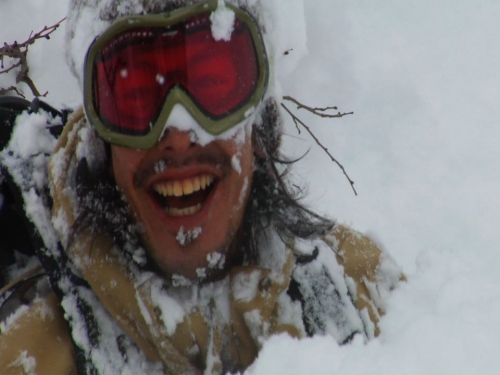 [Atsuchi, the Yukiita maestro. Photo © Sweetgrass Productions]
It finally cleared up today, and although we have had patches of blue poking in over the past few days, today is our first bluebird day, sure to be epic for shooting. A breath of fresh air from the constant onslought of snow, no doubt. I find myself, however, inside recuperating my soreness from the past few days of hiking. The reason for this is that we now have three cameramen in-house here in Kutchan, as our old friend Ian Hock showed up from New York last night, bearing four bags full of camera gear, and goodies from the states for all. Anyone who has shot skiing knows that generally, the smaller the group on the mountain the better, and so three cameramen, one translator, and up to four riders (not to mention our in-house photographer, Michael Brown, coming on the 11th) can get to be exceptionally crowded, and one person moving slowly can slow down the entire operation dramatically. Just managing the dynamics of such a large group all moving at once on a 35 degree slope in neck-deep powder is an operation unto itself, and often impossible. This is especially true for our style of filmmaking, which requires painstakingly set-up, tripod-mandatory stylistic shots… there are no point-and-shoot, quick-and-dirty, quantity-over-quality shaky handycam antics. Imagine this conversation, occurring after everyone is finally set up, the line has been decided upon, and all parties are (supposedly) ready to go.  Imagine all voices rattling out over cheap, hardly decipherable radios, or, if the batteries have died by this point, yelled at the top of all lungs:
-Rider: (in Japanese): "Everyone Ready?"
-Yuki: "Everyone ready?"
-Nick: "No hold on…"
-Yuki: (in Japanese): "Hold on a second!"
-Photographer: "What are you doing, hurry up!"
-Nick: "Ready!"
-Yuki: "Everyone else ready?"
-Ian: "Wait, we told him to go to the left of that tree, right?"
-Nick: "No, dude, to the right… right? [five minutes of squabble between filmers, translator, rider]"
-Photographer: "Who cares, just have him ride it."
-Ian: "Left it is."
-Yuki: (in Japanese): "Ok, go left."
-Rider: (in Japanese): "Of the tree?"
-Yuki: (in Japanese): "No, the bush…"
-Rider: (in Japanese): "Oh, I've been talking about the tree… ok, fine, sure…. I'm… ready?"
Yuki: "Everybody ready?"
-Nick: "Ready!"
-Ian: "Ready!"
-Mike: "Ready!"
-Ben: "Let me turn the camera back on, didn't want the battery to die… Ready!"
-Yuki: (in Japanese): "We're all ready, give 'er!"
-Rider: "…dropping in five, four…."
-Ben: "Hold up, there's two inches of snow built up on my lens since we started this phone-tag mania, let me clean it."
-Yuki: (in Japanese) "Stop! Stop! Hold up!"
-Rider: (in unintelligible Japanese muttering) "I am going to hack your camera gear to pieces with my board and destroy your slow-ass souls in a wave of kamikazepow destruction!"
-Repeat until the shot finally happens, hoping the rider is able to figure out the complicated line that we have explained to Yuki in english, which he has translated to the rider in Japanese, (hard left at that one snow ripple, big slash on skier's right wall right below that one big tree, no the other one, yeah, then point it towards the camera, oh yeah there's three cameras, point it for the middle one, oh but you don't know which is the middle one because you're behind a rollover and can't see a single turn of the line we're all talking about at once. And that's assuming all the filmers have the same line in mind, and aren't looking at completely differen markers…) So all of us are sitting there knowing that any single element lost in translation between any of the 6+ people involved in this drama will mean a lost shot. Go through this process, then repeat with every other rider at the top, as everyone else sits shivering below.
Total time spent shooting one powder line: ~45 minutes, at least.
Clearly this is an exaggerated situation, but it is not at all beyond the realm of reason, and so for most of the season we will be splitting into two crews, taking out different riders on different days– group 1 with two filmers and two riders; and group 2 with 1 filmer, 1 photographer, and two riders; and Yuki our translator going with whichever group is shooting primarily Japanese athletes. Having a compact group will really speed things up, and get more shots. This is in sharp contrast to last year, when we often had only one camera, with two at the most, and only an infrequent photographer, and so it will be an interesting process to learn how to best balance our players across the board.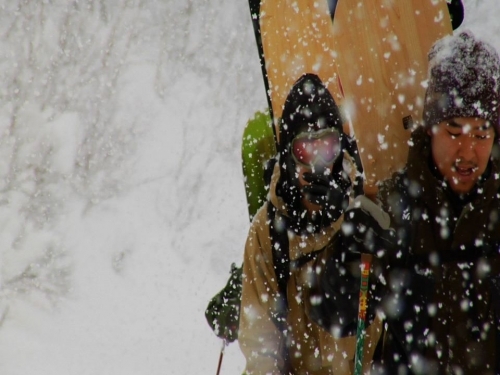 [The start of an ungodly deep day. Photo © Sweetgrass Productions]
Anyway, I was diverted– here I  sit inside on a bluebird day, because most of the Gentem crew is busy shooting stills with Yoichi Watanabe, a local legend of a filmmaker and photographer, creator of the popular Ruwe series of of ski films (and a pro rider himself, to boot). Although we were invited to shoot video alongside them, having four crewmembers added to an already large mix (4 riders and 1 photographer) would be total overkill, and the whole mess would inevitably bog down. Shooting photos almost always moves much faster than shooting video anyway, as you don't have to go through such troubles as setting up a tripod and planning out each camera move. For that reason, it's often hard for large mixed video/photo groups to work quickly and efficiently. As such, Nick has taken Ian up to show him the ropes of shooting in deep powder, with only Ian's one camera between the two of them. Ian comes from a more narrative film background background, and has never shot skiing, but he has a fantastic eye, so I'm excited to see what he brings back today… hopefully they are able to keep up with Yoichi! As the Gentem clan is occupied and we have no other riders to shoot at the moment, group 2 is free to enjoy a rare and beautiful day off to relate the whole convoluted mess to you.
Days such as this probably won't be popping up again anytime soon, though, as things are beginning to pick up steam around here, and soon we should have enough riders to put the 2-group plan into motion. Our first athlete from the states, Adam Mosynski, arrives in Sapporo tonight, and by the 13th we will probably have been slowly overwhelmed by the arrivals of our photographer Mike, two friends from biglines.com, and finally skiers Caroline Gleich and Forest Coots, bringing the number of bodies in our two small 3-bed-each apartments to… 10? Coziness awaits on the Sweetgrass floor, though. We made a trip to the hardware store the other day and bought nearly a dozen huge pillow mats as bedding for our incoming cast. Time will tell as to their effectiveness, as no one has slept  on them just yet, but we are keeping our fingers tightly crossed. Any self-respecting ski-bum has hopefully slept on cold concrete at some point in their life, so anything we come up with in the relative warmth of Kutchan should seem splendid by comparison.
We have also been checking out portable generators at the hardware store, in hopes of powering the 3000 watts of portable lights that Ian arrived with last night… we plan on manhandling the whole kit-and-kaboodle into the backcountry off the road, and producing the night-time powder-spray shots that you have seen only in your deepest dreams… perfect arcs of snow exploding into hard beams of light and spilling slowly into pitch darkness… it will be a totally new aspect of shooting for us to tackle, and we are most excited, and have been feverishly eyeing up any slope that seems halfway capable of having a 150-lb+ generator hauled up its face. It will certainly be a pain in the ass, but hopefully a very rewarding one. Perhaps we shall finally make our generator-purchase this evening, and hopefully have some nighttime shred pics or screenshots to post here shortly.
Speaking of which, (my apologies for what may be turning into my longest blog ever, but there is much awesomeness going on and so rarely a time when I am not too exhausted/hungry/generally confused to relate it) the night riding at Niseko Grand Hirafu resort is, perhaps, the best I've ever seen. On evenings where I haven't been too exhausted, and need a break from filming, I've tried to go up and catch the last few hours of night skiing under their endless lights, and every time I've been there, I've been totally blown away. My favorite line goes directly under the lift the entire way down, and possesses cliffs, well-spaced trees, incredible banks, tree drops, 40+ degree steeps, catwalk launches, tree-stump natural kickers, and even a set of mini-spine-esque features. Not to mention neck-deep blower powder in every turn and landing. All right under the lift, and all lit up for perfect visibility. And the best part? No one seems to ski it! This sort of thing would be tracked out in a hot minute in the states, being right under the lift, but every time I've been there,   I've repeatedly lapped the run over and over until closing time, getting more powder and airtime in one run than I've ever gotten at my home mountain of Alyeska… and there is simply no one ever there. It's absolutely heavenly. Every time I go up I tell myself that I have to expand and check out the other areas of the nightriding (there is an exceptionally massive area that is lit), but as of yet its the only run I've done, because I just can't help myself from riding it again and again and again. Of course, with all that drooling exposition, don't expect me to tell you where it is!
Anyway, there is of course more, but this blog is once again disgustingly long and so I'll be off. Expect more soon, as athletes begin rolling in and laying it down. Quality pictures should come in mass as well, once our final crewmate Mike comes with his camera (not-point-and-shoot, like all previous bogus pics). Stay tuned.
– Ben Sturgulewski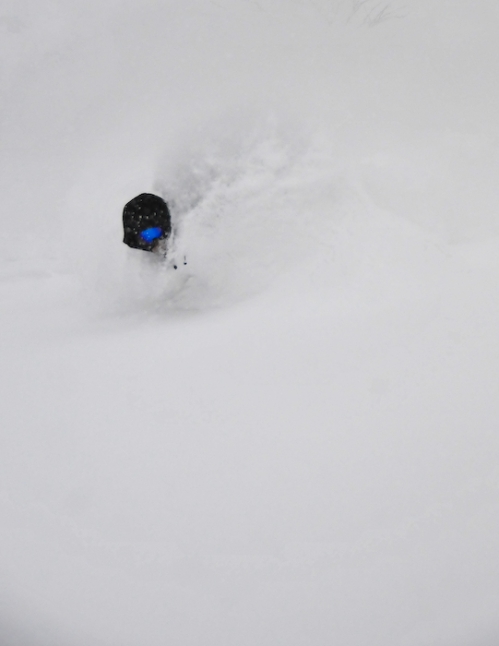 [Knees and Toes – Out. Head and Shoulders – In. Yuki Miyazaki ripping up the deep end. Photo © Mikah Brown]