Listen to "Live from 5Point Vol. 3" Dirtbag Diaries Podcast Episode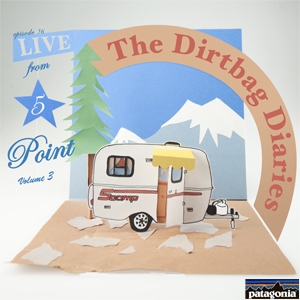 5Point Film Festival invited us back for another live Dirtbag Diaries. And of course, we said, "Yes!" We invited four people up on stage to to talk about a moment in their lives when it all seemed to go wrong. And where those moments have led them, as the effects have rippled through their lives. Today we present the first two stories. At 23, free skier Josh Dueck overshot the landing of a jump and fell 100 feet out of the air. He returned to skiing the following winter in a sit ski. And he rips! You owe it to yourself to watch The Freedom Chair and Josh hucking a backflip.
Kayaker Chris Korbulic was nearing the end of a 7 week trip through central Africa with Ben Stookesberry and Hendri Coetzee. After paddling the difficult stretch of the Lacuga River, a crocodile pulled Hendri underwater. The film Kadoma (full version available on iTunes) tells the story of their trip. Chris has continued to return to Africa pursuing the rivers that brought him together with Hendri.

Listen to "Live From 5Point Vol. 3"
(mp3 – right-click to download – contains some expletives)
Visit dirtbagdiaries.com for links to download the music from "Live From 5Point Vol. 3" or to hear past episodes of the podcast. You can subscribe to the show via iTunes and RSS, or connect with the Dirtbag Diaries community on Facebook and Twitter.
Graphic by Walker Cahall