Christmas Crack Climbing on St. Exupery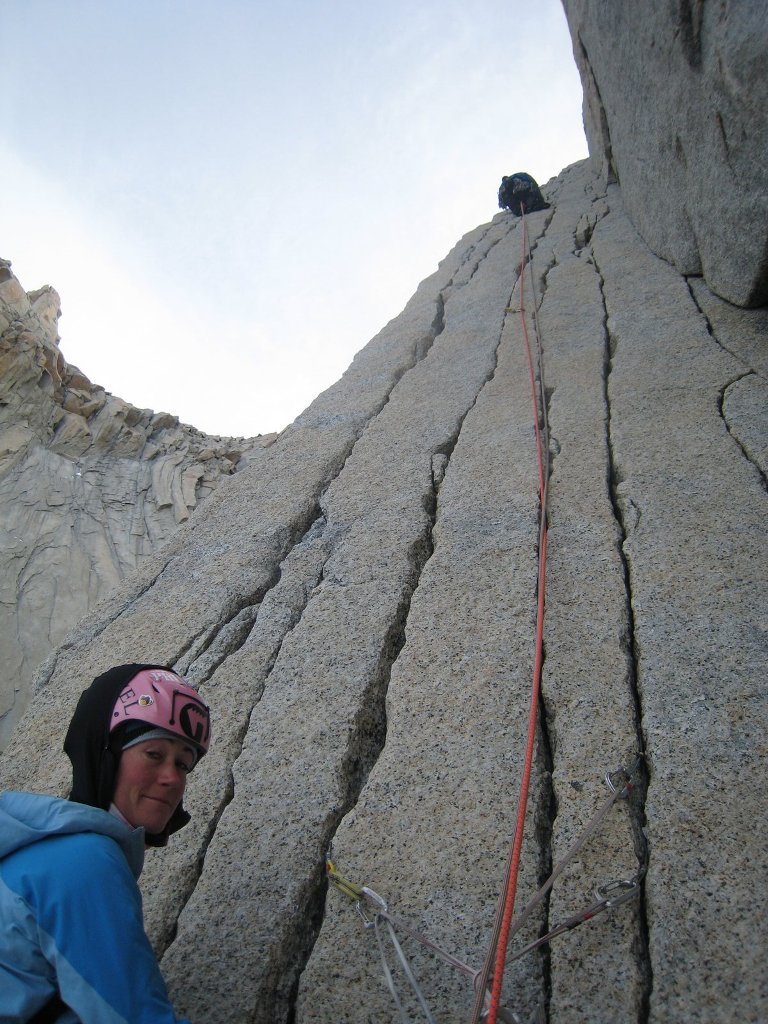 I think that Christmas changes lots over time. From the days as a little kid, opening each door of an advent calendar, and leaving chocolate chip cookies (which my mom definitely ate!!) and carrots for Santa and his reindeer to keep him going to each good little boy's and girl's house delivering treats, writing Christmas wish lists, hanging lights, and spending time with family and friends (this year I sadly didn't get to ring in Christmas with my family, but I carried them in spirit on Christmas day, and thank them for their support, encouragement and understanding of all of my adventures) to what we dream of as young adults.
[Belaying Kirsten Kremer on Christmas Eve. St. Exupery, Patagonia, Argentina. Photo: Maxime Turgeon.]
Santa did show up this year though. I guess I was a good enough girl not to get coal, or, in Patagonia, it would be storms. My letter to Santa wished for sunshine, clear skies, beautiful hand cracks, granite spires, and a summit with some of my favorite people. It all came true. A week of rain and grey skies parted just before Christmas. We packed our bags and headed the seven hours back up the trail to high camp, Maxime, Kirsten Kremer and myself. The day was sunny and clear, a bit windy, but nice by Patagonian standards. We made it to camp around 3pm, set up tents, packed our bags and hoped the forecast was right.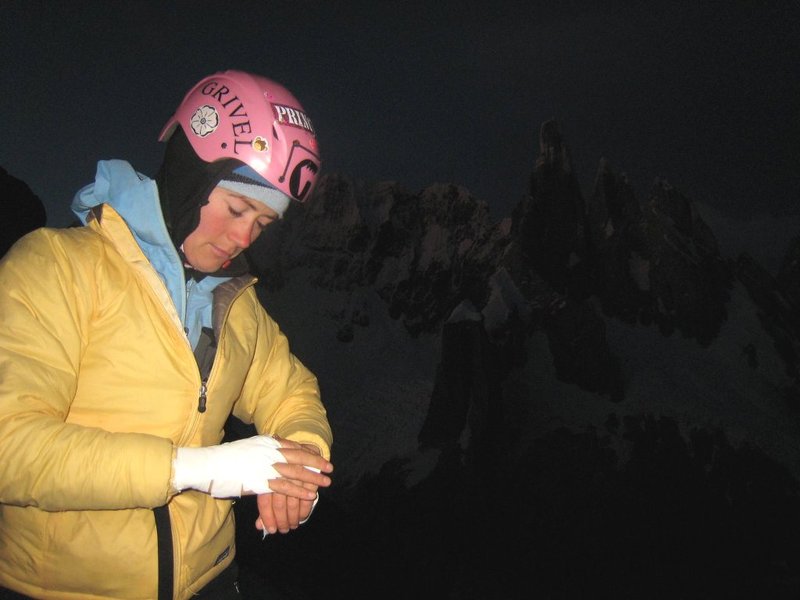 The alarm rang at midnight on the morning of Christmas Eve. We brewed a hot tea, choked down some oatmeal and set off into the warm, calm, starry night to St. Exupery and about a 20-pitch route called Ciara de Luna, a striking Granite spire that rises well above Raphael, the peak I climbed earlier in the trip, with a beautiful black dike stretched across its girdle.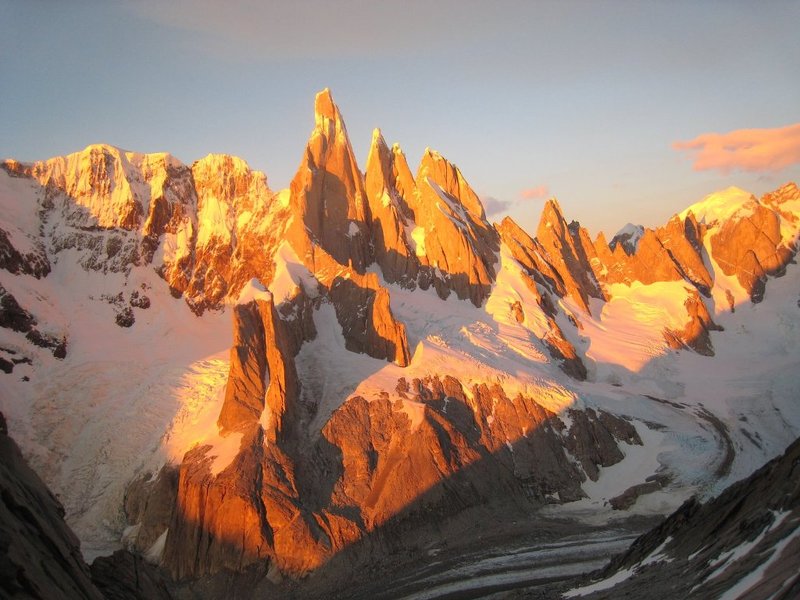 We hiked beneath the full moon which wrapped around the edges of the peaks lighting the valley and our way. We had just a small route-finding debacle, though we didn't lose much time and made it to the base of the route right when the sun began to spill across the horizon and dip the Torres, the peaks on the other side of the valley, in a pink alpenglow.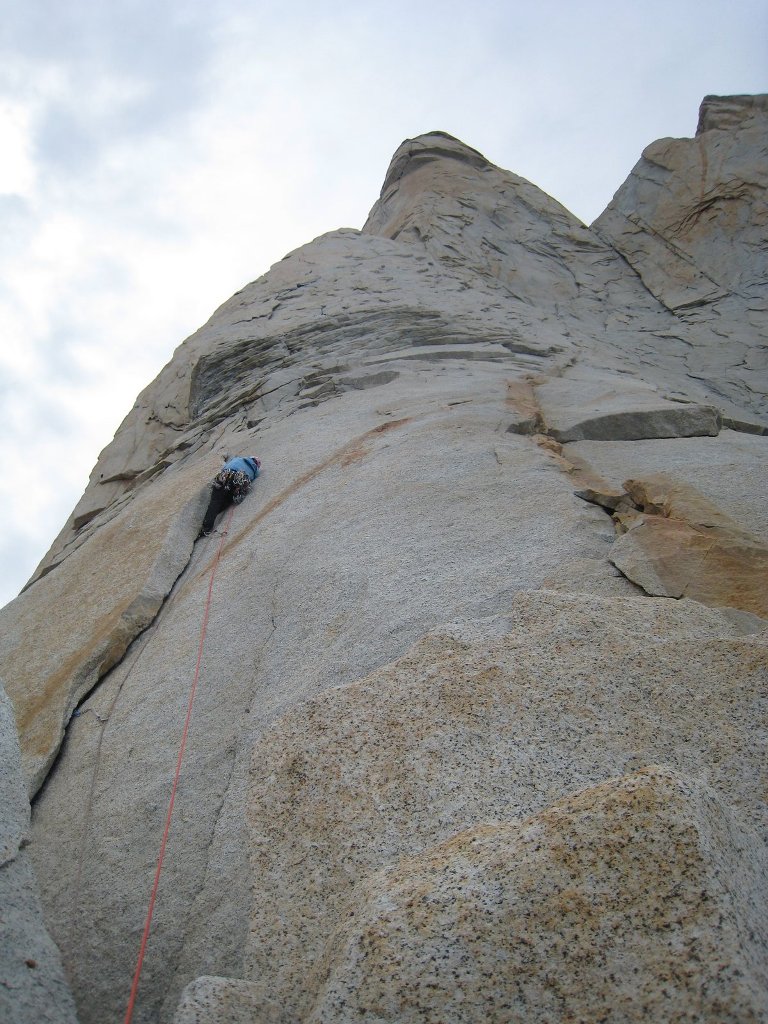 Kremer had already been on most of the route, so route finding was easy. Pitch after pitch was a glorious gift of the most perfect hand cracks, laybacks, and clean granite rock. The kind that makes my stomach flip with butterflies at how great it feels on my finger tips. We made good time, taking turns leading every few pitches. Climbing in threes is great because at the belays there is time for giggles, stories, and jokes … or if you're climbing with your boyfriend, a few cheeky kisses, he, he, he.
Progress was good, but the afternoon brought unforecasted winds despite the deep blue skies. Little by little we made it closer and closer to the top. The last few pitches were climbed with billowing jackets full of wind, ropes that were floating in huge arches towards the sky from belayer to climber, and gusts that attempted to knock us off huge hand holds.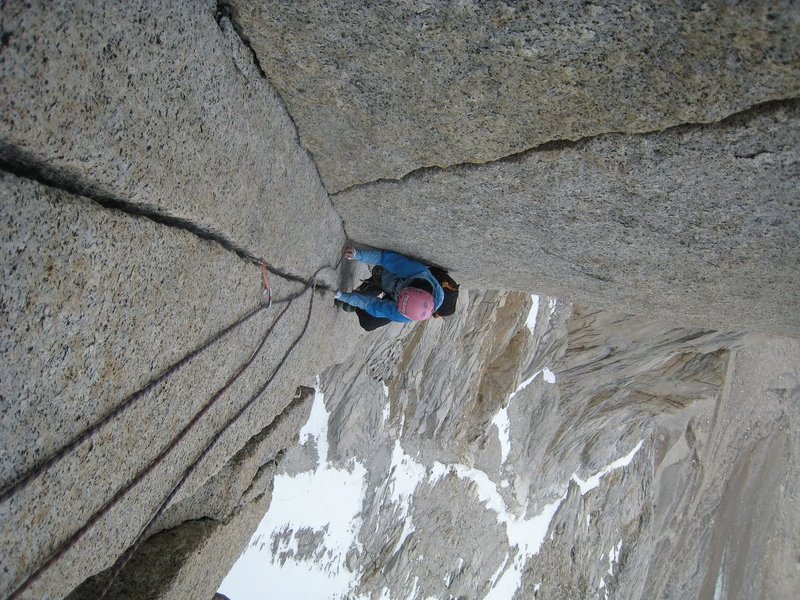 Kremer and I followed Max up the last pitch (he was our knight in shining armor, our rope gun in super strong winds) where the two of us climbed side by side, giggling at how tired we were, and how the wind might just be strong enough to knock us off. We crossed our fingers that Max wasn't shivering in the bitter winds, and popped our heads onto the summit to find him tucked in a little nook with no wind, smiling.
We dipped our heads into the winds shooting straight up from the front face and were happy that our descent was down the other side. We drank in the views, laughed at the maddening wind, and relished a summit with close friends. It was the most amazing Christmas Eve I have ever had. I thought of all my friends and family and wished they could have been there with us.
It was 6:30pm when we decided it was time to go. The descent was long and the wind would likely make us work for it every step of the way. Max yelled, "No free summits in Patagonia" and we started down. The first two rappels gave us a respite from the wind, until we wrapped back down the main face. I watched the ropes as we threw them down, immediately ripple back up in the wind straight above our heads. We had to rappel with only one rope, so that if it got stuck when pulling we could climb back up and free it. The rope got stuck four times. Finally, on the steep wall the wind started to subside.
We made it to the base of the wall without too much drama, but the couloir leading back to our packs was icier than we thought and we were in little slippery climbing shoes with no boots, crampons or axes. Darkness fell just as we got to the couloir and we spent a few more hours rappelling down by the light of our headlamps to the ledges where our packs were. Hungry and tired, dehydrated, and ready for camp, we all laughed in a Merry Christmas as it was well past midnight. It took us another two and a half hours to get back to camp through the dark, bouldery descent. We made it home to our tents just as a tip of rose color tickled the scattered clouds and shadows of the peaks. We tried to stay up for the sunrise but we all fell fast asleep.
On Christmas morning, we woke leisurely to steaming hot tents baking in the sun and clear skies. Our minds wished us atop another peak, but our bodies ached from yesterday's adventures. Achy arms, raw fingers, tired eyes, and exhausted bodies allowed us to relish the unusually sunny, hot, calm day in camp, surrounded by granite Christmas trees and the gift of just being there. A few of us got sunburned (hmmm, that would be me). We drank ample amounts of coffee, laughed with friends of all nationalities, and thought of our other friends out on Christmas day adventures (Colin Haley and Carsten climbed a new route on Desmochada, Sam and Rob climbed De La S, and Crystal and her partner maybe a new route, on Bifida). Our Christmas feast was dried beef tortellinis, sauce from a bag, and sweaty cheese, but damn it tasted good. We slept from 6 pm until the morning. Woke leisurely before the storm clouds rolled in, packed our bags, and swilled Ballantine's Scotch Whiskey for breakfast. HA!!
On that morning we celebrated Christmas as a family, a big hodge podge climbing family, with french toast, fruits, and honey butter. It wasn't the same as my mom's pan full of bacon, and pancakes cooked in bacon grease, but everyone was happy. That night we had a huge asada, a big beef barbeque, for Christmas dinner thanks to our wonderful hostel owner, Eduardo.
[Photos: Taping up in the dark for Christmas cracks to stuff my hands into. Photo: Maxime Turgeon. Sunrise on Christmas Eve. Photo: Zoe Hart. Me leading a fun hand crack about halfway up St. Exupery. Photo: Maxime Turgeon. So many good cracks to choose from. Photo: Maxime Turgeon.]