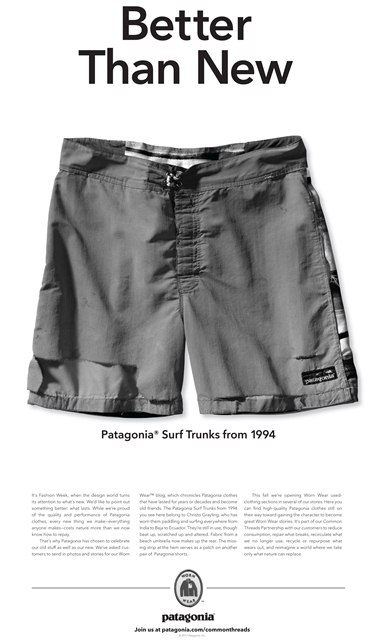 Today's advertisement appearing in The New York Times:
It's Fashion Week, when the design world turns its attention to what's new. We'd like to point out something better: what lasts. While we're proud of the quality and performance of Patagonia clothes, every new thing we make – everything anyone makes – costs nature more than we now know how to repay.
That's why Patagonia has chosen to celebrate our old stuff as well as our new. We've asked customers to send in photos and stories for our Worn Wear blog, which chronicles Patagonia clothes that have lasted for years or decades and become old friends. The Patagonia Surf Trunks from 1994 you see here belong to Christo Grayling, who has worn them paddling and surfing everywhere from India to Baja to Ecuador. They're still in use, though beat up, scratched up and altered. Fabric from a beach umbrella now makes up the rear. The missing strip at the hem serves as a patch on another pair of Patagonia shorts.
This fall we're opening Worn Wear used-clothing sections in several of our stores. Here you can find high-quality Patagonia clothes still on their way toward gaining the character to become great Worn Wear stories. It's part of our Common Threads Partnership with our customers to reduce consumption, repair what breaks, recirculate what we no longer use, recycle or repurpose what wears out, and reimagine a world where we take only what nature can replace.
Join us at www.patagonia.com/commonthreads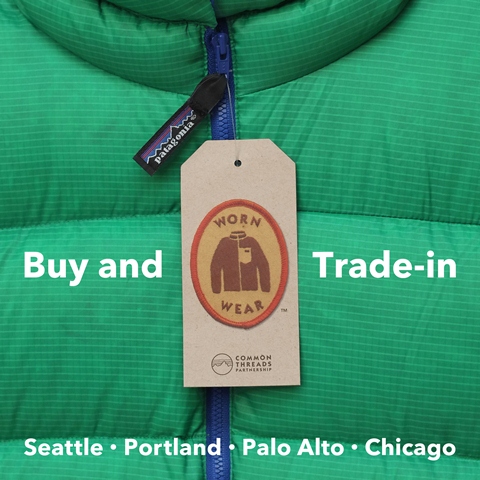 Worn Wear used-clothing sections will be opening this Sunday, September 15, 2013, at  these Patagonia stores: Seattle, Palo Alto, Portland and Chicago. Customers who purchase used clothing from these stores will be given a free Worn Wear patch (while supplies last).
The same stores will also buy back your used (in good condition) Patagonia shells, fleece, down and synthetic insulation, and ski and alpine pants.
If there's not a participating Patagonia store in your area, you can also buy and sell used Patagonia clothing on Ebay.
Have a good story about a beloved piece of Patagonia clothing? Submit today at the Worn Wear blog.