Steve House's K6 Attempt Update: Airfare and Intervals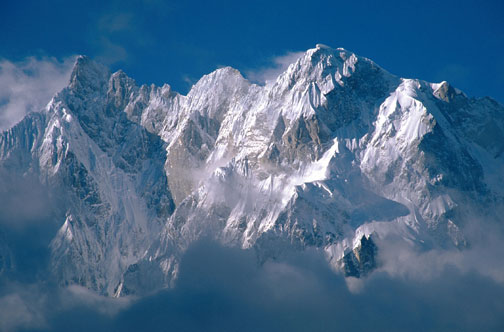 You're truly committed once you buy the plane ticket. And Friday (5/18) I bought my ticket for this summer's expedition to K6 in north-eastern Pakistan and my mental state instantly changed. Commitment always precipitates realizations. I have a lot of things I want to do before I go; not the least of which is to be trained and fit. So while I have been training Long-Slow-Distance (LSD refers to this type of training rather that the tabs someone is taking in order to name our color palette. Jackaranda? WTF?), before this past weekend I had yet to incorporate interval training into this year's fitness program.
For those of you who think serious athletes are simply obsessive-compulsives waiting for a diagnosis, here is a bit of training theory. Eight-twelve months before you want to hit your performance peak start doing a lot of volume (read: time) and then, as you approach your d-day, incorporate shorter bursts of high-output work. These short bursts, intervals, cause your aerobic capacity to skyrocket. The catch is that the benefit you realize from the intervals is directly proportional to the quality and volume of your LSD. So in the course of my typical 10-month training cycle I do 6-7 months of LSD-only then 3-4 months of diminishing LSD and increasing interval work.
Anyone who has ever sprinted until their legs burst into flames and their lungs felt like they were about to invert onto their handlebars knows what interval training feels like. It hurts. It burns. It rules you. It breaks you down until you feel like crumpling to the ground and crying for your mama. Sweet, sweet pain. Saturday did not disappoint…
I set out to do three 6 minute zone 3+ intervals. Meaning, that I would run uphill for 6 minutes at a heart rate close to, but not to exceed, 164 beats per minute — the top of my zone 3. (I can explain the heart rate zones if anyone cares, but it's kind of techy.) Now understand that by the time July rolls around I'll be doing five 45-minute efforts at this level of exertion. So it shouldn't be that big a deal to do 3×6's, no?
After a good warm up I kicked off the first interval with enthusiasm. I sprinted up the hill, aiming to hit the 164 mark quickly as to maximize my time at full exertion. My chest was heaving. My legs started to feel the low-burn. I concentrated on keeping the level of pressure on myself consistent. Too slow and I am cheating myself of an opportunity to get stronger. Too high and I can blow a gasket; risking overtraining and ultimate decline. I am concentrating hard and figure I'm close to six minutes. I glance at my watch: 2:24. Not even halfway! My legs instantly gain forty pounds and my enthusiasm wrinkles. I drop off pace slightly; dipping deep into the well of motivation to stay above 160 beats per minute. I visualize summit day on K6 and in my fantasy I feel strong and move swiftly. When the six-minute alarm finally chimes I stop, spin around to face downhill, and stand there.
Momentum is one of the most powerful tools an athlete in training has. I never allow myself to completely stop during training. Stop and you might think. Think and you might realize how much you hurt. We're genetically programmed to avoid discomfort; half of the world-wide-Americanized-industrial complex is based on this fact. So without thinking, just sensing the danger, I kick off downhill. Launching into the three-minute recovery before another alarm will sound and send me back up the hill and into the world of the heaving and the burn.
I almost don't make it through the second one. I glance at the watch at 54 seconds. Bad idea. For five minutes every extension, every push of my body up the hill feels like another step at 8,000 meters. Painful and slow. I fight to stay above 160 bpm and never bump against 164. I glance at my watch at 5:57 and drop to a dead-stop right there. That's something I've never done: stopped before the time. I'm not cheating anyone but myself here and I have plenty of time, three minutes, to beat myself up about it. One universal truth about anybody who is serious about anything — serious being the ability to give some activity (climbing, making money, raising children, whatever) an unreasonably disproportionate importance in their personal universe — all of us are super hard on ourselves. No mistake is forgiven without a blood-drawing dose of self-flagellation. In fact no one can be harder on us than we are on ourselves. The view from the outside is too reasonable to allow such limitless criticism. Three seconds doesn't seem like much, especially since the six-minute timeframe is somewhat arbitrary in the first place. But I lambast myself for weakness, spinelessness, and for having once highlighted my hair, every second of those three minutes of treading back down the hill.
Then the chime rings. I spin and start up the hill and before completing my first stride I have a great thought: Last one! Now I feel light with the pain. The burning lactate in my legs fuels me. I peg the heart-rate monitor at 164 and it stays right there. I never look at the watch. I feel weak, yet powerful. I feel tired, yet alert. I know pain and I know that I'm stronger than it is. And at six minutes the alarm rings. I keep striding up the hill, counting out the three seconds I skipped out on earlier. About five strides more and just below the hilltop I stop, spin around and cheerfully start back down through the juniper and bunchgrass.
Starting is always the hardest part. And re-introducing intervals was painful and difficult, but it puts me one step closer to standing on that summit in Pakistan. Commitment solidifies my goals. Training is a means to an end: being strong and capable of climbing the world's biggest, raddest peaks. Plus training is a good drug, and like any good drug, now I feel no pain.
—————————————————————————————
Visit Patagonia.com for more on Steve House, including field reports, photos and gear videos from his ascent of the Rupal Face with Vince Anderson.