Letter from Tuscany (Where We Get Our Used Wool)
She went to Italy to see how recycled wool is made and discovered that everything has an impact, including recycled.
Silvia Micheloni cuts the plastic straps binding a bale of compacted used wool clothes that have already been sorted by color—today, she's working through the greens. As she snips the last strap, dark green fabric of different shapes and sizes spills onto the factory floor. Her son Gabriele sprays them with water to prevent static, then picks up the pile with an electric forklift and drops it onto a conveyer belt, where a guillotine cuts everything into smaller and smaller pieces until they are the size of a handkerchief. The heavy smell of grease or oil needed to run and maintain all the machinery overwhelms my senses.
I'm in the middle of Prato, a region in the north of Tuscany, Italy, to learn how recycled wool is made. Our partners, the Calamai family, work with the Lanificio Becagli shredding facility and others to turn used wool garments into Patagonia's Woolyester Fleece, made by spinning postconsumer recycled wool yarn with a featherlight micropolyester. Postconsumer is recycling jargon for any finished product that has previously been used then diverted from landfills at the end of its life to create another product. Think of any piece of clothing that you've thrown in a designated textile-collection bin.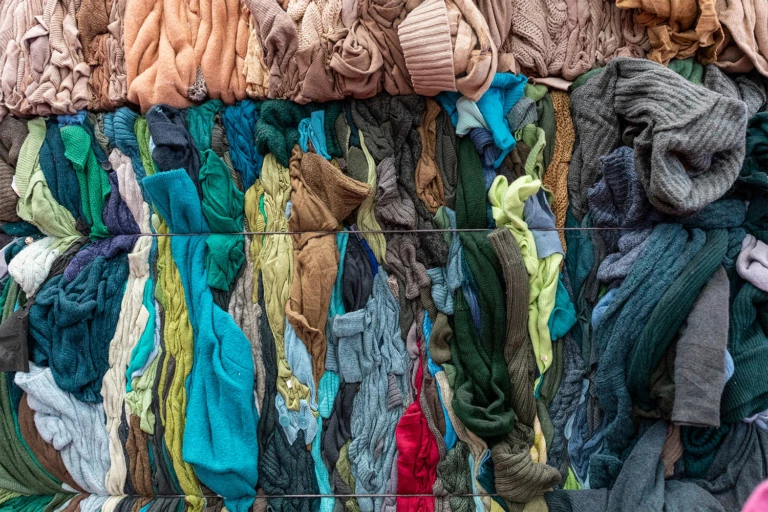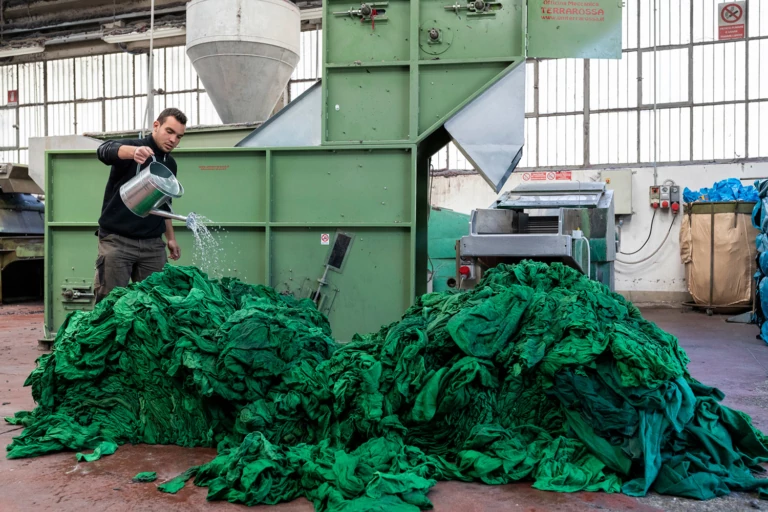 There are two sets of shredding machines here, and the noise they make as they cut through old sweaters makes conversation nearly impossible, even from a foot apart. This doesn't discourage Andrea, a cigar aficionado and my guide and wool expert. He's intent on explaining every bit of the process that goes into recycling wool. "A REVOLUTIONARY FRENCH INVENTION!" he shouts, pointing to the guillotine. Andrea explains how the sorted clothes are carried on a conveyor belt, first through a series of blades, or guillotines, then through two cylinders—one grabs, another one pulls—to chop the fabrics even finer.
Outside the factory walls, quiet terraced hills surround one of the biggest industrial districts in Europe. The district is made up of a network of businesses, factories, mills and shipping facilities that all play a part in the making and selling of recycled fabrics. Beyond these hills, thousands of other manufacturers in the world make up the supply chain—a term used to describe everything from the crops grown to make yarn and the sewing of fabric into garments to the shipping of finished clothes to warehouses, stores and the customer's front porch—that turns waste into recycled products. It is a global industrial process that carries its own footprint, something I hadn't fully grasped until I saw for myself how recycled fabrics are made.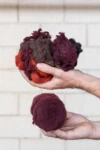 "Industrial" is a term often heard in the context of growing food or raising animals for meat but not so much in reference to the clothing business. Yet, making and selling clothes is very industrial—as a whole, the process puts approximately 1.2 billion tons of warming greenhouse gases into the air we breathe every year, contributing to the climate crisis. According to a 2017 report from the Ellen MacArthur Foundation, the clothing industry is responsible for as many emissions as international flights and maritime shipping combined. Why? Because most clothing is manufactured in China, India and Bangladesh in factories that rely heavily on energy from fossil fuels, specifically coal-fired power plants.
All virgin materials, natural or synthetic, have some type of impact on people and the planet. Virgin wool uses energy, water and chemicals to convert sheep fleece into fabric. Nylon is a plastic derived from petroleum, which means making clothes from virgin nylon relies on extracting fossil fuels from the ground. Polyester, now used in 60 percent of the world's garments, is also derived from oil. Making clothes from recycled materials is Patagonia's way of reducing that impact.
Patagonia first made clothes from recycled materials in 1996 by melting used soda bottles and turning them into recycled polyester for our Synchilla® fleece. Back then, we couldn't get the color out of the Sprite bottles we used, and all of the recycled polyester fleece turned out the same light green color. We've come a long way in the past two decades, and this season, 72 percent of Patagonia products (by weight) are made with recycled materials—recycled wool, recycled down, recycled cotton, recycled polyester, recycled nylon and recycled cashmere.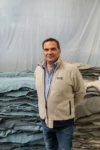 Using recycled fabrics and materials helps to promote new recycling streams for clothing that is no longer wearable and reduces the carbon footprint of a product associated with the extraction of raw materials. By using recycled materials in one year, Patagonia saved 20,000 tons of CO2e compared to using virgin materials, or enough to cover the energy use for one year of roughly 2,400 US homes, according to the EPA emissions calculator. However, there's lots of room for improvement. The recycling rate across the clothing industry as a whole is a measly 15 percent. That number is even lower if you look at how much of the material used to produce clothing is recycled into new clothing—less than one percent..
The Calamai family has been collecting used wool garments since 1878, more than a century before the word "sustainable" became mainstream.
"My great-grandfather built our first wool factory near the train station and traveled with his wagon to rich European countries in search of good-quality wool scraps," says Bernardo Calamai who leads the Calamai family business. After the first World War, Bernardo tells me, much of the wool they collected came from the United States. "We would get scraps from around the world, but the best quality came from California, which was very rich at the time," says Bernardo.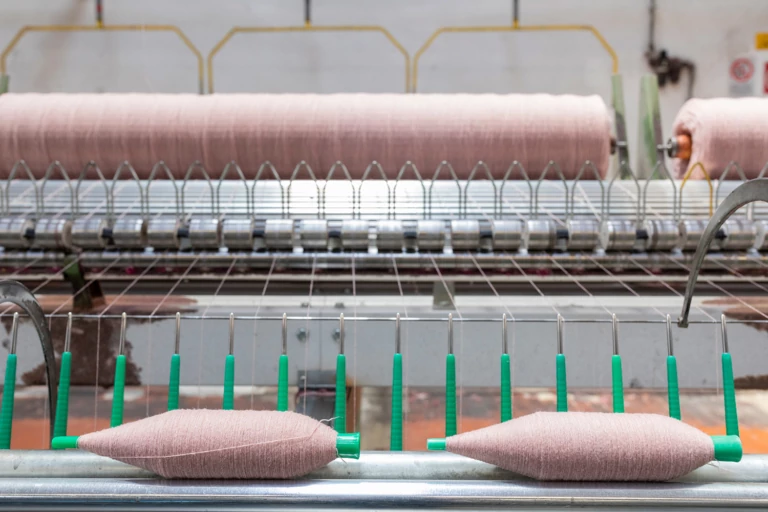 Back then, the cenciaiolos, workers who would hand select the scraps and sort them by material type and color, would find all sorts of objects inside the garments coming from the US, including hidden treasures. Once, a cenciaiolo found six million Italian lira inside a sleeve. "Now, all they find is pocket change," says Bernardo laughing.
These days, the Calamai family collects unwanted or used wool clothes from around the world, mostly from India, the US and Italy. As the clothes make their way from waste to their second life, they pass through a network of highly specialized businesses that sort, shred, spin, weave and finish the final fabric, which then gets made into clothing and shipped around the world again.
It is a remarkable and intricate process. Beyond recycled wool, I saw how scraps of cashmere from the factory floor get turned into recycled cashmere yarn at other facilities in Prato and how used carpets and salvaged fishing nets break down to become recycled nylon in Slovenia.
As I took notes and learned from experts, I kept going back to this quote from philosopher John Heil: "I take as my starting point the following assertion: to see something is to acquire (in a certain way perhaps) a belief." Before Prato, my belief about the recycling process was based on magical thinking. I thought of the piles of clothes that end up in the landfill or the interminable racks of unwanted oversized T-shirts at Goodwill stores or the purple rivers next to dyeing factories. I wished recycling would take all of that and find new life for it. It took an Italian cigar connoisseur and wool technician and a week of seeing dozens of factories to wake me up to the realization that everything has an impact, including recycled wool.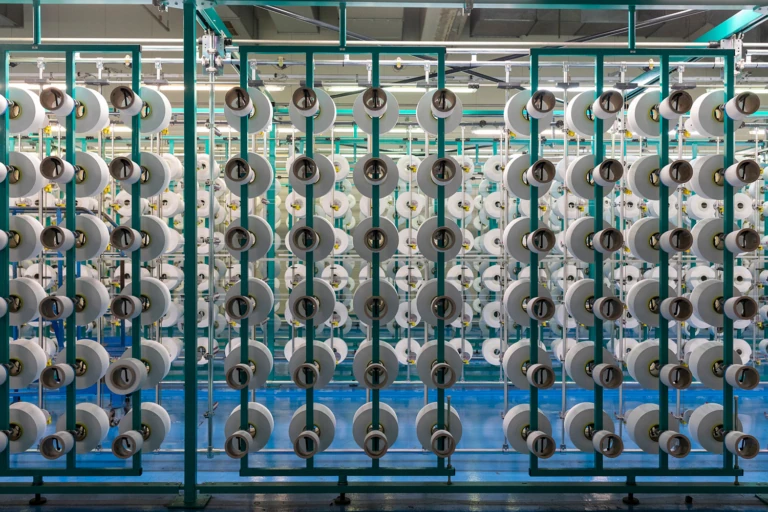 What recycling succeeds in doing is displacing the extraction of raw material, a vital need in a time when we are using up the Earth's resources faster than ever before. But if we don't reduce the production of new materials, recycling simply delays the inevitable. After all, the same material will not get many more chances at a new life, and eventually, it will get discarded and sent to a landfill or incinerator.
"One of the big myths about recycling is the reason for recycling," says Roland Geyer, professor of industrial ecology at the University of California, Santa Barbara. "From an environmental point of view, the only job recycling has is to displace virgin material production, so in the end, it's about how much we consume. Reducing consumption plus recycling would be really beneficial," he says. Geyer thinks buying a product with recycled content still has an environmental impact; although, that impact is typically lower than that of the same product made from virgin materials. "But that doesn't make it green," he says. "It makes it, maybe, less brown."
Find out more about the recycled materials Patagonia uses to make clothes and why we need more brands in the clothing industry to limit their use of virgin materials.