The Free Triple: Tommy Caldwell & Alex Honnold Free Climb Mt. Watkins, El Cap & Half Dome in 21:15
"The best thing about screwing up," I said, speaking from a wealth of experience, "is that you can only improve from here." Tommy had just forgotten his climbing shoes. He and Alex Honnold – a climbing dream-team if there ever was – were 45 minutes into the hike for their first climb in an utterly audacious Yosemite linkup: the All-Free Triple. That's climbing the three biggest grade VI walls in the Valley all free, on lead and second, in a day: Mt. Watkins, El Capitan, Half Dome. But partway into the hike, Tommy remembered that he'd spaced his shoes. Given that I've forgotten every imaginable piece of equipment at some point in my life, I felt a kinship to the A-team (hey, we all grasp at a connection to greatness when we can…). Anyway, Jeff Johnson and I were tagging along when we weren't getting lost, lending subbie support, a bit like the B (or C) team, mostly psyched to witness such a feat. It's not everyday that we get front-row seats to world-class achievements, but the climbing world is still unique like that.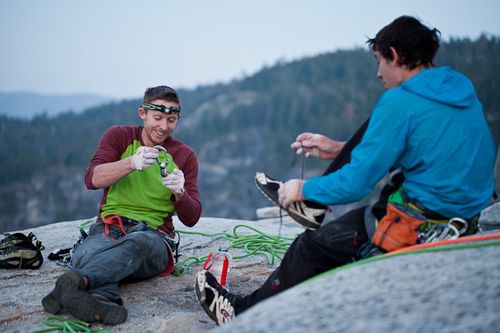 Following that auspicious start, we got the shoes and the boys put the hammer down. South Face of Watkins in 2 hours and 50 minutes, then Free Rider on El Cap in 6:45 (via headlamp), and the Regular Route on Half Dome in 5 hours. Over 7,000 vertical feet of free climbing up to 5.12+, some 75 guidebook pitches climbed in less than 30 pitches – via extensive simulclimbing, through 5.12 – and the entire linkup, base of first to top of last, in 21:15.
Mind blowing. But, honestly, it seemed pretty causal for them (mindblowing on top of mindblowing). Kind of like Superman and his twin just out doing their thing. I asked Mikey Schaefer, a longtime Valley regular and great climber himself, if many people had been looking at this linkup – after all, climbing those three grade VI walls in a day with anything-goes speed-climbing aid tactics, first happened just over ten years ago. The next step with everything is free climbing (and free climbing more, harder, faster). "Only a few people are capable of it, and it's just so far out there that not many people were even thinking about it – people are still trying to catch-up to just freeing El Cap and Half Dome in a day," Mikey said.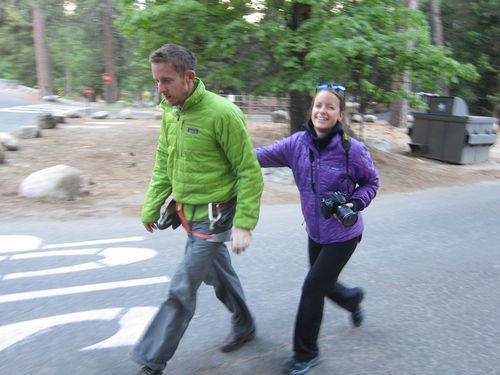 "You can do it, Champ! Give it 110%!" Becca helping Tommy motivate on the walk to Half Dome. Photo: Kelly Cordes
We find inspiration everywhere – we just have to look. In this case, we don't have to look far. To me, I love how it short-circuits my brain to be hanging with normal people whose conception of the possible extends so far beyond my imagination. I try to look at them and understand how they can perform such superhuman feats with relative ease – indeed, I remember Alex saying things like, "It's no big deal through there, it's like 5.12, we'll just keep going." I think of how solid he feels without a rope, how Tommy has freed more El Cap routes than any human in history, and then I think how, on so many levels, he's just a normal dude doing his normal things, and I get the sense that Alex is, too. Normal people doing normal things, from forgetting their shoes to relishing the simple joys of moving over terrain, just on such a different scale that it shapes our perceptions of the possible, makes us wonder what we might have inside of us.
I love that.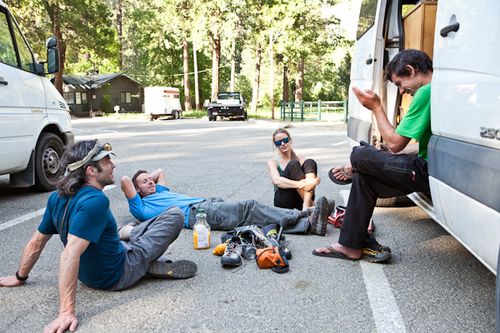 The climbing world version of a finish line celebration – Tommy (lying down) and Alex (green) chillin' after freeing Mt. Watkins, El Cap and Half Dome in 21 hours and 15 minutes. Kelly (left) and Becca (Tommy's wife) lending moral support. Photo: Jeff Johnson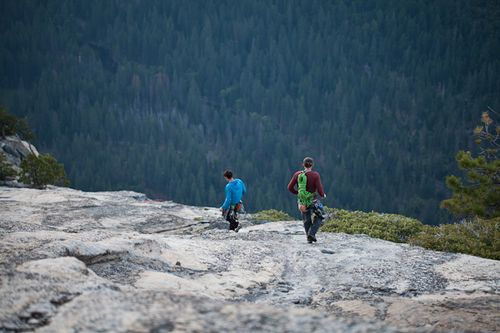 Alex and Tommy trotting down from El Capitan. Photo: Jeff Johnson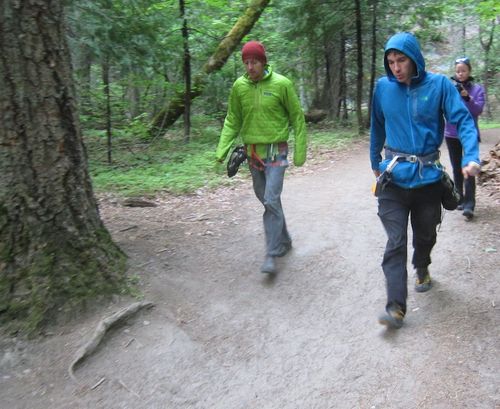 Tommy and Alex cruising toward their third all-free grade VI in a day. Photo: Kelly Cordes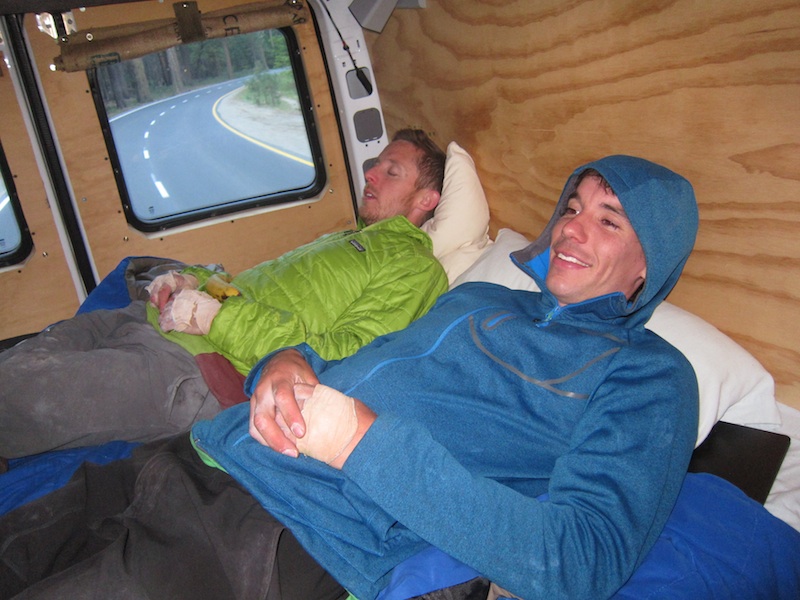 Tommy catches a cat nap while Alex is giddy with excitement, after El Cap and before Half Dome. Photo: Kelly Cordes