Putting Pen to Paper in Opposition of the Pebble Mine
Laura Linn Meadows
/
December 20, 2011
/
5 Min Read
/
Activism
By Laura Linn Meadows
These days, taking action on an environmental issue requires little more than a click or two of the mouse button. It's an effective way to tell your elected officials how you feel without sacrificing time from your busy life. There are some issues, however, that strike so deeply we are compelled to do more. The proposed Pebble Mine in Bristol Bay, Alaska, is one such issue for Wyoming native, Laura Linn Meadows, so she took the time to write this touching letter to her congresswoman. And in time-honored tradition, she also submitted it her local paper, Jackson Hole News and Guide, to increase exposure and inspire others. At the end of the letter we have an "easy" way for you to take action on this issue.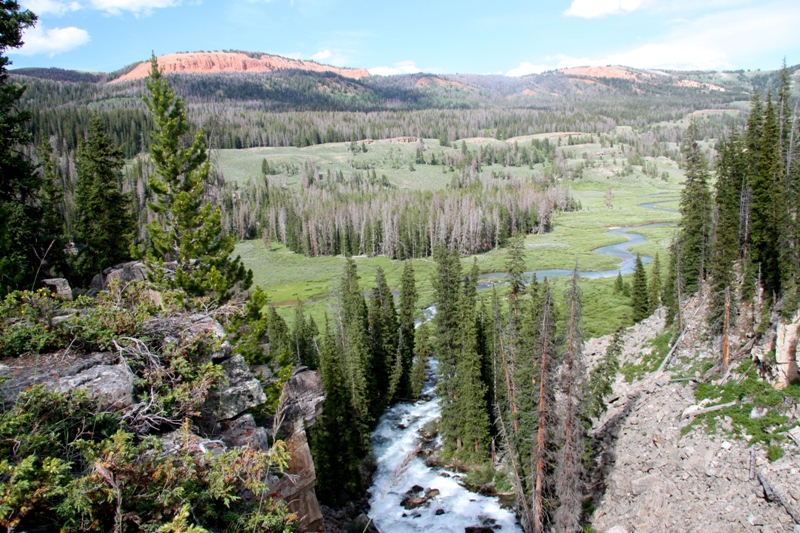 [Wyoming's Gros Ventre Wilderness, the author's inspiration for writing the following letter. All photos: Laura Linn Meadows]
Congresswoman Cynthia Lummis
113 Cannon House Office Building
Washington, DC 20515
Dear Congresswoman Lummis,
I want to share a story with you. I recently returned from a pack trip into the Gros Ventre Range as the cook, a packer, and a guide with my brother, an outfitter. Our parents were waiting at the trailhead with trucks and trailers and transportation back to town for our guests. As I rode in with my packstring and the dudes, my father, who was beaming with pride, met me on the trail. His pride wasn't because his kids were following in his footsteps for the first time, as Pete and I have taken many other pack trips together. He was proud because, for the first time, we had followed in the footsteps of our great-grandfather and grandfather. We had taken our guests to the Six Lakes, the favorite stomping ground of our predecessors. Pete and I are the 4th generation of Linns to parade our guests past the Cowboy Camp, dropping down to the Gros Ventre River at Upper Falls, past Darwin Peak, down the Jagg Creek Trail to Six Lakes, and over Two Echo Park. That's 100 years of horseshoe tracks, double diamonds, and bacon fried on a campfire. That's four generations of eyes peeking through binoculars at elk, moose, sheep, deer, bears, and wolves. Now I'm looking forward to the day when I have kids of my own that can climb into a little saddle on a big horse and weave down the same trails, watch brookies in the clear water of Crystal Creek, and find the big dipper in the night sky as the coals of the campfire putter out.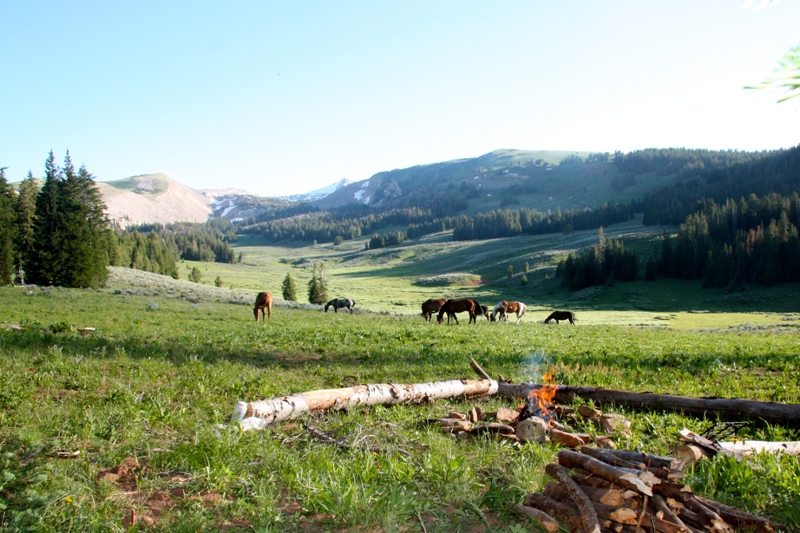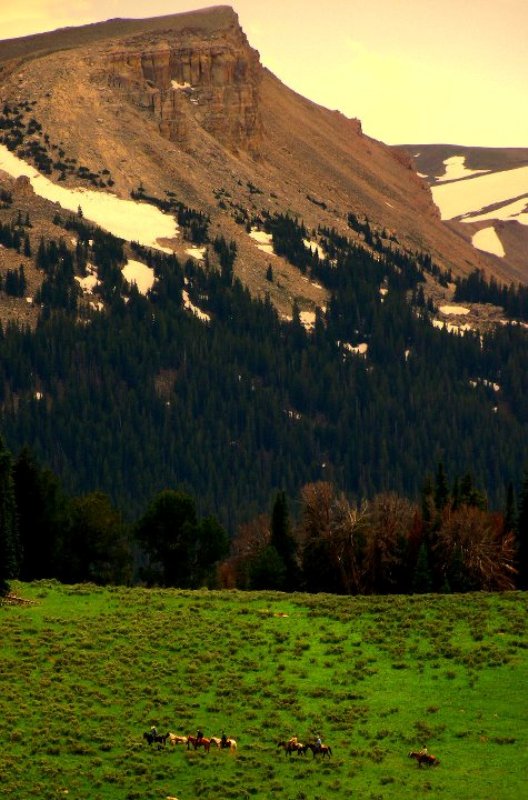 These are the wild places that make Wyoming special. They have provided our family with lasting memories, a rich and enduring history, and business opportunities that have sustained generations. Over the past 100 years we have shared these mountains with countless guests and friends from all over the world. I want to throw an immense 'thank you' to all of the men and women who had the foresight to protect them. The Gros Ventre Wilderness was designated under the Wyoming Wilderness Act of 1984, a relatively recent addition to the notion of landscape preservation. It truly has become a gift for the children and the children's children thanks to Wyoming greats like Malcom Wallup, Alan Simpson, and Dick Cheney. But this area was not protected just for views that it provides from the top of Black Peak and Sportsman Ridge. The effects of a wilderness designation for the Gros Ventre Range has far reaching effects as it is the headwaters of the Gros Ventre, Hoback, and Green Rivers providing irrigation for Wyoming ranches, recreational opportunities, and habitat for countless fish and wildlife species before contributing to the Snake and Green Rivers.
I wanted to share my story to highlight how today's decisions will impact future generations.  At present there is a controversy raging on the future of the Bristol Bay watershed in Alaska. The proposed Pebble Mine will forever change the landscape with the development of roads, communities, open pit mines, dams, and tailing ponds. The impacts to the wildlife and wildness of the land will be substantial. More importantly and with little doubt, contaminants released into the watershed will devastate Bristol Bay, the largest wild salmon fishery in the world. Families that have fished these waters for generations, either commercially or recreationally, may not have the opportunity to pass their traditions on to the next generation. And the ecosystem that has consistently provided salmon for millions of Americans may forever be damaged. As you know, implementation of the Clean Water Act has the power to protect the precious and fragile headwaters of Bristol Bay from the Pebble Mine.
There are a countless people just like me who can tell a similar family story by changing the location, the place names, and mode of transportation. I know I have the opportunity to pass my family traditions to my children thanks to protection of Wyoming's headwaters. Please support the Clean Water Act so the fishermen and women of Bristol Bay can pass their traditions to their children. Someday soon a new generation of fishermen will look back at their legislators in Washington and be able to say, "Thank you for defending our way of life and enjoy your wild salmon."
Sincerely,
Laura Linn Meadows
Laura Linn Meadows is one of the fifth-generation outfitters to hail from Wilson, Wyoming. She has a passion for the wildlife of Wyoming and the wild places they live, as well as the great mountain horses that her family has raised to explore the Tetons. She currently attends Oregon State University College of Veterinary Medicine in Corvallis, OR. In the summers she returns home to help her family with their outfitting business. After Laura finishes vet school she plans on floating the teeth of the over 50 head of horses her family has in their outfitting string. That's about 2,050 teeth.
Take Action – Protect Bristol Bay from the Pebble Mine

It's not too late to put a stop to the proposed Pebble Mine and you don't have to write a long letter to lend your voice. Our friends at Trout Unlimited have an easy way for you to get involved.
Click here to take action at savebristolbay.org
For more on the issue, watch this trailer for the 2008 film, Red Gold, from the talented crew at Felt Soul Media. DVD copies of the movie are available for purchase.