Are the Tar Sands in Alberta Really Worth Their Impacts?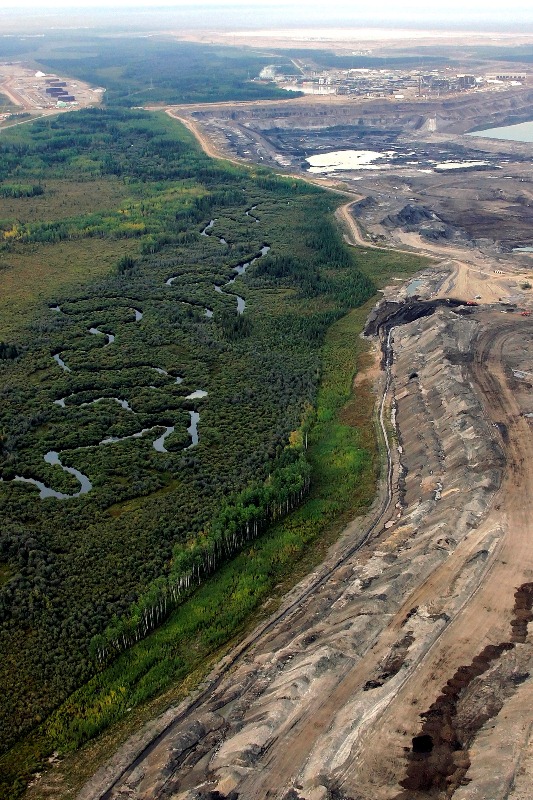 On Sunday July 25, 2010, a pipeline carrying tar sands crude from Alberta, Canada, burst open and spilled more than 1.1 million gallons of oil into Talmadge Creek and the Kalamazoo River, near Marshall, Michigan. The oil coated wildlife and birds, soaked into wetlands and waterways, and directly impacted farmland, businesses, homes and communities as far as 40 miles away. After a delay of 17 hours, workers arrived on the scene and found that the sludgy, toxic, tar sands crude sinks in water, rather than floats – making it much more difficult to clean up. Recovery efforts have already cost over $800 million, and the price paid in ecological and human health is hard to measure.
As we move into the final phase of the Our Common Waters campaign, we're taking a close look at expanding tar sands development across North America. From the strip mining of tar sands in Alberta, Canada, to the spider web of pipelines expanding across the U.S. and Canada, to ports and coastal areas that would act as hubs for export: at every point in the chain of production and transportation, water is at risk. The water we drink, the water we fish, the water we swim and boat in, the only water we have.
We're asking ourselves and our community: Is it worth it?
Tar sands are a thick, sludgy mixture of sand, clay, water and a "tarry" petroleum deposit. Mining and drilling techniques used to extract the oil are expensive, energy intensive, use large quantities of water and have a huge environmental footprint. Surface deposits are strip mined, scraping away thousands of acres of Canada's rich boreal forests and wetlands in the process. Deeper deposits are extracted using steam and solvents, with wastewater often ending up in giant toxic tailings ponds. Much of the water for tar sands mining in Alberta comes from the Athabasca River which feeds the largest freshwater delta in the world. Up to 15% of the Athabasca's flow is slated to be used for current and planned tar sands projects, putting the biodiversity of that great freshwater ecosystem at risk.
But the impacts don't stop at the point of extraction, as the Kalamazoo spill proves. As noted above, tar sands
crude or "diluted bitumen" sinks in water, making spills much harder to clean up. It is also more acidic, more abrasive and contains more sulfur and other corrosive substances than conventional crude. These traits, paired with the higher temperature and pressure in tar sands pipelines, lead to a greater risk of pipeline deterioration and rupture. Oil pipelines aren't new to North America – but the expansion of higher risk tar sands pipelines is. And, if one of these pipelines projects reaches a coastal port, which is the current goal for the major oil companies involved, access to overseas markets can only drive further development of this unconventional oil. Check out a map of tar sands pipeline projects here.
For several years, we've been tracking tar sands pipeline expansion projects, working with partners to understand the complex situation and voice our concern:
In August of 2011 and later in 2012, we joined thousands of other activists, including Bill McKibben and organizations like 350.org, in asking President Obama to reject plans for the Keystone XL
pipeline, which would connect the tar sands to the massive refinery and port complex near Houston, Texas. Now 350.org is again at the center of a push to convince President Obama to reject ongoing proposals and plans for this pipeline early in his second term. Visit 350.org's action site for more information.
Since last year, we've supported activism to stop the Northern Gateway pipeline, which would stretch through British Columbia to the western coast of Canada. Activists, including our partners at Raincoast Conservation Foundation, have been quick to defend not only the pristine BC forests, rivers and wetlands, but also to warn against the risks of oil spills from tankers along the rocky and treacherous BC coast. Visit this link to learn more about a film project that we have supported on this topic.
Finally, through the Our Common Waters campaign, we're working with two key partners – Environmental Defence (Canada) and National Wildlife Federation (U.S.) – to shed light on a convoluted plan to extend access for tar sands oil to the east coast, via the Great Lakes region, back and forth across the U.S./Canada border, ending in Portland, Maine.
As we continue to track these projects through the Our Common Waters campaign, Patagonia recognizes that, as a business that relies on transportation of products from point of manufacture to our customers, we are daily relying on vehicles that are fueled by oil and gas products. Unlike the case where we can choose to buy only organic cotton for the clothes we make, or to use high levels of recycled content materials, our country's infrastructure for oil and gas products doesn't allow us to differentiate and choose between using tar sands oil and non-tar sands oil. It's all mixed together: lower impact conventional oil products and "unconventional" oil products – and thus, we are using tar sands oil products.
In our opinion, this situation makes it all the more important to engage in activism with a goal of reducing the current and future reliance of our entire fuel system on high impact oil sources – our support of campaigns to slow the development of tar sands extraction and pipelines is in line with this goal.
At the same time, we are actively pursuing as much information about our supply chain reliance on tar sands fuel as possible. Patagonia is collaborating this year with the University of California Santa Barbara on a research project to determine if it is feasible for us to avoid using tar sands fuel in our transportation systems, as well as how best to integrate low-carbon fuels and/or alter our business practices to reduce carbon emissions. In addition, we will continue to support environmental groups taking action on the tar sands issue with our grants program and various communication channels.
This year will be an important one for these issues, and while we focus tightly on risks to freshwater through the Our Common Waters campaign, the fact remains that tar sands oil development poses an even greater risk to our environment. As James Hanson, NASA scientist and climate expert notes, "Canada's tar sands, deposits of sand saturated with bitumen, contain twice the amount of carbon dioxide emitted by global oil use in our entire history….", and if we extract and use this entire resource, the carbon emitted into our atmosphere would mean "… game over for the climate."
We hope you'll join us in learning more about the issue and taking action. For current
actions, visit: 
In the U.S., National Wildlife Federation: TAKE ACTION

In Canada, Environmental Defence: TAKE ACTION

Finally,
we recommend this resource as a good overview of many of the tar sands pipeline issues.
Editor's note: Updated copy (missing paragraph) on 2/4/13