Kitty Calhoun: Climbing in Iceland with Loki the Deceiver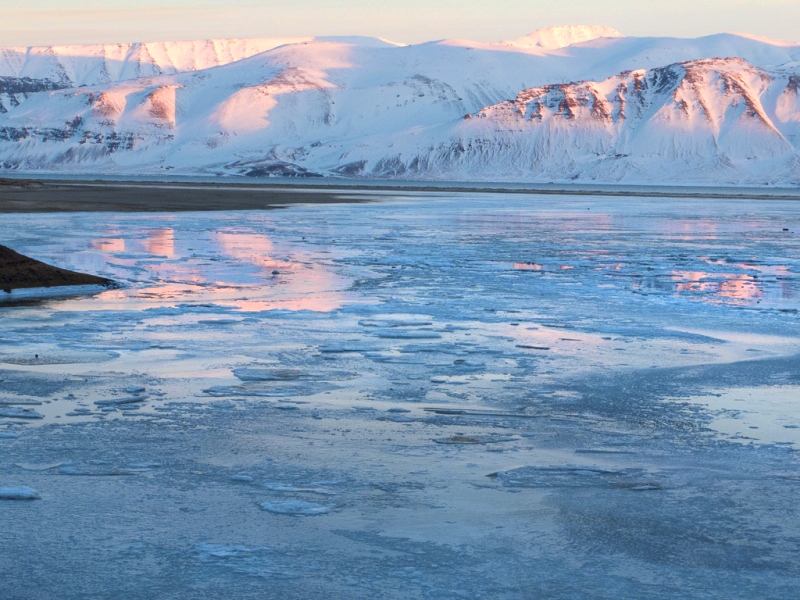 Iceland is a land of extremes – stark beauty within a harsh, unforgiving landscape and an equally daunting climate. Volcanoes are still erupting, earthquakes are nearly constant, yet the geothermal water provides Iceland with most of its energy needs and natural hot springs ease the cold of winter. Eleven percent of the country is covered with glaciers. Sighting of the aurora borealis is common. The coast is dotted with steep cliffs, overhung by glaciers and blasted by wind off the ocean. Yet over 300 species of birds nest in these cliffs, eider ducks (think eiderdown) float in the ocean and the fishery is Iceland's largest source of income.
In such a stark and dramatic landscape, it is easy to imagine events being controlled by the Norse gods. In fact, on our quest for virgin ice climbs, we too felt their power – one in particular: Loki the trickster, deceiver, god of chaos.
Upon arrival in Reykjavik, we proceeded straight to our rental car company, SAD cars. I thought I had reserved a large 4×4 to carry the four of us – Jay Smith, John Catto, Beth Goralski and myself – plus our eight 50-pound duffel bags, four 20-pound day packs, and two weeks of groceries – into the hinterland. There must have been some miscommunication and a small SUV made for city streets awaited us – the large off-road vehicles were not available. After much consternation, we loaded up an old 4WD Nissan wagon, whose front doors had been hammered loose by the formidable Icelandic wind. To muffle the roar of wind prying through, we slammed the doors on our towels, which proceeded to batter the roof as we cruised down the narrow road leading north.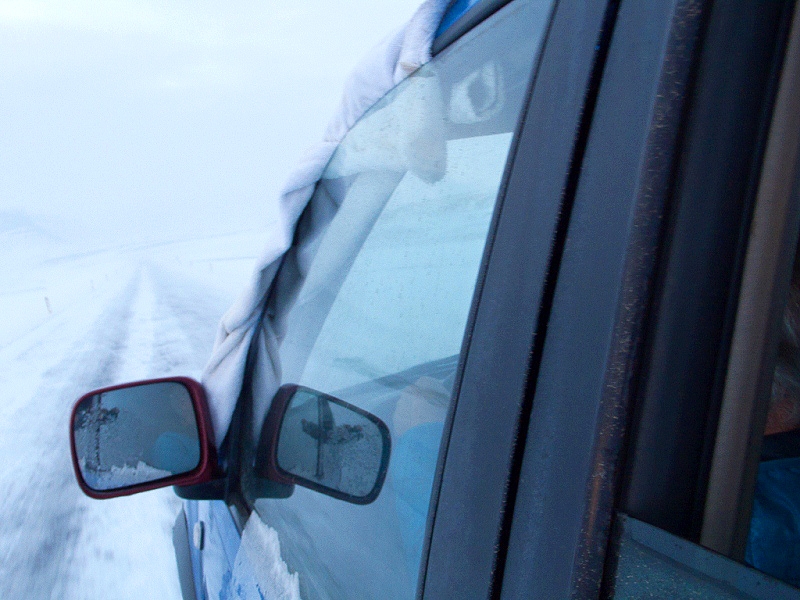 The SAD car. Photo: Kitty Calhoun

 Obviously, if there was information available, we would not have headed to the North Central Peninsula. But this is a land of unknowns, a land of secrets. Not much of the ice has been discovered and our hunch was that the greatest concentration of hidden gems was in the heart of the steepest, most jagged mountains. Thus, after two days in the car, winding our way around every crease in the fjords, we arrived in Dalvík, the ski capital of Iceland. Armed with a half-dozen topo maps, we hoped that we might pry some secrets from local UIAGM mountain guide, JB. I closed my eyes and prayed as he called friends in each part of the country and, in Icelandic, asked for their permission to give us clues to where we might find the goods. We received their blessings but, to our chagrin, learned that ice climbs in this country do not form in the mountains, but rather on cliffs capped by a plateau. Deceived once again, we assumed positions in the SAD car and reset our sights on the Westfjords – the least visited region in all of Iceland.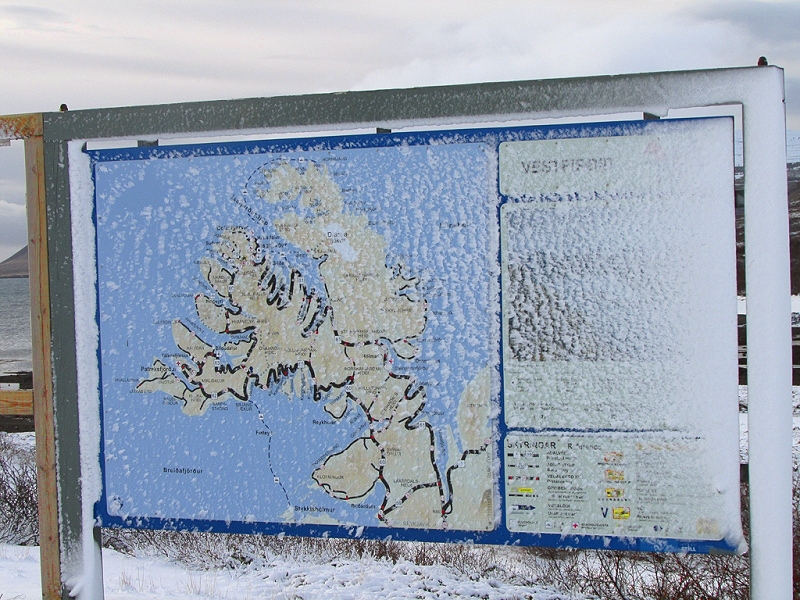 Road sign to the Westfjords. Photo: Beth Goralski

 It was precisely halfway along a snow-drifted section of road, in a white-out and three hours from the last town, that we found ourselves contemplating abandoning the SAD car in search of a more suitable bivouac.
"I'm sorry ya'll, but there is no way we are going to make it," I said in a defiant voice. Somebody had to speak up and as the most conservative, adamant member of our group, I volunteered.
I felt relieved when Jay, who had made a valiant attempt to ram through walls of snow, supported me. "Yeah, I'm sorry we have spent so many days in the car, but I don't think we are going to make it either." I felt bad because he was feeling responsible not only for getting photos, but also for ensuring a productive trip.
John, a veteran filmmaker for National Geographic, offered, "We might be able to get in that abandoned gas station we just left."
"Yeah, if worse comes to worse, we can sleep in the car." I looked over at Beth, a 5'8" lanky blonde who was always smiling. She had the least experience in the group but was up for anything.
"I'd rather not," I said with a solemn face, which betrayed my satisfaction in feeling that I had made the right choice to invite Beth, even though I barely knew her.
I pulled out my cell phone and in a last ditch effort, called my friend Runar, on the other end of the Westfjords, for help. He explained that neither plows, nor planes, nor ferries operate on Saturdays. He was on his way to a party, to celebrate the Feast of Thor, featuring traditional Icelandic fare such as marinated shark and rams' testes. After a few phone calls, he found a farmhouse a mile back, to which we could retreat. Holed up in this place of refuge, with a hot tub, I marveled at our circumstances. Ancient lore would have attributed them to Loki, who ensnared everyone in complicated problems, to which he always supplied a remedy – though his solution often engendered even greater troubles.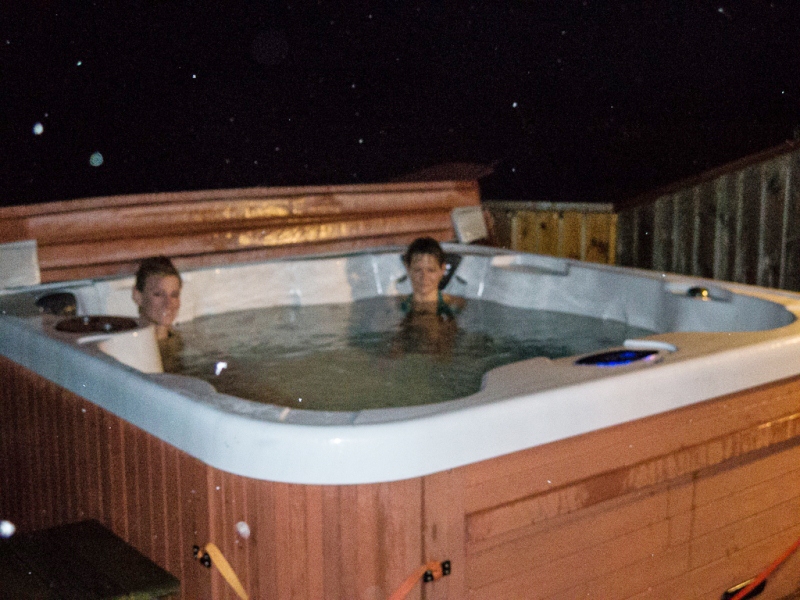 Kitty and Beth enjoying a hot tub. Photo: Jay Smith

 The following day, the storm relented and we ventured along the coast to Patreksfjörður, a small fishing town, where we met Valle, "gatekeeper" to the Westfjords ice climbs. Having been duly chastised by Runar for not warning us about the snowplow holiday, he more than made up for it by leading us over two more passes to the Land of Promise.
A single lane gravel road followed the shoreline. On one side of the road lay narrow, golden-sand beaches, lapped by long, smooth wave sets. Further out in the fjord, a research boat explored the sea, gathering data to determine its capacity for farmed salmon, most of which is sold to Whole Foods. On the other side of the road, a carpet of moss led to snow-covered slopes and small cirques or valleys lined with vertical black cliffs. Snowmelt on the plateau above generously provided so many frozen lines that we were awestruck.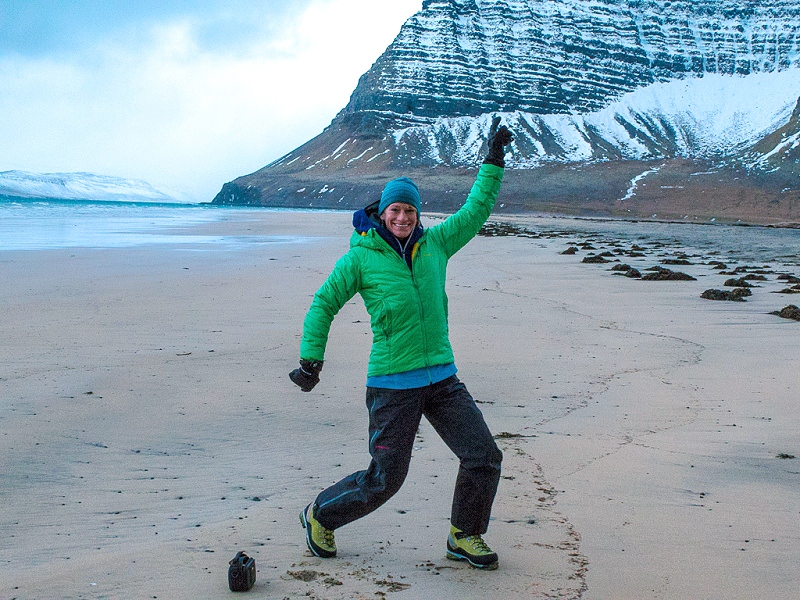 Beth excited about another cirque. Photo: Kitty Calhoun

 For our first climbs, the four of us naively picked out two new routes that looked like good warm-ups – not too hard, maybe WI 4. I offered the first lead to Beth, as she was keen and I was feeling generous. However, I started wondering what the problem was as I observed increasing evidence of her getting pumped – hacking at the ice, long pauses when she rapidly alternated shaking out each arm, and she had placed every screw on the rack.
As I followed the pitch, I realized that we had been tricked again. This was far from being a warm-up. It was a difficult WI 5! I had forgotten that the warm winds sculpt and polish the ice until there is nothing left but hollowed out caves and overhanging faces, devoid of any sweet spots to place your tools, or grooves to stem. Jay and John experienced the same deception and we all went home that night feeling elated that we just climbed two new routes, but also reminded that all was not as it appeared.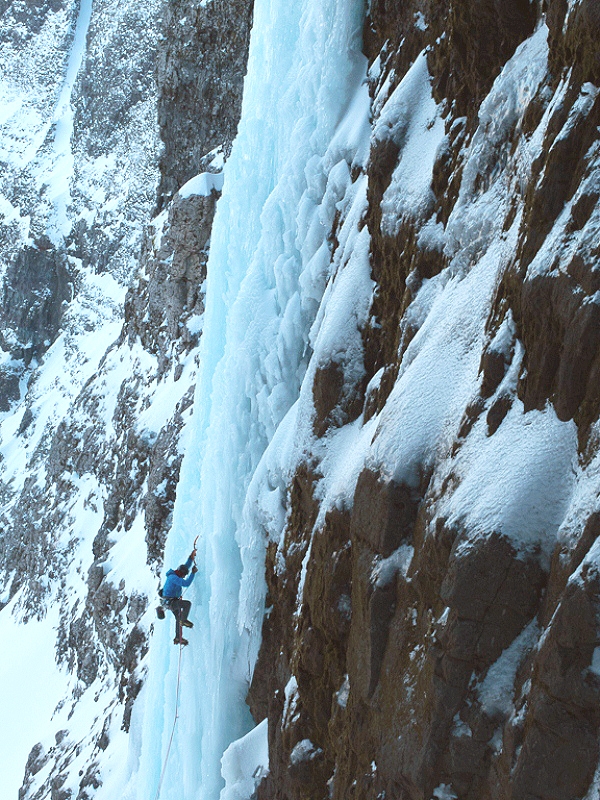 John Catto on another first ascent. Photo: Kitty Calhoun

 The next morning, we set off to the same cirque to climb the next two hardest lines. At the base, Jay and John didn't feel up for their route yet, so they decided to climb an easy pitch to get above and shoot me leading the hard route. As I waited on them to get into position, questions started to fill my head. Why am I doing this? Who even cares? Is it worth it? If I pump out before getting in a screw, the resulting fall could result in serious injury. How many years can a person keep redlining the stress meter before burning out? Will I ever be satisfied?
My thoughts were interrupted by Beth's voice: "On belay." John and Jay were ready to shoot. We were in an ice cave at the base of the steep ice. I looked around the column and up toward a large mushroom which blocked the entrance onto the smooth, slightly overhanging face above. Beth was apologizing for the big snarl we had just untangled from the double ropes. The thought, "Pride goeth before a fall," entered my head.
I turned to Beth and said, "Don't worry about it." She smiled.
Then I took some deep breaths. Either my strength had to come from me – or else from God. I chose God. A calm confidence settled over me and that made all the difference. If it weren't for this peace, I could have easily panicked when the ice continued to shatter as I tried to find a purchase for my tool over the mushroom. Panic tends to rapidly suck the remaining strength from throbbing forearms. The hand can no longer grip the tool enough to guide and accurate swing. As a last ditch effort, one starts to fumble for a screw, knowing there isn't enough strength to place it. The mind races: What do I do? What do I do?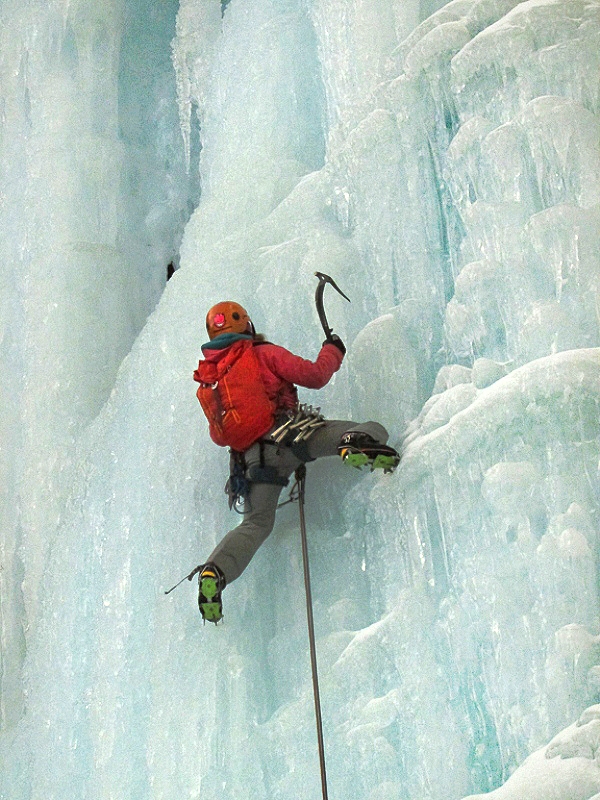 Kitty leading Loki. Photo: Beth Goralski

 But the panic never came. Relaxing, trusting, and climbing precisely, I made it over the mushroom and up the gravity-defying face. Maybe climbing was an opportunity to test and to build trust. The ancient people believed that warriors trained in Valhalla for Ragnarok, the last great battle, the day of judgment.
After six days of climbing, we completed eight new routes and partially completed two others, most of which were two pitches long, WI4-5+. Of all my leads, the first one was the most difficult, the most complicated for me. That's why I named it Loki.